You don't nearly get to see all of Paris in 3 days, but if that is all you have, definitely try to make the most of it! The French capital is such a wonderful city that you really should not miss on the opportunity of visiting. If you have 3 days in Paris, you will manage to see the most iconic attractions (though definitely not all).
The best way to go about it is to have an itinerary and stick to it. You will also need to purchase advanced tickets to most attractions – that's actually a requirement, as most of them now work on a time-slot basis to limit the number of visitors.
If planning itineraries isn't your cup of tea, you are in good hands. I actually think it's fun! So, continue reading and discover how to make the most of the Ville Lumiere in such a short time.
How To Use This Paris In 3 Days Itinerary
This itinerary is based on the assumption that you are spending 3 days in Paris, also sleeping there 3 nights, and possibly 4. To make the most of your time in the city, consider the following:
YOU MUST HEAD OUT EARLY – I say, no later than 8:00 am.
VISIT ATTRACTIONS CLOSE TO ONE ANOTHER – I have crafted this itinerary so that you visit attractions that are close to each other and minimize the use of public transport, on some occasions you will have to use the subway to get to your next stop. Be prepared – buy a carnet of tickets in advance and wear comfortable shoes!
IT'S BEST TO HAVE LUNCH ON THE GO – You can sit for a full meal at dinner.
YOU MUST GET TICKETS IN ADVANCE – This is a requirement for most attractions in Paris.
KEEP THE PACE – With just 3 days in Paris, spontaneity isn't truly allowed – not unless you want to visit the main attractions. I will make sure to include some hidden gems in this itinerary, and indicate the timings at the various attractions.
Finally, continue reading to discover the best places to visit in Paris in 3 days!
A Day By Day Itinerary To Visit Paris In 3 Days
Day 1
Map of day one
To see the map of your day 1 itinerary, click here. I recommend taking the subway to get from the Louvre to Arc de Triomphe and, depending on how good your are on timing, from there to the Trocadero. You will be boarding your Seine river cruise directly from the Eiffel Tower.
Palais-Royal
Your very first stop is the Palais-Royal. It opens so early that it won't take precious time from other attractions, and it is really close to the Louvre.
This palace was once the home of Cardinal Richelieu, who lived there until his death in 1642. It then became property of Philippe II Duke of Orléans, who held the throne for Louis XV when he became king aged 5 in 1715. It now houses the Constitutional Council and the Ministry of Culture.
You can pop in to take photos – I am sure you will enjoy the art installation of striped columns of various sizes.
The opening times of Palais-Royal vary with the season but they roughly are from 7:30 am (7:00 between June and August) till late. There is no entry fee.
Louvre
There are many great museums in Paris, but you really have to narrow down the ones you visit if you have such a short time in the city. The Louvre can't be missed.
Once a fortress, the Louvre became an art gallery in the 1700s and now houses some of the finest paintings and sculptures in the world, including Da Vinci's Mona Lisa and the Venus de Milo.
The Louvre is open every day but Tuesdays from 9:00 am to at 6:00 pm. The museum is closed on 1 January, 1 May and 25 December.
You can get your Louvre ticket here. For the best tours of the Louvre, click here. Factor in about 4 hours for your visit.
Make sure to read my post How To Get Tickets To The Louvre.
Arc de Triomphe
You will definitely have enough time to see the Arc de Triomphe, and even go up. The views from the terrace are lovely – you get to see La Défense, the modern side of Paris.
The Arc is located on Place de l'Etoile, at one end of the Champs-Elysées. It was built to celebrate war victories and to pay respect to the many people who died during the French Revolution and the Napoleonic Wars.
The Arc de Triomphe is open daily from 10:00 am to 10:30 or 11:00 pm depending on the season. It is closed on 1 January, 1 May, 8 May (morning), 14 July, 11 November (morning) and 25 December. You can get tickets here or here.
Trocadero
The Trocadéro is right on the other side of the river from the Tour Eiffel and from there you can get stunning views of the tower. Depending on what time of day you make it there, you will find quite a large crowd but don't let this deter you – the views remain amazing nonetheless.
Eiffel Tower
The Eiffel Tower is the most famous landmark in Paris. You can't skip it! Built in 1889 for the World Expo, it measures 324 meters (1063 feet) and it used to be the tallest building in France. It now is holds the highest man made observation deck in Europe, located at 276 meters (905.5 feet).
Until August 29, 2021, the Eiffel Tower will be open daily from 9:30 am to 11:45 pm. The ticket office closes at 10:30 pm. Stairs are open from 9:30 am to 5:30 pm. Get your ticket here and factor in about 2 hours for your visit.
Make sure to read my full guide on visiting the Eiffel Tower.
River Seine Cruise
One of the best things to do in is a cruise along the Seine. The views of Paris during the cruise are magnificent – you will see Notre-Dame (currently under restoration work and not accessible), the Louvre, Musee d'Orsay, Pont Alexandre and the Eiffel Tower in all its glory. The sunset or evening cruises provide the best views.
You can have a dinner cruise or a guided one, and even a plain hop on hop off. Cruises usually depart from and return to the Eiffel Tower, so it makes sense to leave it as the last step in your first day itinerary. You can book yours here.
Day 2
Map of day two
You can download a map of your day 2 itinerary here. You will need to use public transportation to get to Montparnasse Tower, from there to the Musee d'Orsay and eventually to Blanche, from where you can explore Montmartre.
Montparnasse Tower
Thought to be the ugliest building in Paris, the views from Montparnasse Tower are stunning – probably because you can't see it! Built in the early 1970s and currently Paris' second highest building with its 210 meters (689 feet), from there you will enjoy the best views of the Eiffel Tower.
The observation deck of Montparnasse Tower is open from Wednesday to Saturday from 11:00 am to 11:30 pm (last climb at 11:00 pm) and Sunday to Tuesday from 11:00 am to 10:30 pm (last climb at 10:00 pm). Get tickets to the roof terrace in advance here.
Musee d'Orsay
If you decide to visit two museums one of them should be the Louvre, and the other has to be Musee d'Orsay. This is the best one for impressionist art as it has fantastic permanent exhibit of the works of Monet, Manet, Renoir, Van Gogh and many more. The building is gorgeous too: it once was a train station (Gare D'Orsay, built for the universal expo) turned museum.
The museum is open from Tuesday to Sunday from 9:30 am to 6:00 pm, except on Thursdays when it closes at 9:45 pm. It is closed on Mondays. You need to reserve a time slot and get your ticket in advance for your visit. You can do it here.
Make sure to read my guide to visiting Musée d'Orsay.
Moulin Rouge
Unless you pay for a show, you can only really see the Moulin Rouge from the outside. As it is right by the exit of the subway you must take to go to Montmartre, you will definitely bump into it and may as well take a photo. In the heart of Pigalle, this is the birthplace of the can-can dance.
Sacré-Coeur
This Romano-Byzantine basilica is located on top of a hill from where you can enjoy splendid views of the city. The church was built around 1875. Tours of Montmartre usually go there.
Montmartre
Montmartre is one of the quaint areas of town. The overall bohemian feel, the lovely small buildings, the artists, the cafés and boutiques make it a special place to explore. The area became popular with artists in the 19th century. Back then Monet, Renoir, Modigliani and even Van Gogh lived in this part of town.
I recommend taking a guided tour of Montmartre to make the most of it. I took the Montmartre 2 hour walking tour and enjoyed the secret places that the guide showed me.
Make sure to read my post The Best Things To Do In Montmartre.
Day 3: Versailles
Some would say that if you only have 3 days in Paris you should skip Versailles. I dissent! This is just as much part of the city as many other places, and such an important part of French history took place there that you really can't miss it.
The symbol of all the excesses of the French Monarchy, Versailles was a hunting lodge that was enlarged upon wishes of Louis XIV, who moved his court there in an attempt to control it. Not far from it you will find the Trianon estates. The large one is where Napoleon established his residence; whereas the small one was Marie Antoinette escape from the court.
You can get tickets to Versailles here. If you also want to see the musical fountains show, click here.
The easiest and cheapest way to get from Paris to Versailles is by RER C.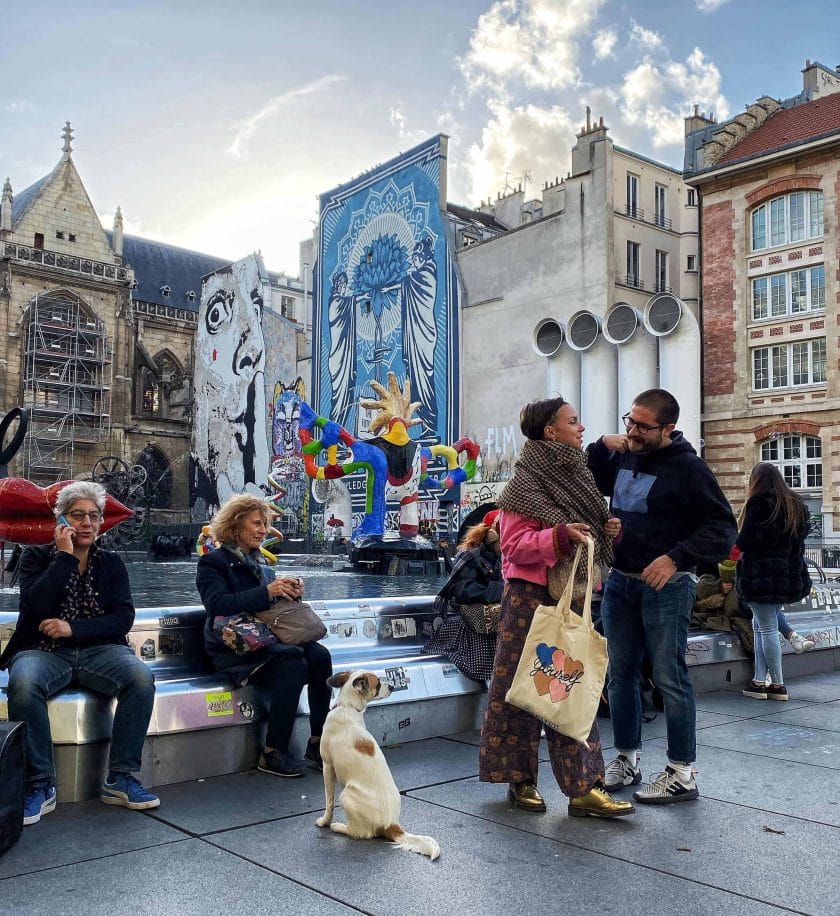 Le Marais
If you make it back from Versailles relatively early, go for a walk around Le Marais, one of Paris nicest neighborhoods. There are some lovely restaurants, cafés and bars; beautiful boutiques, and most of all the atmosphere is relaxed and it still very much retains a local feel. You can even go on a food tour there.
Practical Tips To Make The Most Of Paris In 3 Days
Where to stay in Paris
With such a short time in town, carefully pick the area where your hotel or apartment is located. You want a place that is close to the subway station and from where you can move around easily. I recommend staying in Le Marais as it is close to the Louvre and Notre-Dame, safe and with good restaurants and cafés.
These are some good places to stay:
ROI DE SICILE RIVOLI – A modern, fully equipped studio which also has a small kitchenette in case you want to cook your meals.
LES TOURNELLES – Rooms are small but extremely cozy at this lovely small hotel in the heart of the 3rd arrondissement.
SINNER PARIS – With large rooms with every comfort, this is one of the best places to stay in town. It's not cheap!
Using a Paris Pass
The Paris Pass includes tickets to many attractions, with skip the line options, as well as transportation (make sure to double check though). Paris Passes do not usually include the Eiffel Tower. You will have to make reservations for each attraction separately.
You can get your Paris Pass here.
How to get to Paris
Paris is very well connected to the rest of the world by either by plane or train.
Charles de Gaulle Airport is the main hub for Air France, which has good, convenient flights from many airports in the US and Europe.
The train is the fastest and cheapest option to get to the center of Paris from Charles de Gaulle.
However, if you have lots of luggage it's best to opt for a private transfer. You can book your private transfer from the airport to the city center via Welcome Pickups here.
How to move around Paris
If you are visiting Paris in 3 days, I recommend using public transportation – it works well. A one way ticket for metro and buses costs €1.90.
You may also want to consider using a 3-days hop-on hop-off bus pass to take you to the various attractions. You can get your ticket here.
Luggage storage in Paris
Luggage storage facilities are usually close to train and bus stations. Storage starts at €5 per day and must be booked in advance.
Other useful tips
Get a data plan for your smartphone
Make sure your smartphone plan covers you for trips outside of your country. You need to have data so you can access apps such as Google Maps.
Mind the scams
Scams and touts are common in Paris. Watch out for things such as: the friendship bracelet, the golden ring, the cup and ball. Don't trust people who approach you claiming to be raising funds for disadvantaged categories such as the deaf. Mind pickpockets on the bus or the metro.
Get a good travel insurance
Even if you just have 3 days in Paris, you still need to get travel insurance. Get yours here.
Further Readings
Make sure to read my other posts that will provide insights about the many attractions of Paris:
Pin It For Later!