For a true taste of the real Italy — away from the tourists and crowds that swarm Rome's city center — look no further than Testaccio, Rome. Here you'll not only get a taste for what a day in a local's life is like, but you'll also taste some of the best food Italy has to offer.
Testaccio dates back to the times of Ancient Rome when it was once a major trade hub of the Roman Empire. Its name comes from the latin word Testaceus, which means hill of "broken clay vessels." When you read more about Monte Testaccio below this will make more sense.
There's nothing glitzy or glamorous about Testaccio's history. In fact, it was once known as one of Rome's lower-class neighborhoods where much of the working class lived to work the construction and maintenance of the slaughterhouses. It remains this way today with a small-town, real-life feel that resonates despite its growing popularity as a prime food destination.
Make sure to read my post The Best Neighborhoods In Rome.
While you still won't find anything fancy in Testaccio, it's worth taking the time to discover its humble roots, fantastic markets, peculiar sites, and amazing food scene. Here is a complete guide to Testaccio to help with your planning.
What To See And Do In Testaccio, Rome
The best part about visiting Testaccio is that it's full of surprises. Not only is it an off-the-beaten-track mecca for foodies but it's packed with unexpected finds for adventurous travelers to discover. To give you an idea of just how much this gritty neighborhood has to offer, here are some highlights of the best to see and do in Testaccio.
Pyramid of Cestius
Set amidst a city of ancient Roman ruins, you may be surprised to find an Egyptian-style pyramid in the heart of Rome's Testaccio. The Pyramid of Cestius was built around 12 BC as the burial tomb of Caius Cestius, a powerful Roman magistrate.
The pyramid's exterior is made of marble and stands over 36 meters (118 feet) high. It's actually empty inside – with tomb dwellers having ransacked it through time.
Visitors can view the interior of the pyramid on the third and fourth Saturdays and Sundays of every month. It is located in Via Raffaele Persichetti. It's literally the first thing you'll see as soon as you get off the metro at Piramide – Line B, two stops after the Colosseum.
Check out my post A Guide To Rome Pyramid Of Cestius.
Non-Catholic Cemetery
Another surprise you'll find in Catholic-dominant Testaccio is the non-Catholic cemetery that is best known as a Protestant cemetery. Here you can visit the graves of famous Protestant figures, like English poets Keats and Shelley.
If you're looking for Keats' grave, be aware that it doesn't display his name. Per his request his tombstone reads: "Here lies One Whose Name was writ in Water"
Above that, his loved ones also added, "This Grave contains all that was mortal, of a YOUNG ENGLISH POET, who on his Death Bed, in the Bitterness of his heart, at the Malicious Power of his enemies, desired these words to be Engraven on his Tomb Stone."
The cemetery is not only fascinating due to its interesting history but is also provides a peaceful garden setting to simply wander and enjoy. You'll also get a great view of the nearby Pyramid of Cestius.
The cemetery is located in Via Caio Cestio 6. It's open daily from 9:00 am to 4:30 pm and on Sundays from 9:00 am to 12:30 pm. Visiting is free, but donations for the maintenance of the site are welcome.
Make sure to read my posts A Guide To The Protestant Cemetery and The Best Hidden Gems In Rome.
War Cemetery
While the non-Catholic cemetery is well worth acknowledging as a noteworthy landmark, there's another less-celebrated cemetery that's also worthy of praise: the Rome Commonwealth War Cemetery. This hidden gem is located just on the opposite side of Via Nicola Zabaglia.
The Commonwealth War Cemetery houses a total of 426 graves — all exactly the same — that mark a fallen soldier from the UK, Australia, New Zealand, Canada, South Africa, or India.
Unlike the more romanticized tombstones found in the neighboring non-Catholic Cemetery, the headstones here are simple and lined up in perfectly straight rows, inscribed with a small cross. On each stone, you'll also see the rank, nationality, and religion of each dead soldier.
Testaccio's Commonwealth War Cemetery was built after the Allied forces arrived in Rome on June 4th of 1944. A large white cross stands on an octagon-shaped pedestal, known as the "Cross of Sacrifice", denoting the final resting place of the more than 40 war heroes that fought for Italy to regain its freedom.
Monte Testaccio
The most iconic "landmark" in Testaccio is probably a small hill in the center of the town called Monte Testaccio. This 115-foot-tall mountain is actually man-made and built up over time from a growing pile of broken amphorae — terracotta jars used in Roman times primarily for oil and wine.
In actuality, Monte Testaccio is a glamorized — and surprisingly lovely — garbage dump made up of millions of broken antique terracotta jars.
Now the broken-jar hill serves as a scenic backdrop to many of Testaccio's surrounding restaurants and clubs. Some venues even feature windows or views of the hillside specifically so patrons can take in the unique scene.
In case you are hoping to go up Monte Testaccio, keep in mind it's actually only open on special occasions.
Testaccio Market
A big highlight of any time spent in Testaccio is the Testaccio Market, one of the oldest markets in Rome.
Don't be surprised if you find yourself wandering through this place for hours as you stop by stall after stall of cheese, freshly-baked bread, fresh fruit and vegetables, meat, and appetizing prepared food.
It's one of the best places in town to grab a quick lunch, as you can find anything you're in the mood for — whether that's pizza or Sicilian street food, pasta, sushi, a burger, or a tasty vegan dish. It's inexpensive and the variety of choices can't be beat.
If you're in the mood for some shopping, you'll also find stalls that sell clothing, shoes, and other household wares.
For a guided tour of the most famous markets in Rome, click here.
Check out my posts A Short Guide To Testaccio Market and The Best Markets In Rome.
Testaccio Food Tour
A fun way to get the best of Testaccio's food scene is to take an organized food tour.
With the expertise of a foodie guide, you'll get an insider's culinary experience of the best that Testaccio has to offer — including tastings of regional dishes, gelato, street food, and more as you explore the neighborhood on foot to learn more about the local history, meet restaurant owners and vendors, all while making frequent food stops along the way.
Tours typically last half a day with the option to book your departure time. Be sure to arrive hungry as you'll be eating a lot of tasty food over the course of those 4 hours.
For a food tour of Testaccio, click here or here.
Read my post What To Eat In Rome.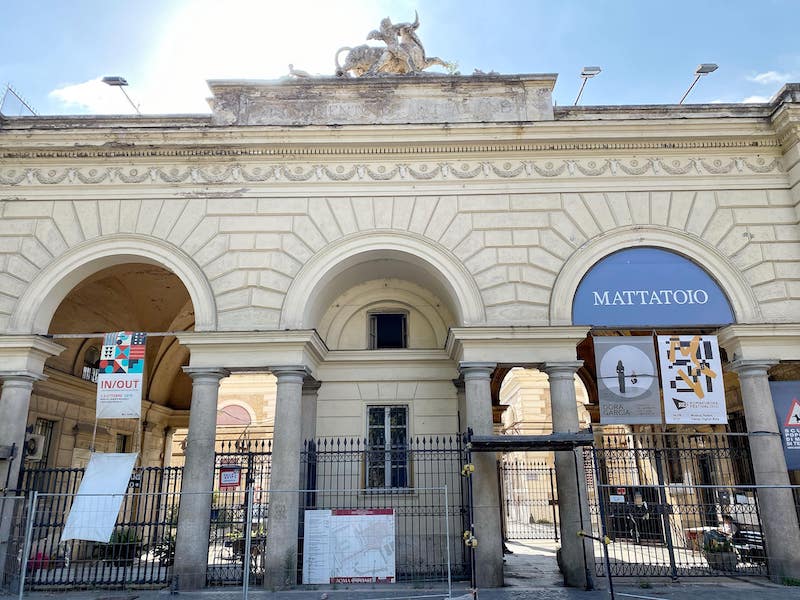 Modern Art Museum (Mattatoio)
The Mattatoio di Testaccio was originally built in the late 1800s as one of the largest slaughterhouses in Europe. Slaughterhouses and the meat industry were huge in Testaccio until the massive trucks were no longer able to navigate Rome's crowded streets.
Now the industrial space stands as a remarkable modern art museum. The restoration project of the slaughterhouse complex started in the early 2000s and was completed in 2010.
The result was the conversion of pavilions used for pig-meat processing, water storage and slaughterhouses into galleries to display amazing contemporary art with many of the original features — like meat hooks — incorporated into the decor.
The Mattatoio art gallery is located at Piazza Orazio Giustiniani four and is open from 11:00 to 20:00, Tuesday to Sunday.
Practical Guide To Visiting Testaccio, Rome
As you can see, Testaccio is definitely worth a visit as you're touring Rome. To make the best use of your time and planning, here is a practical guide to help you figure out some of the logistics in advance.
How to get to Testaccio
From other areas of Rome
There are several ways to get to Testaccio from other areas in Rome. First of all, you can walk: it's about 30 to 40 minutes walk from the historic center; around a 20 minutes walk from Trastevere, and about 30 minutes from the Colosseum.
If you want to use the metro, you'll have to get off at Piramide – that's Metro Line B.
From the airport
If you are traveling from Rome Fiumicino Airport (FCO), you can take the train to Ostiense train station, which is right next to Piramide. It will take you about 30 minutes. If you are landing in Ciampino, you can take a bus that goes to Termini Station – it will also stop in Ostiense / Piramide along the way.
Should you prefer to get to Testaccio by taxi, expect to pay a €48 flat fee from Fiumicino, and €30 from Ciampino.
Where to eat in Testaccio, Rome
Let's face it, the main reason to visit Testaccio is its food. Chances are that you'll stumble upon several local eateries that catch your eye, but to give you an idea of what's in store, here are a few top food locales you'll want to keep in mind.
Don't forget to read my post The Best Restaurants In Rome.
Felice a Testaccio
Felice has been the culinary jewel of Testaccio since 1936, making it the most popular restaurant in town. If you want your chance to taste their traditional cuisine for yourself, be sure to make a reservation in advance.
Their most famous dish is the cacio e pepe – I can assure you it is the best in Rome. The staff will literally whip the sauce in front of your eyes! Their menu is full of other local favorites including spaghetti alla carbonara, ravioli, cicoria ripassata, meatballs along with a variety of meats and seasonal side dishes.
Flavio al Velavevodetto
For some hearty portions of some of the best food in town, you'll want to book a table at Flavio al Velavevodetto. The atmosphere is spectacular — the restaurant is built against the Monte Testaccio making pieces of broken amphorae visible from the dining room and outdoor terrace.
You can't go wrong with anything on their menu. Their appetizers, pasta, main dishes are traditional, fresh, and delicious. Although you may have to go for the carbonara, as Flavio himself is crowned as the "king of carbonara." Whatever you do, be sure to leave room for their amazing tiramisu.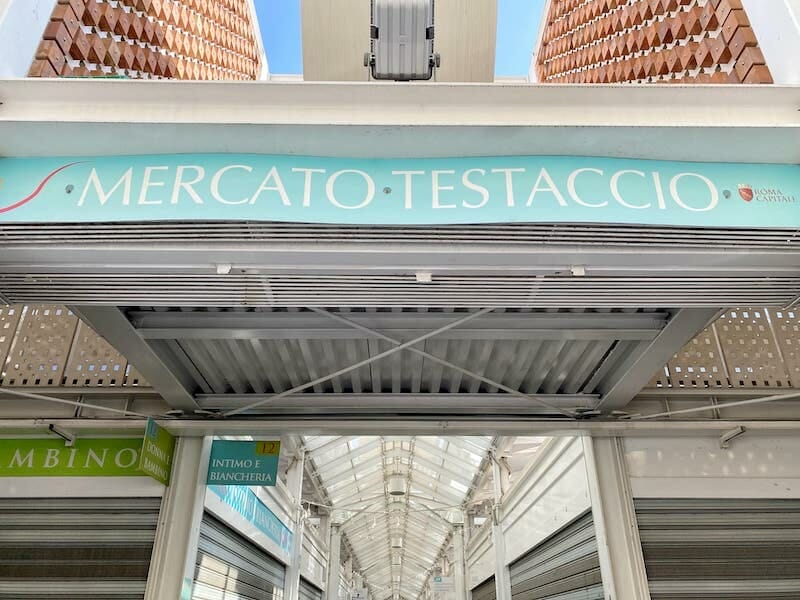 La Fata Ignorante
For a chic, modern deco experience, check out the iQ Hotel Roma's rooftop restaurant and bar, La Fata Ignorante. You'll not only enjoy the amazing atmosphere, but you'll love their variety of Italian, Mediterranean and seafood dishes along with top-notch wine varietals and cocktails.
La Fata Ignorante is on top of the list for many foodies, so you're sure to love the experience here.
Their artisanal deli plates that include cold cuts and cheese — like prosciutto, salami, goat cheese, and caciottina — served with homemade marmalade is an especially great way to start your meal. Finish it off with one of their scrumptious desserts, and just sit back and enjoy the ambience.
Romeow Cat Bistrot
For any and all cat lovers — especially vegan ones — you'll be in heaven at the Romeow Cat Bistrot. Although being vegan isn't mandatory, you'll find only vegan dishes on their bistrot and restaurant menus.
The bistrot features delectable, sweet treats, sandwiches, coffee drinks, smoothies, and cocktails. At the restaurant you can order from a variety of appetizers, pasta dishes, and main courses made with seitan, tempeh, and tofu.
As for the cats, yes, they roam freely. They're said to be quite polite and friendly, so if you like the idea of being approached by cuddly kitties, you're in the right place.
Where to stay in Testaccio, Rome
If you decide to stay in Testaccio to really enjoy all that this neighborhood has to offer, here are some places to consider.
For a more secluded, quiet Roman experience, the charming Althea Inn offers spacious, clean rooms, with private balconies. It's a great choice for travelers looking for accommodation that's more budget-friendly than the hotel offerings in Rome's city center.
Althea Inn is located in Testaccio just blocks from the Rome War Cemetery, but the Colosseum and Piazza Venezia are still within walking distance. Rates during certain times of the year can reach below 60 euros/night.
Le Tre Sorelle is a cozy bed and breakfast that offers private rooms with a private bathroom, air conditioning and city views. It's located on Via Marmorata within walking distance to all of Testaccio's attractions and just over half a mile away from Piazza di Santa Maria in Trastevere.
Guests can also enjoy Italian breakfast and buffet options every morning. Rates start at 70-80 euro/night.
If you prefer a completely independent option, renting an apartment is a good way to go. This apartment features a fully equipped kitchen, bathroom, a flat-screen TV, and Wi-Fi for a stay that's like being at home.
It's located in the heart of Testaccio and is also just 2 km from the Colosseum and 3.5 km away from St Peter's Basilica. Rates start at around 100 euro/night.
Pin It For Later!