If it is your first time visiting the Italian capital, you will surely want to hit all the most famous buildings in Rome – those you have seen a million times in photographs on social media; on postcards you may have received from friends; and on TV and movies.
To help you grasp (almost) everything that the Eternal City has to offer, I thought I'd put together a selection of the most famous buildings in Rome, with some useful practical information that will help you plan your visit.
You should also read my post The Most Beautiful Palaces In Rome.
20 Famous Buildings In Rome You Must See
Castel Sant'Angelo
Easily one of the most famous buildings in Rome, Castel Sant'Angelo was originally built as the mausoleum for Emperor Hadrian 139 AD, and it has been many things since. In the 6th century it was turned into a Papal fortress, and in the 13th century it was linked to the Vatican City by corridor—a secret escape route for pontiffs under siege.
The Castel Sant'Angelo is today named after the imposing 18th-century statue of Archangel Michael which sits atop the circular building; apparently he appeared here at the end of a plague in 590 AD.
You can get Castel Sant'Angelo skip the line ticket here. ‌
Make sure to read my post A Complete Guide To Visiting Castel Sant'Angelo.
St Peter's Basilica
Situated in the Vatican City, St Peter's Basilica is arguably the most famous building in the microstate itself. This extravagant structure is an important center for Christianity and, in fact, one of the largest churches in the world.
Dreamt up in 1506, the Renaissance style St Peter's Basilica was finished over 100 years later in 1626. The impressive structure can fit 20,000 worshippers inside, with its famous dome standing 445 feet tall. Inside, visitors will find impressive works of art from the likes of Bernini and Michelangelo.
For reserved entrance to St. Peter's Basilica click here. For tickets to St. Peter's Basilica Dome, click here.
Vatican Palace
The Vatican Palace is the home to the head of the Catholic Church. Officially known as the Apostolic Palace, it also goes by the name the Papal Palace and the Palace of the Vatican.
It comprises: the Papal Apartments, administration offices of the Catholic Church and the Holy See, the Vatican Library and Vatican Museums, as well as a selection of chapels. One of these is the Sistine Chapel, famous for its frescoes and ceilings by Michelangelo.
There's also the Raphael Room, adorned with frescoes by the artist himself, and the Borgia Apartments.
You can get tickets for the Vatican Museums and Sistine Chapel here. For a guided tour, click here.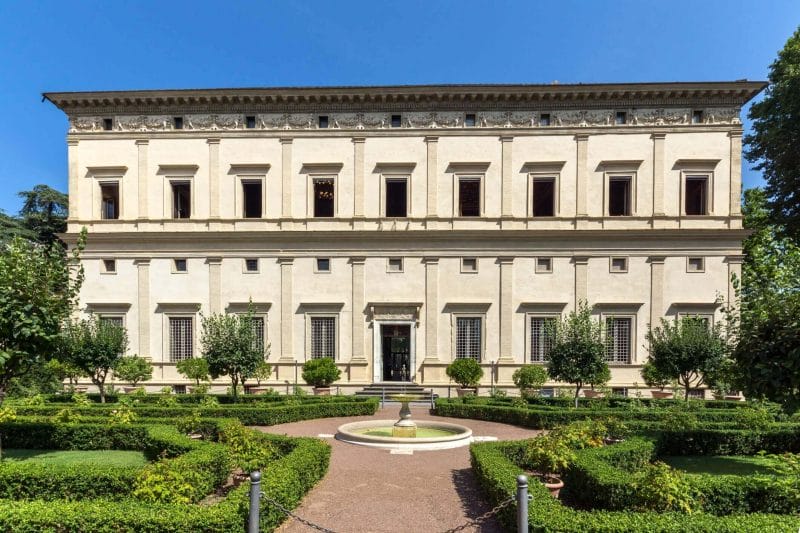 Villa Farnesina
The High Renaissance style Villa Farnesina is one of the most impressive 16th-century Italian palaces in Rome. This elegant estate took centuries to build, and is a product and power show of the Farnese family who commissioned it in 1517.
The building became even grander under Alessandro Farnese, who became Pope Paul III in 1534. Some big names in Renaissance architecture were involved in its creation including: Michelangelo, Jacopo Barozzi da Vignola, and Giacomo della Porta. Inside is a treasure trove of interior design, with frescoes and opulent furnishings.
For guided tours, click here.
MAXXI
This is a rare piece of impressive modern architecture in this ancient city. The MAXXI, or Museo Nazionale delle Arti del XXI Secolo (National Museum of 21st Century Art), is situated in the Flaminio neighborhood of the city.
It's a prize-winning piece of architecture, designed by the late great British-Iraqi architect Zaha Hadid; it won the Stirling Prize of the Royal Institute of British Architects in 2010. It was the winning entry of an international design competition set up to find a suitable home for Italy's modern art.
Besides the exhibits on art and architecture, the building itself simply must be explored – no wonder it's one of the most famous buildings in Rome.
Get tickets in advance here.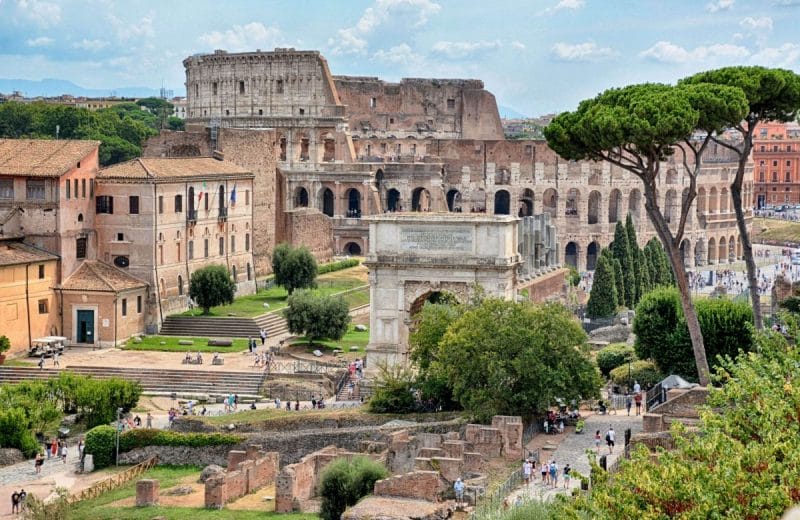 Colosseum
Probably one of the most famous landmarks in the city, and an iconic structure of Rome, the Colosseum has been capturing imaginations for centuries. Inaugurated in 80 AD, it's been the site of gladiator bouts, animal fights and was flooded for mock sea battles (complete with battleships).
Construction on the Colosseum began under Emperor Vespasian in 72 AD. It's made from limestone, volcanic rock and concrete. In its heyday, the Colosseum is thought to have held an estimated 80,000 spectators at full capacity. Since its ancient Roman days, it's been used as housing, a quarry, and even a Christian shrine.
For tickets to the Colosseum, click here. For guided tours, click here or here.
Make sure to also read my post A Guide To Visiting The Colosseum.
Palazzo delle Poste Roma Ostiense
It may not be impressive at first glance, but this modern Roman post office is well worth your time. Situated in the San Saba district, it was designed in 1932 by Adalberto Libera, a leading Italian Rationalist architect.
It is striking in comparison to Rome's ancient and Renaissance architecture, with simplicity at the forefront of its design: think symmetry, function, and smooth white marble.
Insula dell'Ara Coeli
You may think that apartment blocks are a modern invention, but that's not the case. Back in Imperial Rome, many residents of the city would live in insula, a type of apartment block complete with sanitation and running water.
This particular insula was built in the 2nd century AD and was discovered under an old church on Capitoline Hill. Four storeys remain—on the ground floor were shops that opened onto the street; above were residential quarters, with grander suites on the top floor—comparable to the way people in Rome live today.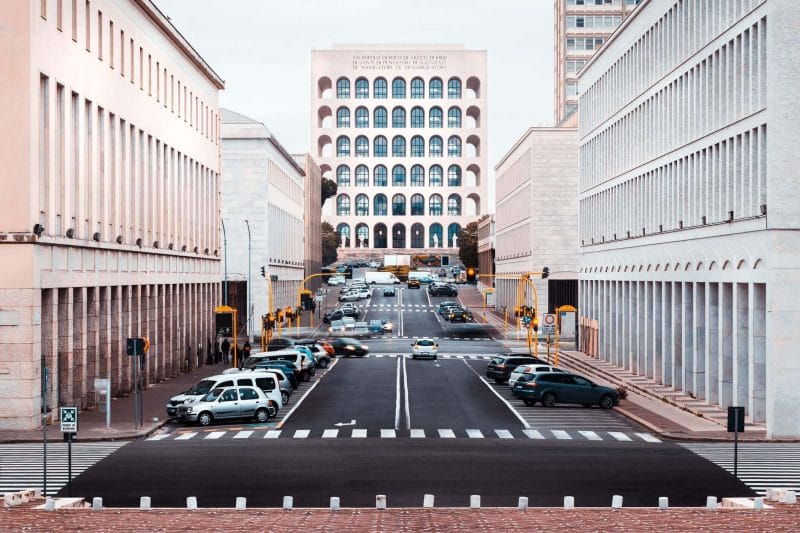 Palazzo della Civiltà Italiana
This modern marvel feels like a contemporary echo of Rome's more well known Renaissance-style architecture. Situated in the residential and business district of EUR (Esposizione Universale Roma), the building was designed in 1937 to host the Mostra della Civiltà Romana as part of the 1942 World's Fair—later cancelled due to World War II.
Considered an example of Rationalist and Fascist architecture, it hosts the headquarters of luxury fashion label Fendi. It's a nice spot for views of the city, and sometimes an exhibition, but many come just to appreciate the architecture.
For more information, make sure to read my post A Guide To Rome's Palazzo Della Civiltà Italiana.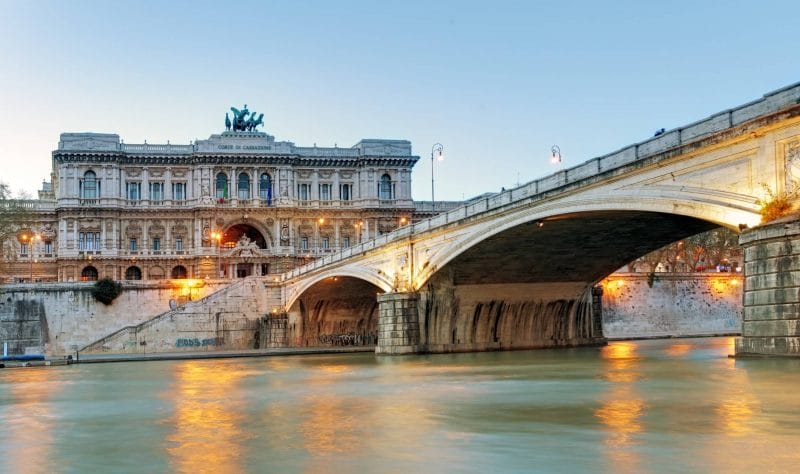 Palace of Justice
The Palace is Justice is the home of the Italian Supreme Court (Corte Suprema) and the Judicial Public Library. Nicknamed the Palazzaccio (or the "bad Palace"), this imposing structure was built between 1888 and 1910. It is counted among one of the grandest buildings following the Unification of Italy, and it's one of the most famous buildings in Rome.
During the construction, a selection of archaeological findings were unearthed, from sarcophagi to an ivory doll. Completely covered in Travertine limestone, the Renaissance and Baroque-inspired structure overlooks the River Tiber.
Church of Santa Costanza
This beautiful 4th-century church, located on the Via Nomentana, was originally built as a mausoleum for the daughter of Emperor Constantine; who died in 354 AD.
Originally the tombs of Constantia and her sister Helena were at its center, subsequently relocated to the Vatican Museum. Well-preserved mosaics, impressive columns, and other details make it a fascinating insight into early Christian art and architecture.
Museo dell'Ara Pacis
This archaeological museum was the first structure to be built in Rome's historic center after World War II. It was built to house the Ara Pacis of Augustus; the ancient Altar of Peace commissioned in 13 BC when Augustus returned after three years in Hispania and Gaul.
The building that houses the Ara Pacis was designed by Richard Meier. It's a stark and very modern contrast to the elegant marble monument, constructed of glass, steel, and limestone. The building was unveiled in 2006 and has attracted varying opinions—none more so than many Romans, who liken it to the Fascist architecture of the Mussolini era.
Palazzo Doria Pamphilj
The Palazzo Doria Pamphilj is a must-visit. Built in the mid-15th century, it was acquired by the Doria Pamphilj family in the 18th century. During this time the family amassed an array of paintings and sculptures, which today comprise one of the richest and most opulent private galleries in Rome.
For skip-the-line tickets click here.
Head over to my post A Guide To Visiting Doria Pamphilj Gallery.
Altare della Patria (Vittoriano)
The Monument to Vittorio Emanuele, known as Vittoriano or Altar of the Fatherland, is one of the most imposing and famous buildings in Rome. It dates back to 1911, when it was inaugurated to celebrate the first king of unified Italy. It's also home to the Tomb of the Unknown Soldier – hence the eternal flame burning outside.
The Pantheon
Known to be one of the best kept buildings in Rome, the Pantheon dates back to 126 AD, when Emperor Hadrian ordered its construction. Initially a temple, it became a church in 609 AD. It's where artist Raphael and King Victor Emmanuel II are buried.
To get your audioguide, click here.
Palazzetto dello Sport
This cleverly engineered piece of architecture was built alongside the larger Palazzo dello Sport for the 1960 Rome Olympics. Created out of a concrete dome, it's an impressive, otherworldly structure that hosted basketball and other sports during the Olympics; the 3,500-seat capacity arena has since played host to many other sports.
Quartiere Coppedè
Away from Rome's historic center, and way off the beaten tourist trail, is the unique and slightly bizarre Coppedè district.
Not strictly one building, this otherworldly slice of the city incorporates Art Nouveau and Art Deco, as well as Gothic, Baroque, Greek, and Medieval influences, into its buildings. Designed by Florentine architect Gino Coppedè and built between 1913 and 1927, it's a space to wander and to be amazed.
Teatro Marcello
This ancient open-air theater was built in the closing years of the Roman Republic (510 – 27 BC) and finished in 13 BC. Throughout its many centuries of use, the played host to many events, including drama and musical performances.
In fact, it was one of the largest theaters in ancient Rome, holding up to 20,000 spectators. Today, it's much loved by tourists who come to marvel at its columns, passageways, and the sheer scale of it all.
Pyramid of Cestius
Built in the 1st century BC, this peculiar-looking structure is actually a mausoleum commissioned by Roman senator and general, Gaius Cestius. Built during a phase of obsession with all things Egyptian following the Roman conquest of Egypt in 30 BC, the pyramid is a significant monument to behold.
There is a rectangular burial chamber inside, decorated with frescoes, of which only a few survive today. It was plundered of its treasures in antiquity, despite having no entrance. The restoration was completed in 2015, and visitors can now enter the pyramid—legally!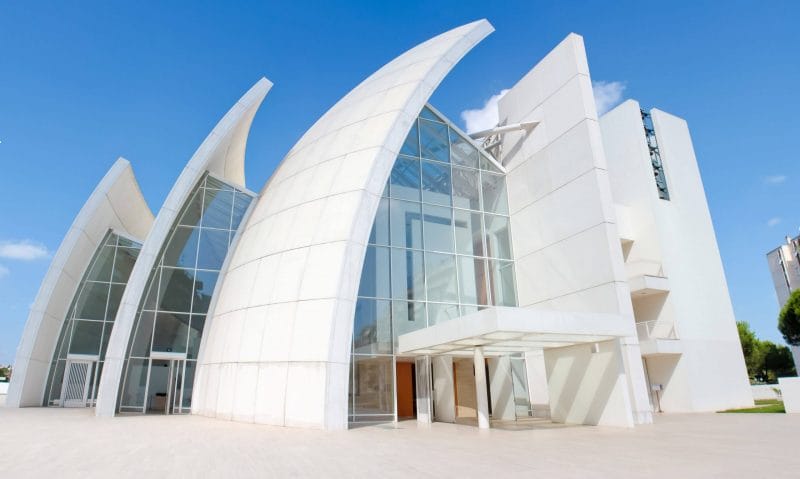 Church of the Jubilee
Most churches in Rome date back centuries—if not millennia. But this church was built in celebration of the 2000th anniversary of the birth of Jesus. Designed by American architect Richard Meier, it was completed in 2003 and is an eye-catching piece of Postmodernist architecture.
It is composed of glass, titanium and smooth white concrete in boldly curving sheets, looking somewhat like sails. The concrete is amazingly self-cleaning, so it retains a bright luster at all times. Part of its defining purpose is as a community center, to help reinvigorate a sense of community in the district of Tor Tre Teste.
Further Readings
Make sure to read my other posts:
Pin It For Later!