There are more things to do in Lecce than you'd expect. This is easily one of the most beautiful cities of Southern Italy, and one of the hidden gems of Italy. The capital of the gorgeous Salento region (between the Adriatic and Ionian Seas) of Puglia is often referred to as the Florence of the South, packed as it is with beautiful historical buildings.
This beautiful Baroque city will keep you busy with the lovely sights.
But more than anything else, it will charme you with its atmosphere – sophisticated yet incredibly laidback. That's definitely what captured me the first time I visited – and what pushed me to go again for more!
If you are planning to travel south during your trip to Italy, definitely include Lecce in your itinerary. And make sure to continue reading this post for a selection of the best things to do in Lecce and a few tips to help you plan your trip.
12 Unmissable Things To Do In Lecce, Italy
Visit the Roman Amphitheater and Piazza Sant'Oronzo
The best starting point to explore Lecce is its Roman Amphitheater, in Piazza Sant'Oronzo. Only discovered in 1901 by pure chance when excavations for the foundation works of the Banco di Napoli were taking place, this 2nd century theater could sit up to 15,000 people on its two tiers.
Only the lower one remains, and the theater is occasionally still used for concerts and other events.
Piazza Sant'Oronzo is characterized by the column of Sant'Oronzo and by the Orologio delle Meraviglie, which was commissioned by the Banco di Napoli to local artist Francesco Barbieri and finally inaugurated in 1955.
You can visit the Roman Amphitheater of Lecce and much more during a guided walking tour of Lecce.
Marvel at all the churches
You won't have shortage of beautiful churches in Lecce. Some of them are truly impressive, so make sure to check them out. Here is a selection of the ones you should visit.
MARIA SANTISSIMA ASSUNTA CATHEDRAL – Located in Piazza del Duomo, Lecce Cathedral was built in 1144 and rebuilt in Baroque style in the 17th century by architect Giuseppe Zimbalo. Piazza del Duomo is also home to the Campanile (Bell Tower), the Bishop's Palace and the Seminary – all of them in the typical Baroque style Lecce is famous for.
SANTA CROCE BASILICA – Another work of Zimbalo, this is Lecce's most elaborate church. It took 2 centuries to finish it! Next to it, Palazzo dei Celestini is the current seat of the local government and yet another work of Zimbalo.
SANTA CHIARA CHURCH – Yet one more Baroque church, this one is located in Piazza Vittorio Emanuele II. The original structure dates back to the 15th century, but the church was rebuilt between 1687 and 1691 by local architect and sculptor Giuseppe Cino from Lecce based on a project by Larducci.
If you want to follow the Lecce Church Path, opt to get a full ticket at the local tourism office in Piazza del Duomo. Tickets include admission to the Basilica di Santa Croce, the Cathedral, Chiesa di Santa Chiara, Chiesa di San Matteo, and the Seminary Museum in the Piazza del Duomo.
Walk by Lecce's many gates
Lecce used to be a walled city which was accessed via a number of gates. Three of them remain today and they all mark the entrance to the historic center of the city.
PORTA NAPOLI – Built in 1548 in honor of Charles V, it takes its name from the ancient road that would lead to Naples. The gate is modeled on a Roman triumphal arch but it's built in early Baroque style. Close to the gate you'll find Santa Maria della Porta church.
PORTA RUDIAE – The oldest gate, it's decorated with statues of saints – the central one is Saint Oronzo, the protector of the city. The original gate had collapsed – the one you see today was built in 1703 on top of the old ruins.
PORTA SAN BIAGIO – On the southernmost end of the historic center, this gate was built in 1774 and measures 55 feet (16.7 meters).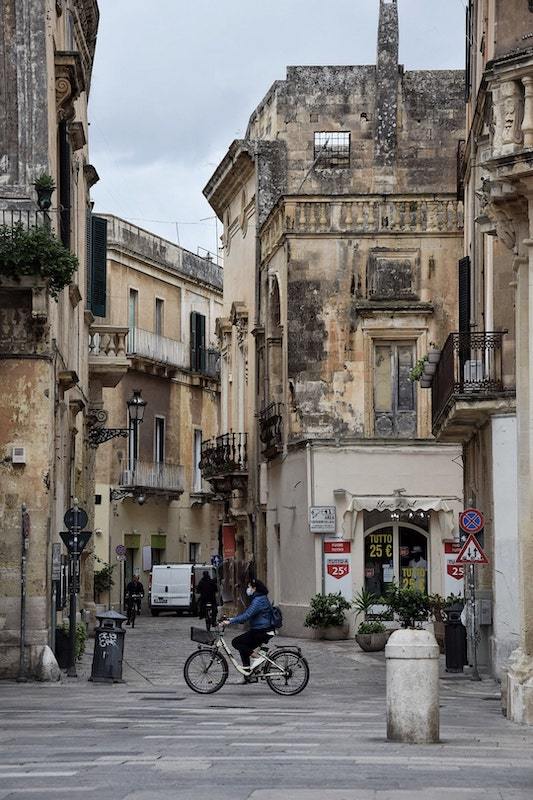 Museo Faggiano
If you visit just one museum while in Lecce, it has to be this one. The museum is located in what was a private house until 2001, when during some renovation work the owners, breaking into the floor to work on a sewage issue, uncovered archeological remains dating back 2500 years that include cisterns, tombs, secret passageways, a Knights Templar fresco and more and more.
It took 7 year to fully excavate the site, and the museum opened to the public in 2008. The building itself dates back to pre-Roman times. Between 1000 and 1200 it was a Knights Templar house and eventually became a Franciscan convent until 1600. It couldn't get more interesting than that.
Palazzo Taurino Jewish Museum
I came across this museum during a guided tour of Lecce. As the guide focused on Santa Croce, which is right next door, I was so intrigued by it that I made a mental note and went to check it out later.
Located in a former synagogue, the museum goes through the history of the local Jewish community during Medieval times and until they were evicted from the region, in the mid 16th century. Jewish building around town were destroyed and new buildings built on top of them – Santa Croce Basilica is one example.
The museum is open Monday to Friday and mornings only on Sundays and during the winter months. Admission includes a 30 minutes guided tour of the museum.
One of the most interesting things to do on Lecce is actually a guided tour of Jewish Lecce that takes you through a lesser known history of the city.
Peak at the Roman Theater
For a real hidden gem, head to Via Arte della Cartapesta, close to Santa Chiara Church. There, you'll be able to spot Lecce's Roman Theater – a 2nd century theater that was discovered in 1929 in the heart of the historic center and incredibly close to Piazza Sant'Oronzo and the Duomo.
The theater has a diameter of 76 meters (246 feet) and back in the day it could sit up to 5,000 spectators.
Admission fee includes a visit to the adjacent Museum of the Roman Theater.
Taste Pasticciotto
You simply can't travel to Lecce, Italy, and not taste a pasticciotto. This delicious pastry is made by stuffing a shortcrust pastry with the thickest, most delicious custard. The end result is a pastry that is crispy on the outside, but melts in your mouth on the inside.
Other than the most traditional version, you will find mode modern pasticciotti made with all sorts of stuffing – chocolate is definitely becoming a classic; and pistachio flavored custard a new favorite.
If you are lactose intolerant or celiac, you won't have to miss out: go to Danny, in Via Marche 14. It's a 10 minutes walk outside of the historic center of Lecce.
Gorge on Pizzo
Did you know that Lecce is one of the most budget friendly places to visit in Italy? For example eating – definitely one of the best things to do in Lecce – won't have to cost you an arm and a leg. If you are looking for a quick, tasty and budget friendly lunch while exploring Lecce, opt for a puccia, or – even better, for a pizzo.
This sort of thick bread roll with a diameter of 20 to 30 cm is usually stuffed with all sorts of seasonal vegetables – eggplant, zucchini, peppers, tomatoes, rocket and what not, plus some local cheese.
Occasionally, the dough is also made with olives or has vegetables mixed in it – usually cime di rapa, which are similar to broccoli in flavor.
The best pizzi in Lecce is at La Prelibatezza Pucceria 1941 – that's actually the year it opened. It's a really small place run by a super-friendly guy in the heart of the historic center.
To taste puccia and pizzo leccese and other local specialties, consider joining a street foot tour. I recommend this street food tour of Lecce that will help you put the culinary culture of the city in perspective.
Make sure to read my post The Best Food In Puglia.
Take a cooking class
If you want to learn how to make some of the staple dishes of Salento (and more), sign up for a cooking class: it's one of the most fun things to do in Lecce. A local chef – or, more likely, a local mamma – will teach you how to prepare a few delicious dishes, which you will then eat together at their place, usually accompanied by local wine too.
There are many cooking classes in Lecce. This cooking class is one of the top reviewed.
Enjoy a night out in Lecce
This is one of the best things to do in Lecce!
The first time I visited Lecce, I arrived there right at sunset time. I was immediately impressed by the amount of people enjoying a night out even though it was a week night! The city is packed with nice restaurants and bars where you can enjoy a meal or a drink.
Make sure to also go on a proper passeggiata – that's Italian for "walk." Don your best attire, wear a pair of comfortable shoes, and go on a leisurely walk along Via Vittorio Emanuele II. For perfection, grab a gelato!
Check out more cool places to visit in Lecce, Italy
Looking for more things to do in Lecce? Here are some places you may want to check out!
CASTLE OF CHARLES V – Home to the papier-mâché museum, the castle was first built in the Middle Ages and subsequently reinforced upon orders of Charles V in 1539. The design is of Gian Giacomo dell'Acaya.
VILLA COMUNALE PARK – Right outside the historic center of town, this nice park is the perfect spot to relax while catching some local action.
Go on a day trip out of town
Lecce is a great starting point to explore the rest of Salento and – a bit further away – Valle d'Itria, home to some of the most darling small towns in Puglia such as Locorotondo and Alberobello.
Having a car will make things significantly easier, as public transport in this part of the country is somewhat lacking and for some reason guided tours are way overpriced.
If you want to stay in the vicinity, these are the best day trips from Lecce:
OTRANTO – Around 30 minutes by car, a bit longer if you take the scenic coastal route which will take you to San Foca, Torre dell'Orso, and the Cave of the Poetry swimming hole. This nice seaside town boasts an Aragonese Castle and a gorgeous 12th century Cathedral with a well kept mosaic.
GALLIPOLI – 30 minutes by car or 90 by train. Gallipoli is another coastal town with a pretty beach and an old olive press; the city is accessed via a 16th century bridge.
SPIAGGIA DI PESCOLUSE – The closest beach to Lecce, and one of the best beaches in Salento.
GALATINA – 25 minutes drive from Lecce, or 45 minutes by train, it's a lovely small Baroque town.
Practical Tips To Plan Your Trip To Lecce, Italy
The Best Time of Year to Visit Lecce
I have been to Lecce twice, both times in October, and while the temperatures were nice and mild, it rained quite a bit my second time there. Late spring (April and May) is a good time to visit if you just want to do sightseeing.
If you hope to fit in a day or two at the beach, opt to go in June or September, when the days are nice and warm but there are no crowds.
Much like the rest of Italy, it's better to avoid visiting in July or August unless you are prepared for the heat and the crowds. Winter is a good time to visit if you are ok with a bit more unpredictable weather – the bonus of visiting Lecce in the winter is that it will be much cheaper!
How to get to Lecce
By Car
The historic center of Lecce is quite compact and you won't really need a car to move around – in any case, the center is also closed to non-residents traffic.
However, if you intend to go on some day trips from Lecce or are visiting the city as part of a road trip around southern Italy, you definitely need a car – as I have said before, public transport in this part of the country is somewhat limited.
Both times I visited Lecce, I actually arrived there by car – I rented it at the airport and parked it outside the historic center while I explored. If you intend to get to Lecce by car, either pick a place to stay with parking on the premises or ask your accommodation for the best parking spaces in the area.
Check out the prices of car rental in Italy here.
By Train
Direct trains to Lecce depart from Bari (1.5 hours) making several stops along the way; Brindisi (30 minutes); Rome (5.5 hours) and Bologna (7 hours). If you are arriving from Naples, you will have to change in Caserta.
You can check the timetable and prices of train tickets here.
Getting from the Airport to Lecce
The closest airport to Lecce is Brindisi: around 30 minutes by car, or 40 minutes by shuttle bus. If you are coming from Bari Airport, it will take about 2 hours by car.
Where to stay in Lecce
My advice is to stay in the historic center of Lecce: it's a pleasant place to explore on foot, but if you are driving to Lecce you'll have to park your car outside. You won't find large hotel chains in the heart of town, but several nice, smaller guest houses and bed and breakfast. Here are some good options:
LUXURY: DIMORA STORICA MURATORE – Located in the historic center, this bed and breakfast is set in a historic villa with the massive modern rooms overlooking a gorgeous garden. An excellent breakfast is included in the price of the room.
MID RANGE: CHEZ MOI CHARME – Large rooms in a very eclectic style at a stone's throw from all the main attractions and all the amenities you may wish for make this one of the best places to stay in Lecce.
BUDGET: LOBBY COLLECTIVE HOSTEL – The perfect choice for travelers on a budget, this hostel features plain but clean and well organized dorms as well as private rooms.
Further Readings
Are you planning a trip to Italy? Make sure to check my other posts
Pin It For Later!