When it rains, it pours – at least, in Rome. Rome never comes across as a rainy city, but would you believe it if I told you that the Italian capital gets an average amount of rain that is actually higher than London?
That's right! The thing is – while London gets a regular amount of drizzle, Rome gets sudden thunderstorm with incredibly heavy rain (we call it "bombe d'acqua" here – it literally translates to "water bombs") that actually makes it impossible to stay outside.
And that's when you need to rush for a plan b and find some things to do in Rome on a rainy day.
I have had my far amount of rainy days in Rome, so I thought I should help you by selecting the best things to do in Rome on a rainy day – there is something for all budgets and all tastes!
The Best Things To Do In Rome On A Rainy Day
Stand inside the Pantheon
The Pantheon is a pretty place to visit in any weather, but visiting is certainly one of the best things to do in Rome on a rainy day – it becomes even more incredible when it rains. In the domed ceiling of the Pantheon is a round opening called the Oculus.
When it's raining, the water gushes through this hole, falling elegantly onto the marble floor of the Pantheon itself.
You can't actually stand under the rain (why would you?) as it's roped off, but watching the rain fall in a column through the Oculus into this ancient building makes for an atmospheric way to wait out a downpour.
You can also spend time exploring the Pantheon itself, as much of it is indoors and safely tucked away from the adverse weather.
Duck inside some of the city's churches
It's not just about the famous churches – Rome is awash with churches and religious buildings. You'll find one in just about every piazza, and usually they contain some sort of interesting artwork (i particularly love the frescoes in Santa Cecilia in Trastevere), cultural item, or simply just some beautiful interiors that reveal the history of the church.
In fact, there are more than 900 churches in the Italian capital, so you can easily spend a rainy day (or more) hopping from church to church on your own religious odyssey, umbrella in hand, of course.
The basilica of Santa Maria in Ara Coeli is just one ornate example to put on your church-filled itinerary. Another one I love (and pictured above) is Santa Maria in Trastevere. Finally, Santa Maria Maggiore and Saint John in the Lateran are both gorgeous.
Read my post The Most Beautiful Churches In Rome.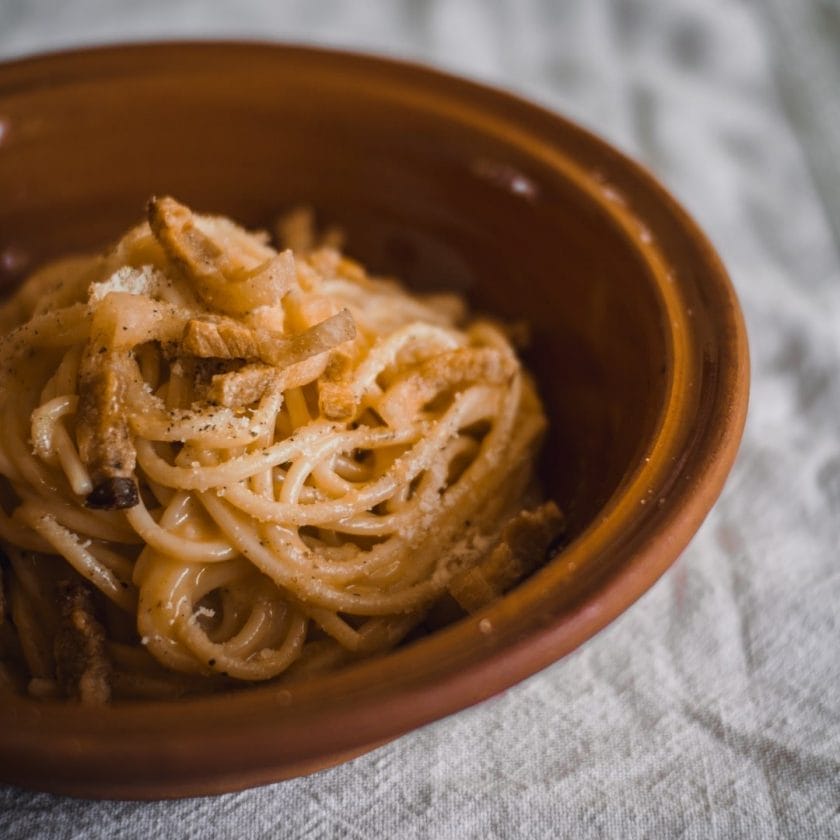 Enjoy a long lunch
Sometimes, you've just got to give in to the rain and sit and wait it out. Luckily, you'll be waiting it out in Rome, and here you can find an almost endless selection of eateries where you can linger over a long lunch. Not only is this a good way to spend a rainy afternoon, but it's actually simply just a very Roman way to eat lunch!
Find yourself somewhere to settle in for a few hours and tuck into what they have on the menu. It's even better when they offer multiple courses – kick off with a primo (pasta or soup), then onto a main course, wash down with plenty of delicious wine, and stick around for dessert.
The best place to find a lunch spot like this is around the Pantheon (Armando al Pantheon); Trastevere (Enzo al 29 is a great choice); and Testaccio (Felice a Testaccio is where you'll find the best cacio e pepe).
Head over to my post What To Eat In Rome.
Whip up something delicious at a cooking class
If you'd rather know how to cook Roman and Italian cuisine than sit in a restaurant and spend hours eating it, then one of the best things to do in Rome on a rainy day is to try out a cooking class.
There are many places you can hit up to learn how to make some of Rome's traditional recipes, and it means you can go back home with the best souvenir ever – the knowledge of how to make the food you enjoyed when you were in the city.
You can book your cooking class in Rome here.
Head inside for wine
While rainy days aren't always the norm in Rome, it definitely does rain in Rome. It can be just about as dreary and cold as any city in the world when it's raining, and the best antidote to this is to find yourself a cozy spot to wait it out.
Case in point, find yourself an enoteca. These compact wine bars are ideal spots to linger over a glass of wine or two with a book, or you could opt for a wine tasting experience at some bars.
Enotecas dot the city, so you'll never be too far from one when the weather turns bad. One of these is Fafiuchè, a small, local spot with a long wine list – I mean long (600 labels) – which are best enjoyed with their selection of cheeses and meats.
Over in Centro Storico, there's Il Goccetto, a literal Aladdin's cave of wine set in a building dating from 1527. And if find yourself in Trastevere, head over to La Cuverie – by far my favorite wine bar in Rome, with super friendly staff that is incredibly knowledgeable about wine.
Sip a coffee
If drinking wine in the day isn't your thing, then there are just about as many – if not more – spots to enjoy a coffee in Rome as there are places to sip wine.
Romans don't usually while away the hours over one coffee – it's usually a quick espresso at the bar and then dashing back out into the city. Sipping an espresso? That's just madness (besides, in most cases it's no more than two sips!).
However, there are a number of coffee shops where it is more acceptable to spend a long time enjoying your caffeine fix – and this is one of the coziest things to do in Rome on a rainy day.
While you will have to pay more to sit at a table rather than at the stand at the bar, it's worth it for the break from the rain. Take along a book or plot your further adventures in Rome with a guidebook.
You may want to try the Caffé Greco, a historic café near the Spanish Steps (warning: it's not cheap!) where you will actually also find the lovely Babington's Tea Room. For lunch with your coffee, Materia Cafe is a great spot for tasty dishes and good coffee.
While away the hours at the Capitoline Museums
Unlike the Vatican Museums, you don't need to book in advance for the Capitoline Museums. This means that you can easily make a spontaneous trip to this amazing set of museums – ideal for when it's raining.
Spread across different buildings, no matter where you are in the city center, you'll be able to drop in and see some pretty amazing things.
The museum itself has a long history of over 400 years, opening to the public 1734. It's considered the first museum in the world, making it a sight to see regardless of the ancient statues, medieval and Renaissance art, inscriptions, jewels and coins that you'll discover inside. It's enough for any history buff, rain, or shine.
Be amazed by the Ara Pacis
Also known as the Ara Pacis Augustae (the Altar of Augustan Peace), this stunning artifact is situated in a modern museum. The museum itself is well worth a visit, even without the amazing monument from 9 BC – it's a glass-walled affair which makes the falling rain outside quite dramatic and atmospheric.
The shrine is a marble altar that was originally located in the Campo Marzio outside the ancient walls of the city. It disappeared without a trace in the second century AD but was discovered in the River Tiber in the 20th century.
The museum was built in 1995 to house the ancient artifact. The long glass building is the ideal home for the structure, with nothing but the rain to distract from its beauty.
The Ara Pacis is located minutes away from the Spanish Steps, right along the banks of the Tiber River.
Discover lesser visited museums
Sure, Rome is known for its famous museums – the Vatican being a prime example – but the Eternal City has a long list of lesser-known museums that are just waiting to be discovered. So as the tourist crowds head to the main indoor sights when the heavens open, you can avoid these busy spots and head to some hidden gems instead.
Centrale Montemartini, located in Viale Ostiense, is a good example. Situated in a powerplant that was abandoned in the 1980s, this art gallery features ancient sculptures and mosaics on a unique industrial backdrop – it's rarely crowded.
Since most people in Rome will be concerned with ancient sites, another site you may want to consider visiting is MACRO (Rome's contemporary art museum), set inside an old Peroni brewery – you will beat the crowds and the rain all at once. The bonus? It's free to visit!
Check out my post The Best Free Things To Do In Rome.
Visit Rome's first pharmacy
It's called Santa Maria della Scala, and you'll find it in Trastevere. It has the accolade of being Rome's first pharmacy open to the public and has been in business since the 16th century. Managed by friars, you can only visit on a tour, but it comes highly recommended.
There are plenty of oils and potions, and various ointments and mysterious ancient medicines on display, harking back to another time altogether. Amazingly, the monks in charge sold their wares here until 1954.
Go underground at the catacombs
Being underground is quite literally one of the best things to do in Rome when it rains. You'll be surely sheltered from the elements as you head into the famed catacombs and underground galleries deep beneath the city.
These burial grounds date from the second to the fifth century AD, and many of them have only been uncovered in the past few decades. There are at least 40 of the catacombs, some of which are actually the longest and oldest underground burial tunnels in the world.
Creepy, yes, but these dark and narrow spaces are a fascinating look at the past and a unique way to stay dry.
Try the Catacombs of San Sebastiano (12 kilometers long), or the Catacombs of San Callisto (20 kilometers long), which is also the burial place of 16 former popes.
You are better off joining a guided tour to explore the Catacombs. You can book yours here. Remember photography is not allowed inside.
Explore amazingly intact Roman dwellings
Up on the Celio Hill, you'll find the Basilica of Santi Giovanni e Paolo. However, it's not the basilica you're here to see, as impressive as it is; it's actually the ancient Roman dwellings that were discovered beneath the church that are the main event here.
Step in from the rain and you'll find 20 ancient underground rooms to explore. Dating between the second and fourth century AD, the complex is awash with frescoes and mosaics, and more ancient wonders besides.
One of the most amazing things here is an ancient apartment block, thought to have shops on the ground floor and living quarters on the upper floors.
Browse a bookshop
Rome has some truly beautiful bookshops to discover, and if it's raining there's nothing better than to spend an afternoon browsing some of the city's most interesting book stores. While it's true that many of these may not be well stocked with English-language books, simply stepping inside these shops is a dream for any lover of literature.
Libri Necessari specializes in vintage books and historical writings and feels like a treasure trove of knowledge. Another good option is Feltrinelli, a bookstore chain – there are many around town but I love the one situated close to Termini.
You can also go to the Open Door Bookshop, which has been family-run for over 40 years and boasts books in a variety of languages. For a more modern bookstore, Arion Esposizioni is a stylish spot located in the basement of a museum, features a coffee shop, and is a favorite of Rome's creatives and cool kids.
Shop till you drop
There is no end to the number of places in Rome where you can browse and buy a whole array of different things. If you want a slice of old-school elegance, the Gallerio Alberto Sordi is the place to go. Set in a building dating back to 1922, this Art Nouveau structure is an interesting place to wander. For something much bigger, you can pay a visit to La Rinascente.
Opt for the flagship store, built in 2017, and find an ancient Roman aqueduct in the basement, a bar and restaurant on the roof (with city views), and plenty of shops in between. There's even a shopping complex beneath Termini Station!
Looking for the best areas to go shopping in Rome? Read this post.
Go shopping in a covered market
What better way to enjoy a soggy day in Rome than to browse one of Rome's traditional markets? Many of these markets may be open-air, but some are actually covered, meaning you could end up spending all day browsing a variety of different stalls.
One of the best places to go for this is the Mercato Testaccio (pictured above). With its elegant glass roof, this local food market – situated southeast of the center of the city – sells an array of local produce.
Elsewhere, Mercato Trionfale is another great option for indoor shopping – meats, fish, pasta, pastries and cheeses – you name it, they sell it.
If you really want to shop and don't mind the rain too much, Rome's outdoor markets still continue even when it's raining – Mercato San Cosimato or Campo de' Fiori markets being two prime examples.
Make sure to read my post The Best Markets In Rome.
Catch a movie
Feeling in the mood for a film or two? Then you're in luck. Rome has plenty of cinemas, old and new, where you can catch a flick – and this is definitely one of the best things to do in Rome when it rains.
The Nuovo Sacher, dating back to the 1930s, is a particularly famous option. It's owned by filmmaker Nanni Moretti and shows independent movies, and it boasts a cafe with delicious cake.
Multisala Barberini is old-school. It boasts multiple screens inside an ornate neoclassical building, where you can catch everything from blockbusters to live opera.
Another option is Nuovo Olympia, an arthouse cinema in central Rome (claim to fame, the Ara Pacis was discovered here).
Discover the best movies about Rome.
Pin It For Later!