Good food in Rome is everywhere, and you are bound to find something that will satisfy your taste buds.
Food is a huge part of Italian culture and a good enough reason to visit Italy. Each region – in fact, each city and each village! – has its local specialties.
Eating is easily one of the best things to do in Rome. While you will definitely have heard about some of its more famous dishes such as "spaghetti alla carbonara," other recipes aren't as popular overseas – so a trip to Rome will give you the chance of discovering new flavors.
Roman cuisine is earthy, based on the use of a few, simple ingredients paired so well that they will send your tastebuds to heaven. These dishes are the proof that the key to good food is using just the right amount of very high quality local ingredients.
If it is your first time in Rome and you are curious to learn more about local dishes, you are in the right place. Here I will tell you what to eat in Rome, and share a few tips to make the most of local cuisine.
The Best Food In Rome: All The Dishes You Should Try
Pasta dishes
Pasta is the most stable of Italian food – we literally swear by it here. While you won't find dishes such as "fettuccini Alfredo," which is unheard of in Italy; and chicken on pasta is deemed to be illegal, in Rome you'll find some fabulous pasta dishes. Some – such as carbonara – are world famous. Others are lesser known but equally delicious.
Here are the ones you should try.
Spaghetti Cacio e Pepe
Cacio e pepe is made with either spaghetti or tonnarelli. I am a fan of spaghetti, as tonnarelli – egg noodles that are thicker than spaghetti – tend to cover the taste of the sauce a bit.
The dish literally has just 3 ingredients – spaghetti, grated pecorino cheese (which is made with sheep milk and has a much stronger, peppery flavor compared to Parmigiano) and black pepper. In fact, count 5 if you want to consider the water and salt you use to boil the pasta. Yet, making a good spaghetti cacio e pepe isn't exactly easy. If you are not quick in mixing the ingredients, and the proportions are't right, the cheese can turn clumpy.
This is why, much to the horror of Italians, you may come across recipes that call for cream, or butter, or even lemon to take away the creaminess of butter (which shouldn't be there in the first place). Steer away from them!
Different people prepare cacio e pepe differently, but the original recipe suggests to mix and stir grated pecorino cheese and a bit of black pepper with a bit of the water you boil the pasta in, until it becomes creamy. Then, toss the pasta in, stir a bit more and enjoy.
For the real spaghetti cacio e pepe recipe, click here.
Bucatini or Spaghetti alla Gricia
Gricia pasta is like carbonara without the eggs, or cacio e pepe plus the guanciale. Pecorino cheese and guanciale are the main features of a staple dish or Roman cuisine, that was apparently invented by the shepherds of Lazio.
The two ingredients really stand on their own in this delicious pasta dish, so you can taste their earthy, mouth filling flavor. It's delicious, but for some reason not many tourists actually ever try it, as they are usually enamored with carbonara.
Make sure to read my post How To Make Pasta Alla Gricia.
Spaghetti or Rigatoni alla Carbonara
While there is no actual record of the existence of Carbonara before WWII, and there are many legends around the creation of this dish (including one according to which it was prepared for American soldiers who were craving eggs), this is definitely the most popular food in Rome and you absolutely have to try it during your visit.
World famous carbonara is a very creamy sauce that, however, doesn't have cream. Spaghetti alla carbonara are made with guanciale (cured pork jowl), grated pecorino romano cheese, egg yolk and black pepper. Some in Italy prefer to use pancetta, for it doesn't taste as strong as guanciale. But trust me: the real dish is meant to be prepared with guanciale and it's indeed incredibly rich in taste, and almost too salty if you wish.
The perfect spaghetti alla carbonara are prepared by quickly frying guanciale in a pan. It has so much fat that it quickly becomes crispy. At the same time, egg yolks are whisked with grated pecorino cheese.
Once the spaghetti are cooked – as always, al dente – they are thrown in a bowl with a bit of the water they've been cooking in, the mixture of egg yolk and pecorino, and guanciale. The heat of the pasta and of the water only slightly cooks the eggs – just enough for a perfect creamy texture.
Check out my recipe for spaghetti alla carbonara!
Bucatini or Spaghetti all'Amatriciana
Bucatini are a sort of thick, long, hollow spaghetti that are actually complicated to eat without making a dirty mess – but they are so tasty when paired with amatriciana sauce, that they are totally worth it. I actually enjoy the sauce so much that I also eat it with spaghetti or rigatoni.
Amatriciana sauce – which actually originates from the small town of Amatrice, in Lazio – is a thick tomato sauce prepared with olive oil, guanciale, extra dry white wine and chillies. I have seen some posts here and there that suggest onions are added to the sauce, but – THE HORROR! Seriously, there are no onions in Amatriciana sauce.
Once the bucatini are cooked, they are tossed in the sauce. Add grated pecorino cheese for perfection.
For the full amatriciana recipe, click here.
Rigatoni con la Pajata
This dish is really only available in Rome, so you really should try it if you see it on the menu. But what is it, exactly?
This typical food in Rome is a perfect example of how Romans have been using "quinto quarto" (literally fifth quarter, but quite simply leftovers, or lesser valuable) cuts of meat or parts of the animals to create some of their staple dishes.
Pajata – unweaned veal intestines – isn't exactly for anyone, but if you want to try a dish that you'll only find in Rome, this is a must. The upper intestines of an unweaned calf containing partially digested mother's milk are cooked in a tomato sauce for a very long time and served with rigatoni and a generous amount of grated pecorino cheese.
Quinto quarto cuisine dates back to the time when Europe's largest slaughterhouse was found on the banks of the Tiber River, and workers were at times paid in left over cuts (the famous quinto quarto) of meat. They ended up creating dishes that became incredibly popular, for they are truly delicious.
Gnocchi alla Romana
Completely different from the potatoes and flour gnocchi you may have heard of and find at your local Italian restaurant, gnocchi alla romana are a great option if if you are vegetarian, and an incredibly comforting food to have during the colder winter months.
They are made with semolina cooked in milk, mixed with eggs and finally grilled with abundant butter and parmesan cheese until they become crispy. They aren't often found in restaurants, so if you spot them on the menu make sure to order a portion.
Here's my recipe for How To Make Gnocchi Alla Romana.
Meat and fish dishes
Italians call meat and fish dishes "secondi" because they are usually served as a second course, right after pasta. The following are a few great secondi that you will commonly find on the menu.
Saltimbocca alla Romana
Saltimbocca translates as "jumps in your mouth" – and you'd honestly wish they did. One of the most popular food in Rome, these lovely small veal cutlets layered with prosciutto and topped with fresh sage are pan fried in butter and wine and must be eaten hot.
Bread is the perfect accompaniment for what we in Italy call "fare la scarpetta" – loosely translated as dipping the bread in the delicious juice or sauce.
Here's my recipe for saltimbocca alla romana.
Coda alla Vaccinara
One of the tastiest and most traditional food in Rome, and another great example of the "quinto quarto" cuisine which sees the use of offal as a main ingredient, this is a stew made by slowly braising ox-tail with lots of vegetables, tomatoes, red wine and spices.
The dish is ready when the meat literally falls off the bone (and melts in your mouth). It's messy and delicious. It calls for a good portion of bread to scoop up all the sauce and practice the art of " fare la scarpetta."
Abbacchio alla Scottadito
Scottadito literally means "burning your fingers" – that's because this dish of milk-fed lamb cutlets that are pan seared with just a drizzle of olive oil, salt, pepper, and a few herbs (usually marjoram, mint, and thyme) are meant to be eaten with your hands only. It's a seasonal dish: lamb in Italy is not found in the spring or summer.
Trippa alla Romana
This is another traditional Roman food that is prepared with offal.
Trippa (tripe) is the honey-combed upper stomach of the grazing cow. For this dish, it is slowly simmered in tomato sauce cooked with carrots, onions and with lots of herbs and served with an abundant dose of grated pecorino cheese. It's a very protein rich, low in fat food. If you can get past the chewy texture, it's actually delicious.
Fagioli con le cotiche
Pork grind is cooked in water until soft, then beans and tomatoes are added for a truly earthy dish. This is another of the food in Rome for which a good chunk of bread as an accompaniment is recommended!
Filetti di Baccalà
A staple of Roman Jewish cuisine, cod (or baccalà, in Italian) is dipped in a light batter and fried, then served piping hot. You'll find the best one at Dar Filettaro a Santa Barbara, near Campo de' Fiori.
Pollo con i Peperoni
This chicken stew is made with diced chicken that is pan seared in olive oil with salt and pepper. Once cooked, wine and ripe diced tomatoes are added.
Bell peppers are cooked in a different pan with oil, diced onion and tomatoes. Once they are ready, they are added to the chicken. Everything is stewed for five more minutes. The dish is served piping hot and it's meant to be eaten with – you guessed it – bread.
Want to make pollo con i peperoni at home? Check out my recipe!
Coratella coi Carciofi
Another dish prepared using the "quinto quarto" cuts of meat. Coratella is made using the heart, lungs, and other insides, slowly cooked with artichokes. It's usually served as an appetizer or as a side dish. Locals swear by it but I won't hold it against you if you refuse to try it!
Vegetarian and vegetable dishes
You won't have trouble finding good vegetarian and even vegan food in Rome. Here are some vegetarian and vegan dishes you should try in Rome.
Carciofi alla Giudìa (Jewish-style artichokes)
If you love artichokes, you'll be in for a treat when in Rome – but only if you are visiting when the carciofo romano is in season, from January to May. If you visit then, you will inevitably find artichokes on the menu – added on the cacio e pepe pasta and as an appetizer in the form of carpaccio with shavings of Parmigiano cheese. But that's not all.
Some of the best traditional dishes of Roman cuisine are prepared with artichokes.
One of them is the carciofi alla giudìa – Jewish-style artichokes, one of the staple recipes of Roman kosher cuisine. As the name suggests, this dish originated from the Jewish Ghetto of Rome, which has developed its own kosher recipes.
For this dish, artichokes are beaten till mostly flat, then deep fried twice so as to be crispy on the outside and soft and moist on the inside. They are seasoned with salt and pepper before being served, piping hot.
Carciofi alla Romana (Roman-style artichokes)
Not to be confused with carciofi alla giudìa, this is actually my personal favorite. When I lived in the United States, I'd specifically call my parents before visiting for the holidays to demand my mother to prepare the dish for me.
In this case artichokes are stuffed with a mix of finely chopped garlic, parsley, mint, oregano and pepper, then braised in olive oil and water until they literally melt in your mouth.
Want to make carciofi alla romana? Read my recipe!
Bruschetta
Nothing beats a proper bruschetta when you want something quick and tasty and not too elaborate. This name of this dish, which originated in the area between Lazio and Tuscany, comes from the word "bruscare" which in the local dialect means "roasting over coals."
The most basic bruschetta is a slice of grilled bread with rubbed garlic and extra virgin olive oil. I am not a fan of it, because I truly don't like garlic. In fact, the most popular kind would be with fresh chopped tomatoes and basil. There now are even more elaborate varieties with mortadella, prosciutto, lardo di colonnata or pancetta, mozzarella or burrata… You name it!
Cicoria ripassata
Usually found in trattorie in the fall or winter months, this side dish is made by lightly frying chicory in olive oil with garlic and chillies. It's light, full of flavor and spicy, and a perfect side dish for vegans.
Puntarelle
Even though I list it here, this very popular salad ubiquitous on the menu of most restaurants in Rome is actually not vegetarian! It's made with the sprouts of catalogna chicory, sliced very thinly and served raw and seasoned with a salad dressing made of extra virgin olive oil, crushed garlic and anchovies. You may asked for a vegan version without the anchovies, but I doubt the flavor would be nearly as good.
You can learn how to make puntarelle alla romana with my recipe here.
Fiori di Zucca
Nothing beats good fiori di zucca in the summer. Zucchini flowers are stuffed with mozzarella and anchovies, dipped in a batter made with flour and very cold sparkling water or beer, and then deep fried. They are absolutely delicious and one of the best food in Rome.
If you want the vegetarian version just ask to keep out the anchovies. My mom actually makes them without and they are just as delicious!
Street food in Rome
Supplì
Supplì al telefono are one of the most famous street food in Rome. They are earthy cones of rice cooked in a thick tomato and meat sauce, set aside to rest for a night, and then mixed with eggs and parmesan.
They are made by flattening a ball of rice in the hand and stuffing it with mozzarella, rolling it again before passing it in breadcrumbs and frying it. When you bite into them and pull them apart, the mozzarella is meant to be stringy and resembling of a phone cord, hence the name "al telefono."
Other than the classic version, you can opt for the most innovative ones ie those with pumpkin risotto and bechamel sauce.
Supplì are commonly found at takeaways and eaten as an aperitif or as an appetizer before pizza.
Want to make supplì at home? Check out this recipe.
Porchetta Sandwich
For one of the best street food in Rome, bite into a porchetta sandwich. This is prepared by stuffing a fresh, crispy roll with porchetta. Originally from Ariccia, in the Castelli Romani, porchetta is prepared by slowly roasting on the spit a large, deboned pig seasoned with salt and plenty of herbs. The meat is cooked until becomes soft yet remains moist and the skin is crackly, crispy.
You may be tempted to ask for other toppings for your porchetta sandwich, but we locals literally only have the bread and the meat together. It's so flavorful that no other seasonings or toppings are necessary.
Pizza al taglio
Pizza is commonly found in Rome, but it does not even resemble the pizza you'll find in Naples. Here, the crust is thin and crispy; whereas in Naples the rim is raised and chewy, and the crust a bit thicker.
One of the best street food in Rome is pizza al taglio (pizza by the cut, or better by the slice) – pizza sold sliced into squares or rectangles. The best is the very plain one, with just olive oil and salt on top. You can pair it with mortadella for a fabulous sandwich. If you want something more elaborate, opt for the classic tomato sauce and mozzarella; or for the fresh cut ham and artichoke hearts. It's usually served folded and it's perfect to eat on the go.
Trapizzino
Trapizzino is a pocket of fluffy pizza dough filled with a variety of ingredients which can include polpette al sugo (meatballs in tomato sauce) or vegetables such as eggplants or zucchini flowers. It was invented in 2009 by Stefano Callegary, a local pizza maker. The best place to eat it is Testaccio, where Trapizzino – the place that invented it – is located.
Desserts and sweets
There are some excellent sweets and desserts that you can have while in Rome. Here are my personal favorites!
Maritozzi
Only found in Rome, maritozzi is something you really need to try when in town! The best are found at Regoli, a traditional pasticceria in Via dello Statuto, not far from Piazza Vittorio Emanuele and Vittorio Emanuele metro station.
Maritozzi are buns that are baked till golden, then sliced in two and filled with a large amount of whipped cream. Traditionally, these sweets were offered by grooms-to-be to their fiancées – hence the name "maritozzo," loosely translated as "almost married."
Originally served during Lent, most bakeries and "pasticcerie" in Rome realized they were so popular that they started baking them every day. It's a popular breakfast food in Rome- try it as an alternative to cornetti!
Crostata di Ricotta e Visciole
Rome's version of cheesecake, this is a desert of the Roman Jewish tradition. Indeed, the crostata ricotta e visciole used to be served for Hanukkah but is now commonly found on the menu of the most traditional restaurants. It is made with pasta frolla – a dough made with flour, eggs and copious doses of butter; ricotta cheese and sour cherries.
Gelato
Gelato isn't a Roman food proper. But you'll find if anywhere in Rome. Just make sure to opt for the quality "gelato artigianale", which is actually harder to get. The real gelato artigianale usually melts much faster than the industrial one, and most of the time it is preserved in large refrigerated bins that you won't even be able to see.
Good gelaterie usually have very few flavors to serve, so stay away from places that sell more than 15 flavors. If you spot a place serving 40 flavors of shiny gelato in bright colors, it's quite obvious that's not the real stuff!
Want to have gelato but not sure where to go for quality stuff? Make sure to read my post The Best Gelato In Rome.
6 Additional Tips To Find The Best Food In Rome
Believe it or not, it is possible to get bad food in Rome. I once had a cacio e pepe which was no more than boiled pasta with low quality grated cheese and a ton of pepper on it. I hope you can altogether avoid bad food in Rome, so here are some additional tips that will help you get acquainted with local cuisine.
Join a food tour
One of the best ways to discover food in Rome is by joining a food tour. You'll get a local guide that knows where to go for the best dishes, you'll try some local specialties and learn a lot about picking the right food and where to eat it. There are many kinds of food tours: some include cooking classes; others go to the market; some are strictly street food.
You can book your food tour in Rome here or here.
For a street food tour of Rome, click here. For an e-bike night food tour, click here.
For a tour that specifically goes to the Jewish Ghetto, click here. Would you rather go to Trastevere? Click here!
For a cooking class, click here.
Eat where the locals eat
It's actually easy to fall for tourist traps in Rome. Generally speaking, restaurants that are right in front of major tourist attractions, that have photographs on their menu, and where there's a keen host that invites you in are not really authentic or local – food won't be nearly as good as in the local trattoria tucked in the narrow alley nearby.
Nobody knows food in Rome better than actual Romans. Ask for their tips and you'll end up in the best eateries and restaurants. The hotel receptionist will most likely be able to point out the best places to eat near your hotel.
I discovered Trattoria Vecchia Roma, near Vittorio Emanuele, thanks to a local tip. It's the kind of place where tourists never used to be a common sight, because it's a bit out of the main tourist track, but it's now becoming more popular because the food is absolutely delicious and prices super convenient.
Not sure where to eat? Just read my posts 21 Best Restaurants In Rome and 13 Best Restaurants In Trastevere.
Remember that tipping at Italian restaurants is not customary. Want to find out more? Head over to my post Tipping In Italy: When To Tip And How Much.
Eat when the locals eat
You may want to have lunch or dinner much earlier than when Italians do. But honestly – when in Rome, do as the Romans. Meal times vary greatly between different regions of Italy, but in Rome people never dream of having lunch before 12:30 or 1:00 pm, or dinner before 7:30 or 8:00 pm. If you spot someone eating spaghetti at 6:00 pm, chances are he's a tourist and that restaurant caters to tourist. Steer away.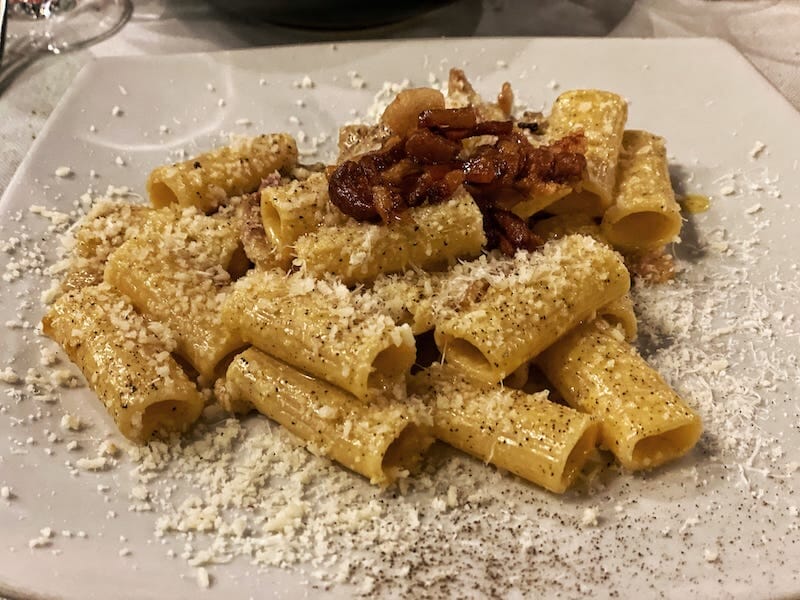 Eat what the locals eat
Food in Italy is very local. You may find lasagne and milanese on the menu in Rome, but you'll be better off sticking to local recipes as those are the ones truly mastered in the region.
Don't drink cappuccino with your meal
To Italians, cappuccino is almost strictly a breakfast drink. Don't order cappuccino with your meal, or after a meal. If straight espresso is too strong for you, opt for a caffè macchiato – espresso with a drop of either foamed or cold milk.
Make sure to read my post How To Order Coffee In Italy: The Best Italian Coffee.
Further Readings About Rome
Make sure to read my Rome itineraries – you will find plenty of tips to make the most of the city:
Further Readings About International Cuisine
Will you travel for food? Then make sure to read my posts about international cuisine:
Pin It For Later!