Val di Sole is one of the most scenic valleys of Trentino, in Northern Italy, and a side valley to the more famous Val di Non. Here you'll find majestic mountains, glaciers, forests and rivers, charming villages and mountain farms.
With altitude ranging from the roughly 700 meters (2,296 feet) above sea level of Malè, the main town in the area, to 3,500 meters (11,483 feet) in Cevedale and San Matteo peaks in Stelvio National Park, and home of the Adamello and Brenta Mountains, Val di Sole is a great place for nature and adventure lovers in both summer and winter time. Whenever you decide to visit, you'll also find good food and wine, a bit of history and culture, and opportunities to relax.
The following is a mini-guide with useful information to plan your winter getaway to Val di Sole, with ideas on things to do, places to visit, where to stay and more.
What To See And Do In Val Di Sole In The Winter
Hit the slopes
Val di Sole has an incredible range of ski slopes. The Folgarida-Marilleva area has 150 km (92 miles) of slopes; and there are 100 km (62 miles) in the area of Presena Glacier, Passo Tonale and the village Ponte di Legno. Slopes vary in length and difficulty, each offering a different view and experience.
The most important ski station is Folgarida. Part of Dimaro, this was founded in 1965 on the way that links Dimaro to Madonna di Campiglio, and it quickly grew to become one of the most popular tourist destinations in the area in both the summer and winter months.
The web of slopes of the Folgarida – Marilleva area are connected through a series of gondolas and cable cars, which means you can easily reach each and every slope easily and have a change of scenery throughout the day.
The slopes of Folgarida have good quality snow throughout the winter, and are perfect even for beginner and intermediate level skiers. Indeed, aside from the black level slopes that attract experienced skiers, there are various blue ones, and the red ones are easy enough even for inexperienced skiers.
If you aren't confident enough on the skis or want to improve your technique, you can take ski or snowboard lessons in one of the 4 schools at the station. There even are 3 kinder-gardens, perfect for families with small children who have a great time learning how to ski.
Scattered along the slopes there are several mountain huts, locally known as "rifugi," where you can have a break during the day, enjoy a hot drink, an earthy meal and take in the incredible views of the mountains.
Practical information
How to reach the slopes
BY CAR – The easiest way to move around Val di Sole is by car. You can easily rent one here.
BY BUS – If you prefer using public transportation, you can rely on the free ski-bus that connects the various villageswith the ski stations. The first ride is between 8:15 and 9:00 am, depending on the village, and the last ride back is after the last arrival of the cable car, around 4:45 pm.
BY TRAIN – Another option to reach the slopes is the Dolomiti Express train, which connects Trento (Trentino's main city) to Daolasa and Mezzana ski stations, where passengers have a changing and locker room at disposal.
Ski-pass
The cost of the ski-pass for the ski-area Dolomiti di Brenta, Val di Sole and Val Rendena costs €73 per day (low season); the ski-pass Folgarida Marilleva area costs €52 per day (low season). If you get a 6-day pass, it costs €304 (low season). You can get a ski-pass in any of the cable car stations (they open at 8:00 am) or even online, here.
Where to rent ski equipment
You can rent ski equipment (boots, skis, rackets and helmet) in various places in Val di Sole. There are 3 different places that rent equipment at the Folgarida Marilleva cable car station. Expect to pay around €25 per day for the full equipment.
Good to know
Biancaneve slope in Marilleva is artificially illuminated so you can continue skiing after dark.
Visit the villages
Scattered around Val di Sole there are several scenic small villages. Here are the ones you should consider visiting:
Malè
Not to be confused with the capital of the Maldives, this is the main village, counting around 2200 inhabitants located at 740 meters (2,428 feet) above sea level. There you can find the interesting Civil Museum of Solandra, and a local parish church which dates back to the 16th century.
Dimaro
Located at 766 meters (2,513 feet) above sea level, at the foothills of the Brenta Dolomites and at the entrance of Val di Meledrio, on the way to Folgarida and Madonna di Campiglio, it features some beautiful historical buildings such as the 15h century church of Saint Lawrence, which has some gorgeous frescoes inside.
Ossana
This used to be the political, administrative and clerical center of the higher Val di Sole. The village, which is really tiny, is dominated by the beautiful San Michele castle, built in 1191 and from which there are beautiful views of the rest of the village and the valley.
Monclassico
Known as the village of artistic sundials, you'll be able to see ancient sundials built throughout history, as well as 50 more created between 2002 and 2012 by local and international artists.
Free guided tours of Monclassico are available but have to be booked at least a day in advance. A guided tour is a great way to get to know more about the history and culture of Val di Sole and of the sundials. That's how you'll learn that other than the classic sundials, known as French and which simply indicate the time, there are others that indicate how many hours have passed since sunset (Italian kind) or since sunrise (Babylonian kind).
Take in the gorgeous landscape
Winter in Val di Sole means enjoying a fairytale landscape, especially when everything is covered in snow. One of the nicest places to visit is the Passo Stelvio and Val di Rabbi. You'll find a multitude of hiking and walking trails.
The area is a popular place thanks to a 100 meters (328 feet) long suspended bridge from where there are incredible views of the Rio Ragaiolo waterfall. The bridge can be crossed throughout the year. It is a fairly popular place in the summer, with lines to go across, but there hardly are visitors in the winter months, so you'll have the place to yourself.
The bridge can be reached on an easy hike that departs from the parking lot of Terme di Rabbi. Follow the river and the trail that goes by Malga Fratte, and before the bridge go up the steep, zig zag trail. It shouldn't take you more than 45 minutes to get all the way to the bridge.
Although this is an easy walk, hiking boots are recommended. The trail is steep in parts and can get slippery.
Another incredible scenic place in Val di Sole is Lago dei Caprioli (Roes Lake), in Fazzon. An easy walk around the lake offers incredible views of the surrounding mountains, and the reflection of their image on the clear waters of the lake makes it special. There are several hiking trails in the area.
Eat!
Much like the rest of the region, Val di Sole makes it a point to use local products to prepare fantastic dishes that at the same time reflect local traditions and culinary innovation. There are many fantastic restaurants and mountain huts in the region where you can try the local specialties.
Val di Sole is a land of high quality apples and cured meats such as speck and carne salada – the latter often served in the form of carpaccio, with rocket and Trentingrana, the local Grana cheese. Mushrooms of any kind are used to prepare pasta dishes, served with local wines such as Lagrain. Polenta is often used to accompany meat and cheese dishes.
Among the dishes you have to try there are the famous canederli – dumplings made with stale bread, speck, luganega sausage and casolet cheese, mixed with eggs, chives and milk.
To uncover the secrets of local cuisine, take a cooking class. The best place to do so is Agritur Solasna, located in the tiny San Giacomo di Caldes, in a traditional mountain house that dates back to the 13th century. Join a cooking class run by the lovely Nicoletta and learn how to make canederli and apple pie. At the end of the class, you will be invited to sit in the cozy restaurant and eat what you have cooked, as well as some other local specialties.
Relax
There are two beautiful spas in Val di Sole: one is in Rabbi and the other one in Pejo. The latter is open throughout the year. Other than these, most hotels have wellness centers where you can enjoy a jacuzzi, a hammam or a sauna.
The most unique wellness center is that of Rifugio Orso Bruno, at 2,200 meters (7,218 feet) above sea level in the ski area of Folgarida-Marilleva. Relax in a jacuzzi and at the same time enjoy views of the peaks of Cevedale to the north, and of the Brenta massif to the south.
The wellness center of Rifugio Orso Bruno is only available to guests spending the night at the rifugio. If you love the idea of waking up directly on the slopes and relaxing right after skiing, this may well be the best place to stay in Val di Sole.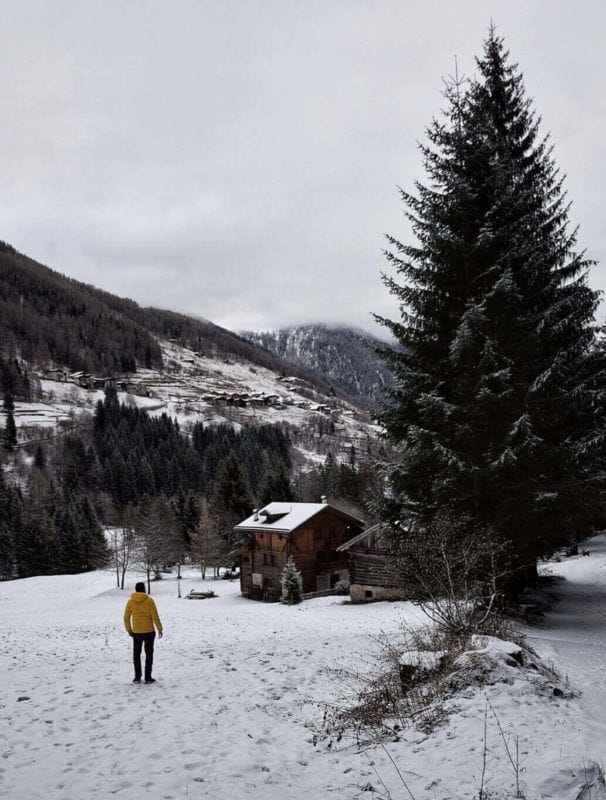 Visit the Christmas Markets
The Christmas atmosphere in Val di Sole is magical, with beautiful markets and exhibits.
The best place to experience Christmas in the region is Ossana, where a Christmas market takes place with booths scattered around the village and even inside San Michele castle.
There is also an exhibit that, between the end of November and mid January, shows around 1000 nativity scenes of varying styles and sizes, which can be seen in various courts and squares in the historical center of Ossana, and in the castle.
The Presepe Grande Guerra, inside the castle, recollects an episode that took place in World War I. The Presepe Monte Giner was built in memory of the victims of a plane accident on Monte Giner, which occurred right around Christmas time in 1956. The Venezuelan exhibit celebrates the culture of one of the most diverse countries in the world.
Make sure to check out my post The Best Christmas Markets In Europe.
Planning Your Trip To Val di Sole
When to visit
The first snow usually falls in November, and that's when the slopes start receiving artificial snow. If you want to see snow in the valley too, make sure to plan your visit from mid-December onwards.
How to get there
The closest airports to Val di Sole are Verona, Venice Treviso and Venice Marco Polo, which are all well connected to the rest of Europe with both regular and budget flights.
Getting to Val di Sole by public transportation may require several changes and take a long time, so you may be better off hiring a private transfer or renting a car, which also makes it easier to move around once in the region. Here you can get a quote for a car rental.
You can also reach Val di Sole by train from Trento.
How to move around
If you don't want to rent a car, you can move around Val di Sole by bus. You can rely on regular buses connecting the villages and on the ski-bus which connects the villages to the main ski stations. The ski-bus runs during the day only, when the slopes and the cable cars are open. You can find the ski-bus timetable here.
The best places to stay and eat
This is a selection of accommodation options in Val di Sole:
ALBERGO DIMARO – perfect for families. Rooms are comfortable and clean, and there also is a wellness center. The hotel also serves dinner.
RIFUGIO ORSO BRUNO – right on the slopes of Folgarida Marilleva ski area. Guests can enjoy the onsite restaurant and the wellness center with views of the mountains.
RIFUGIO SOLANDER – also on the slopes of the Folgarida Marilleva ski area. The restaurants serves delicious food (make sure to have the cake selection!) and the rooms are cozy and comfortable.
And these are the best restaurants in the area:
AGRITUR SOLASNA – in San Giacomo di Caldes, this is a beautiful historical home with cozy rooms and a fantastic restaurant serving food prepared using strictly local ingredients – most of them coming directly from the farm.
RIFUGIO ALBASIBI – in Folgarida, at 1,800 meters (5,905 FEET) above sea level and directly access on the slopes.
RIFUGIO SPOLVERINO – it serves excellent pizza baked using local ingredients, as well as traditional local dishes. The environment is cozy and informal, and the views of the Brenta mountains from the terrace are simply spectacular.
IL MANIERO – a fantastic restaurant in Ossana that serves delicious local dishes. The "straccetti" – thin stripes of beef with porcini mushroom and truffle oil are mouthwatering.
What to pack for a winter trip to Val di Sole
Winter is cold in Val di Sole, with temperatures regularly going well below zero even during the day. Whether you are planning to ski or not, there are a few items that you need to pack in your suitcase.
A very good jacket – I am a massive fan of Kuhl Arktik Parka: it keeps me nice and warm while at the same time looking pretty.
Good hiking boots. They are the best to wear if you plan to do a bit of walking, and before changing into ski boots. If you have extra space in your suitcase, you can even pack a pair of after-ski boots.
Gloves: take a good pair of technical ski gloves, and add a pair of wool or fleece ones you can wear when you are not on the slopes.
Technical t

hermal underwear

and extra warm socks.
Ski pants (they are more comfortable than a ski jumpsuit) and a good ski jacket.
A wool or technical shirt (I love Kozet Long) over which you should wear a very good jacket – I am a massive fan of Kuhl Alska.
Super warm pants and flannel shirts (I love Kuhl Tess Flannel).
Hand

warmer

s: wear them inside your gloves if your hands tend to get cold. I put mine inside my socks too!
A swimsuit, to enjoy the wellness centers and spas.
A pair of sunglasses or ski goggles.
High SPF sunscreen and a very good lip balm– your lips will get incredibly dry in the cold weather.
Other information
The websites of Trentino and Val di Sole Tourism boards have a wealth of information on places to visit, activities, transportation, hotels, restaurants and anything else you may need to plan your visit.
Further Readings
If you are planning a trip to Trentino, make sure to read my other posts:
Legal Disclaimer: I was a guest of Trentino and Val di Sole Tourism Boards during my trip to Val di Sole, and wish to thank them for the incredible experience. Needless to say, all the views expressed in this post are my own and without any bias.
Pin It For Later!