Castel Sant'Angelo is one of the most impressive buildings in Rome, and your wanderings through the Eternal City will eventually lead you there, as it is very close to St. Peter's Basilica and the Vatican Museums.
A remarkable sight from a distance, Castel Sant'Angelo has an interesting history that is definitely worth reading. But most importantly, its terrace offers one of the most impressive views of St. Peter's Dome – so consider investing in a ticket, and check it out.
Are you curious to find out more? Continue reading. I am a massive fan of this place and never miss an opportunity to visit, so in this post I will share everything I know about it and include some useful information that will help you plan your visit.
You should also read my post The Most Famous Buildings In Rome.
The History Of Castel Sant'Angelo, Rome
Castel Sant'Angelo has a long and interesting history that reflects Rome's own ever-changing fortunes. Also known as the Mausoleum of Hadrian, the structure was originally built on the right bank of the River Tiber, between 134 and 139 AD.
It was the Roman Emperor Hadrian who ordered that the building be constructed; he commissioned it to be used as his tomb after his death. The cylindrical structure was directly inspired by an even older Imperial Roman tomb, namely the Tomb of Augustus.
The Mausoleum was originally topped with a garden, centered around a golden quadriga (a chariot drawn by four horses). Hadrian's remains were interred here, alongside those of his wife Sabina and his son Lucius Aulius, a year after his death in Baiae in 138 AD.
It seemed that Hadrian had created something of a tradition. That is because the remains of emperors who succeeded him were also placed in the Mausoleum. This tradition continued until 217 AD, when the final recorded emperor to be laid to rest here was Caracalla.
It is thought that the urns, in which the remains of the emperors were placed, were put in what is known as the Treasury Room. This is located deep within the bowels of the building.
The nearby bridge that leads straight to the Castel Sant'Angelo was also constructed by Hadrian. Completed in 134 AD, the bridge was intended as a dramatic way to arrive at the Mausoleum from the center of Rome.
But it didn't remain a tomb for that many years. In fact, in 401 AD, the Mausoleum was converted for use as a military fortress, and afterwards actually became a part of the Aurelian Walls. This was on the orders of Emperor Flavius Honorius. In the same decade, the urns containing the ashes of the past Roman emperors were lost during the looting that occurred during the Sack of Rome (410 AD) by Alaric, King of the Visigoths.
Later in its history, the building became known for an apparition. Specifically, this was the Archangel Michael. He is said to have appeared atop the Mausoleum, sheathing his sword – a signal that a plague that ripped through the region in 590 AD was coming to an end. It is this legendary event that gives Castel Sant'Angelo its current name.
As a fortress, the castle underwent many conversions over the centuries. In the 14th century, Pope Nicolas III connected Castel Sant'Angelo to the Vatican Palace via a secret passageway. During another Sack of Rome by the Germanic mercenaries of Charles V, the Holy Roman Emperor, in 1527, Castel Sant'Angelo became the refuge of Pope Clement VII.
It later became a prison and, apparently, an execution ground. It was here that the Dominican friar Giordano Bruno was held for six years, before being burnt alive at Campo de' Fiori in 1600. Executions were usually held in a courtyard at the castle.
As a prison, the castle was famously the setting for the third act of the opera Tosca by Puccini. It was decommissioned as both a military building and prison in 1901, and has since been open as a museum for visitors from around the world.
What To See When Visiting Castel Sant'Angelo, Rome
Ponte Sant'Angelo
The first thing you'll come across when visiting the Castel Sant'Angelo is the bridge. Completed in 134 AD, and commissioned by Hadrian himself, this bridge has spanned the River Tiber ever since it was built. Constructed from Travertine marble and consisting of five arches, the bridge itself is only accessible by foot and closed to traffic.
Although the bridge itself is an attractive structure, one of the most striking elements is its statues of angels and apostles that decorate its length. It was in 1535 that Pope Clement VII had these statues commissioned for the bridge. Among them are St Paul and St Peter, with others representing Noah, Abraham and Moses.
In 1669, Pope Clement IX commissioned replacements for angels that seemed to be aging. It was the master architect and artist Gian Lorenzo Bernini who worked on their replacements. Today, a total of 10 angels decorate the bridge, each one holding an instrument of the passion (spears, nails, cross, etc.).
For many centuries, the bodies of those who were executed at Castel Sant'Angelo were left on this bridge out in the open for all to see.
Make sure to read my post The Most Beautiful Bridges In Rome.
Hadrian's Mausoleum
The original purpose of this impressive structure was as a tomb for Emperor Hadrian, and you can still see this central part of the building. Inside the more modern castle walls are the remains of the Mausoleum. With its interior walls once adorned with marble and other decorations, it's not hard to see how grand this tomb would have once been before it was plundered.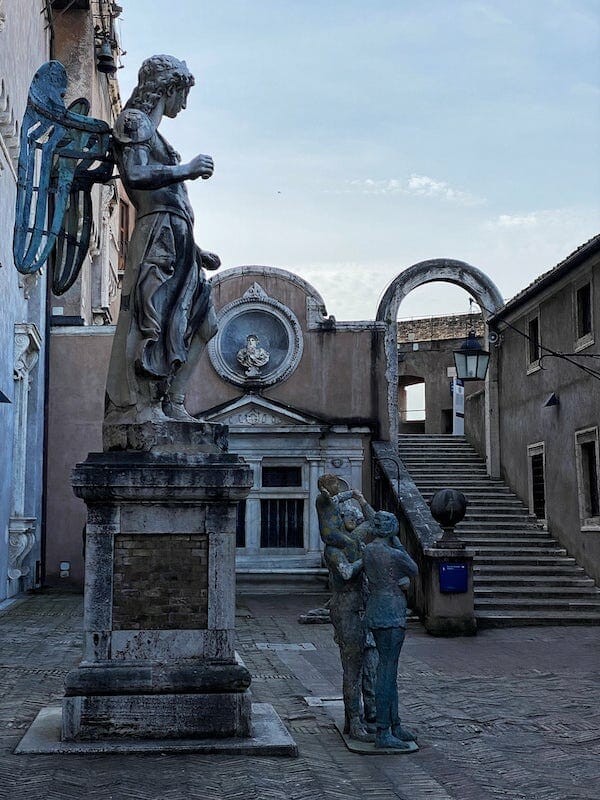 The upper terrace
As far as viewpoints go in Rome, the upper terrace of the Castel Sant'Angelo is one you shouldn't miss. It offers some incredible panoramic views of the surrounding city; from here you can spot the dome of St Peter's Basilica, the Pantheon and other historic landmarks that dot the city.
Thankfully, there's a cafe situated up here, so you can soak up the view while sipping on a coffee or having a much needed snack.
Head over to my post The Best Views In Rome.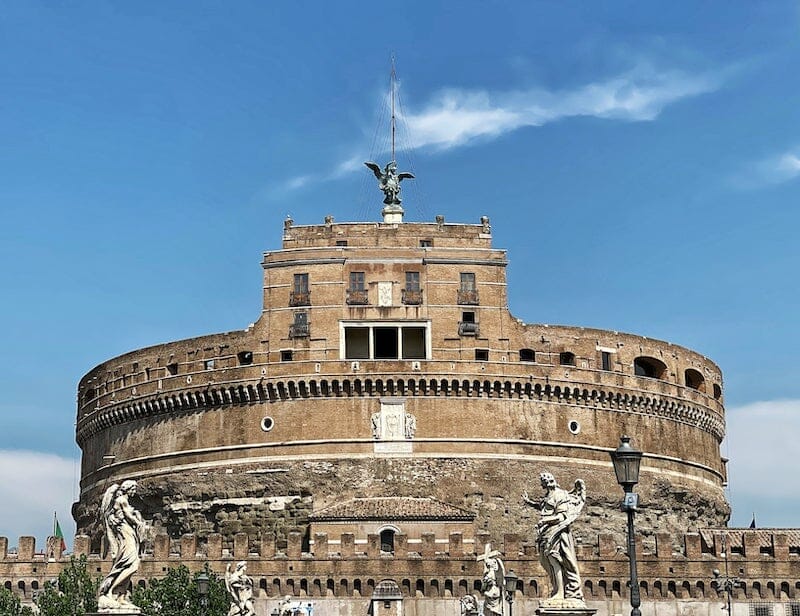 Statue of Archangel Michael
Before you turn around and go back down into the heart of the Castel Sant'Angelo, make sure to look up. Here you'll see a statue of the Archangel Michael watching over the city of Rome. He's depicted sheathing his sword – much as the legend described his apparition doing, symbolizing the end of the plague. The bronze statue was created in 1753 by Peter Anton von Verschaffelt.
Il Passetto
Also visible from the upper terrace of the Castel Sant'Angelo is il passetto, or the passageway. This elevated corridor, constructed in 1277, connects the Vatican Palace to the castle, and was intended for Popes to be able to escape the Vatican in case it came under threat.
It was actually used by Pope Clement VII, who escaped the German soldiers of Charles V along the passageway from the Vatican to the better fortified castle. You don't even have to go into the Castel Sant'Angelo to see il passetto; you can catch a glimpse of it just strolling around the streets, which actually gives you a better impression of how well hidden and defended any escaping Pope would have been up there.
Defensive Walls
The classic Renaissance pentagonal bastions were constructed under the reign of Pope Pius IV (ruled 1559-65). Three of the five original pointed bastions survive today, with the other two demolished in the 1880s. Although they may not seem as impressive as they would have been when they were first built, you can still see how these strong walls would have repelled any attackers willing to take their chances.
You can still get up close to these walls, which feature grassy verges surrounding them. Views from the walls are excellent; they provide an ideal vantage point to see the original cylindrical structure of the mausoleum.
The Loggias
After Castel Sant'Angelo was further fortified and modified for use as a refuge by the Pope, it underwent much transformation. One of the many additions remaining today include two sweeping loggias – open-air corridors with arches and columns.
Possibly the more impressive of the two is the Loggia of Pope Paul III, who reigned as ruler of the Papal States from 1534 to 1549. He decided to make it a more comfortable place to reside, rather than simply adding more fortifications and strengthening its defensive walls. His loggia was designed by Raffaello da Montelupo and was painted with frescoes by the artist Girolamo Siciolante da Sermoneta.
The second loggia was added by Pope Julius III (ruled 1550-55) and provided impressive views out over what was then the Roman countryside.
Papal apartments
This was yet another addition to Castel Sant'Angelo by Pope Paul III in an effort to make it a more residential dwelling that he could use in case of any threat to his safety. He became Pope in the years following Rome's sack by Charles V, so it's understandable that he wanted to be secure in his surroundings.
Visitors today can see a recreation of Pope Paul III's bedroom, as it would have looked when he reigned, complete with an ornate coat of arms embellished on the ceiling and a luxurious carved wooden bed.
The library
Another section of the Papal apartments is the library. Don't come here expecting any kind of books to be on display, however – instead, it's more about the impressive artwork and frescoes that adorn the walls. This large hall, with its barrel shaped ceiling, was created in 1555 and features an array of symbolic and colorful artwork.
Among them are depictions of Roman mythology, as well as historical interpretations of everyday Roman life, such as a scene that illustrates what the Baths of Caracalla may have looked like in their heyday.
Practical Info For Visiting Castel Sant'Angelo, Rome
Castel Sant'Angelo opening hours
The Castel Sant'Angelo is open Tuesday to Sunday, from 9:00 am to 7:30 pm. The ticket office closes at 6:30 pm, so be sure to arrive before then if you want to visit. The site is closed on Mondays, as well as holidays including on the 1st January, 1st May and Christmas Day.
Best time to visit
Though you can visit the Castel Sant'Angelo pretty much any time of day and still be impressed, it's particularly pleasant to visit around sunset. Not only is the sunset from the upper terrace beautiful, but there are also fewer people around this time of day, making for a less busy experience. Depending on when you are visiting Rome, you won't be able to linger long enough to see the sunset. In that case, you will be better off going there as soon as it opens.
Castel Sant'Angelo tickets
The price of Castel Sant'Angelo tickets is as follows:
Admission to Castel Sant'Angelo is €12 for adults.
EU citizens between the ages of 18 and 25 pay €3 to enter.
Children under the age of 18 go free, while EU citizens who are disabled may also enter free (including up to one companion).
Castel Sant'Angelo is also free to visit on the first Sunday of every month.
Reservations are only mandatory at weekends. There is a €1 fee to add to any online booking. If you want to get your tickets, you can do that on the official website or, for a slightly higher fee you can get them on Tiqets – which has a more flexible cancellation policy – here.
For a combined ticket to Castel Sant'Angelo, the Vatican Museums and the Papal Gardens, click here.
For tickets to Castel Sant'Angelo plus an audioguide, click here.
Should you get a guided tour?
Not necessarily, but a guided tour offers up a fantastic insight into the layers of history and tales of the legends that surround Castel Sant'Angelo. Because there's so much to discover here, including the frescoed Papal apartments and the fortified walls, a guided tour really adds a level of depth and description that would be hard to get if you were visiting Castel Sant'Angelo independently.
In short, if you're a real history buff then I recommend booking a tour to really get the most out of your visit. Guided tours of Castel Sant'Angelo can be arranged in advance, and take usually around two hours; they normally come with skip-the-line tickets. Licensed tours are available from Castel Sant'Angelo itself and are done in groups of no more than 20 people at a time.
For a guided tour of Castel Sant'Angelo, click here.
If you prefer an audio-guide instead, you may get it here.
Security checks
Umbrellas, large bags and backpacks cannot be brought into Castel Sant'Angelo. A small handbag (not exceeding 40 x 40 centimeters) is probably fine, however.
Is photography allowed?
Yes, you may freely take photographs and videos anywhere at Castel Sant'Angelo.
Toilets
There are toilets, thankfully, located towards the bridge side of the Castel Sant'Angelo. There are also restrooms situated in the cafe on the upper terrace, too.
Disabled access
Visitors with disabilities can access only limited parts of Castel Sant'Angelo and its outdoor spaces. Even if it is limited, there are still ramps and helpful signs that point out barrier free routes for disabled visitors.
How to get there
Castel Sant'Angelo is a very easy walk from St. Peter's Square. Just walk along the Via della Conciliazione and you'll get there in 10 minutes or so. If you are staying in Trastevere, you can walk along the banks of the river and you'll be there in about 25 minutes.
The nearest bus stops are Piazza Pia / Castel S. Angelo (bus routes 23, 40, and 62, among others) and also Borgo Sant'Angelo (bus route 40).
Pin It For Later!