There are two airports in Rome: Fiumicino (FCO), which is also known as Leonardo da Vinci International Airport; and Ciampino (CIA). Both of them offer a wide range of connections to other cities in Italy, in Europe and – especially Fiumicino Airport – the rest of the world.
Which of the airports in Rome should you fly to, then?
It depends, really! If you are coming from outside of Europe – North or South America, Asia, Australia or Africa, and even from the Middle East (including Israel), your only option will be to fly to Rome Fiumicino Airport with regular (and, in the case of Israel, also budget) airlines.
On the other hand, you can catch budget flights to Ciampino Airport from a variety of destinations in Europe and also northern Africa.
Continue reading for a brief overview of the airports in Rome and what you should expect when flying there.
If you need more detailed information about the airports in Rome, you can check the official website of Rome Airports, ADR (Aeroporti di Roma). It defaults to Fiumicino, but you can switch it to Ciampino. The site is available in Italian, English, Russian and Chinese.
Which Of The Airports In Rome Should You Fly To?
Fiumicino Airport (FCO) – Leonardo da Vinci International Airport
Fiumicino Airport (airport code FCO) is Rome's main airport – named after the famous Renaissance man himself, Leonardo da Vinci. It is situated in the nearby town of Fiumicino, about 40 km (25 miles) from the center of Rome.
This is the larger of Rome's two airports (and the busiest airport in Italy). It's an efficiently run, well connected international airport. It comes with all the amenities and facilities that you would expect of a large airport of its kind.
As Fiumicino Airport is rather busy, plan to be there at least two hours before your scheduled flight time to leave enough time to check in (if needed) and go through security and passport control.
Chances are that, if you are flying into Rome from overseas – either from Europe or elsewhere; or flying to North or South America, Africa, Asia and Australia, you will be going through Fiumicino Airport.
How many terminals does FCO have?
Fiumicino Airport has two terminals for passenger flights – Terminal 1 and Terminal 3. There used to be a Terminal 2 but it is now permanently closed; and a Terminal 5 which is currently not operational.
It's important to know which terminal you'll be using – whether you're arriving or you're departing. While the terminals are relatively close to one another, if you arrive at the wrong terminal, it may take you some time to get from one to the other – up to 10 or 15 minutes, which is not fun if you are carrying luggage – though there is also a free shuttle service connecting the two.
Terminal 1 serves flights operated by Aegean Airlines, Air Malta, Albastar, Eurowings, Ryanair and Vueling Airlines. It used to also serve the flights of the now defunct Alitalia, and all Sky Team (code-share) airlines such as Air France, KLM, and Delta.
Terminal 3 is used for domestic flights; flights to the Schengen countries; flights to extra-Schengen countries operated by a number of airlines; flights to the United States and to Israel. It is used by large carriers such as El Al, United, Lufthansa, Iberia, Thai and (for flights to Israel) also by Ryanair.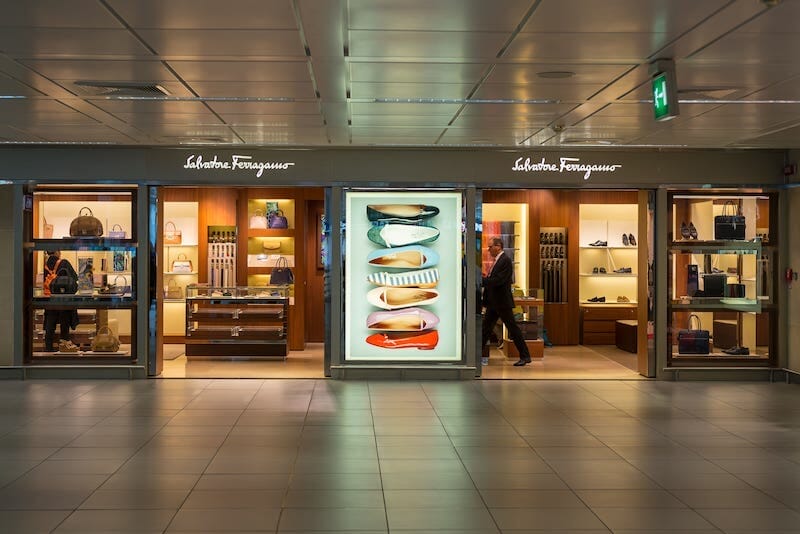 Services at Fiumicino Airport
Fiumicino is a large airport with a fantastic range of services.
Wifi is available for free across the various terminals.
You will find a couple of duty free shops (the largest one is right at the entrance of Area E); shops are scattered throughout the airport and there is a high-end shopping mall located in Area E, above which there are a number of eateries, restaurants, cafés and even a wine bar. The smoking area is located in boarding area E.
There are two pharmacies – one on the second floor in Terminal 3, and one that only sells non-prescription medications is located on the top floor in Area E, where all the restaurants are; various currency exchange shops and ATMs; a Christian chapel (in Terminal 3 departures hall) and a multi-faith prayer room (in Terminal 3 arrivals hall). Nursery and kids area are found throughout the airport.
Luggage storage is located in the arrivals hall in Terminal 3 and is open from 7:00 am to 11:00 pm.
First Aid is available 24 / 7 to all passengers.
Lounges
There are four different lounges in Rome Fiumicino Airport:
Prima Vista and Star Alliance Lounge – both are in Terminal 3 (pier D) departures area A1-A10 and in departures area E31-E44 for international flights; Prima Vista lounge is available to all business class and frequent flyer passengers, whichever airline they are flying with; whereas the Star Alliance is only open to passengers on a flight with one of the Start Alliance airlines.
Plaza Premium Lounge – on the second floor of the departures area E, available to all passengers departing or in transit; it is open 24 / 7. Prices vary between €50 and €75 depending on the duration of your stay. Showers are €18.
HelloSky Arrival Lounge & Air Rooms – you will find this lounge near the ABCD multi-level car parks; it is open to all travelers.
How to get from Fiumicino Airport to Rome
As I have said before, this airport is located 40 kilometers (25 miles) outside of the city of Rome. Reaching it can therefore take some time. However, even though it is further from the center than Rome's second airport (Ciampino – more on that later), there are more connections, making it relatively easy to get to from anywhere in the city.
For a more detailed guide, read my post How To Get From Fiumicino Airport To Rome City Center.
Train
One of the most common ways to get between Rome and Fiumicino Airport is the train. The airport is served by the Fiumicino Aeroporto Train Station. This is located a short walk from the terminals, directly outside of Arrivals.
The best and most efficient train to take is the specifically run train, the Leonardo Express. This connects the airport with Rome's central Termini Station. During the journey, the Leonardo Express makes no other stops. There are also regional trains that stop at various stations in Rome.
The Leonardo Express costs €14 and takes just over 30 minutes, with regular departures to and from the airport. The Regional Train costs €8 and the duration of the trip varies depending on which station you are getting off at.
You can easily get tickets at a ticket counter at the station or at one of the vending machines in the arrivals hall or even at the station.
Alternatively, you can book your train tickets to or from Fiumicino Airport here.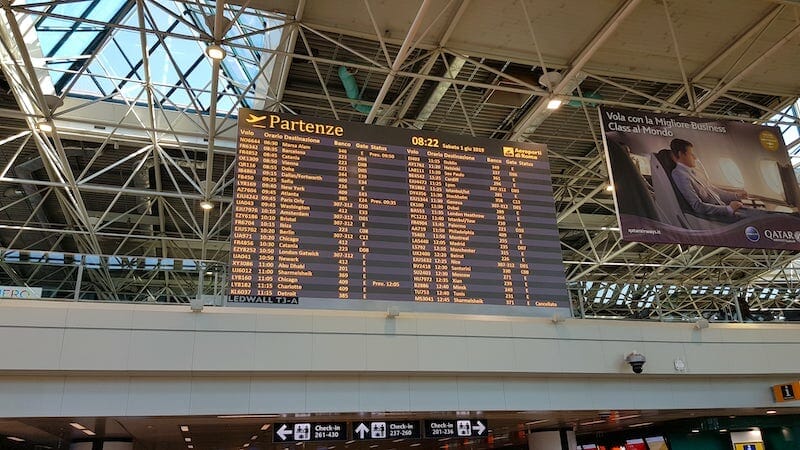 Bus
A shuttle bus also connects the center of Rome and Fiumicino Airport. There are a number of different services you can use, but some of them require you to book in advance.
Departures are regular and usually leave between 5:30 am and 11:00 pm. These connect the airport to Rome Termini Station.
Other companies also offer night connections, and connect different train stations – Rome Ostiense Station, for example.
If you don't book in advance for any of the above bus services, chances are there will be a bus arriving at some point due to their frequency. Tickets usually cost between €8 and €10.
You can get your Terravision bus ticket here.
You can get your SIT Bus Shuttle ticket here.
Taxi
Taxis are a hassle-free way of getting from the airport to the center of Rome – especially if you have heavy baggage with you.
You'll find a taxi stand right outside the main exit of the airport. There are fixed rates for certain well-plied routes around the city; for example from Fiumicino Airport to the center of Rome it's €50. If you're unsure on how much it should cost you, make sure to check at the taxi rank before you get into a cab.
Private Transfer
Private transfer means you'll have someone waiting for you when you arrive at the airport. This is probably the most convenient way to get from the airport to the city, but that also means it can also be the most costly too. However, it's a good option for groups, in which case you can share the price. A group of six, for example, will result in the cost being around €10 per person.
For a shared transfer, click here.
For a private transfer, click here.
Ciampino Airport (CIA) – Giovan Battista Pastine Airport
Ciampino (airport code CIA) is the smallest of the two airports in Rome, but it is under the same management (ADR – Aeroporti di Roma).
Ciampino Airport is actually located closer to the center of Rome than Fiumicino. Specifically, it's set around 12.5 kilometers (7 miles) to the southeast of the city, in the municipality of Ciampino. Other nearby towns include Frascati and Castel Gandolfo.
Here flights connect various European destinations with the Italian capital; it also serves other Italian cities. Ciampino Airport is only served only by low-cost or budget airlines. So, for example, if you are flying from London to Rome via RyanAir, chances are you will be landing here.
In total, flights from this airport connect up to 21 countries and 51 cities.
Ciampino Airport is much smaller compared to Fiumicino, and going through security won't take you long at all. In any case, consider arriving at the airport about 1.5 hours before your flight to ensure everything runs smoothly; perhaps a bit more if you are checking in luggage.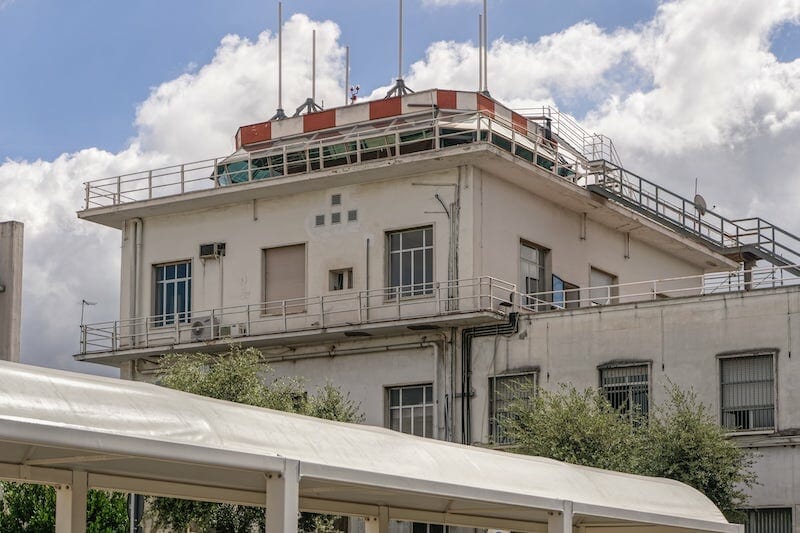 How many terminals does Ciampino Airport have?
Ciampino Airport has just one terminal dedicated to commercial flights. It deals with both departures and arrivals, which makes it a lot easier to navigate than the very large Fiumicino Airport.
Services at Ciampino Airport
As I have said before, this is a really small airport with just one terminal, and security checks are very quick. The flip side of the coin, however, is that once you are inside there is literally nothing to do.
While wi-fi is available, and there is a nursery, first aid and an ATM, there is pretty much nothing in terms of shops and only a couple of cafés where you can grab a drink and a quick bite.
How to get to Ciampino Airport
Though it may be less significant than Fiumicino, there are still a number of ways to get between Ciampino Airport and the city center.
Train
Unlike the Leonardo Express, there is no direct train between Rome and Ciampino Airport. However, it is possible to take a combination of the train and bus.
From Rome Termini Station, take a train to Ciampino. Once you've arrived here, it's a simple matter of taking a bus directly to the airport. In total, this combination route takes roughly 40 minutes, runs throughout the week, and costs €2.70.
Bus
The bus service is probably a more convenient way to connect Ciampino Airport and Rome. A number of buses leave throughout the day from Rome Termini Station, taking around 45 minutes to reach the airport; it costs €6.
You can book your bus to and from Ciampino here.
Taxi
For those of you who want to get to and from the airport without having to wait around, a taxi is definitely the quickest and most comfortable option. A flat rate from the center of Rome to Ciampino Airport costs between €30 and €38 depending on the area you are departing from. It is definitely a great option if you've got heavy luggage!
Private Transfer
If you are traveling in a group, it may be worth considering actually booking a private transfer. You can expect to pay around €50 for a group of 4 passengers, which means €12.50 per person.
You can book your private transfer to or from Ciampino Airport here.
For a more detailed guide, read my post How To Get From Ciampino Airport To Rome.
Further Readings
Make sure to read my other posts:
Pin It For Later!