Getting from Fiumicino Airport to Rome is actually very easy. Whether you are planning a quick getaway, a business trip or a romantic weekend in the Italian capital, you can find various ways of getting from Fiumicino to Rome.
Depending on what time your flight lands, how much luggage you have, how experienced a traveler you are and – quite importantly – your budget, your experience will definitely vary, and it's always better to go prepared to avoid any issue.
In this post, I will give you an overview of all the options you have to get from the airport to the city. Let me however start by sharing a few facts about Rome airports.
If you want to find out which way of getting from the airport to the city is most suitable to your travel needs, continue reading. I will share everything you need to know.
Don't miss my post The Best Things To Do In Rome.
Some Background Information About Rome Airports
Rome is served by two airports.
Fiumicino Leonardo Da Vinci Airport is the main airport. It's where all the main carriers fly to, as well as some budget airlines, and it's located about 32 km (19.9 miles) from Rome, near a small town called Fiumicino. If you are flying from the United States, Canada, Australia, Africa or Asia that's where your flight will be landing.
Ciampino G. B. Pastine airport is served by budget airlines and connects the Italian capital to a variety of cities in Europe and the Mediterranean basin. The airport is actually much closer to Rome city center, but there are less options to travel between Ciampino and the city.
In this post, I will solely focus on how to get to Rome city center from Fiumicino Airport.
Fiumicino Airport is very well connected to the city center, and you have various ways of traveling between the two – but the metro is not one of them. You have the option of taking the train – either a regional or a direct one; a taxi or private transfer; and the bus. Depending on how you decide to travel, getting from the airport to the city can take you between 30 minutes and one hour.
Continue reading for an overview of all the options available.
How To Get From Fiumicino Airport To Rome
Take the train from Fiumicino to Rome city center
This is definitely the best way to travel from the airport to the city, provided you don't have much luggage to carry around.
Trains depart at regular intervals from the station in Terminal 3. There are two trains going to Rome.
Express Train
The Leonardo Express train goes directly to Roma Termini Station, the main one in Rome, in just 32 minutes and with no intermediate stops and arrives in platforms 23 or 24. From Termini Station, you can use Metro lines A and B to reach pretty much the rest of the city.
The express train runs every 15 minutes (except at night, when it runs every half hour), the first one departs at 6:08 am and the last one at 11:23 pm.
It costs €14 one way for adults and it is free for children under the age of 4, and children aged 4 to 12 can run for free with a paying adult.
You can buy tickets online or directly once you land. You will find vending machines right outside the baggage claim area, at the arrivals, and there will be some also at the train station, where you'll also find a kiosk. Alternatively, save yourself the hassle and buy tickets online!
If you buy tickets for the express train in advance, you have to select a departure time. You can't get on an earlier train (you may get a fine if you do so) but you can board a train that departs after the one you'd originally selected (perfect if your flight is late).
Regional Train
The other train is a "regionale" train that takes longer, and makes stops at various intermediate stations including Trastevere and Ostiense and terminates in Fara Sabina (an excellent option if you are staying in one of the agriturismo in the Sabina area), at times going as far as Orte.
The last stop for night trains is either Roma Ostiense or Tiburtina Station. The regional train is the best option if you want to reach the entire Southern, Eastern and Northern quadrants of Rome, but keep in mind it tends to get packed with students and commuters.
If you get off at Trastevere, it takes less than 30 minutes; it takes 32 minutes to Roma Ostiense and 48 minutes to Tiburtina. This train does not go to Termini Station, but you can get there by metro if you get off at Ostiense at take line B.
The first regionale train departs at 5:57 am, and the last one at 11:27 pm. It leaves every 15 minutes (but it it runs every 30 minutes on Sundays and in the evening) and costs €8 one way, with no reserved seats.
You can buy tickets online or directly at the station and you must validate the ticket on the machines on the platform before getting on the train.
Hop on a taxi
A taxi can be a convenient and fast way to get from the airport to the city, especially if you have luggage. However, depending on the time of day traffic can be really bad in Rome and the surroundings, and you may get stuck on the Grande Raccordo Anulare, the main highway connecting the airport to Rome.
I don't recommend taking the taxi during rush hour – in the morning, when locals are going to work and kids to school, and in the late afternoon when they are coming back from work. Opt for the train if you intend to travel during rush hour. You may also get stuck in traffic if there are roadworks (which are quite common) or accidents as well!
Taxis from the airport to the city center have a flat fee of €50 and you can pay by credit card or cash. Don't pay anything over that price. Only use an official taxi. Official taxis are white, and you will find them waiting for passengers outside the main terminal, where you can join the fast moving line. Any other car, is probably illegal (or, as we say here in Italy, "abusivo") and likely to be a scam.
For more scams in Italy, read this post.
Get a private transfer
The train is perfect if you travel light, but what if you have lots of luggage and don't know your way around town? In that case, I recommend using Rome airport transfers.
A transfer can actually be cheaper than a taxi. You can pay it in advance so you don't have to worry about taking your wallet out or having to exchange money at the airport; the driver will be waiting for you at the terminal and help you with your luggage and he will know where to take you – taking away the hassle of having to communicate the address you want to reach and of having to break the language barrier.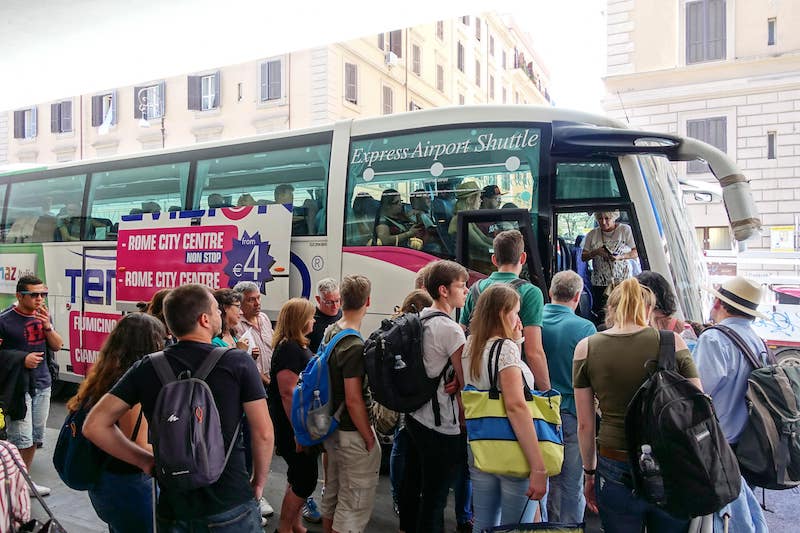 Rome airport transfers are perfect for small groups, so that you can share the costs, and you can even pick the kind of vehicle you want.
Here are the best private transfers from Fiumicino Airport to Rome:
Get on the bus
There are no public buses going from Fiumicino Airport to Rome city center – that's because Fiumicino is actually a different city. However, there are some excellent and very budget friendly private bus options.
The most reliable company running buses from Fiumicino Airport to Rome is Terravision. The ticket costs €6 one way, the trip lasts between 45 minutes and one hour and the bus makes several stops in the city center, including one near the Vatican and one at Termini Station.
Though the Terravision bus is cheap and easy, the bus may get stuck in traffic and often doesn't leave until full. With the amount of people flying to Rome Fiumicino every day, this is hardly an issue. But if you are in a rush, this simply isn't a good solution.
You can buy tickets online in advance here, or directly when getting on the bus.
The SIT Bus Shuttle is as reliable, if not more reliable than Terravision, and also stops near the Vatican (on Via Crescenzio 2) and it is by far the most convenient and fastest service to the Western quadrant and for all those staying near the Vatican.
Tickets for the SIT bus cost €7 and can be bought here.
Another company is Rome Airport Bus, with buses that starts their rounds at 6:00 am until midnight, and ride every 25 minutes to one hour, depending on the time of day. The ticket costs €9,90 and it can be bought online.
Some Roma passes include one way transportation to or from the airport.
Use Uber
Despite taxi drivers telling you differently, and although most Italians don't actually use it, Uber is legal in Italy. That's about where the good news end. I am writing this post as I am sitting at Fiumicino Airport, of all places, and I have just checked. It costs €76 to get from Fiumicino Airport to Rome city center with Uber.
For this price, you may as well get a taxi and save! And if you really want to use an app to book your taxi, you can opt for MyTaxi – there is a MyTaxi waiting area just outside Terminal 1 where your driver can pick you up.
Further Readings
Make sure to read my posts:
Pin It From Later!