Is your flight landing in Ciampino? Don't worry, getting from Ciampino Airport to Rome is very easy. In this post, I will tell you how.
Among my many tips for visiting Rome, I typically recommend to familiarize yourself with the various available options to make your way from the airport to the city. Depending on where you are traveling from, you may land in Fiumicino Leonardo Da Vinci Airport, or in Ciampino (airport code CIA), the smaller airport that is mostly served by budget airlines.
Getting from Ciampino Airport to Rome is actually very easy. The way you make your way to the city actually depends on what time your flight lands, the amount of luggage you carry and even your budget.
Continue reading to find out which way is most suitable to your needs. Before I do that, however, let me tell you a bit more about this small airport.
Landing in Fiumicino Leonardo Da Vinci? Check out my post How To Get From Fiumicino Airport To Rome.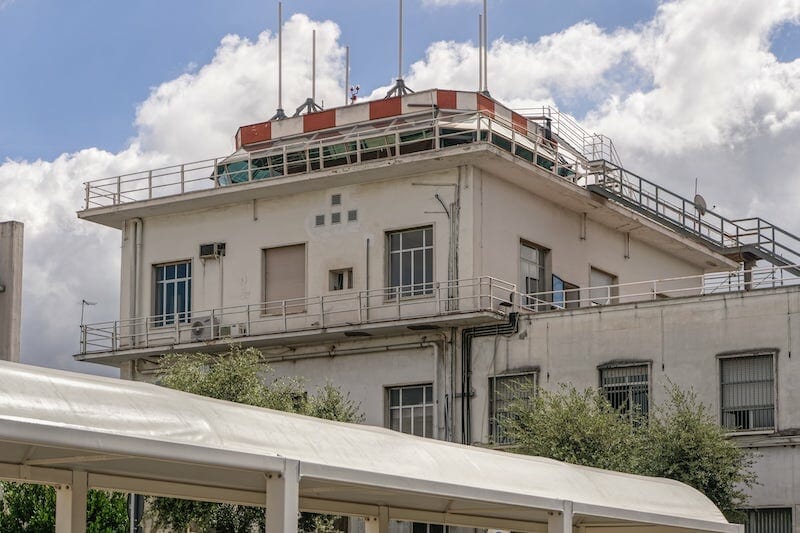 Some Background Information About Ciampino Airport
Of the airports in Rome, Ciampino Airport (it's full name is G. B. Pastine International Airport) is the one actually closest to the city, at about 12.5 kilometers (7 miles) to the southeast of the city. To give you an idea of its location, the airport is actually close to the Castelli Romani where you'll find Frascati and Castel Gandolfo.
The airport is mostly served by budget airlines that connect the Italian capital to other cities in Italy and Europe. It's one of RyanAir main hubs in the country – so if you are flying from London or Paris on a low-cost flight, chances are you will be landing here.
Ciampino Airport connects Rome to 51 cities and 21 countries.
Ciampino Airport is significantly smaller than Fiumicino, and going through security is a breeze. However, try to be at the airport about 1.5 hours before your flight just in case there are delays; and even a bit earlier if you are checking in luggage.
How To Get From Ciampino Airport To Rome
Though it may be way smaller than Fiumicino, there are still various ways of getting from Ciampino Airport to Rome city center.
Bus
This is the most convenient way of getting from Ciampino Airport to Rome, both in terms of trip duration, but also comfort and costs. Terravision and SIT have direct connections to Rome Termini Station, with regular departures and intermediate stops along the way. The ride takes around 45 minutes – more or less, depending on the time of day. Tickets start at €6.
Terravision's first departure from Ciampino Airport is at 8:35 am, whereas the last bus departs at 11:40 pm.
SIT's first departure from Ciampino is at 9:20 am. The last bus departs at 3:10 pm, except on Thursdays, Fridays and Saturdays when there are additional buses at 4:10 pm; 6:10 pm and 8:30 pm.
You can book your Terravision bus from Ciampino here.
You can get your SIT Bus Shuttle ticket here.
ATAC (Rome public transportation company) has buses from Ciampino Airport to Laurentina, Cinecittà and Subaugusta stations; ATRAL has connections to Anagnina Station.
Train
There actually are no direct trains connecting Ciampino Airport to Rome city center, but you can take a combination of bus and train if you want – it's called Ciampino Airlink.
You will have to take a bus from the square opposite the airport and that will drop you off at the train station in Ciampino, from where you can hop on a train to Termini Station.
The first departure is at 5:30 am, and the last bus+train combination leaves from the airport at 10:40 pm. The overall journey costs €2.70. Depending on the time of day, there are departures every 15 to 40 minutes, and the journey lasts between 32 minutes to roughly one hour.
Private Transfer
If you are visiting Rome with family and friends, you may want to consider booking a private transfer in advance. This way, you will have a car waiting for you as soon as you land, ready to take you directly to your hotel. Prices are from €50 for a group of 4 passengers, so that would be €12.50 per person if there is four of you. It's actually quite convenient!
You can book your private transfer from the airport to the city center via Welcome Pickups here.
You can book your private transfer from Ciampino Airport here.
Taxi
If you are in a rush, have lots of luggage or are traveling in a group but haven't made any advanced booking, a taxi is definitely a viable option. A flat rate from Ciampino Airport to the center of Rome costs between €30 and €38 depending on the area you are traveling to.
Further Readings
Make sure to read my other posts:
Pin It For Later!