Trastevere is well known for being a very local neighborhood in Rome. Set across the River Tiber from the historic center, this traditionally working-class area is a bohemian hangout for locals and visitors – but it still stays true to its roots.
And you can see that in many of the best restaurants in Trastevere. Here, you'll find trendy eateries alongside long-established trattorias, and a sprinkling of Michelin-starred restaurants too. You may need to book for a few of them, or you may have to stand in line. Either way, prepare for delicious dining.
Continue reading to discover all the best restaurants in Trastevere.
Read before you go! What To Eat In Rome.
For more places to eat in Rome, read my post The Best Restaurants In Rome.
The Best Restaurants in Trastevere
Duca a Trastevere – Traditional Trattoria in Trastevere
If you are looking for somewhere truly authentic to eat in Trastevere, then you should look no further than Duca a Trastevere. This neighborhood is known for its down-to-earth atmosphere, and Duca a Trastevere is no less charming.
The inside of this cozy restaurant is filled with a selection of locals and foreign visitors. It's a homely spot that comes complete with its own terrace, making it ideal for a summer's evening.
This place is perfect for lunch and late dinner, and serves up a variety of Roman cuisine. You can gorge on a whole lot of stuff from fried artichokes and other antipasti. The gnocchi here is really good, but you can't go wrong with one of Duca's fresh pasta dishes either. If you fancy a secondo, try their involtini alla romana (pictured above) or the petto di vitello alla fornara (veal tip).
Vicolo del Cinque, 56, 00153 Rome
Enzo al 29 – Best Overall Restaurant in Trastevere
Enzo al 29 is a low key joint hidden along a cobbled street by the river in Trastevere. But don't let its out of the way location fool you: Enzo al 29 is extremely popular, well known and easily one of the best restaurants in Trastevere. As a result, people start lining up outside from around 6:30 p.m. You may have to wait around 30 minutes for a table (they don't take reservations).
But trust me: it's worth the wait. Here, you can expect to be served up a selection of no-fuss but delicious Roman dishes inside a quaint setting that doesn't feel touristy at all. Lunch is also popular at Enzo al 29 and is served between 12:30 pm. and 3:00 pm. Again, however, you may have to wait.
Particularly delicious are the fried artichokes and the cacio e pepe – both archetypal Roman dishes and both expertly done at this wonderful Trastevere restaurant.
Via dei Vascellari, 29, 00153 Rome
La Cuverie – Best Wine Bar in Trastevere
As soon as you step into La Cuverie, with its mishmash of wooden furniture and rustic tiled floors, you know you've found a good spot – that's definitely how I felt when I stumbled upon it on one of my walks around Trastevere. So much I loved it that I went three days on a row.
La Cuverie is a wine shop that doubles up as an eatery with delicious charcuterie and cheeses on offer to pair with your wine.
If you want to come for a few drinks and enjoy small plates, maybe even before a bigger dinner, then this place is ideal. And if you are a fan of fish, then you can enjoy some great seafood at La Cuverie. The pesce crudo (Italian style raw fish) is completely delicious here, while other seafood, such as oysters and even salmon tart, should not go unmissed. And in the evenings you can enjoy these simple dishes bursting with flavor by candlelight – all with plenty of wine, of course.
Via Santa Cecilia, 1, 00153 Rome
Evo Hosteria – Great Modern Trattoria in Trastevere
This cozy and charming restaurant is ideal for spending long hours tucking into traditional Roman fare. The food on offer at Evo Hosteria is exceptional, and the fact that you can make a reservation here (even online, via an app called The Fork) makes it very convenient if you are worried about getting a table elsewhere.
Set right in the heart of Trastevere, on a peaceful corner of an otherwise buys street, Evo Hosteria serves up modern Italian cuisine for a reasonable price. Make sure to try the zucchini flowers stuffed with cheese and topped with walnuts; the tortellini with burrata and cherry tomatoes is also delicious; but the butter tagliatelle and black truffles should also not be missed. When I visited, I ate the cacio e pepe with raw shrimp and loved it.
It's perfect if you're exploring the main tourist sights of Trastevere, and want some real Italian food at the end of your day.
Via Garibaldi, 60, 00153 Rome
Trapizzino – Fun Street Food
Trapizzino is a wildly successful Roman street food invention that has since taken off not just the Italian capital, but also internationally. It isn't necessarily traditional street food, but it does combine two great pieces of Rome's gastronomy to create something completely new.
Created in 2008 in the Testaccio neighborhood, the word "trapizzino" comes from two things: tramezzino – a triangular sandwich served in bars in Rome and across Italy; and pizza. Combined, the trapizzino consists of a triangle-shaped pocket of thick, chewy pizza dough that's crispy on the outside and oozing with amazing fillings inside.
There are five "classic" flavors to try: doppia panna, parmigiana, polpetta al sugo, pollo alla cacciatora, and lingua in salsa verde. Here you can also feast on a variety of suppli (deep fried rice cones with mozzarella other fillings). There's also a decent wine list to go alongside your choices.
Piazza Trilussa, 46, 00153 Rome
I Suppli – Staple Street Food in Rome
Suppli are delicious whatever way you look at them. These deep fried ovals of deliciousness – including rice, mozzarella and other fillings – are a part of Rome's street food culture. And arguably the best place to get them in Trastevere is I Supplì.
This joint is run by brother-in-laws who left working at the stock market to open up their own store. It's a hole in the wall establishment that also serves a whole host of other Roman street food staples. This includes pizza, home-cooked pasta, and vegetable dishes.
You can stop by I Supplì any time of night or day and expect a bustling eatery. It's fun, affordable, and the staff are friendly.
Via di S. Francesco a Ripa, 137, 00153 Rome
Don't know what supplì are? Check out the recipe here.
Seu Pizza Illuminati – Best Pizzeria in Trastevere
For a stylish place to tuck into some tasty pizza, head on over to Seu Pizza Illuminati. Their motto is "In Pizza We Trust" and, well, why not? It's a modern pizza joint with plenty of space, big windows, and funky artwork in an urban-style setting.
Pizzas here run the gamut from traditional margheritas to more unusual combinations. These include pizza topped with cured pig's cheek and lemon zest, and even red onion and coffee (yes, together). If you're a keen pizza fan, you should make sure to put this place at the top of your list.
You can pair your pizza with one of their many wines, or even a steady supply of craft beer from Italy and further afield. It's a really fun place to eat and a good place to come in Rome if you're with friends. They even do dessert pizzas (yes, that is a thing here in Italy!).
Via Angelo Bargoni, 10 – 18, 00153 Rome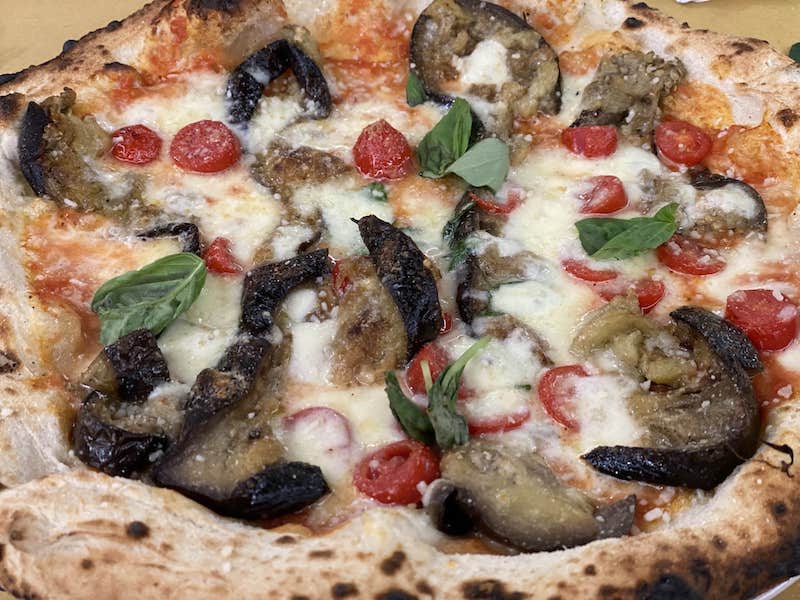 Pizzeria Ivo a Trastevere – Another Great Pizzeria
While Seu Pizza Illuminati is much more on the modern and unique end of the pizza spectrum, Pizzeria Ivo a Trastevere is a little more local and rustic. Here you can pull up a seat on the terrace or head inside to the arching stone brick interiors, and select from a long menu of pasta and pizza.
It may not be fancy, but this no-frills pizzeria is affordable – probably partly the reason why it is so popular. It's busy with travelers in the early evening and locals later on. There's a good selection of beer to pair with your pizza of choice here.
If you want an appetizer or accompaniment for your pizza, then I recommend opting for a plate of suppli (or two) and fiori di zucca (fried zucchini flowers).
Via di S. Francesco a Ripa, 158, 00153 Rome
Glass Hostaria – Best Family-Run Restaurant in Trastevere
There are many down-to-earth and family-run restaurants and trattorias in Trastevere, but there are a few upscale eateries to explore here, too. Glass Hostaria is one of them, and deserves to be mentioned among the best restaurants in Trastevere. This high-end restaurant has even been awarded a Michelin star for its high quality, so you know you're in good hands.
The interiors at Glass Hostaria are modern: a mix of industrial and minimal, with exposed brick, high ceilings and white-washed walls. This is something that the Michelin guide calls "an interesting play of light and slightly unsettling atmosphere." But, it's the food that takes center stage.
Led by Italian chef Cristina Bowerman, Glass Hostaria has become well known for its ravioli and pork belly. The ravioli is stuffed with a 5-year-aged parmesan and topped with elegantly fragrant black truffles. Their pasta imbued with sweet shrimp is worth a try, too. All in all, there are some showstoppers on this menu.
Vicolo del Cinque, 58, 00153 Rome
Zia – Best Modern Restaurant
Also a little more modern and upscale, head on over to Zia for sophisticated cuisine. This restaurant is a polished venue for Roman cuisine and fusion offerings in a stylish but easy-going setting.
Run by chef Antonio, this Michelin-starred restaurant serves some real high quality cuisine made from seasonal Italian produce, but infused with elements of French and other cuisines.
You should come to this restaurant if you want to delight in food as an art form. If you want to sample a little bit of everything, then you can go for the tasting menu, which features seven dishes. Make sure to tuck into the extensive wine list. All paired with a soundtrack of chilled jazz.
Via Goffredo Mameli, 45, 00153 Rome
Roma Sparita
Mouth-watering cuisine is served up in hearty portions at Roma Sparita. The bright country-style aesthetic starts from the pastel colored exterior and continues inside, with checked tablecloths and quaint furnishings.
Fans of pasta in particular should pay a visit to Roma Sparita for its cacio e pepe. This Roman dish is a staple on many menus throughout the capital, but Roma Sparita is famed for it. In fact, the late, great Antony Bourdain said that Roma Sparita's take on cacio e pepe "could be the greatest thing in the history of the world."
Bourdain wanted to keep the eatery a secret, but of course that hasn't happened. Roma Sparita is eminently popular with locals and visitors alike who come to seek out their famous food.
If you want to branch out from cacio e pepe (or want more to eat, because why not) then try out their carciofi alla giudia – deep fried artichokes.
Piazza di Santa Cecilia, 24, 00153 Rome
Tonnarello – Best Pasta Dishes
While reservations are usually the way to go for a lot of good restaurants in Rome, sometimes you won't be able to book a table in advance. Tonnarello is one such place. Because of this (and also because of how amazing this place is) there is always a line outside.
Even with its popularity, Tonnarello is still a casual place to dine. With a menu consisting of traditional dishes that reflect the gastronomic heritage of Trastevere, the restaurant makes a point to make dishes the same way their grandmothers would have made them.
But this isn't a mom and pop operation – they really strive for excellence here. The specialty, of course, is tonnarelli (a kind of thicker spaghetti from Lazio). It's a recipe handed down for generations. Also make sure to try the saltimbocca alla romana (veal wrapped with prosciutto and sage) and succulent oxtail.
Via della Paglia, 1/2/3, 00153 Rome
Nannarella – Another Popular Trattoria in Trastevere
Just like Tonnarello, there is a no reservations policy at Nannarella. That can sometimes mean waiting in line, but it is worth it if you're looking for a tasty meal. Here you can sample a plethora of pasta dishes and a selection of wine.
The charming setting of Nannarella, which features terrace seating, is all part of the attraction. Inside there's wood panelling, white washed walls, and classic furniture, giving it a down-to-earth vibe. The fact that this restaurant has been going since 1930 adds to the atmosphere and expertise of their menu.
If you're stuck for what to order from this venerable establishment, then ask the welcoming waiters – they'll be happy to offer up some recommendations or personal favorites.
Piazza di S. Calisto, 5, 00153 Rome
Pin It For Later!