Traveling from Rome to the Amalfi Coast sounds like a dreamy thing to do on your Italian vacation. However, the two destinations are further away from one another than you might think.
The journey is a little long for a quick, spontaneous day trip. However, with some careful planning (and leaving very early in the morning!) it's possible to embark on a day trip from Rome to Amalfi Coast and check out this beautiful stretch of coastline.
For more day trip ideas, read my post 28 Best Day Trips From Rome.
Should You Go On A Day Trip From Rome To Amalfi Coast?
If you don't mind a long journey, then of course you should go on a day trip from Rome to Amalfi Coast! Situated south of Naples, on the Sorrentine Peninsula, the Amalfi Coast is between three and a half to four hours to reach by car. By train it's around two and a half hours.
So while the journey time is long, arriving to explore the beautiful coastal towns of the Amalfi Coast makes it all worth it.
I would recommend leaving as early as possible to make the most of your day trip. Catching an early morning train, around 6:00 am, means you'll arrive with much of the morning and afternoon for your travels.
Tours from Rome to the Amalfi Coast are common, too. The good thing about an Amalfi Coast tour from Rome is that tours have set itineraries and are well used to timing their trips to get the most out of the destinations they take tourists to.
Of course, if you have the time, staying nearby would be better. However, if you only have the time for a day trip, and you are willing to spend over six hours on journeying to and from the Amalfi Coast, it's still worth it if you want to see the sights in this stunning region.
Curious to find out more? The continue reading as I will tell you the best things to do on a day trip from Rome to Amalfi Coast, and share some practical information to plan your day.
Make sure to also read my post 15 Unmissable Things To Do In The Amalfi Coast.
What To Do On A Day Trip From Rome To Amalfi Coast
The Amalfi Coast is one of the most popular tourist destinations in Italy, attracting hordes of visitors every summer. This stunning stretch of Mediterranean coastline is renowned for its captivating beauty, with small, colorful villages clinging to the side of cliffs that plunge down into calm, turquoise seas. There's plenty to do here, too, even if you've only got a day to spare.
See the Fiordo di Furore
The Amalfi Coast is well known for its beautiful beaches, but one of the most striking can be found at the Fiordo di Furore.
Though its name means Fjord of Fury, this is more of an inlet than a fjord in the geological sense. Either way, it's a particularly picturesque part of this stretch of postcard-perfect coastline.
Situated between the towns of Praiano and Ravello, you'll find this steep-walled gorge sliced into the coast, with each side connected by a charming stone-arched bridge.
The surrounding area is home to tiny houses. The pebble beach at the end of the inlet is accessed by 200 steps carved into the cliffside itself.
If you have more time, you can spend some time exploring the village here, or check out the museum dedicated to Italian actress Anna Magnani and director Roberto Rossellini.
It can be a bit difficult to reach Fiordo di Furore by car, as parking can be challenging, especially during the summer. One of the best ways to reach this place instead is by using the local SITA bus.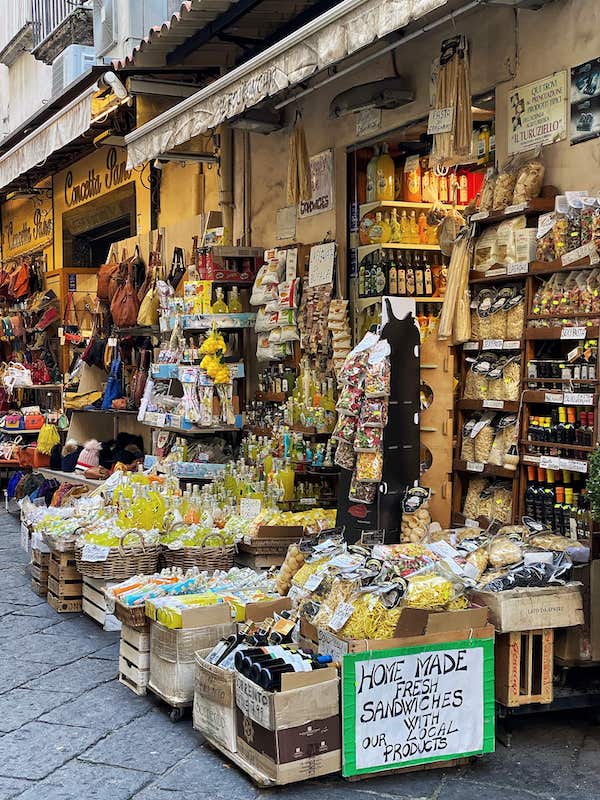 Stop off at Sorrento
Known for its lemons, the town of Sorrento has long been a popular tourist destination – and for much longer than you'd imagine.
Wealthy Romans of the late Republican and Imperial ages would have come here to take a break from city life, enjoying the coastal atmosphere and indulge in local produce; Emperor Augustus' son had a villa here, for example.
This storied town, thought to have originated around 800 BC, plays host to a multitude of fascinating sights, so stopping off here on a trip is a must. One of the most iconic sights in Sorrento is its windmills, the oldest of which dates back to the 13th century.
They're situated in a valley a stone's throw from the town, aptly named the Valle dei Mulini – the Valley of the Mills. Flour was milled here for making pasta until the 1940s.
Sorrento is a foodie paradise. Aside from checking out its historic sights, time can be spent in one of the town's cafes and restaurants.
You can stroll along the waterfront, stop by the Baroque Cathedral of Saints Philip and James, and soak up local life over a coffee (or something stronger) in the Piazza Tasso.
You should also read my post 20 Unmissable Things To Do In Sorrento Italy.
Take a boat trip
There's quite literally no better way to see the famous Amalfi Coast than by taking to the water. There are a wide variety of different options for exploring this region by boat, from high-end yachts to regular water taxis and high-speed ferries.
For a day trip from Rome to Amalfi Coast, you may want to consider picking up a boat from the dock in Positano or Amalfi. There are a number of different boat companies and tours you can join at the dock itself that will cruise you along the coastline, stopping off at various points of interest.
From the water, you'll be able to see mansions clinging to the cliffs, walkways weaving between settlements, and the curving coastal road that connects the towns on the Amalfi Coast. It puts an amazing perspective on the UNESCO-recognized destination.
Alternatively, you could just jump on a regular boat. The Amalfi-Positano Ferry runs between April and October; there are around 10 boats a day. There's also the Sorrento-Positano Ferry, with around 40 departures per week; the journey time is 45 minutes.
To book your boat trip from Sorrento along the Amalfi Coast, click here.
For a boat trip departing from Amalfi and that includes snorkeling in the best spots, click here.
Sample lemon delight (delizia al limone)
The Amalfi Coast region has long been known for its fresh produce, and Sorrento in particular. The hills surrounding this town grow an abundant array of fruits and vegetables, strangely shaped pumpkins, courgettes and tomatoes among others, but it is perhaps most famous for its citrus fruits.
Sorrento's lemons and citron (a citrus fruit 3-4 times larger than a lemon) are ubiquitous with dishes served up in the region. If you don't have much time, but want to sample some of the local produce, then you should try out the delizia al limone.
This unique cake is a lemon sponge that's filled with lemon custard. It's a sweet, refreshing treat, and well paired with the kick of a homemade limoncello (you'll get this at the end of most meals).
Shop for ceramics
Considered the "last" town on the Amalfi Coast, Vietri Sul Mare is more of a peaceful destination than other towns. It's also famed for its ceramics, a product with which the town has been associated for centuries.
Called ceramica vietrese, the distinct ceramics of Vietri Sul Mare are easily recognized for their simple color palette – usually blue, yellow and red – used to create bold patterns and floral designs.
They've been making the ceramics here since the 5th century, when they used to trade their wares with the more northerly Etruscans. In around 1200, the ceramica vietrese was seen as a valuable product, and it spread throughout the wider Mediterranean region.
When you're in Vietri Sul Mare you'll be able to spot these ceramics on sale everywhere in various shapes and sizes, everything from egg cups and flower pots to tiles. It makes for a great souvenir or gift to take home.
Explore the streets of Ravello
The hill town of Ravello hugs the hillside 365 meters above the sea below. Well known for its cliffside gardens, Ravello is something of a hidden treasure on the Amalfi Coast. To access it, you can drive there or take the SITA bus from Positano.
Once in the town, you'll be able to explore its storied Medieval streets that weave their way around the Piazza Vescovado. Make sure to set aside some time for a visit to the villas of Ruffolo and Cimbrone, a Medieval-style estate.
Ruffolo is famous for being the destination where the German composer Wagner wrote the opera Parsifal, his last composition. Both villas have wonderfully landscaped gardens.
Stop off in Positano
A day trip from Rome to Amalfi Coast wouldn't be complete without a stop in Positano. Spend time here shopping around for pottery, stopping by one of its many cafes, and generally soaking up the leisurely atmosphere of the town.
The cliffside village, with its steep lanes and views of the sea, also has a pebble beach. It's a busy resort town that's well known for being a chic destination to while away some time during Italian vacations. There's a photo opportunity at every corner, with crumbling buildings, blooming wisteria and the sea never far away.
Practical Guide
How to get to the Amalfi Coast from Rome
By Train
The easiest and quickest way of getting to the Amalfi Coast from Rome independently is by train. While getting there by car allows you to explore further, the journey to get there in the first place can take as long as four hours.
On the other hand, the train from Rome Termini station to Sorrento – a good jumping off point for the Amalfi Coast – takes just over two hours. You'll have to take a Frecciarossa train from Rome to Naples, and once there get on the Circumvesuviana train to Sorrento
Once you're there, getting around by SITA bus is fairly easy, as it's a regular service that connects all the towns on the coast. This can get particularly busy in the summer months, however, so it's not always the most convenient way to get around.
For information on ticket prices and to book a ticket from Rome to Naples, see the Trenitalia website or the app Omio. You will have to get a ticket in person for the Circumvesuviana train as this is a local company only.
You should also read my post and How To Get To The Amalfi Coast From Naples.
Join an Amalfi Coast tour from Rome
There are a lot of guided tours from Rome to the Amalfi Coast that you can choose from. It's one of the most convenient ways to see this region, with no need to worry about bus timetables or missing the last train back to Rome (which can actually happen: my friend missed it and his flight was early in the morning from Rome, and he had me scramble the internet to find him transportation from Naples to Fiumicino Airport).
Tours here come in all shapes and sizes. Here are my personal recommendations for a wonderful Amalfi Coast tour from Rome:
Boat hopping tour of the Amalfi Coast from Rome – this Amalfi Coast tour from Rrome includes transport from the capital a boat ride from Positano along the coast and the chance to enjoy plenty of local delicacies such as limoncello. It's a great way to see the dramatic coastline of Amalfi without lifting a finger.
Amalfi Coast full-day tour from Rome – this Amalfi Coast tour from Rome also stops in Pompeii. You'll be picked up and driven to the seaside towns of the Amalfi Coast – no need to worry about parking! It is nicely paced, with plenty of stops in Pompeii, where you'll have an official guide to the site, at the beach, and in the many towns of the Amalfi Coast – you can even go shopping or enjoy as long a lunch as you want.
By Car
Driving may not be the most enjoyable way of spending your day trip from Rome to Amalfi Coast, and not the most time effective way to reach the region in the first place, but it pays dividends in terms of getting around.
Even though, in theory, you have the freedom to travel around at your own pace by renting a car, in reality it's not as amazing as you'd think.
Narrow roads, bad drivers, traffic and finding places to park in busy towns without much in the way of parking spaces can make it a real headache.
Unless you're an experienced driver or have time to spare (i.e. you don't mind driving in congested streets), then driving is not the best way to see the Amalfi Coast at all.
One way around this, however, would be to drive to Sorrento, taking between three and a half to four hours, and then see the Amalfi Coast differently from there; some people choose to rent scooters to get around, others catch high-speed boats to take them from one town to the next; or hop on the bus.
Make sure to also read my posts What You Need To Know About Driving In Italy and A Useful Guide To Renting A Car In Italy.
Where to eat
Food in Rome is delicious, but the food you'll have during your day trip from Rome to Amalfi Coast will be completely different. You can opt for a delicious pasta dish, pizza, deliciously fresh fish and even fun street food. Below are my recommendations for the best places to eat.
Maria Grazia, Nerano
Situated on the beach a short drive from Sorrento, this laid-back eatery is a picture-perfect place for an afternoon bite to eat. Famed for its courgette pasta (allegedly the first in the Amalfi Coast), Maria Grazia is also affordably priced.
La Zagara, Positano
Another casual eatery, La Zagara is situated in the town of Positano. It's a great place to stop by and rest your feet for a while after a busy few hours of exploring. There's a sun-dappled terrace surrounded by vines where you can sit out and enjoy the scenery in all seasons. The menu is extensive, featuring everything from small bites, pizza and pasta to desserts.
Ristorante La Caravella, Amalfi
The first restaurant in southern Italy to be awarded a Michelin star, Ristorante La Caravella is the place to go for fine dining during your Amalfi Coast day trip from Rome. If you like seafood, then you'll love the seafood-focused menu. Otherwise, go simply to be wowed by dining in a 12th-century palace.
Da Emilia, Sorrento
The family-run Da Emilia has been serving up its freshly cooked food to happy diners for over 50 years. In fact, none other than Sophia Loren ate fresh fish here during a stint filming in Sorrento. Situated right on the waterfront in the Marina Grande, it's an unfussy eatery with a rustic atmosphere where diners tuck into meals on blue-and-white checked tablecloths.
La Brace, Praiano
For a down-to-earth spot to tuck into some delicious pizza, make sure to stop by La Brace. Located on the coastal road between Positano and Amalfi, the restaurant boasts beautiful views out across the sea toward Positano. Much more affordable than pizzerias in town.
Pin It For Later!