Are you wondering where to buy Pompeii tickets? Don't worry, it is actually very easy!
Pompeii Archaeological Park is the site of the ruins of the ancient city that was destroyed in the eruption of Mount Vesuvius. It's one of the top attractions in all of Italy and one of the most fascinating ancient sites in the world. It's a can't miss attraction on any trip to the Naples and Amalfi Coast region.
To enter the site, you'll need to have tickets and they are available through several different methods. Although you can get them in a variety of ways, the best way to acquire these tickets is to order them online at least a day nor two before your visit.
In fact, depending on when you are traveling, you may need to get them a couple of weeks in advance. Getting them this way means you'll avoid the line-ups at the on-site ticket counter and you'll be able to select your favorite time slot for your visit.
Continue reading, as in this post I will share how to get tickets to Pompeii.
Where To Buy Pompeii Tickets
Use Pompeii tickets official website
Pompeii tickets official reseller is Ticketone. This is the best place to buy Pompeii tickets if you don't need a guided tour or want just the very basic. You can get your tickets here.
The site is easy to use, and it's in English, so you should have no issues. In any case, it's mostly self-explanatory: you'll see a calendar and simply pick on the day you wish to visit. Click on it and book. It's that simple!
Tickets sold on the official website cost €19 for adults. These tickets are not refundable, unless you pay an additional €1,50 fee to secure them against cancellation or changes.
Tickets are €2 for EU citizens and residents between 18 and 24. Anyone under 18 years of age can get in free of charge, however, reduced and free admissions can't be pre-booked but can only be obtained at the door.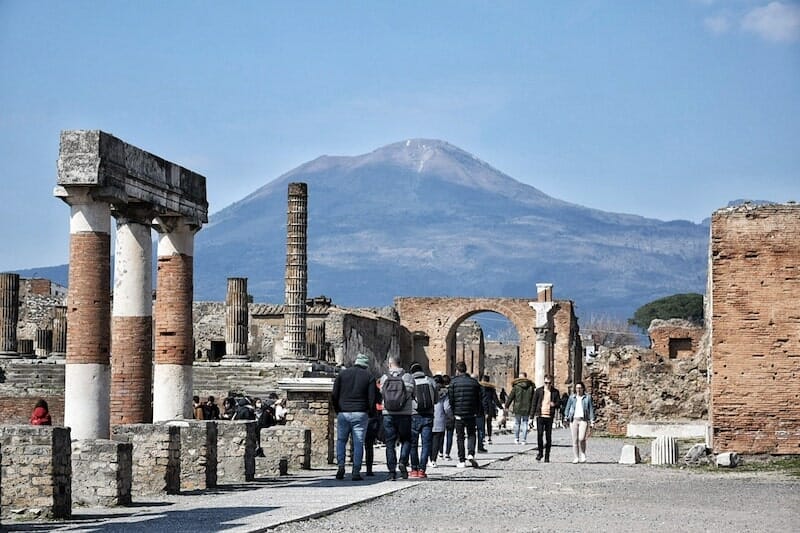 Get your Pompeii tickets on third party booking sites
Another way to book Pompeii tickets is through third party booking sites such as GetYourGuide, Tiqets, Viator, etc. These sites are significantly easier to use compared to the official site – if anything, because you can select the language and even the currency you want to use.
They allow you to book just the tickets as well as any additional perks, such as skipping the line, audio guides that you can follow as you tour the site on your own, etc.
The price of tickets on third party booking sites is slightly higher – they cost €24 or €24, depending on which site you use.
These tickets are refundable (normally within 24 hours of the intended time of visit) and you'll have access to a customer service via phone, chat or even whatsapp to help you with any blips during the booking (or the cancellation). A small price to pay for a smooth experience.
To get your tickets on Tiqets, click here.
To buy your tickets via GetYourGuide, click here.
Join a guided tour of Pompeii
The best way to explore Pompeii and get to know its past is on a guided tour. Most tours depart directly from the site, where you will meet your guide who'll be holding your tickets. Many of these tours are actually led by archeologists, which is an incredible way of visiting the site!
Touring Pompeii with a guided tour has many advantages. Someone else does all the planning and booking for the group and you get to just sit back and enjoy the journey. Entry tickets are included.
The best part is the insider information you'll have access to through your informative guide who is an expert on the history and culture of the area. Most tours are either a half-day or whole day and the price depends on what's included and how long the tour is.
Tours can be booked through a number of sites including GetYourGuide, Walks of Italy, Hello Tickets and Viator.
For the best guided tour of Pompeii, you should consider booking this guided tour by Walks of Italy. You will be touring with an archeologist and your visit will be very thorough.
You also have the option of booking a guided tour with an archeologist on GetYourGuide here. If you prefer a small group tour, click here.
For more guided tours of Pompeii, click here.
Join a day trip to Pompeii
If you don't even want the hassle of finding out how to get to Pompeii, the best thing to do is to book a day trip. There are numerous ones departing from Naples every day, as well as from Sorrento. There even are tours that depart from Rome!
These all-inclusive tours include entry into the Pompeii ruins and typically stop at other top attractions like Mount Vesuvius, the volcano that destroyed the city, or Herculaneum, the other city that was destroyed by the eruption.
You could consider this guided tour of Pompeii that includes transportation from Naples.
Alternatively, there's this tour that departs from Sorrento.
Are you traveling from Rome? Then I recommend this tour by Walks of Italy that includes a drive along the Amalfi Coast.
Get the Naples City Card (Campania Card)
The Naples City Card is a card you can purchase that allows access to discounted transportation and entry to up to four attractions in the city and surrounding areas for a period of either three or seven days.
You can purchase the Naples Card on sites such as Tiqets. Upon getting the card, you will be requested to book a day for visiting Pompeii, so it's super easy as you don't have to go from one site to the other.
Some of the other attractions that you can access with this card include Museo Archeologico Nazionale di Napoli, Museo, Real Bosco di Capodimonte or Reggia di Caserta, Galleria Borbonica, Herculaneum and Catacombe di Napoli.
You'll also be able to show the card to ride on buses and trains.
To get your Naples City Card, click here.
Get your tickets to Pompeii by phone
If you really aren't a tech savvy person, you have the option of getting tickets by phone. If this is your favorite option, you will have to call +3908118658177. The number is available from Monday to Friday, from 9:30 am to 6:00 pm.
You will have to pay by credit or debit card and there will be an additional telephone pre-sale fee of €1.50.
Buy Pompeii tickets in person
You can actually buy tickets to Pompeii in person at the door. Ticket offices are located at all entrances: Porta Marina Superiore, Porta Marina Inferiore / Piazza Esedra, and Piazza Anfiteatro.
However, this really isn't how to buy Pompeii tickets. The line at the ticket counter can get incredibly long. This is a real nuisance at any time of year, but it can be brutal in the summer months when you have to wait under the sun! Don't take any chances and don't waste your important vacation time, since getting tickets online is so easy!
Practical Guide
What's the official price of tickets to Pompeii?
Pompeii tickets official website is Ticketone, and it sells plain tickets – that is, without any added features, such as a tour or audio guide – for €19 for adults. These tickets are not refundable, unless you pay an additional €1,50 fee.
Tickets are €2 for EU citizens and residents between 18 and 24. Visiting is free for anyone under 18 years of age. Reduced tickets and free admissions can't be purchased in advance but can only be obtained at the door.
Free visits
Pompeii is free to visit for anyone under 18 years of age. It's also free to visit every first Sunday of the month. Keep in mind free tickets can't be pre-booked but must be obtained at the door.
When do Pompeii tickets go on sale?
This is a tricky question. At the time of writing, both the official website and third party booking sites only sell tickets for the calendar month.
If you want to get tickets well ahead of your visit, you can use the super convenient option on Tiqets called "early bird" that basically informs you of when tickets go on sale for the day you wish to visit.
Can you buy Pompeii tickets on site?
Yes, you can buy tickets at the on-site ticket counter upon arrival, at one of the three gates: Porta Marina Superiore, Porta Marina Inferiore / Piazza Esedra, and Piazza Anfiteatro.
However, it's best to purchase them online and in advance to avoid line-ups and other delays. Depending on the season the site may be incredibly busy and in the summer this means waiting in line under the sun!
Do you need to buy Pompeii tickets in advance?
Yes, the biggest advantage is that all tickets to Pompeii that are bought online in advance allow visitors to skip the line and enter more quickly than they would if they waited to purchase the ticket when they arrive. However, you will still need to go through security before accessing the site.
Once I enter, can I leave the site and come back later to continue exploring?
No, you will not be able to leave the site once you enter. Your ticket allows only one entry to the site so if you have to leave for any reason, you will not be readmitted. For this reason, it's best to make sure you don't forget anything before entering and that you are able to commit to your entire visit in one entry.
Pompeii opening hours
Pompeii's hours differ depending on the season. Opening hours are as follows:
1 April to 31 October – 9:00 am to 7:00 pm; last admission at 5:30 pm.
1 November to 31 March – 9:00 am to 5:00 pm: last admission at 3:30 pm.
The site is closed on 25 December, 1 January and 1 May.
What is the best time to visit Pompeii?
The best time to visit Pompeii in terms of season is between November and March. This is the off-season which means there'll be fewer crowds and you won't face line-ups or delays getting into the site. The weather is also cooler in the off-season.
If you don't mind crowds and hot weather, the summer is also a great time to visit as days and opening hours are longer and you will have more time to explore.
Other than that, the best time to visit Pompeii is early in the morning when the site first opens. There are fewer crowds at this time and arriving early allows you to take your time around the various landmarks.
How do I get to Pompeii from Naples?
Pompeii is about 16 miles (26 kilometers) from Naples and regardless of how you travel there, the average travel time is about 40 minutes.
There are several ways to get to Pompeii from the city of Naples. The best way of getting there is by train. The Circumvesuviana train departs from Napoli Central Station and you will get off at Pompei Scavi, which is close to the Porta Marina gates.
Another way of getting to Pompeii is by bus on the SITA bus from Naples, or by taxi, private transfer and guided tour that includes transportation.
For more detailed information, read my post How To Get From Naples To Pompeii.
Other Useful Information
Security checks
Everyone visiting Pompeii has to go through airport-style security checks. You will have to scan your bag, including your cell phone and camera. To make the process smoother and quicker, avoid bringing to the site any large items. In any case, there area cloakrooms available for visitors to the site.
Luggage storage
As I have explained above, you are not allowed to bring large backpacks or bulky items inside the site. If necessary, you can leave your stuff in the luggage storage facility, free of charge, which is available at every gate.
Accessibility of Pompeii
Pompeii is accessible, however please be advised that Porta Marina, which is the main gate to the site, is not wheelchair accessible. A special itinerary called Pompeii For All is designed specifically for people with mobility issues, parents towing children in buggies and anyone who wishes to visit in a more relaxed way.
This itinerary is 2.2 miles (3.5 kilometers) and starts at the Piazza Anfiteatro and ends at the Sanctuary of Venus. The road is flat and easily navigable with a wheelchair or buggy. It travels along the main roads of the city and all the most important buildings are easily accessed. The goal of this itinerary is to allow everyone access to the site with ease.
You may actually be better off joining a guided tour that is specific for wheelchair users. For more information, click here.
Visitors who are hearing impaired now also have access to specialized service that allows them to experience the wonders of Pompeii. There are on-site employees who are trained in sign language so the information can be shared with those who would otherwise not be able to listen to a guided tour or audio tour.
Are dogs allowed in Pompeii?
Yes, dogs are allowed to visit Pompeii archeological site with their owners as long as they are under a certain size. Big dogs – whatever that means – are not permitted (I have seen a few fairly large dogs, so I am not sure anyone will really measure them).
In theory, as long as your dog can be carried when entering the buildings around Pompeii, you should have no issue getting permission to take them to the site. Just be aware that sometimes there may be stray dogs around.
If you take a dog with you inside the site, you're expected to clean up after your pet and keep them on a leash at all times.
Toilets and other facilities
You will find toilets near the access points of Piazza Anfiteatro, Piazza Esedra and Porta Marina, near the Casina dell'Aquila, the Antiquarium, Quadriportico, and the Villa of the Mysteries.
Since you are unable to exit the site and come back in, the toilets at Anfiteatro will be most beneficial to you once you are inside the park because you're not required to leave in order to use them. Toilets are also situated near the small theater and the café and restaurant.
For visitors traveling with babies, there are baby changing stations situated in several areas – in Via dell'Abbondanza, Via di Nola, and at the corner of Via Stabiana and Via della Fortuna.
To access these stations, you'll need to acquire keys from the site entrance to unlock the door. This is to ensure your privacy and when you're finished, you simply return the keys to the same place at the end of your visit.
Fountains are situated throughout the site, so you can refill your bottle of water any time you need it.
Eating and drinking in Pompeii
Restaurants, kiosks and cafés are found by each access point – there really is something for every budget and taste and you will certainly not starve during your visit. Not all restaurants are equally good, however – when I visited, our tour stopped at a place that was literally a tourist trap.
Make sure to also bring a small bottle of water inside the site to sip on it throughout the visit – this is especially important if you go during the summer months!
Further Readings
These other posts may be useful when planning a trip to Naples and its surroundings:
Pin It For Later!