Getting Pompeii tickets is actually very easy!
Pompeii Archaeological Park is the site of the ruins of the ancient city that was destroyed in the eruption of Mount Vesuvius. It's one of the top attractions in all of Italy and one of the most fascinating ancient sites in the world. It's a can't miss attraction on any trip to the Naples and Amalfi Coast region.
To enter the site, you'll need to have tickets and they are available through several different methods. Although you can get them in a variety of ways, the best way to acquire these tickets is to order them online at least a day before your visit – in fact, depending on when you are traveling, you may need to get them a month in advance. Getting them this way means you'll avoid the line-ups at the on-site ticket counter and you'll be able to select your favorite time slot for your visit.
Continue reading, as in this post I will share the best ways of getting tickets to enter Pompeii.
Make sure to also read my posts A Useful Guide To Visiting Pompeii, Italy and How To Get From Naples To Pompeii.
How To Get Pompeii Tickets
Get Pompeii tickets via the official website
The official reseller for tickets to Pompeii is Ticketone. You can get your tickets here. While in theory there is an option to make the website in English, the sales page is in Italian only, which can be a bit confusing. Anyhow, it's mostly self-explanatory: you'll see a list of time slots and tours available for various days. Simply scroll down until you find the date and time you plan to visit, click on it and book. It's that simple!
Tickets sold on the official website cost €16 for adults and €3,50 for EU citizens between 18 and 24. These tickets are not refundable, unless you pay an additional €1,50 fee to secure them against cancellation or changes.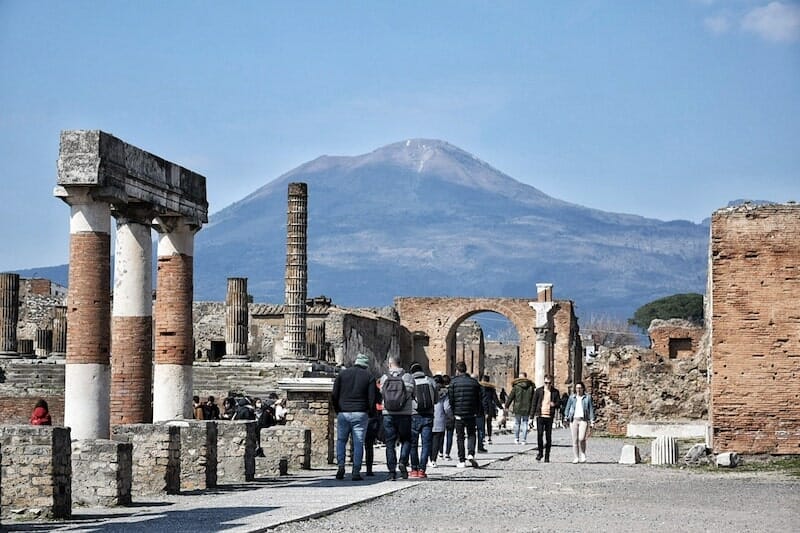 Get your Pompeii tickets on third party booking sites
Another way to book Pompeii tickets is through third party booking sites such as GetYourGuide, Tiqets, Viator, etc. These sites are significantly easier to use compared to the official site – if anything, because you can select the language and even the currency you want to use. They allow you to book just the tickets as well as any additional perks, such as skipping the line, audio guides that you can follow as you tour the site on your own, etc.
The price of tickets on third party booking sites is slightly higher – they cost €21 or €22, depending on which site you use. These tickets are refundable (normally within 24 hours of the intended time of visit) and you'll have access to a customer service via phone, chat or even whatsapp to help you with any blips during the booking (or the cancellation). A small price to pay for a smooth experience.
To get your tickets on Tiqets, click here.
To buy your tickets via GetYourGuide, click here.
Join a guided tour of Pompeii
The best way to explore Pompeii and get to know its past is on a guided tour. Most tours depart directly from the site, where you will meet your guide who'll be holding your tickets. Many of these tours are actually led by archeologists, which is an incredible way of visiting the site!
Touring Pompeii with a guided tour has many advantages. Someone else does all the planning and booking for the group and you get to just sit back and enjoy the journey. Entry ticket are included. The best part is the insider information you'll have access to through your informative guide who is an expert on the history and culture of the area. Most tours are either a half-day or whole day and the price depends on what's included and how long the tour is.
Tours can be booked through a number of sites including GetYourGuide, Walks of Italy, Hello Tickets and Viator.
For the best guided tour of Pompeii, click here.
For a guided tour with an archeologist, click here. If you prefer a small group tour, click here.
For more guided tours of Pompeii, click here.
Join a day trip to Pompeii
If you don't even want the hassle of finding out how to get to Pompeii, the best thing to do is to book a day trip. There are numerous departing from Naples every day, as well as from Sorrento. There even are tours that depart from Rome!
These all-inclusive tours include entry into the Pompeii ruins and typically stop at other top attractions like Mount Vesuvius, the volcano that destroyed the city, or Herculaneum, the other city that was destroyed by the eruption.
For a guided tour of Pompeii that includes transportation from Naples, click here.
For a tour departing from Sorrento, click here.
Are you traveling from Rome? For information on day trips from Rome to Pompeii, including a drive along the Amalfi Coast, click here.
Get the Naples City Card (Campania Card)
The Naples City Card is a card you can purchase that allows access to discounted transportation and entry to up to four attractions in the city and surrounding areas for a period of either three or seven days.
You can purchase the Naples Card on sites such as Tiqets. Upon getting the card, you will be requested to book a time slot for visiting Pompeii, so it's super easy as you don't have to go from one site to the other.
Some of the other attractions that you can access with this card include Museo Archeologico Nazionale di Napoli, Museo, Real Bosco di Capodimonte or Reggia di Caserta, Galleria Borbonica, Herculaneum and Catacombe di Napoli. You'll also be able to show the card to ride on buses and trains.
To get your Naples City Card, click here.
Useful Information
What's the official price of tickets to Pompeii?
The price of an entry ticket to Pompeii without any added features, such as a tour or audio guide, is €16 for adults and €3,50 for EU citizens between 18 and 24. These tickets are not refundable, unless you pay an additional €1,50 fee.
Can I buy Pompeii tickets at the ticket counter on the day of my visit?
Yes, you can buy tickets at the on-site ticket counter upon arrival but it's best to purchase them online, in advance to avoid line-ups and other delays. Also keep in mind that depending on the season the site may be incredibly busy and you may not necessarily be able to find your desired time slot once you get to the site! So, you are better off booking in advance anyways.
Are there any benefits to buying tickets to Pompeii online, in advance?
Yes, the biggest advantage is that all Pompeii tickets that are bought online in advance allow visitors to skip the line and enter more quickly than they would if they waited to purchase the ticket when they arrive. However, you will still need to go through security before accessing the site.
Once I enter, can I leave the site and come back later to continue exploring?
No, you will not be able to leave the site once you enter. Your ticket allows only one entry to the site so if you have to leave for any reason, you will not be readmitted. For this reason, it's best to make sure you don't forget anything before entering and that you are able to commit to your entire visit in one entry.
Where are the ticket offices situated?
The official Pompeii ticket offices are situated at the site, but only in the archaeological area at the Porta Marina, Piazza Anfiteatro and Piazza Esedra entrances.
What are the opening hours of Pompeii?
Pompeii's hours differ depending on the season. The site always opens at 9:00 am. During high season, from April to October, the last entry to the site is at 5:30 pm and it closes at 7:00 pm. During the low season from November to March, the last entry is at 3:30 pm and the site closes at 5:00 pm.
What is the best time to visit Pompeii?
The best time to visit Pompeii is as early in the morning as possible so you can avoid the crowds. Arriving early also gives you plenty of time to explore at your own pace.
How do I get to Pompeii from Naples?
Pompeii is about 16 miles (26 kilometers) from Naples and regardless of how you travel there, the average travel time is about 40 minutes.
There are several ways to get to Pompeii from the city of Naples. The best way of getting there is by train. The Circumvesuviana train departs from Napoli Central Station and you will get off at Pompei Scavi, which is close to the Porta Marina gates.
Another way of getting to Pompeii is by bus on the SITA bus from Naples, or by taxi, private transfer and guided tour that includes transportation.
Further Readings
These other posts may be useful when planning a trip to Naples and its surroundings:
Pin It For Later!