Easter in Rome is a truly special time. Taking place in either March or April, the weather in Rome at Easter is usually beautiful – and most of the time implies sunny warm days and proper spring weather with everything in bloom.
If you are planning a trip to Rome in the spring and Easter is falling right during that time, you should not worry: all attractions and restaurants will be open and it will be business as usual, for the most part. However, you can definitely expect a large influx of tourists and, since it will be peak season, prices will be a bit higher than you'd wish.
Curious to discover what you should expect from Easter in Rome? Read this post, as I will share everything you need to know – including some tips to make the most of the Eternal City during this very special time.
Take care to notice that the Holy Week and Easter don't fall on the same day every year. In 2022, Palm Sunday – which marks the beginning of the Holy Week, will be on 10 April; whereas Easter will be on 17 April.
What You Must Know About Easter In Rome
Being a Christian festival, Easter – called Pasqua in Italian – is naturally a huge occasion in Rome. There are a number of different events that take place across the city leading up to Easter Sunday.
It's a popular time to visit, with pleasant spring weather and plenty of free attractions to keep you entertained. But there are a few things you should know before you start planning your trip to Rome this time of year.
It will be crowded
Yes, it definitely will be crowded. Many people make an actual pilgrimage to St. Peter's Basilica, and attend religious ceremonies in churches across the city. Thousands of people flock to Rome for this important religious event.
Not only that, but tourists also descend on the Italian capital to see the spectacle of the Easter parades. For many countries in Europe, Easter also marks a couple of weeks off for school (and a few days off for adults, too), meaning that it's a popular time of year to take a family vacation.
So, yes. Rome at Easter is actually very crowded, and with this in mind you should note that accommodation gets booked up over the Easter weekend and the weeks surrounding the holiday. Make sure to book way in advance if you want to make sure you secure your desired accommodation.
Weather in Rome at Easter
The weather also plays a part in the attraction of spending Easter in Rome. In general, it's spring time and that means – on the whole – warmer weather and longer days. But remember: Easter is a moveable holiday, and is not fixed to the calendar. It can fall in either March or April, meaning the weather can vary quite a lot.
The weather in Rome in March, for example, is still relatively chilly. The average temperature is around 11.5°C (53°F) with some sunny days hitting 17°C (63°F). Low temperatures in March can still dip down to an actually cold 6°C (43°F). A quarter of the month receives rainfall – so bring your umbrella!
In April, however, things are looking up. The average temperature is a pleasant 14°C (57°C), with highs reaching 20°C (68°F). Lows are still around 8°C (46°F). It can still be pretty rainy, however, but you'll have seven hours of sunshine a day to enjoy on average. On bright, sunny days it's wonderful weather to explore the city – much more pleasant than the scorching heat of mid-summer.
Make sure to read my post The Best Time To Visit Rome.
Are attractions open in Rome at Easter ?
Generally speaking, yes. All the attractions in Rome will be open throughout the Easter period, but you should note that some establishments will be closed on Easter Monday. In particular, independently run restaurants and shops may be closed on this day (it is a national holiday, after all).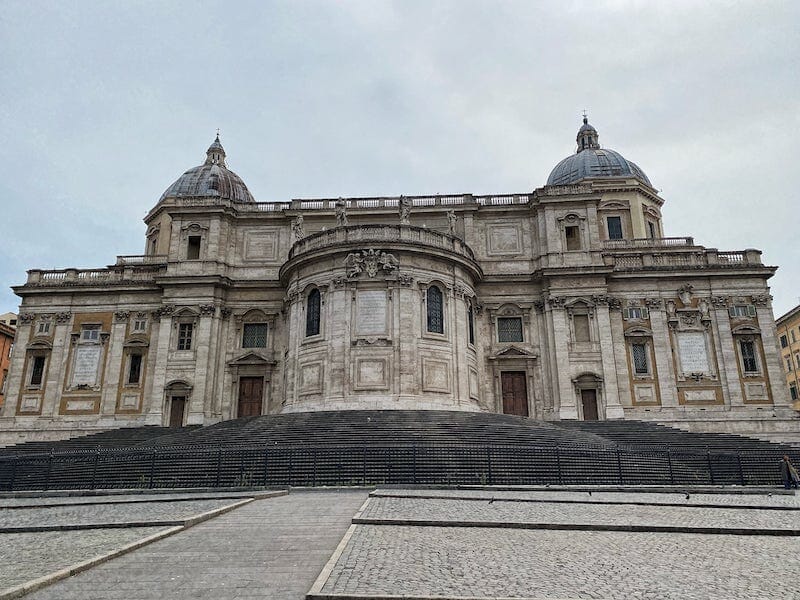 Important dates for Easter in Rome
Palm Sunday: Morning Mass in St. Peter's Basilica
Maundy Thursday: Morning Mass in St. Peter's Basilica
Good Friday: Evening Service in St. Peter's Basilica
Holy Saturday: Evening Mass in St. Peter's Basilica
Easter Sunday: Morning Mass in St. Peter's Basilica and Urbi et Orbi blessing at noon
Easter Monday: Noon Mass in St. Peter's Basilica
Palm Sunday
Palm Sunday (Domenica delle Palme) falls on the first Sunday before Easter Sunday and marks the start of Holy Week. Also called Passion Sunday, this day commemorates Jesus's arrival in Jerusalem when citizens greet him by laying down palm leaves.
In Rome, olive branches are hung outside churches, and a Papal Mass is held at St Peter's Basilica from 10:30 am.
Maundy Thursday
Also known as Holy Thursday (or Giovedì Santo in Italian), this religious day starts off with a morning mass held in St Peter's Basilica, and sees the Pope blessing holy oils. This is usually less crowded than evening masses, and could be a good chance for visitors to see this spectacle.
Even though this is the start of Easter Weekend, note that there won't actually be any closures of sites on this day as it isn't a public holiday.
Holy Thursday is the day that Jesus washed his disciples' feet; it is also the same day that the Last Supper of Jesus Christ and his Apostles is celebrated.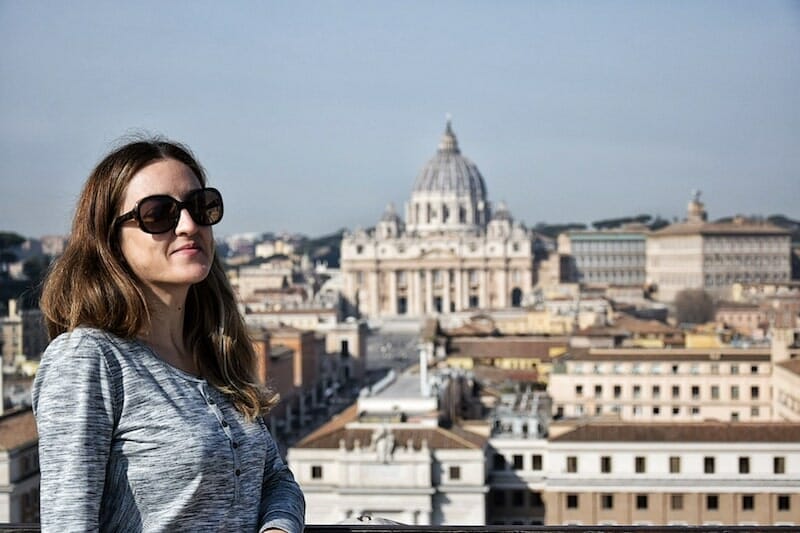 Good Friday
This is the day that marks the death of Jesus. It's an important day for all Christian faiths, not least the Catholic church. According to custom, no masses are held on Good Friday as a sign of mourning.
In Rome, the service in the afternoon at St. Peter's Basilica recounts the suffering of Christ, and a cross is kissed by everyone in attendance before taking Holy Communion.
Later, in the evening, a large procession takes place, known as Via Crucis. This large event commemorates the Passion of Christ, and is led by the Pope as he walks the 14 stages of the cross around the Colosseum. This is free for all to attend and is an unticketed event.
This custom began in the 18th century in honor of the so-called Christian martyrs, who are believed to have been killed at the Colosseum during the days of ancient Rome.
The procession usually takes place around 9:00 pm and is a very busy time in the city. Public transport can be packed, and the security presence is high, with large crowds gathering around the Colosseum to catch a glimpse.
If you aren't interested in seeing this, and want to see another sight elsewhere in the city, don't worry, this shouldn't affect it too much.
Easter Saturday
Easter Saturday is marked by an evening mass at St. Peter's Basilica. It's not particularly a large event, and most people are busy getting prepared for enjoying family time together on Sunday. Easter Saturday is also the traditional day when any recent converts to Catholicism are received into the Church.
The evening mass is a particularly powerful event. It begins in nearly complete darkness, in which the Pope lights a large Easter candle. From this, hundreds of smaller candles are lit, gradually turning the inside of the basilica into a brightly lit service.
It takes place over three hours, including the blessing of converts. Tickets are required for the mass as a whole, but they are free.
Easter Sunday
This is the big event itself. Easter Sunday is the day that marks Jesus's resurrection and, as you might expect, an enormous celebration. It's a colorful, lively day filled with celebration and songs. It feels like the day when spring has arrived in the city, with plenty of life to be seen on the streets.
Thousands of people make their way to the Vatican, where the Pope will celebrate with a mass in St. Peter's Square. Elsewhere in the city, Romans are celebrating with their friends and family.
Restaurants and all manner of eateries put on special Easter menus at this time of year, and many will be busy with people celebrating. If you want to eat out on Easter Sunday in Rome, make sure that you book your table in advance to avoid being disappointed.
Note that the Vatican Museums are closed on Easter Sunday, as well as the Basilica itself (during masses).
Easter Monday
Easter Monday is a national holiday in Italy. Called Pasquetta (literally "Little Pasqua") or Lunedì dell'Angelo (Angel Monday), Monday is a day off when people enjoy spending time with their families, eating good food, hangin out in a park, going for a hike – everything you might want to do with a day off!
There's a mass at St. Peter's Basilica on Easter Monday.
Many establishments throughout the city will be closed today, since it is a national holiday. The Vatican Museums, for example, will be closed, as will others; some restaurants and shops may also be closed. Even shopping malls may be closed. Make sure you have plans for today because it's not exactly a day for spur of the moment decisions.
What about attractions in the Vatican during Easter?
With St. Peter's Basilica and the Pope as the center of religion for Catholics across the world, you can understand why the Vatican City is such an important place for Easter.
As it's not a normal time of year at the Vatican, opening hours will vary. The Vatican is closed for visitors on Easter Sunday and Easter Monday.
Make sure to read my post A Guide To St. Peter's Square.
Mass at the Vatican
If you want to attend the Easter Sunday mass at the Vatican, you'll be pleased to know that it's open for all to attend and it's free. However, it's a good idea to secure tickets in advance. The service begins at 10:15 am and is then followed by the famous Urbi et Orbi address. This literally means "To the city and the world". This is delivered by the Pope from the balcony.
As far as tickets for this event are concerned, you need to arrange tickets this way in advance of Easter.
Easter food in Rome
Food plays an important part in the lives of Romans at any time of the year, but during Easter it takes on an even more crucial role, with not only seasonal dishes, but dishes specific to Easter that are cooked, served up and eaten during this special time of year.
If you're visiting Rome at Easter, you should definitely take some time to sample its traditional array of Easter delights.
Many Romans spend long lunches enjoying special menus at the countless restaurants to be found across the Italian capital. These multi-course Easter meals provide an insight into the seasonal eating that Italy as a whole is renowned for.
In terms of speciality dishes, you should make sure to hone in on a few particular items in order to get a taste of Easter in Rome.
For one thing, make sure to try corallina, a type of salami that comes from Umbria, but very much enjoyed by people in Rome. There's also torta pasqualina – a pie-like dish that consists of layers of puff pastry stuffed with succulent spinach, ricotta, and egg. Usually served as a side dish, it's not to be missed.
Picnics and barbecues are popular over the Easter period, with the torta pasqualina playing a part in proceedings. One traditional dish for carnivores out there is abbacchio scottadito, an grilled lamb cutlet. Suckling pig also makes an appearance on Easter Sunday menus.
Classic pasta dishes also play their part in eateries across Rome. For example, you may come across the pasta alla gricia, which features rigatoni pasta served with guanciale (cured pork jowl).
When it comes to sweet treats, there are also a lot to sample. Italy's traditional Easter cake is called colomba. It's similar to panettone and is named after a dove (because it's in the shape of a dove). The colomba is flavored with lemon and topped with sugar and almonds. Delicious, in a word!
Though it's a borrowed tradition, you can even find Easter Eggs or Uova di Pasqua as they are called in Italian. These come encased in colorful foil and can be found everywhere in the city. For a real treat, head to a venerable old chocolatier such as Valzani (founded in 1925) or Moriondo & Gariglio, the oldest chocolate shop in Rome.
Check out my posts What To Eat In Rome and The Best Restaurants In Rome.
Things to do during Easter in Rome
Aside from eating, seeing the procession, and attending a mass, there's still plenty to do if you are spending Easter in Rome.
Music plays a big part in the celebrations, with the start of the spring ushering in the season of outdoor concerts in historical settings, such as at the Teatro di Marcello.
As Easter coincides with spring, it's not just music that takes center stage, but nature itself. There are many gardens to enjoy strolling around in Rome, not least on the leafy Aventine Hill (check out the Rose Garden here). The Villa Borghese is also a popular destination for picnicking this time of year; visit a market such as at Campo de' Fiori and pick up some staples for your al fresco feast.
You could also hop on a train to enjoy hiking or hitting up ancient hilltop towns in the Tuscia region, or head to the beach at Ostia if the weather's warm enough.
Pin It For Later!