What's so special about June 29th in Rome? Well, it's on this day every year that Rome celebrates the feast day of its patron saints: Peter and Paul. It's a great time to be visiting Rome as the city puts on a celebration to remember.
If you happen to be in Rome on June 29th, or if you are planning on doing so, this post is for you: I will tell you everything you should know about this day, with the best things to do and tips to make the most of the Eternal City on this very special day.
Make sure to read my post The Best Events And Festivals In Rome.
June 29th In Rome – What You Must Know
Why Do Romans Celebrate St. Peter And Paul's Day?
Peter and Paul were both apostles of Jesus Christ, and are therefore considered to be crucial figures for the Catholic Church. And both saints found their way to Rome – then center of the Roman Empire – where they would meet their fate.
Paul is often referred to as Paul the Apostle, and though he is not thought to have ever met Jesus personally, he is considered to be one of his most important followers. As well as being credited with the spread of early Christianity, Paul is also claimed to have been responsible for much of the New Testament: out of the bible's total 27 books, 13 have been attributed to Paul.
In 64 AD, a huge fire occurred in the capital of the Roman Empire. Later called the Great Fire of Rome, it destroyed around two thirds of the city. According to bible accounts – and those of Roman historian Tacitus – Emperor Nero blamed the destruction on Rome's Christian population. During the following persecution, thousands of Christians are thought to have been killed by the Roman authorities.
Paul was one of them. While many Christians were sentenced to be killed by wild animals in the Colosseum, Paul (being a Roman citizen) had a slightly less horrific execution, and was instead beheaded. Legend has it that Paul's head bounced three times after he was beheaded, and with each bounce a spring of water was created.
Today you can visit the San Paolo alle Tre Fontane – literally "Saint Paul of the Three Fountains" – which is traditionally considered to have been built on the site of his martyrdom. It's located in the grounds of the Tre Fontane Abbey, where the springs are located today; you can visit and even drink the water from these springs. As a side note, the Cistercian Order of the Strict Observance (aka Trappist) monks here started producing and selling Trappist beer in 2015.
The story of St. Peter – considered to be the first Pope – also ends in Rome, though in a more spectacular fashion. Sentenced to be crucified, tradition states that Peter requested to be crucified upside down as he did not consider himself worthy of dying in the same way that Jesus had. Peter was buried in what we now know as the Vatican Necropolis.
Centuries later, when Roman Emperor Constantine converted to Christianity, he ordered that a church be built over St. Peter's burial site. This evolved over generations, eventually becoming the world's largest Catholic church: St. Peter's Basilica.
As you can see, St. Peter and St. Paul played a great importance not only to Christianity, but are key figures for the history of Rome, too.
How is St. Peter And Paul's Day Celebrated in Rome?
The feast day for both saints falls on June 29th. Though this day is observed throughout the Catholic world, it is actually a major public holiday in Rome. Many places close their doors, including shops, banks and schools – even the Vatican Museums are closed to the general public for the day.
There are religious celebrations and a variety of non-religious festivities happening throughout the city on this day. For example, the Pope holds a special mass in which he gives a pallium (a special vestment, a bit like a cloak) to all the archbishops that have been appointed across the past year.
Also in the Vatican, the bronze statue of St. Peter is decorated. He's given a red robe and a crown. Perhaps most visually impressive of all are the arrangements of flowers that carpet the ground from St. Peter's Square to the River Tiber, adorning the Via della Conciliazione along the way.
If you're a fan of fireworks, then you'll be in for a treat. Starting around 9:30 pm fireworks are set off in the evening at Piazza del Popolo. However, since it's been a day off for many Romans, you can expect the fun and festivities to have started before that!
Things to know about June 29th in Rome
Being a public holiday, the most important thing you should know about June 29th is the fact that many things will be closed. So if there's anything you need for the day, you may want to consider buying it ahead of time.
Some activities and attractions may be closed. If you were planning a visit to any museums or galleries on this day, then you should double check and look online for what things may (or may not) be closed. Most will stay open, but it's a good idea to make sure.
Some other businesses – such as shops and restaurants – may also close their doors for the day on June 29th. It's a good idea to check ahead of time for closing hours if you want to eat at a specific restaurant.
For one thing, the Vatican Museums are closed – and yes, that means the Sistine Chapel, too. Aside from the museums, the Vatican will be busy with activity, with the Papal Mass I mentioned earlier taking place at 9:30 am in St. Peter's Square. It's a special time to see the Pope giving a public mass, so if you're interested you should check it out.
It's also important to remember that this holiday applies only to the city of Rome. If you wanted to go elsewhere on June 29th you will usually find regular opening times, provided it's not in the municipality of Rome.
And on that note, you should also know that many Romans use June 29th to go for a long weekend somewhere outside the city. This can mean increased traffic coming out of Rome; it depends what day of the week it falls on, but be prepared for journey times to take longer if you also choose to go on a road trip around this time (or if you're arriving in Rome from elsewhere).
Other than that, it's business as usual – well, almost. It's a good time to be in the city!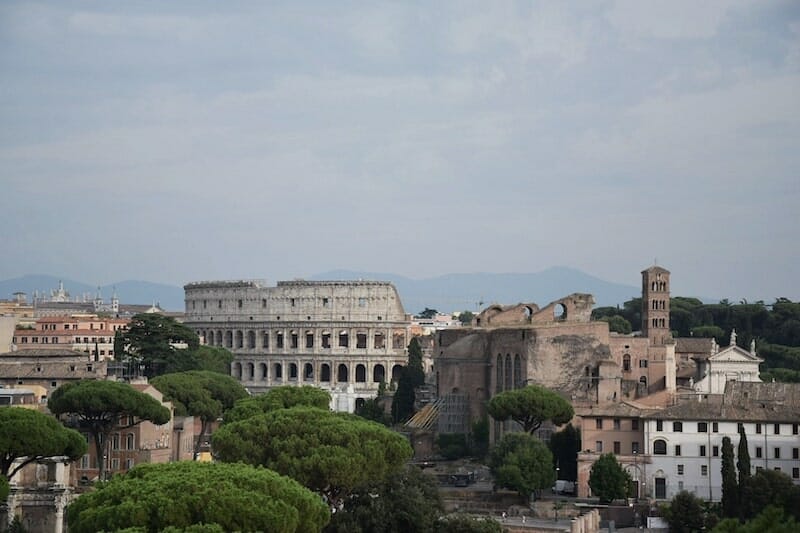 Best Things To Do On June 29th In Rome
If you do happen to be spending June 29th in Rome, then you're in luck. The atmosphere will be great as people in Rome have a day off to enjoy the festivities of the city (or escape from it). Either way, here are a few things you should consider spending your time doing in Rome on 29th June.
Sightseeing
Since many Romans make the decision to head out of town instead of sticking around, it's a good chance to get out and enjoy a less busy Rome. While some attractions may be closed as I mentioned, many will still be open – though there may be shorter opening hours.
Check out my post The Most Famous Landmarks In Rome.
Attend mass at St. Peter's
Of course, June 29th in Rome would not be complete without the Pope's special mass. Held at St. Peter's Square, the ceremony is actually open to the public and tickets are free (note that they need to be booked ahead of schedule).
While you won't be able to enter the basilica itself, the mass will be beamed from inside to giant screens in St. Peter's Square. It's a rare time to see the inner workings of the famous basilica.
Infiorata floral display
The flower carpet I talked about earlier is definitely something you should check out on June 29th. True to its name – infiorata literally meaning "covered with flowers" – thousands upon thousands of flower petals are arranged in elaborate designs (along with coloured sawdust and salt), leading from St. Peter's Square and along the Via della Conciliazione.
Though this historic display first dates back to 1625, it had a long hiatus of almost 400 years, but took place once more in 2011 and has been an annual tradition ever since.
Be amazed by the fireworks
For many, June 29th in Rome is all about the fireworks. But the connection between the Feast of St. Peter and Paul and fireworks has a legend attached to it. According to tradition, the firework display was actually dreamt up by Michelangelo, and it originally took place at the Castel Sant'Angelo. Naturally, this spectacle was a big attraction for people not just in Rome, but across Europe, and many would descend on the city at this time of year to see the famous fireworks.
It stopped in 1834, but the tradition was reinstated in 2008, and takes place now at the Pincio Terrace instead of Castel Sant'Angelo. The best place to see the fireworks is Piazza del Popolo, but it would be a good idea to arrive a while before the fireworks (9:30 pm) if you want to stake out a good spot.
Enjoy a picnic in the park
One of the best ways to spend 29th of June in Rome is to do what the Romans do (or many at least) and go to one of the city's many green spaces for a picnic. Many of Rome's best parks also happen to be located in the grounds of beautiful mansions, for example the Villa Borghese.
However, for more space to breathe, you may want to consider checking out the Parco degli Acquedotti (the one in the photo above). This large park is named for the ruins of two Roman-era aqueducts that still stand to this day. You could also combine a visit to this particular park with a hike along the ancient Appian Way.
June is also a great time of year for produce, so picking up fresh cheeses, breads and other delights for your picnic hamper and lounging around on a lawn is an awesome way to spend June 29th.
Head over to my post The Most Beautiful Parks In Rome.
Get out of town to go to the beach
Another thing that Romans like to do on this day is head to the beach. Being late June, the weather is perfect for a day on the sand by the sea. Luckily for any beach bums reading this, there are quite a few beaches in easy reach of Rome, making for easy half-day or day trips.
Ostia Antica is a short train ride away, and even has an archaeological park thrown in for good measure! For something more classically beachy, you could try Sperlonga; as well as its popular, well-equipped beach, the town – with its whitewashed buildings and plethora of restaurants and cafes – is a charming place to explore.
Read my post The Best Beaches Near Rome.
Kick back at a pool
And if a beach just doesn't cut it for you, then maybe you'd prefer to join in another Roman summer pastime: sunning yourself by one of the city's many pools. As the weather warms up, Rome's public swimming pools open up to the public. There's an array of different options, often well-equipped with loungers, changing facilities and even cafes. Some are more fancy – located in the grounds of hotels – while others are more down to earth.
Discover the best outdoor pools in Rome.
Take an evening stroll
Evenings in June are wonderful for strolling: the temperature is balmy, and other Romans will be out doing the same thing. And particularly on June 29th, there will be a nice, festive atmosphere to soak up as you wander the historic city. Many of Rome's ancient sites are also illuminated after dark, making your evening wanderings even more attractive.
Enjoy the view from one Rome's best rooftop bars
Another way to take in Rome's storied skyline is to see it from above at a rooftop bar. Surprisingly, there are actually quite a lot of rooftop bars to choose from in the city – from romantic and elegant to more vibrant options buzzing with locals.
The stylish La Rinascente is run by a Michelin-starred chef (so the food is amazing) and has incredible views over St. Peter's Basilica. For something more lively, try Feria at Lanificio – think BBQs and DJs – and the entry is free! Over at Zuma, there's award-winning Japanese food and exquisite views.
Make sure to check out my post Where To Find The Best Views Of Rome.
Pin It For Later!