Rome is a city packed with culture, history and art – but it can get terribly hot in the summer. If that's when you are visiting, you may be happy to know that there are a bunch of great beaches near Rome, all of them easy to reach by public transportation, car or organized group tour, where you can spend a day basking in the sun, relaxing and swimming in the refreshing waters of the Mediterranean Sea or – why not – those of some beautiful lakes.
Ready to discover the best Rome beaches? Continue reading!
For more places to visit near Rome, read my post The Best Day Trips From Rome. And for incredible beaches and more things to do, read my post A Short Guide To Ventotene.
The Nicest Beaches Near Rome
Santa Marinella
Located around an hour's train ride from Rome Termini Station, Santa Marinella is an historic seaside town with a beautiful beach to match. It's actually been popular for thousands of years. Back in the Roman era, it was here that you would have found Aquae Caeretanae, a bathing resort.
The beach at Santa Marinella is just a few minutes' walk from the train station. It consists of a small, sandy bay, scattered with sunbeds and umbrellas that you can rent from the many stabilimenti. But if you walk around the coast to the neighboring beach, it's possible to find a patch of free sand without having to pay any cash.
Serving up a mix of traditional architecture and a relaxing atmosphere, it's also a hotspot for seafood lovers. Being by the sea, it's cheaper and more delicious than the seafood you'd find in Rome.
HOW TO GET THERE: Take the train from Termini Station to Civitavecchia and get off at Santa Marinella.
Sperlonga
Sperlonga is a Blue Flag beach around 90 minutes by train from the center of Rome, and easily one of the best beaches near Rome. Although it might take some time to get there, the clear blue waters, clean sand, and stunning scenery are worth the ride.
The coastal town itself is located in the province of Latina, which is halfway between Rome and Naples. The famous coastline here was once home to a palace owned by Roman emperor Tiberius. Here is where a sea grotto was discovered in 1957, which was filled with statues and monuments.
In terms of the beaches, Sperlonga is blessed with a long, sandy beach called the Ponente, which follows the main road. There's also a smaller beach situated on the other side of the promontory.
When you're not on the beach, make sure you take some time to wander the charming streets of the town itself. There are some great local restaurants and cafes to try out some seafood here.
HOW TO GET THERE: From Rome Termini Station take the regional train to Naples and get off at Fondi-Sperlonga, at about one hour and 15 minutes from Rome. Once there, hop on a shuttle to the beach.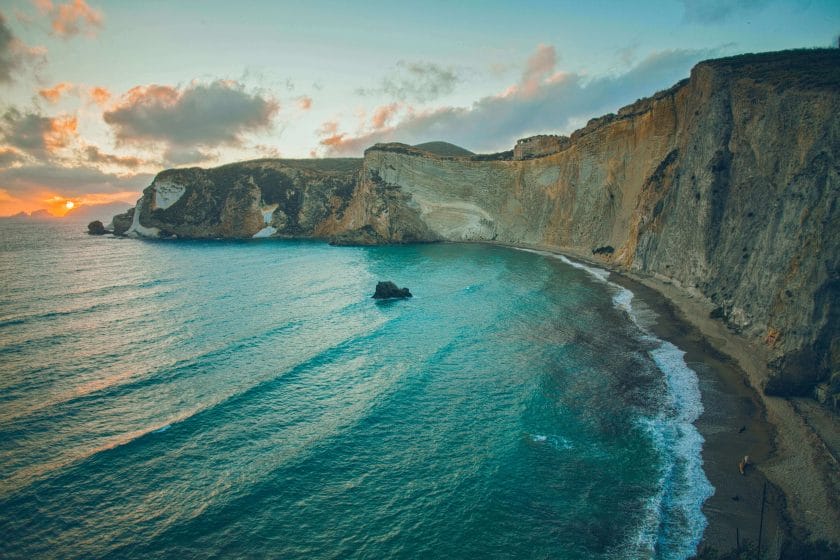 Ponza
The island destination of Ponza was a popular vacation spot for ancient Romans and still attracts visitors to this day. Located 119 kilometers off the coast of Lazio, the only way to get here is by boat, so it's more than just a place for a day trip.
It's a true beach getaway destination, with colorful, sun-filled streets and a wealth of history to soak up (when you're not laying out in the sun, that is). In Roman times, this is where the nobility would vacation, but it was abandoned after the fall of the Roman Empire.
Island hopping between four islands that make up this glistening archipelago means being able to soak up the best of their beautiful coastlines. Though all the beaches in the secluded coves of Ponza are stunning, some of the most notable include Cala dell'Acqua, named for its transparent water, and Cala Lucia Rosa, with its dramatic cliff views.
HOW TO GET THERE: Ferries to Ponza depart regularly from Anzio. The easiest way to get there, however, is on organized day tours from Rome. For more information, click here.
Fregene
Thought to be one of the best Rome beaches, Fregene is situated just 30 kilometers from the center of Rome itself – close enough to be a very popular spot with Romans all-year-round. In the summer months, it's packed with friends and families enjoying the weather. In winter, people gather to dine on seafood in the many restaurants situated here. Everyone in Rome knows about Fregene.
The town itself dates back to the 16th century, when it was owned by the Rospigliosi, a powerful Roman family. The family planted pine forests along the shoreline, which has, over the centuries, protected the area from the strong winds of the Mediterranean. It's now a natural backdrop to the sandy shoreline and luxury resorts.
Fregene Beach itself is said to be one of the longest beaches near Rome, at around five kilometers long. It's a classic Italian beach, with stabilimenti, sun loungers, and shades.
HOW TO GET THERE: Take the Cotral bus from Rome's Valle Aurelia metro stop (line A). It takes about one hour.
Lake Bracciano
This volcanic lake, situated around 32 kilometers northwest of Rome, is one of the largest lakes of the region and one of Italy's major lakes. As well as serving pure drinking water to the city of Rome, Lake Bracciano is also a tourist hotspot, owing to its clean beaches and picturesque towns.
It might not be as well known as Lake Como or Lake Garda, but this little-known lake is well worth your time. Also, it's only a short train ride from Rome (or 40 minutes by car).
One of the most popular beaches along the lakeshore is La Marmotta Beach. Aside from being naturally stunning, it was just offshore here that a Neolithic settlement dating back to 5690 BC was discovered, artifacts from which are now on display at the museum in Anguillara Sabazia.
May to September is the best time to visit Lake Bracciano if you want to swim in its crystal clear waters. Some of the best places to swim and generally chill out can be found at Vigna di Valle, home to beach clubs and facilities.
Because it's a nature reserve, there are plenty of stretches of sand with less developed (or no) facilities where you can relax for free. It's also great for windsurfing and kayaking, and there are multiple places where you can rent equipment for water sports.
HOW TO GET THERE: Take the train from either Rome Tiburtina Station, Trastevere, San Pietro and Valle Aurelia to Bracciano. The ride lasts about 45 minutes. From the village, it's a 20 minutes walk to the beach.
Ostia
Ostia is probably the easiest beach near Rome to get to using public transport. At less than a 30-minute drive from the city center, if you want a quick and simple day trip to the beach, Ostia is the place to go.
Ostia was once upon a time the port city for the ancient city of Rome. The modern-day version of Ostia, however, was founded in 1884 and was urbanized once the railway was opened in the 1920s. Almost overnight, it became a popular coastal resort for city dwellers, with many Art Nouveau houses built along the waterfront as holiday homes.
Today, it may not quite be the taste of the dolce vita that it used to be – and is often very crowded with sun-seekers and beach-lovers – but this also means that it's well equipped. There are places to stay, plenty of places to eat, small shops, and bars where you can sip on an Aperol with a sea view.
HOW TO GET THERE: Commuter trains to Ostia depart from Rome Ostiense Station. If you have a Rome City Pass, this should cover also transportation to the surroundings of Rome.
Santa Severa
Santa Severa is a small resort town about an hour's train ride north of the city center. Not only is it a charming place to chill on the beach, but it's also got a lot of history to discover. In fact, it was once the site of the Etruscan port city of Pyrgi, dating back to around the 6th century BC.
The town itself dates back to the 9th century, and it's a warren of old buildings, cobbled streets and, its crowning glory, the 14th-century Santa Severa Castle. This medieval castle juts out into the sea on one end of the beach, making this a unique spot to soak up the sun to the soundtrack of waves crashing on the sand.
You can even opt to spend the night inside the castle!
Santa Severa didn't develop as a resort until the 1930s when it was utilized as a resort for officials of the fascist government and their families. Today, its striking historic architecture and mix of rocky and sandy beaches provide a unique view.
HOW TO GET THERE: From Rome Termini Station take a regional train headed to Civitavecchia. Get off at Santa Severa. The beach is a 10 minutes walk.
Anzio
A perfect day trip from Rome, Anzio is just over 50 kilometers from the city center and can be easily reached from Termini station. It's well known and for good reason – Anzio's beach is blue flag-designated. There are plenty of polished stabilimenti to opt for here, or you can trek around the headland to discover a free stretch of sand.
There's also history around this area. In fact, Anzio was the base of operations for the rebellion planned against Rome by one of its generals, Coriolanus. Much later, during World War II, it became the site of the Battle of Anzio, which took place in and around the town, which ended up liberating Rome from Nazi occupation.
Anzio also has the accolade of being the birthplace of Emperor Nero – you can still visit the ruins of the villa he was born in. A quiet fishing village for much of the 20th century, Anzio has a colorful port with elegant vacation villas. Around the port, there are a wealth of seafood restaurants, comprising fresh catches brought in by local fishermen (ideal with a glass or two of wine).
Feel like traveling further? Ferries depart from here bound to Ponza.
HOW TO GET THERE: From Roma Termini, take the train to Nettuno. Anzio is the second last stop. The journey lasts about one hour.
Terracina
Terracina is arguably one of the most attractive beaches near Rome. It's around an hour 45-minute drive from the city to this coastal destination, making it ideal for either a day trip or a weekend break from the capital.
Situated along the ancient Via Appia (or Appian Way), Terracina was once a center for the worship of Roman god Jupiter, but it's now more of a mecca for sun-worshippers who like to spend all day at the beach. The beach at Terracina is a long, wide stretch of sand with all the facilities and amenities you'd expect of a well-established resort town.
Away from the stabilimenti, there are slices of history and culture to soak up in Terracina, too – not least in the form of the Centro Storico, complete with the pretty piazza and ancient archway. There's even an ancient stretch of the Appian Way to be seen.
But the most enigmatic sight is the Temple of Jupiter Anxur (Anxur was the ancient Volscian name of the town). Sitting high on the headlands, the view of the curving beach from this vantage point is particularly stunning.
HOW TO GET THERE: Take the regional train from Rome Termini Station to Naples and get off at Monte San Biagio. Then take the bus to the beach.
Sabaudia
Around an hour and a half from Rome by car, Sabaudia is a popular place for Romans to spend time soaking up the sun, and known as one of the best Rome beaches. Here you'll find an unspoiled stretch of golden sand edged by dunes, making for one of the most picturesque beaches in the region of southern Lazio.
This very natural beach stretches for multiple kilometers, and it feels worlds away from the crowds of other beaches in the region. Though a resort town, there are no signs of overdevelopment or overcrowding at the beach – just sand, clean sea, and Mediterranean scrub.
Unlike some of the others on this list, Sabaudia is much newer. It actually began life in 1933 under the leadership of Mussolini, with much of its Fascist architecture and urban plan intact, earning the title "City of Rationalism."
There's more nature to be discovered nearby, specifically on the shores of Lake Paola, with its birdlife, plentiful wetlands, and dense vegetation. There's also the Circeo National Park, which boasts plentiful hiking trails and deserted sand dunes to explore.
HOW TO GET THERE: Take the Cotral bus from Rome's Laurentina metro stop (line B) to Piazza Oberdan in Sabaudia, then hop on the shuttle bus that goes along the coast.
Ladispoli
Around 35 kilometers north of Rome, Ladispoli sits on the site of an ancient city called Alsium. This was an Etruscan port of nearby Cerveteri, which was destroyed in the 6th century BC. Today, it's a busy city that makes for an easy getaway from the heat of Rome.
With a handful of beaches to relax on, there are multiple bays alongside one long, main beach. You'll always be able to find some space on the dark sands of Laidspoli's beaches. Some of them are more wild than others. Torre Flavia Beach, for example, hosts rugged sand dunes, marshes, and ponds, and is the site of a ruined medieval fortification.
The beaches here won't necessarily win awards for their beauty, but being so close to Rome and less crowded than places like Ostia, it's an easygoing option.
HOW TO GET THERE: Take the Cotral bus from from Rome's Valle Aurelia metro stop (line A). The journey takes about 40 minutes.
Gaeta
Though Gaeta may be two-and-a-half hours away from Rome by car, it's well worth visiting. This charming coastal town, situated on a promontory in Latina, Lazio, is crowned by multiple stunning beaches.
Complete with its own dialect and local cuisine (which includes the delicious calzone-like tiella), Gaeta is a destination in itself. With its long history, there's a wealth of cultural and historic sights to soak up when you're in town. And that's without even mentioning the beaches.
The main beach is Serapo. It's a slice of fine, golden sand with plentiful stabilimenti. Elsewhere, Fortinia Beach is more off the beaten track – it's only accessible by foot. Here you'll find the ruins of a 1st-century Roman villa and a rugged cove to relax in.
HOW TO GET THERE: From Rome Termini Station take the train towards Naples and get off at Formia. From there, hop on a local bus to Gaeta.
Further Readings
Make sure to read my other posts:
Pin It For Later!