Situated in northwestern Italy along the Ligurian Coast, Portovenere (sometimes also written Porto Venere) is a picturesque fishing village steeped in history and culture and home to amazing beaches, world-class restaurants and attractions. Although it's not one of the Cinque Terre villages, it's very close to the area and therefore a place you should definitely check out while you're exploring the region.
My sister and I visited Portovenere during a recent trip to the Cinque Terre and particularly enjoyed it, so I thought I'd write a brief guide to highlight its main attractions and share a few tips to plan your visit.
Don't forget to read my posts What To Know Before Visiting Cinque Terre and The Best Things To Do In Cinque Terre.
The History Of Portovenere
It is thought that Portovenere dates back to the first century BC and since Roman times, it has always been a fishing village. Through the centuries, Portovenere changed many hands and came under various powers so its long history plays a part in the vibrant culture we see today. From the late 1850s to the late 1920s, the town was part of the first district of La Spezia which officially became the Province of La Spezia in 1923. In 1997, Portovenere received natural entry onto the list of Protected World Heritage Sites.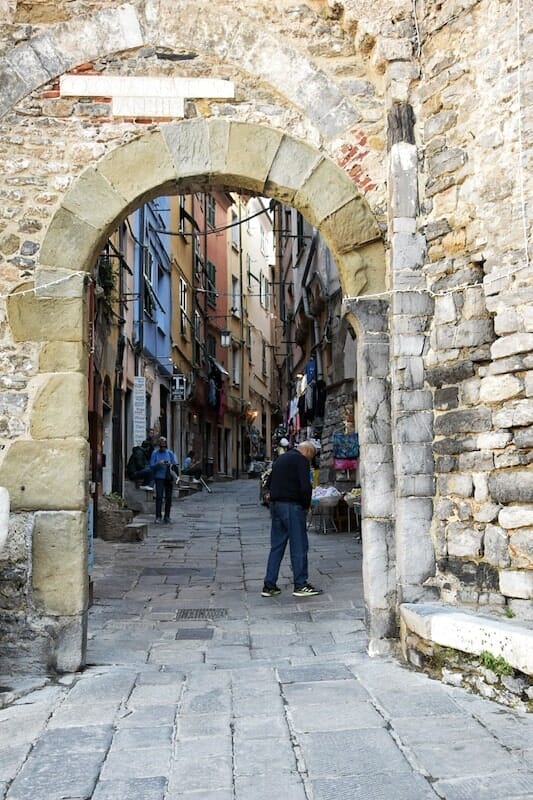 The Best Things To Do In Porto Venere, Italy
Enjoy a stroll through the Old Town District
As you wander through the maze of streets and staircases in the historic Old Town district of Portovenere, you'll be able to admire the beautiful architecture and get a feel for what life is like in the town. Walk along Via Giovanni Capellini, the main street where you'll find many gelaterie, boutique shops where you just might find the perfect gift for a loved one back home or something lovely to display in your home; as well as restaurants and cafes.
You'll access the Old Town via the Porta del Borgo, which was once the city gate, next to which you can spot the 12th century Capitolare Tower.
Visit the Church and the Loggia of Saint Peter
This is the first thing you see when approaching Porto Venere by boat and although it looks like a castle, it's actually an ancient catholic church that's built over an ancient pagan temple and was consecrated way back in 1198. The church is actually quite plain inside, but the views from the loggia are simply stunning!
Check out the Doria Castle
Overlooking the Bay of the Poets, the Doria Castle is actually a 12th century military fort that was built in what was a highly strategic location. Since it0s on top of a hill, getting there can be quite challenging. But once you get there, you will be rewarded with incredible views.
Next to it you will find the Church of San Lorenzo, also known as the Santuario della Madonna Bianca. This is where the celebrations of the White Madonna are held every year in August.
Go for a refreshing dip at Byron's Grotto
Once known as Grotta Arpaia, this used to be one of Lord Byron's favorite swimming holes and this is where the name Byron's Grotto came from – in fact, the entire Bay of the Poets (which is actually the Gulf of La Spezia) owes its name to being a favorite of Lord Byron and his friend Keats Shelley. Today, the rocky cove is still a popular place to swim, snorkel and scuba dive.
Go hiking
There are many hiking trails around the Liguria region, in particular the Cinque Terre area and in the Porto Venere Regional Natural Park. One trail which runs from Portovenere to Riomaggiore is quite the adventure. It's a little more difficult than some of the trails, but the views are spectacular. The trail is 8 miles (13 kilometers) and takes between four and five hours to complete one way.
Another trail will take you to the Forte dei Muzzerone. For that you'll need to take the stairs leading from Portovenere's main piazza to an area behind the town walls. After a steep climb and a hike along a path on the hillside, you'll reach an area where you'll see the fort and surrounding scenery.
Head over to my post A Guide To Hiking The Cinque Terre.
Head to the beach
There are several beautiful swimming beaches in and around Porto Venere. The main one, and the most popular beach, is the one at the base of the harbor. Arenella Beach and Sporting Beach are both bath houses that have loungers that can be rented for a fee. Mirella Beach and Olive Beach are 100% free to access and there's plenty of space on these beaches.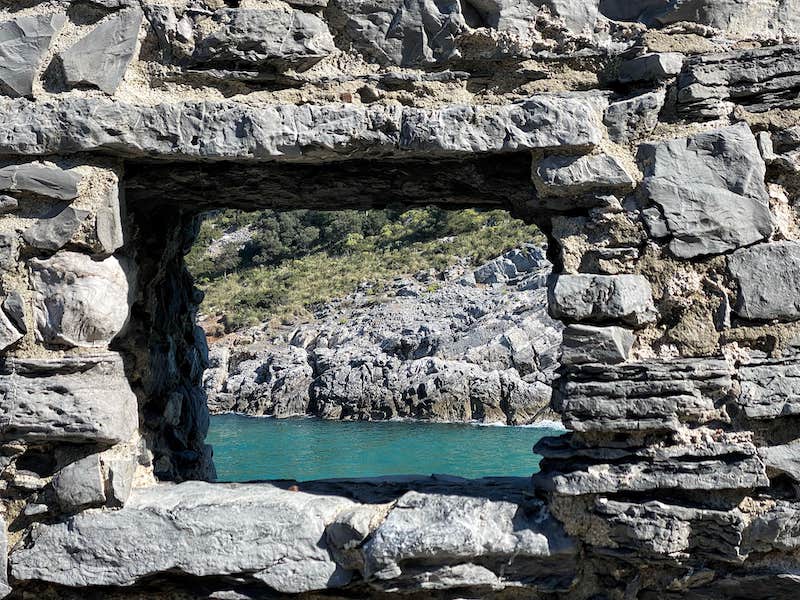 Take a boat tour to the nearby islands
This is definitely one of the best things to do in Portovenere in the summer, and yet another way to see the scenery. Make sure to opt for a tour that goes to the nearby Palmaria, Tino and Tinetto islands.
Palmaria is the largest of the three islands, and it's speckled with caves, beaches that are perfect for swimming and snorkeling, and even hiking trails. Tino is a military base and Tinetto nothing more than a large rock with some ruins on top.
Various boat tours departing from the harbor in town will take you to the islands and along the coast. Every tour is different and depending on which one you embark on, you might explore caves, snorkel the clear waters or disembark on the islands.
To book your boat tour to Palmaria, Tino and Tinetto, click here.
Dine on delicious local cuisine at Palmaria Restaurant
Palmaria Restaurant is located on a stunning veranda at the Grand Hotel Portovenere, right on the colorful and picturesque harbor of Portovenere, and is one of the best restaurants in town. Enjoy amazing views of Palmaria Island as you dine on seafood, pasta dishes and local wine.
Check out my post The Best Restaurants In Cinque Terre.
Practical Information To Plan Your Trip To Portovenere, Italy
Day trips to Porto Venere and Cinque Terre
While you can see Portovenere and the entire Cinque Terre region in a day, I'd advise you to put more time aside to really experience this beautiful coastal area of Italy. There's so much to see and do in the region that one day is simply not enough to fully enjoy it!
However, if you just can't put more time aside to explore this area, make the most of it by availing of the hop-on, hop-off ferry service that travels between La Spezia, Portovenere and the Cinque Terre Villages of Riomaggiore, Manarola, Vernazza, Monterosso and Levanto.
This is the quickest way to get around and see as much as possible in a small amount of time, but you likely won't have time to visit Corniglia because it is not a part of this ferry route as it is more inland with no harbor for boats to dock.
For a day tour of Portovenere and Cinque Terre departing from Monterosso, click here.
If you prefer departing from La Spezia, click here.
Check out my post An Easy Guide To Corniglia.
If you're able to put more than a day aside to visit this region, you'll have more time to hike the scenic trails, sample the delicious food, indulge in local wine, discover hidden treasures and swim in the warm coastal waters known for being some of the clearest in the world.
How to get to Portovenere
There are a few ways to get to Portovenere, but because there are no train stations in the town, you won't be able to get there by train. You can, however, get there by car, ferry or bus.
By Ferry
This is definitely the best way to get to Portovenere – and indeed, it's what my sister and I used to get there when we visited. The ferry departs from the western end of the promenade along the waterfront in La Spezia, and you'll arrive near the waterfront at the edge of the Old Town District.
This is pretty much like a hop-on, hop-off ferry service that travels between four of the Cinque Terre villages (it doesn't go to Corniglia, which doesn't have a harbor) and several outside towns including indeed Portovenere. Purchasing an all-day ticket for this ferry allows you to travel to all these ports as much as you want for one fixed price.
This is a seasonal service that begins in late March and ends in early November and is actually quite dependent on the weather and sea conditions – there were no ferries for a few days when my sister and I visited.
By Car
Traveling to Portovenere with a car can be a pain because you're limited as to where you can take your car and where you can park it. Cars are not permitted in the center of the town so you'll need to park in the outskirts and walk to the center. The parking areas are divided into three zones. During busier times of the year, it's very hard to find a good parking spot, but if you want to save some money, try to find one in the parking area that is the furthest away from the town because these spots tend to be cheaper.
By Bus
Buses to Portovenere depart from La Spezia: take the 11/P bus line that leaves for Portovenere every 15 minutes throughout the day. The trip takes about 35 minutes and you can purchase tickets from many of the newsstands, post offices, bars, stores and tobacconists that are situated around town.
Where to stay in Portovenere
We visited Portovenere just for a day during our Cinque Terre trip, on our way back to La Spezia. Should you want to spend a few nights there, you won't have any troubles finding a place to suit your travel and budget needs. I have selected a few good place for you.
Relais Santa Caterina
Nice property with cozy, comfortable rooms overlooking the sea. All rooms have a small balcony perfect to sip your morning coffee. The common area is incredibly charming, and there's a beautifully kept gardens guests can enjoy too.
Affittacamere La Lanterna
Close to the center of town, rooms at this family run guesthouse are plain but comfortable and equipped with anything you may need for a good stay. For an extra treat, book a room with a view!
L'Ancora Guesthouse
Newly opened guesthouse with freshly refurbished rooms, which all have a very modern feel. Guests can enjoy a delicious breakfast every morning.
Head over to my post Where To Stay In Cinque Terre.
Further Readings
For more guidance in planning your trip to the Cinque Terre, make sure to read these posts:
Pin It For Later!