If you want to explore a market that has yet to be fully discovered by tourists, in an area of Rome that is steps away from the historic center yet still very local, you should totally make it a point to head to Testaccio Market. Located in the Testaccio neighborhood, this market is home to many delicious food stands. Go there if you are hungry, but also – in fact, especially – if you want to savor the fun atmosphere of the Italian capital.
Curious to find out more? Continue reading, and I will unveil the market's best kept secrets.
Make sure to read my posts A Guide To Testaccio and The Best Markets In Rome.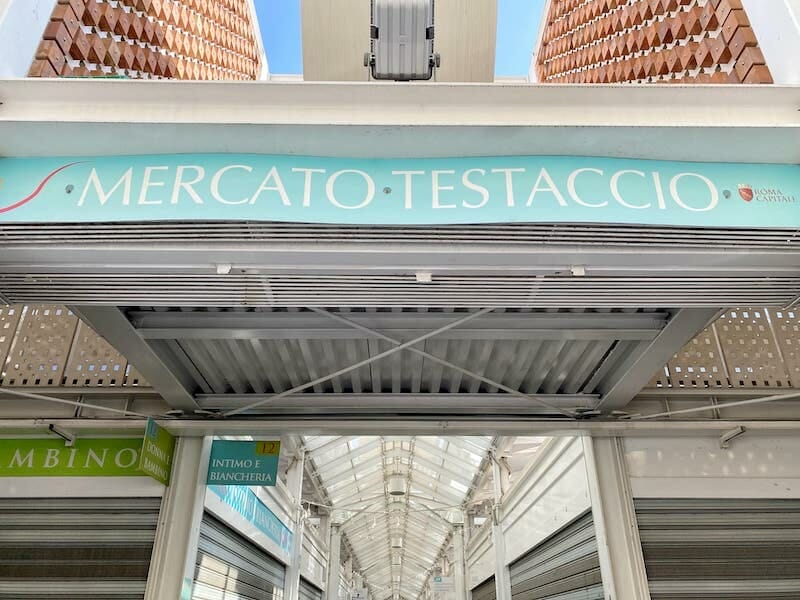 The History Of Testaccio Market
Back in the 2nd century BC, the area where Testaccio Market now stands was a place for storing imported goods: the Emporium, a river port newly built to feed the growing population of Rome. Warehouses were built to store different types of food, and amphorae used to transport oil and wine, among other things, were piled high into a small hill of ceramic trash – and a very well ordered one. This is now known as the Monte Testaccio.
Towards the end of the Roman Empire, the area then became a more rural part of Rome. By the middle ages it had become a place of fields, vineyards and gardens, usually inhabited by poor laborers and farmers. It was prone to flooding from the Tiber and rife with malaria.
However, fast-forward to 1871 and a new plan was assigned to Testaccio following the Unification of Italy. This led to the building of industrial facilities, including a slaughterhouse and residential accommodation for workers.
This slaughterhouse was modern and functional by the standards of the day. The residences, on the other hand, were not; infrastructure and sanitation were poor, leading to low living conditions.
By the 1930s, and under the Fascist regime of Benito Mussolini, the area was redeveloped once more. Around this time, wealthier middle-class inhabitants gradually moved into the neighborhood, thus slowly transforming the atmosphere of Testaccio.
Along with the slaughterhouse came the cattle market. This was naturally a hub of local life and street food for workers and buyers alike. It was here that those who worked at the market or slaughterhouse would take off-cuts of meat home to feed their families; local inn owners whipped up hearty meals using this meat, initiating a new sort of Roman cuisine. The district became known for its foodie credentials throughout the city, with the market being a place to go and pick up delicious food.
The slaughterhouse was in operation until the 1970s. The market, however, was moved in 2012 to a new premises, as the older premises had become a bit dilapidated. The new market was a purpose-built structure: an architecturally significant space. The idea behind the construction was to mirror the layout of Rome's open-air markets that take place in the piazzas of the city.
It's a minimalist structure – open on all four sides – mixing brick, steel and concrete, with transparent panels to allow light to filter through. This contemporary iteration of the Testaccio market is the work of architect Marco Rietti.
Most of the old vendors from the previous market moved at the same time, while a few new gastronomic ventures have called this place home in recent times. This has brought gourmet street food and an elevated profile to the once working-class district.
Practical Information
Location of Testaccio Market
There is access to the market on all of its four sides; namely from via Beniamino Franklin, via Alessandro Volta, via Aldo Manuzio, and via Lorenzo Ghiberti.
How to get there
Testaccio Market is easy to reach via public transport. The nearest metro stop is Piramide (metro Line B), which is just a 15-minute walk away. You could also take bus routes 718, 719 and 775 to Franklin bus stop; alternatively, bus 83 goes to the nearby Zabaglia/Galvani stop.
Opening hours
Testaccio Market market is open Monday to Saturday from 7:00 am to 3:30 pm.
Best places to eat in Testaccio Market
As you'd expect, Testaccio Market has a thriving food scene, plus an incredible selection of fresh fruit and vegetables, fish and meat, as well as other artisanal products – all sold by local vendors.
Needless to say, it's a place to visit hungry; you'll need space to tuck into the gourmet delights that can be found here. These are just some of the most tasty venues for eating at Testaccio Market.
Looking for a guided food tour of Testaccio Market? Click here or here.
Bar Tabacchi da Rosa e Andrea
Situated in front of the old slaughterhouses, this tiny kiosk has its roots in the history of the area. It once served the workers at the slaughterhouse and market – and still continues serving up strong coffee and snacks in a decidedly old-school atmosphere. It's been open since the 1950s. So if you want a retro pit stop before you begin exploring, here's the place to come.
Mordi e Vai
Run by ex-butcher Sergio Esposito, many visitors to the market do not miss out on this hotspot. Here you can find delicious slow-cooked meats and sandwiches that are well worth the wait (expect lines). Roman classics are the name of the game here; think tripe braised in tomato sauce.
Food Box
While the name might not seem much, don't let it fool you. This place is all about super tasty suppli – deep-fried rice and mozzarella morsels that are sometimes touted as the best in the city. There's a whole lot of other tasty treats here though. Jewish artichokes are spectacular here, as are the porchetta sandwiches.
Casa Manco
In the mood for pizza? Then head to Casa Manco. This family-run modern pizzeria serves up a selection of seasonal pizzas by the slice, and is a great place to head for a snack between larger meals. The variety of toppings make it fun to choose and try out new combinations, and the flavors are rich and ultimately delicious. Try it straight from the oven and grab a glass of wine to wash it down with, too.
Da Vania e Artenio
When you want something sweet, make a beeline for this joint. Though they also serve up pizzas at Da Vania e Artenio, this friendly spot also has some serious baked good action. Try their brutti ma buoni; literally "ugly but good," these almond (or hazelnut) flavored cookies are a must try. Sample a donut while you're here as well – why not?
Romeo
Run by Michelin-starred chef Christina Bowerman, Romeo (over at the market's box 30 to 44) is a modern delicatessen. There's a smorgasbord of goodness to try here, from pizza slices to cakes and bread.
Vegan Store
In a market that is heaped in meaty history, vegetarians and vegans can still find solace over at Vegan Store. Situated at box 83, this is the place to come for vegan-friendly products as well as enjoying vegan sandwiches stuffed with vegan meat and cheese. If you're a vegan, or a curious carnivore, definitely try their mock meat.
Further Readings
To get to know more about the surroundings areas to Testaccio, you may want to read these posts:
Pin It For Later!