Peru is a fantastic hiking destination, and anywhere you go in the country you will find many incredible hiking trails that will challenge your fitness but will also be incredibly rewarding. Not far from Arequipa, the Colca Canyon offers an incredible array of trails – easy enough to tackle independently, but best if enjoyed with the company of like-minded travelers.
But there's more to it than hikes. Visiting the Colca Canyon of Peru, you will be able to closely observe local communities that live in tiny villages and continue to follow a more traditional lifestyle; you will be able to spot the majestic condors that live in this part of the country; you will remain breathless at the beauty of the landscape.
You don't necessarily have to hike to visit the Colca Canyon. During my first trip to Peru, when I visited with three more friends, only two of us opted for a hike; whereas the others decided to join a more comfortable classic tour. Either way, it was an incredible experience.
In this post, I will tell you everything you need to know before visiting the Colca Canyon and share some useful information to plan your trip.
For more information about Arequipa, make sure to read my posts The Best Things To Do In Arequipa, The Best Arequipa Travel Tips and Where To Stay In Arequipa.
A Brief History Of The Colca Canyon, Peru
While the Grand Canyon often gets top-billing in the world of canyons, Peru has its very own (and very grand) canyon that is worthy of celebration and world fame. That would be the Colca Canyon. Aside from its beautifully lush, green setting, the Colca Canyon can reach depths of up to 3,270 meters (10,728 feet), making it one of the deepest canyons in the entire world.
It was actually formed millions of years ago by an enormous geological fault between two massive volcanoes. Naturally, the canyon and its surrounding scenic area is one of the most popular tourist destinations in Peru, and yet it is still home to traditional indigenous villages.
Conquistador Gonzalo Pizarro was gifted the land as his territory in 1540 to exploit as he saw fit. And in the 1570s, Spanish Viceroy Francisco de Toledo ordered all people who lived in the former Inca Empire to congregate in central settlements, and to leave their remote village life behind in a policy of resettling.
This led to the decline of agriculture in the Colca valley, as locals began farming land closer to the new colonial settlements. Fourteen of these settlements created by Spanish rule still remain to this day, including Chivay, Corporaque, Yanque, Maca, Cabanaconde, Lari and Madrigal.
These towns are eerily grand, with Baroque churches and villas among the dramatic rural setting. Though the region was important, following Peru's transition to a republic, Colca was left to decline. But in 1931, aerial photography shed light on the breathtaking landscape of the valley, particularly Colca Canyon itself. The rest of the world took note.
Best Trekking Routes In And Around The Colca Canyon
Though the canyon is the star of the show, and is amazing when viewed from afar, arguably one of the best ways to explore this natural wonder is to get up close to it. And that means trekking. The problem is that there are multiple trekking routes that weave in and around the canyon.
It is also important to understand and be aware of what you are getting yourself into – the altitude is one thing, and steep climbs are another – and you will get both of them here.
Luckily there are a few well-trodden trekking routes for you to consider when visiting the Colca Canyon.
For a multi-day hiking trip, click here or here.
The classic route
Most treks kick off from Cabanaconde with the "classic" route leading all the way down to the bottom of the canyon. The descent is very steep and can be treacherous along the way, taking around two hours to get down – and a very grueling and sweaty five hours to return. It's like climbing a mountain in reverse!
However, there are a few campsites at the base of this part of Colca Canyon (called the Oasis). Many people opt to stay the night here, owing to just how hard it would be to tackle the descent and ascent in one day. That's what I did when I visited, and I promise you that sleeping with the roar of the river flowing through the canyon is truly soothing!
If you are up to the challenge, you can walk up on the same day.
Ampato Trail
Leaving Lake Mucura is the Ampato Trail. This is a particularly adventurous option, only recommended for the fully acclimatized. The trek leads around Ampato and takes around five days, with the highest pass situated at 4,850 meters (15,912 feet) above sea level; most walking is done around 4,200 meters (13,780 feet) . If you want to tackle this option, be prepared and hire a local guide.
Tapai Trail
For something less taxing, the Tapay Trail is a popular route that links up Cabanaconde with the rural village of Tapay. It passes by the Oasis and makes for a good all-round trek, featuring a mix of canyon, wild scenery, remote hamlets and Inca ruins.
Cacanaconde to Lake Mucura
Another well-trodden option is to embark on the eight-hour hike from Cabanaconde to Lake Mucura (4,000 meters – 13,123 feet). On completion, hikers are treated to breathtaking views of Ampato volcano reflected in the lake's surface.
For a multi-day hiking trip, click here or here.
How fit do you need to be to hike the Colca Canyon?
Let me be clear about one thing: you will need a good level of fitness to hike in Colca Canyon. Although there are a variety of different routes, most of them will encompass undulating terrain, including many very steep ascents and descents.
It can be tough, particularly if you are hiking over multiple days. The hours of walking and warm weather in the sun can really drain your energy.
Going with a guide is one thing (I recommend that you never hike alone in this kind of wilderness), but you should also take time to consider your fitness for yourself. It's a personal thing, and just going trekking because everyone else is doing it doesn't mean you will be up to the task. It can be really physically taxing. Understand what you're getting yourself into before you head off.
If you're a veteran trekker and you're always hiking up hills and valleys to challenge yourself, then you should be fine with this new challenge. Though mind you – despite the amount of swimming I do, and being an experienced hiker, I found the hike quite challenging.
What you may not be prepared for, however, is the acclimatizing to the altitude. The Colca Canyon is a high-altitude destination, and hiking it is hard enough without throwing altitude into the mix. You should definitely spend a few days in Arequipa getting used to it before you start hiking.
Practical Information To Visit The Colca Canyon, Peru
How to visit the Colca Canyon from Arequipa
The Colca Canyon is around a 4.5 drive away from the city of Arequipa. There are a number of different ways to get there, so when you first start looking into the trip for yourself things can seem a little confusing. But to help you out, here are a couple of options.
Visiting the Colca Canyon independently
The starting point to visit the Colca Canyon is usually Cabanaconde. If you were thinking about making your way to the stunning canyon independently, you have the option of either taking the bus or a colectivo.
By bus
You should opt for an early bus, leaving from Terminal Terrestre in Arequipa no later than 4:30 or 5:00 am. Local bus companies include Milagros, Reyna and Andalucía. Milagros has a bus that leaves from Arequipa at 1:00 am and gets to Chivay at 4:00 am and Cabanaconde at 6:30 am.
The bus costs 26 Peruvian Soles (around $6 USD) and takes about 5.5 hours.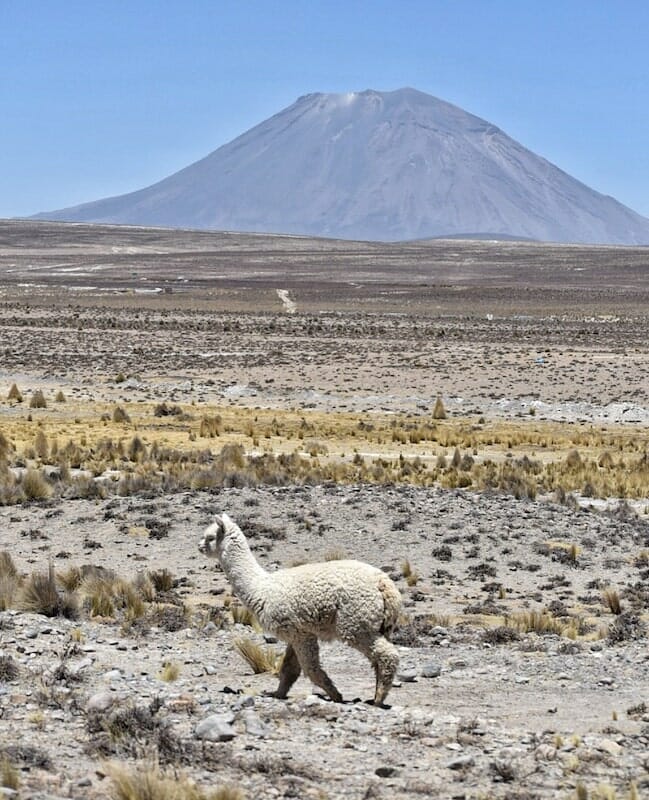 By colectivo
The faster option is colectivo. To begin your journey to the Colca Canyon from Arequipa, hop in a taxi and head from your accommodation to the colectivo station, which is located right next to the main bus station. Once there, get a ticket from the Transportes Centella for a colectivo heading towards Chivay. Colectivos leave when they are full, which can sometimes make them a little more flexible than a bus.
The first colectivo leaves at 5:00 am, with the journey to Chivay taking three hours 20 minutes. Once you're in Chivay, you'll need to swap your colectivo for another one bound for Cabanaconde. These leave regularly and take one hour and 15 minutes.
In total, both colectivos will cost 31 Peruvian Soles (around $8 USD) with a total travel time of around 4.5 hours. Either way, whether you're getting the bus or a colectivo, you'll have to be prepared to get up early!
Since traveling to the Colca Canyon from Arequipa takes so long, if you want to visit independently I don't recommend attempting to do it in a day!
Colca Canyon tours
Owing to (mainly) the travel time, you can see why many people opt to take Colca Canyon tours. It certainly is much more convenient in general to take a tour; and there are many companies out there that will be more than happy to help you get to your destination.
However, the amount of companies can actually make it quite hard to choose which one is right. The many tour agencies all provide different levels of service, and may take in different locations while on the tour, so the golden rule is research.
Always do plenty of research into each company that seems like it might be good for you; read reviews and go for one that has many glowing reviews from previous happy customers.
I recommend Angel Roque as likely the best guide in Peru. He is from the Colca Canyon himself – though living in Arequipa now; speaks excellent English and he is extremely knowledgeable about the local history, culture, and wildlife – not to mention he's a very pleasant person in general. You can get in touch with him via email at ayos83@hotmail.com or whatsapp at +51989404346 – just make sure that you mention "Claudia the Italian blogger" when you contact him!
The bonus of taking a tour is that you don't have to worry about any of the details of your itinerary. You can be picked up directly from your accommodation, and be whisked straight to Cabanaconde without any hassle – or waiting around as the colectivo slowly fills with passengers.
Obviously, there is a price difference involved. Tours tend to be much more expensive than a bus or colectivo, starting at $40 USD for a one-day tour, to up to $400 for a 3-day hiking tour.
To book your one day trip to the Colca Canyon from Arequipa, click here or here.
For a multi-day hiking trip, click here or here.
Colca Canyon tours options
Day tours
If you're stuck on time and you can only manage a single day at Colca Canyon, then you can opt for a day tour. The warning is that these start super early – I'm talking around 2:00 to 3:00 am, when you'll be picked up from your accommodation by a minibus.
You'll be taken directly to the canyon and be shown all the highlights of the area, with a stop to the Cruz del Condor, hot springs (there are many in the area: we visited those in Yanque and loved them) and spectacular viewpoints. Note, however, that you'll also have to pay the 70 Peruvian Soles entrance fee (around $18 USD) on top of the cost of the tour.
For more information on one-day Colca Canyon tours from Arequipa, click here or here.
For more day trips from Arequipa, read this post.
Two-to-three day trekking Colca Canyon tours
A multiple day tour to Colca Canyon is a much better option for those who are either keen on hiking, or who have a lot of time on their hands (or both). Included in the tour will be transport to the canyon, as well as options for different hikes in the heart of the canyon; guides will be provided for this purpose.
Accommodation in this case is usually in the form of a homestay or in bungalows on the Oasis. Trekking can be a challenge; it will consist of around six hours a day over rugged terrain and steep inclines.
Different tour companies offer different options in their tours. If you don't want to trek, there's horse riding; many tours will also throw in visits to see waterfalls and adventurous activities like zip-lining. Some will even allow you to experience village life for the day.
For information on multi-day hiking trip, click here or here.
Colca Canyon weather
Of course, if you are taking the time to explore this amazing place, you're going to want to go when the weather is good. The Colca Canyon is at high elevation, and experiences typical Andean weather: summers are rainy, winters are dry.
The wet season runs from January to March. This time of year sees average temperatures that sit around 16°C (60°F), but which can fall as low as 7°C (45°F) at night. You can expect cloudy skies and the constant threat of short but powerful downpours.
From May to November is the dry season in the Colca Canyon, Peru. Temperatures are a pleasant average of 18°C (65°F) but can feel warmer in the middle of the day when the sun is shining. Night temperatures, however, can be noticeably chilly, dipping to a cool 4°C (25°F).
There's only a slight chance of rain if you are visiting in the dry season. You should bear in mind, however, that the elevation you are at will change the temperature. Generally speaking the higher you are, the colder (and windier) it will be.
Where to stay in the Colca Canyon, Peru
If you are thinking about sticking around in the Colca Canyon area for more than just one day (and I recommend that you do), then you'll need somewhere to stay. There are a few different towns to choose from, all slightly different and coming with various pros and cons attached – and, thankfully, each with a handful of accommodation options, too.
Cabanaconde
This is the main jumping off point for the Colca Canyon, and as a result it's where many travelers choose to base themselves when visiting the area. That's partly because of the transport connections to larger towns and cities when compared to other towns in the vicinity, and partly down to Cabanaconde being the start and end point for many hikes in the region, too.
Cabanaconde has some amazing views of the canyon itself, and you can see condors flying overhead – things that add to just how viable (and attractive) this town is as an option to stay in. The town itself is very compact, but there are a few great places to eat – and stay – all of which are easily walkable from pretty much anywhere in town.
You could opt for somewhere like Hotel Kuntur Wassi, a comfortable place with rustic decor and mountain views (and complete with friendly staff and good breakfast). Otherwise, for something a little more classically polished, there's La Posada del Conde Lodge; there's free breakfast on offer, and private rooms come with ensuite bathrooms.
Chivay
While western-situated Cabanaconde may be popular and convenient for travel by bus, if you choose to venture further into the depths of the Colca Canyon, then Chivay is a good option. Situated at the eastern end of the canyon, this is the springboard for the so-called deep canyon, and is the largest town in the Colca Canyon region, with a population of around 5,000.
Tourist facilities here abound, including ATMs, restaurants, hotels and a medical clinic. If you choose to stay here you have the option of heading along the road to the canyon's north end, where you'll find the villages of Coporaque, Lari, and Ichupampa. The road heading south leads to the Cruz del Condor and the towns of Yanque, Maca and Cabanaconde.
Accommodation is plentiful in Chivay, and includes the very welcoming Casa Andina Classic Colca. The restaurant here serves up food from its own vegetable garden, and has a cozy guest lounge complete with fireplace. There's also La Casa de Anita – situated right in Chivay's main square – which boasts clean and homely private rooms.
Yanque
Situated between Chivay and Cabanaconde, Yanque is more off the well-trodden tourist trail, so if you're looking for something that's a little more authentic, this could be the spot for you. It's known for its white-washed buildings, pretty Mezito-Baroque style 17th-century church, and the easy access to nature.
There may not be as many things to do in the village itself as the other two towns I've mentioned here, but there are other benefits to staying in Yanque. For a more "backpacking" experience, perhaps Chivay is the better option: Yanque is decidedly more upscale. As such you can find some pretty polished, spa-like places scattered in the countryside around this charming village, that can be accessed for a small fee (you will need to bring your towel from the hotel).
One of these is the 5-star Las Casitas. Think heated marble pool, luxury private villas with their own terraces and wellness facilities – all scattered around sculpted rustic gardens. Another similar option is Le Foyer Colca. Though it's 3-star it's still high-end, with rooms that look out over the valley and rolling gardens, and is a few minutes' walk from the main square.
What to pack for the Colca Canyon, Peru
Along with preparing yourself physically, you should also prepare your backpack for your Colca Canyon trip. Here are a few musts you should bring along with you.
SUNSCREEN AND SUNHAT – Despite sometimes being chilly, if the sun is out you'll be in direct sunlight a lot of the time. Getting burned is not fun (or safe!)
LAYERS – Weather can change quickly, so bring layers of thermal clothing, light sweaters and jackets that can be easily stripped off when it gets too hot or too cold.
HIKING POLES – These are helpful for challenging ascents and descents.
HIKING BOOTS – These should be a comfortable pair of sturdy shoes that are up to the task of taking on the canyon
SNACKS – Having a few favorite snacks in your bag is a good idea; getting hungry can be a downer.
PRESCRIPTION MEDICATIONS – It's best to bring along anything you think you'll need. For example, travel sickness tablets may be needed for the journey, which can be quite winding!
WATER BOTTLE – Keeping hydrated is key, so having one of these is a definite must. I recommend lifestraw as it has a filter. You can get it here.
Is travel insurance necessary for a Colca Canyon trip?
Well, yes: you probably should have travel insurance when traveling to most places in the world anyway, regardless of the destination. Having travel insurance can really help in those just-in-case situations – hopefully you'll never have to use it!
The Colca Canyon area is very remote. And for those of you who are going out hiking, you'll be heading out to even more remote areas. Though it's not likely to happen, there's still a risk of something even as simple as tripping over on the trail and injuring yourself.
It's a good idea to get travel insurance from a well trusted provider, and make sure to check that activities you'll be doing are adequately covered.
Further Readings
These posts will come in handy when planning your trip to Peru:
Pin It For Later!