While Rome has a lot going for it, sometimes you just need to escape the bustling capital and get a breath of fresh air. Luckily, there's plenty of places to check out just a stone's throw from the city.
One of these is Villa Farnese. Located 60 kilometers (37 miles) north of Rome in the town of Caprarola, in the heart of the Tuscia region, this stunning Renaissance palace is the ideal spot to soak up some history and see some beautiful architecture.
The most interesting part? It's shaped like a pentagon.
A Brief History Of Villa Farnese, Caprarola
Also known as Palazzo Farnese (or even Villa Caprarola), this stunning piece of architecture has a long history – over 500 years of it, in fact. It started life in 1504 when Alessandro Farnese acquired the land for the estate. Alessandro Farnese was, of course, to be the future Pope Paul III.
Farnese employed the talents of architects Baldassare Peruzzi and Antonio da Sangallo the Younger in creating the palazzo of his dreams. In this instance, the future Pope was interested in creating a fortified structure or rocca – a kind of elevated stronghold common in Italy. Renaissance forts at this time were often star-shaped, a pentagonal structure that eventually became the basis for Palazzo Farnese, too.
Construction started on the pentagonal foundation in 1515, but it wasn't until much later – in 1556 – that Pope Paul III's grandson (also Alessandro Farnese, a cardinal) decided to turn this fortified building into a countryside abode, or villa. At this point the Farnese family had fallen out of favor with the next Pope, Julius III (from the Del Monte family).
Cardinal Farnese decided to leave from the politics of the Vatican and selected Caprarola as his home, close enough but also far enough away from Rome. This later-generation Farnese commissioned Giacomo Barozzi da Vignola as the architect for the project. Building commenced in 1559, until Vignola's death in 1573. Work continued until it was complete in 1575.
Many painters and artists were commissioned over the following years, creating a somewhat eclectic style both inside and outside the villa. It was in the early 1600s that the gardens were finished by Girolamo Rainaldi and Jacopo del Duca.
The Main Sights At Palazzo Farnese, Caprarola
The palace is spread across five floors rising out from the pentagonal foundations. There's a lot going on. First of all, there's a basement (accessed by an underground corridor) used for warehouses, storerooms and kitchens. There's an entrance hall, grand apartments, and a garden to explore – all situated in the grounds of this unique villa.
Approach and entrance
As you approach the villa you will be on the main street of Caprarola. The palazzo completely dominates the skyline here. You'll be in a piazza, with stairs that ascend up to terraces. Here make sure to pay attention to the basement floors, complete with room for a carriage entranceway. There are also impressive columns and buttresses here.
Standing outside the Palazzo Farnese, you'll also notice the large, heavy doors, making the place seem very much like the fortress it was originally intended to be. The double staircase leads to a terrace, which in turn leads to the Piano dei Prelati floor.
Seasonal rooms
The rooms in the house were apparently organized according to the season. In the northeast of the house are the Summer rooms, when in the heat of the summer months the heat of the sun didn't touch them, meaning they stayed cool and refreshing. The southwest of the building is known as the Winter quarter. Here is where the sun warmed up the rooms during the cold winter months.
Scala Regia
One of the most impressive elements of the house is the spiral staircase: the Scala Regia (Royal Staircase). With wide steps and a circle of columns at its center, it's no wonder that this architectural facet of the palace is one of its most well-known features.
The staircase seems to break all of the architectural rules of this period. For one thing, stairs were usually external, appearing in interior courtyards and not inside a building.
Globe Room
The most striking thing about the Globe Room is the fact that the whole room is painted with various maps of the world. It's very easy to see how this incredible room got its name.
On each of the four walls are different maps: on the left as you come in are maps of Asia and the Americas; on the right is a map of Europe and Africa. Italy and Judea (the Holy Land) are situated on the far wall opposite. The fourth wall is taken up by a planisphere map that includes the world (except Oceania). It's surprisingly precise.
And if you look up to the ceiling, there's a captivating depiction of the zodiac constellations.
Gardens
The elaborate gardens at Palazzo Farnese in Caprarola are impressive enough in themselves as a standalone destination to visit. These epitomize Italian Renaissance gardens, but with a fortified twist, featuring a surrounding moat and three drawbridges, calling back to the origins of the villa.
The gardens themselves are completely symmetrical, and have been dramatically cut into the hillside themselves. Here you can spend time walking in the shade of chestnut trees, check out the cooling grotto, and find the Casino (no, it's not that sort of casino!). Rather, the Casino is a summer house situated in the gardens. It consists of logge that have been designed for al fresco dining.
Getting to the Casino is a matter of ascending a set of stairs, with grotto-esque walls on either side, and with a catena d'acqua – a "water staircase" – in the middle. Here, water flows down a series of perfectly engineered terraces down into a stone basin. At the top of the steps is a vase-like fountain flanked by two river gods.
The gardens were designed by the designer and architect, Giacomo del Duca. Later alterations to the gardens of Palazzo Farnes were made by architect Girolamo Rainaldi in the early 17th century.
Practical Guide To Visiting Villa Farnese
Do you need a guide to visit Palazzo Farnese?
While you don't actually need a guide to visit Palazzo Farnese, it would be a good idea to hire one if you want a more in-depth experience. Having a guide means you'll have someone telling you all sorts of history about the palace; it also means you'll have someone to ask if you have any questions, too.
Guided tours of the villa are available. It is best to contact via their website and book in advance if you would like a guided tour. If you're really feeling in the mood for a fun way to visit, it's even possible to go on a guided tour of Palazzo Farnese while dressed in Renaissance costumes! For enquiries, you need to send an email at info@tusciaforyou.com.
It's also possible to book tours online that take you from Rome to Caprarola, among other destinations in the Tuscia region. While some are only private tours from Rome to Palazzo Farnese, others will take a full day or exploring other destinations, including Bomarzo and Villa Lante, Bagnaia.
For more information on guided tours of Villa Farnese and Caprarola from Rome, click here or here.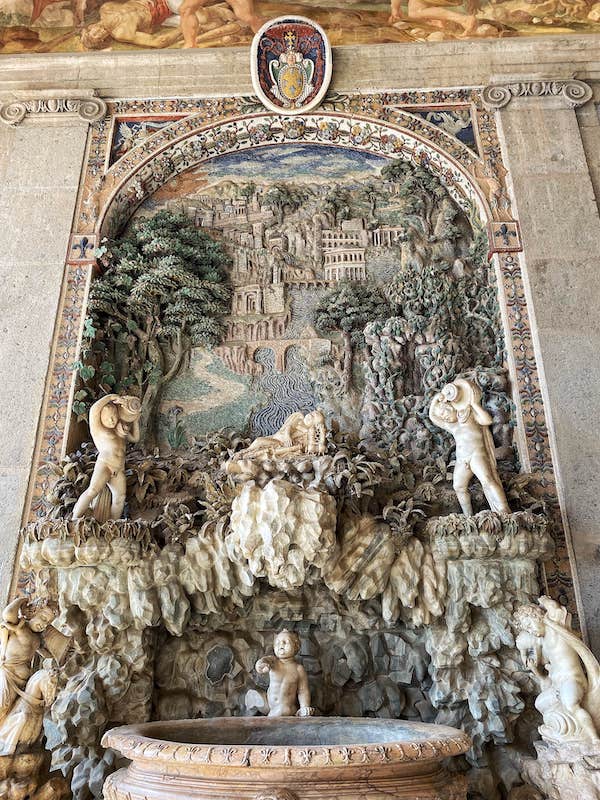 Palazzo Farnese opening hours and tickets
Palazzo Farnese is open from 8:30 am to 7:30 pm (last admission at 6:45 pm), Tuesday to Sunday (it is closed on Mondays, January 1, December 25). Entrance for adults costs €5 Euros, it's €2 Euros for people from 18 to 25 years old.
How to get to Caprarola from Rome
Caprarola is 30 minutes drive from Viterbo, so if you are planning a road trip around Tuscia you can easily visit from there. Should you want to visit as a day trip from Rome, you will still have several options depending on your travel style, budget and needs.
Make sure to read my posts The Best Day Trips From Rome and A Curated Guide To Tuscia.
Guided tour
As mentioned above, there are plenty of guided tours that you can opt for that will take you from Rome to Palazzo Farnese in Caprarola. It makes the most sense if you don't want to have the hassle of figuring out bus timetables or trains, or if renting a car is not an option.
For more information on guided tours of Villa Farnese and Caprarola from Rome, click here or here.
By car
Driving to Caprarola is probably the easiest way to arrive, taking just an hour to drive. You should start by renting a car in Rome and then driving the SS4 and then SR2 headed north.
Alternatively, take A1 highway headed north towards Florence. Exit at Magliano Sabina and head towards Civita Castellana. At the intersection for Fabrica di Roma turn right, passing Carbognano, until Caprarola. It's well signposted the closer you get.
Check out the prices of car rental here.
By public transport
Getting to Caprarola by public transport from Rome is honestly a bit of a hassle, and I don't recommend it. But if you want to do it, here's how.
While there are no direct trains between Rome and the town of Caprarola, you can use the train as part of your journey. First, get the train from Rome to the city of Viterbo. From Viterbo, Cotral runs regular buses to Caprarola. Alternatively, rent a car in Viterbo for your trip – it's a 30 minutes drive.
An alternative would be to take the train from Piazzale Flaminio to Roma Saxa Rubra, and then take the bus to Caprarola from there.
Further Readings
Looking for more places to visit in Tuscia? Check out these posts:
Pin It For Later!