There are plenty of sights in Rome, but if you want to escape the crowds and explore further afield, don't fret: there's plenty of places to do just that a mere stone's throw from the Italian capital.
One of these is the Mannerist gardens of Villa Lante. Situated just over 100 kilometers (62 miles) from Rome, in the town of Bagnaia, you'll feel worlds away from the busy streets of the city without having to travel for hours and hours to get there. I have been there many times – my dad's cousin actually used to work there, so you can imagine where we'd visit any time we were in the area!
In this post, I will tell share the best insights about the beautiful Villa Lante, Bagnaia.
While the focus of this post is mainly Villa Lante, keep in mind that the small town of Bagnaia is actually very pleasant to explore on foot, with a lovely small historic center and an incredibly friendly, laidback and truly local vibe. Definitely consider exploring if you have time!
Make sure to read my post The Best Day Trips From Rome.
A Brief History Of Villa Lante, Bagnaia
Villa Lante is more famed for its gardens than for the villa itself. The villa is actually made up of two houses (called casini), both of which were constructed by different owners with a 30 year time difference between the two buildings.
Work started on the right hand portion of the villa in 1556. The design is attributed to the architect Vignola, who also began work on the garden around the same time. The villa was first commissioned by Gianfresco Gambara, a Catholic cardinal and bishop who lived from 1533 to 1587.
The second villa or casino was built by Pope Sixtus V's 17-year-old nephew, Cardinal Alessandro Peretti di Montalto. He oversaw the completion of the second casino, which differs from the first in the more classical style of its frescoes.
The town of Bagnaia itself had been the personal property of the Bishops of Viterbo since the 13th century. Villa Lante, therefore, was not the brainchild of a noble family such as the Farnese or Orsini family, but the work of bishops instead, who succeeded each other to take the episcopal leadership of Viterbo.
Originally, the villa was situated among hunting grounds which ran from the edge of town. Before the villa was constructed, the buildings on the enclosed hunting grounds were merely banqueting lodges.
The gardens and both casini were built in the Mannerist style – a more pronounced and flamboyant offshoot of Renaissance art and design. It is the gardens that draw the most visitors, however.
Made up of multiple water features, cascades, grottoes and fountains, the gardens at Villa Lante utilize an array of clever mechanical techniques to achieve their powerful effects. These water features were the work of Tommaso Ghinussi, a hydraulics engineer and architect from Siena. His expertise was so great that he ensured the success of the garden, even though the well renowned architect Pierro Ligorio was also consulted on the garden; water flows without a hitch throughout the garden to this day.
Despite the engineering prowess of their creator, these ornate gardens were for many years under the radar and remained unknown. In fact, it took a whole century for word of their beauty to spread – and even longer to gain world fame.
After the last cardinal to own Villa Lante died in 1656, it was passed to Ippolito Lante Montefeltro della Rovere, the Duke of Bomarzo. This is when the garden gained some fame among the Italian nobility. The duke kept the property in his family for many generations to come.
In the 20th century, the gardens were damaged by bombing during World War II. They were acquired by Doctor Angelo Cantoni, who oversaw the restoration of the gardens. Today Villa Lante is owned by the government and is a member of the Grandi Giardini Italiani, and is open to the public to visit. That's right: you can go and explore this masterpiece of garden design and engineering yourself.
Villa Lante, Bagnaia Main Sights
Entrance
The interesting thing about the entrance to Villa Lante is that it's not actually in use. Members of the general public cannot enter the gardens this way. More than a practical portal, it's a spiritual path into the landscape, presenting the gardens to the observer the way they were approached in the past. You can take a glimpse through the doorway itself, however.
The entrance has undergone many different changes over the centuries. This includes the addition of the coat of arms of the Lante Montefeltro della Rovere family.
Fountain of the Moors
Called Fontana dei Mori, and also known as the Fountain of the Square, this fantastical fountain is situated at a central part of the gardens. Part of the statue features lifesize statues of Moors, positioned in a square around lions. These figures hold up a mountain with a star on top of it – an image from the Montalto family crest. It's from the star that water pours out into the glistening basin below.
Navicella
Meaning "little ship" in Italian, you'll be able to spot this sculptured feature just outside the main part of the Fontana dei Mori. This figure is literally a carved little boat, featuring an arquebus-wielding character inside (an arquebus is a type of Renaissance-era gun).
This gun used to spout water from its gun towards the central figures of the fountain. It is said to symbolize the attacks of protestants on the Catholic church of Rome.
Catena d'acqua (Water chain)
Known affectionately as the Catena del Gambero ("chain of the shrimp") owing to their shape, this is a shallow channel of concentric basins that allow water to trickle down the center of a set of steps.
The "chains" are sculpted in the shape of crayfish claws, a playful nod to both the watery aspect of crayfish, and a symbol of the Cardinal Gambara himself. This design of the water chain makes it stand out from others that appear in Renaissance gardens elsewhere (such as at Villa Farnese). It reflects the desire of Cardinal Gambara to experiment with design, but it also reflects the spiritual and physical path to ascent.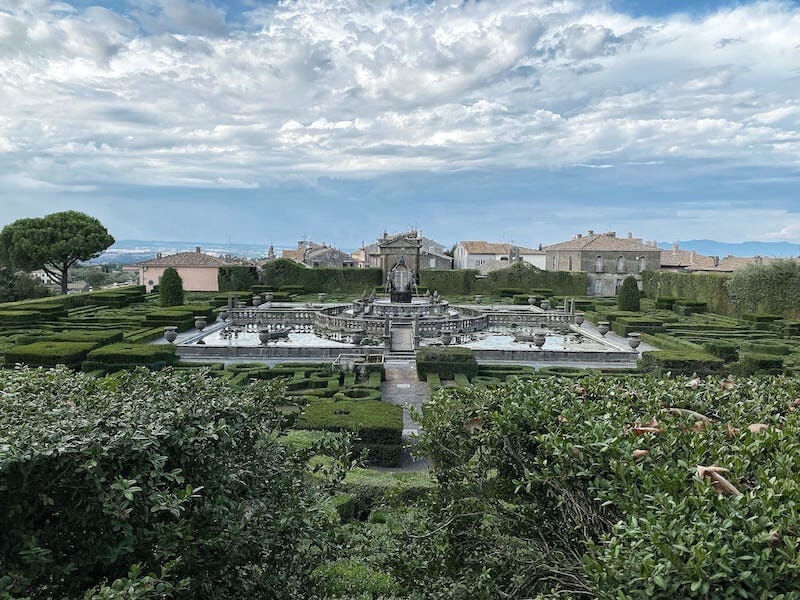 Graticola of San Lorenzo
The Graticola of San Lorenzo sits above the portal of the Palazzina Gambara. This is a reference to San Lorenzo, who was one of the early martyrs of the Christian church. Graticola means "grill" in Italian, and refers to how San Lorenzo was killed: he was burnt on a grill because he refused to give Christian money to Rome. This occurred during the persecution of Christians as ordered by Emperor Valerian in 258 AD.
The events of San Lorenzo's life are also depicted in frescoes in the first floor room of the Palazzina Gambara, alongside images of Saint Stephen.
Palazzina Gambara
This is the first or older casino (house) as commissioned by Villa Lante's first owner, Cardinal Gambara. It was built between 1568 and 1578. It is a square building, topped with a square roof terrace jutting from the top.
Looking at it from the gardens, you will be able to notice symbols of the cardinal dotted around. In particular, the sculpted frieze that runs around the top of the building, depicts shrimps, the path to salvation, fire, and is flanked by the motto: "Sol aliis".
Another interesting symbol is a comet. This is included because a comet was observed passing in 1578, the same year the building was completed.
Inside the palazzina opens onto a large ground floor. The frescoes here show life in the town of Bagnaia, scenes from Palazzo Farnese, and even depict Villa Lante itself. On the upper floors, you'll see ornate antique furnishings and frescoes, including of San Lorenzo.
Palazzina Montalto
The second casino or palazzina is the one completed by the then 17-year-old nephew of Pope Sixtus V, Cardinal Montalto. This is in essence very similar to Palazzina Gambara, but there are symbols of Montalto – rather than Gambara – used in the friezes. Instead of shrimp, for example, you'll be able to spot images of mountains, in reference to his family; branches laden with pears; an eight-pointed star; and lions.
The rooms inside the palazzina are also decorated with rich frescoes and stuccos, with a similar sort of iconography as can be seen in Palazzina Gambara.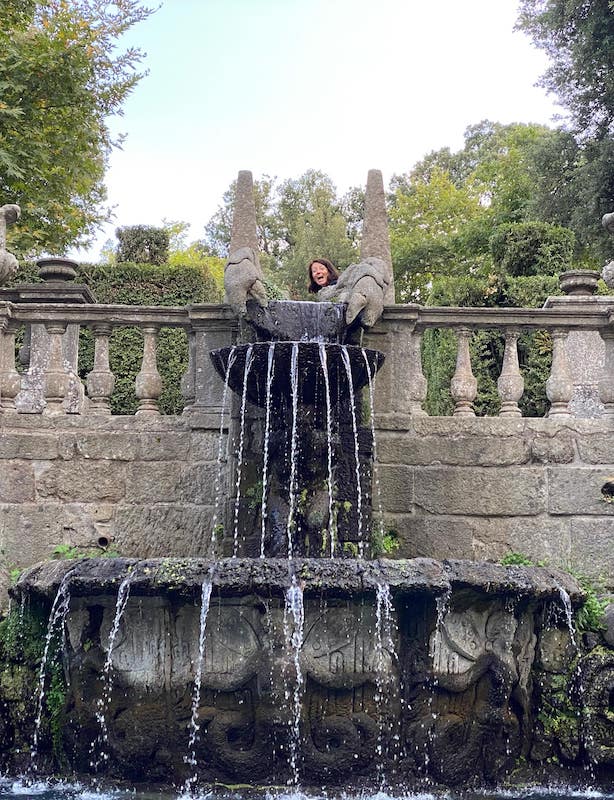 Fountain of the Lumini
Yet another of the water features at Villa Lante is the Fountain of the Lumini. Made up of three semi-circle tiers, the fountain boasts jets emanating from small sculptures of candles. It's playful again though, with not fire bursting from the candles, but water instead. The structure is laden with symbolic meaning, comparing fire and water in terms of their purification abilities.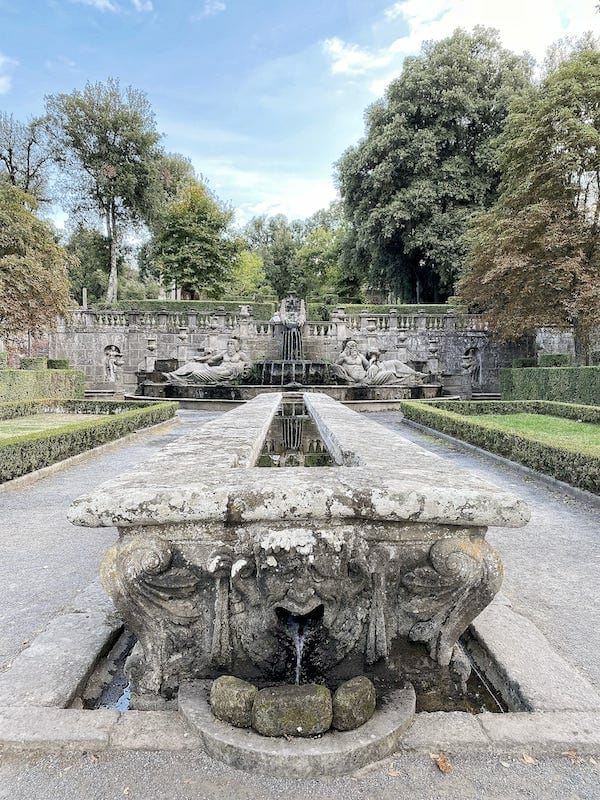 Table of the Cardinal
This long, rectangular sculpture is made out of peperino stone that has been hollowed out in the center to create a gutter for running water. Ingeniously, and true to its name, this is where outdoor banquets would be held in the summer months. Party-goers could place their drinks in the cool water, while also being cooled by the water (a form of natural air conditioning!), with the stone used as an also cool table.
Practical Guide To Visiting Villa Lante, Bagnaia
How to get to Villa Lante, Bagnaia from Rome
Bagnaia is actually a historical suburb of the beautiful Viterbo, so if you plan to spend a few days there to explore Tuscia, visiting is very easy – you can even get there by bike.
Make sure to read my posts What To See And Do In Viterbo, The Best Hidden Gems In Tuscia and A Curated Guide To Tuscia.
Otherwise, if you just want to visit on a day trip, here's how to do it.
By car
If you want to drive to Villa Lante, great! It's totally doable and a good way to see further afield at your own pace, without having to worry about missing the bus or working out train timetables.
It takes around one hour and a quarter to drive there. From Rome, you take the A1 and exit at Attigliano, continuing onwards to SP Bomarzese. From there, follow directions for SS675 and then exit at Bagnaia-Montefiascone, before continuing onwards to Bagnaia where signage for Villa Lante will begin to appear.
If you are driving along this route, note that it does mean paying tolls. And as for parking, you will find this near the entrance to Villa Lante itself.
By public transport
Traveling to Villa Lante from Rome via train is not the fastest route. Taking just under 3 hours, the best option is to take the REG train bound for Viterbo Porta Fiorentina from Rome Tiburtina train station, which takes an hour and a half. At Viterbo Porta Fiorentina, hop on bus 717 and get off in Bagnaia.
Guided tour
Guided tours are available from Rome, whisking you from the capital all the way to Villa Lante and back again. Some tours take in multiple sights in one day – typically Palazzo Farnese in Caprarola and Bomarzo Monster Park, which is a good idea if you're pressed for time. Depending on what kind of tour you want, there are many available.
For a tour of Palazzo Farnese that can be upgraded to include Villa Lante, click here. If you'd rather opt for a private tour, click here.
Villa Lante, Bagnaia opening hours and tickets
The opening hours for Villa Lante aren't exactly straightforward and, being a mainly outdoors destination, change according to the season.
From January to February, Villa Lante is open 8:30 am to 4:30 pm, with the last admission at 4:00 pm.
During March, it's open from 8:30 am to 5:30 pm (last admission at 4:30 pm).
From 1st to 15th April, it's 8:30 am to 6:30 pm, with the last entry at 5:30 pm; and then from the 16th April to 15th September (summer, basically) Villa Lante is open from 8:30 am to 7:30 pm, with the last admission of the day at 6:30 pm.
Autumn times are different again. From 16th September to 31st October that's 8:30 am to 6:30 pm (last admission is at 5:30 pm), and then 8:30 am to 4:30 pm (last admission at 4:00 pm) from November through December.
For adults, admission is €5, while tickets for children aged 18 to 25 years cost €2.
Do you need a guide to visit Villa Lante, Bagnaia?
While it is not necessary to secure a guide when visiting Villa Lante, it might be a good idea if you want to learn more. There is a lot of symbolism going on throughout the gardens, especially in its water features, and it may be interesting for some people to know exactly what they're looking at and why it was designed that way. A knowledgeable guide will definitely help in that case.
But if you don't mind wandering around with a guidebook or a pamphlet, taking things at your own pace and touring yourself around the gardens at Villa Lante, then that is a perfectly great way to see the main sights here. That's what my sister and I did last time we visited and we certainly enjoyed it!
Pin If For Later!