Are you planning to visit Cusco? I am so happy for you! This is one of the most beautiful cities in South America, full of history, beautiful landmarks and providing a perfect base to explore the Sacred Valley. As you are planning your trip, you will surely be asking yourself many questions and scramble for answers on the web. Don't worry! Here, I will share the best Cusco travel tips, and tell you everything you need to know before you visit Cusco.
What You Must Know Before You Visit Cusco
Brief history of Cusco
Cusco, which is situated in the Andes Mountains of Southeastern Peru, is a fascinating place with a very long history. The city's history goes back more than 3,000 years and has been continuously inhabited since. It's the oldest living city in the Americas.
Before the Inca Empire, Cusco was settled by The Killke people until the 13th century when the Inca arrived. Between the 13th and 16th centuries, the city was the capital of the Inca Empire.
In 1533, Spanish explorers invaded Cusco and took control. They were so awestruck by the workmanship of the Inca that they left much of it untouched and built their buildings using a combination of Spanish and Inca techniques. When a large earthquake struck in 1950, much of the original Inca architecture survived despite widespread damage to colonial architecture.
Today, Cusco is a UNESCO World Heritage Site.
How many days should you spend in Cusco?
Three days is the minimum number of days visitors should spend in Cusco. This is plenty of time to learn your way around, to see all the attractions you want to see and to acclimate yourself to the altitude – which is especially important if you want to hike the Inca Trail (or embark on other hikes in the region).
Make sure to read my posts The Best Things To Do In Cusco and Where To Stay In Cusco.
The best time to visit Cusco
The best time to visit Cusco is between June and September when the temperatures are warmer and there's less chance of rain. If you want decent weather but want to avoid the crowds of peak season, your best bet is to travel in May or October – though October is actually the beginning of the rainy season.
Having said that, I have been twice in April – once at the end of the month, and I enjoyed sunny and warm days; and once at the beginning, when on the other hand a thunderstorm would hit every day. I have also visited in October, and towards the end of the month daily thunderstorms were starting, in proper rainy season style.
Check out my post The Best Time To Visit Peru.
Nights in Cusco are chilly no matter the season
Even in the summer the weather can get cool in Cusco, and this is particularly true after the sun goes down. The weather changes quickly too. Be sure to pack some sweaters and a jacket. When exploring the city, dress in layers so you can be dressed accordingly throughout the day.
Altitude in Cusco
Cusco has the distinction of being one of the highest-elevation cities on earth at 11,152 feet (that's 3,400 meters above sea level) and this can be problematic if you're not accustomed to high altitudes because you may experience altitude sickness.
Within moments (literally!) of arrival, you'll notice how thin the air feels and you'll likely experience mild symptoms of altitude sickness including shortness of breath, dizziness, a mild headache and nausea. Fortunately, most people feel better in a day or two. The best way to deal with symptoms is to stay hydrated, get plenty of rest and don't overdo it in the first couple of days. Make sure to also avoid alcohol!
There are lots of good restaurants
Peruvian food is delicious, and every region has its way of making traditional dishes. In recent years, Cusco has earned status as a top foodie destination and many restaurants serve different types of foods to suit every budget and taste.
Some of the popular eateries you'll find in the city include Yaku Restaurant, La Morena (in a lovely location in the Plaza de Armas) and Organika Restaurant. Pachapapa and Jardin Secreto are two of the best restaurants in all of Peru. Some of the traditional dishes that are worth trying include Chairo, Chiri Uchu, Quinoa Soup, Zarza de patitas and Kapchi-style mushrooms. These items can be found on the menus of many of Cusco's restaurants.
Make sure to also read my post The Best Restaurants In Cusco.
Tap water is not safe to drink
One of the most important things to know before you visit Cusco is the tap water is not safe to drink. Drinking the tap water could make you sick and that's the last thing you want on vacation! Not only is Cusco's water supply prone to bacteria, the chemicals that are added to it to kill the bacteria, including high amounts of chlorine, are also hazardous to your health.
To avoid water-borne illness, drink bottled water. If bottled water isn't available, make sure the water you drink is filtered and boiled. Be sure to watch for the sneaky ways tap water may make it to your glass. If you get a drink with ice, make sure to ask if the ice is made with tap water. Be careful with vegetables as they might be washed with tap water.
Is Cusco safe?
Although Cusco is quite safe for tourists, the same precautions that you'd practice in any city apply. Walking around the city in the daytime shouldn't give you any issues but it's important to watch for the thieves and scammers who prey on tourists. If you carry a pack, keep it in front of you at all times, especially when in crowds.
Here are some more Cusco travel tips for safety.
Be very careful when using ATMs and watch for any suspicious activity such as the person who stands too close or tries to divert your attention while another robs you. If your hotel has a safe, leave your valuables in it and never wear flashy jewelry or flash cash around in the open. Avoid walking around alone at night as robberies are common in the areas away from the city center including Belen, San Blas and Santiago Districts. Plaza de Armas is mostly safe at night as there are lots of people – locals and tourists – coming and going from bars and restaurants. But do keep your eyes open.
When traveling by taxi, make sure to use licensed cars. Staff at your hotel or restaurant can help you order one safely. Keep an eye on the meter and have an idea of how long it should take to get to your destination.
Although tourists aren't usually the target, terrorism is possible in Cusco and attacks are usually carried out by The Shining Path group. Be vigilant and keep an eye out for anything that doesn't seem right.
Natural disasters are common in Cusco with floods and landslides occurring after heavy rains – another good reason to visit Cusco in the dry season! Peru is located in an area prone to earthquakes so be aware of the actions that should be taken in such an event.
Beware of street dogs
One thing you'll quickly notice when you visit Cusco is that there are many dogs around. Stray dogs are a common problem in Cusco, and one of the most common Cusco travel tips is that travelers get vaccinated against rabies. Whether you're exploring the outskirts of the city or downtown, you'll see many homeless dogs in alleyways, on busy sidewalks and lying on steps and benches. It's estimated that at least 14,000 dogs roam Cusco but some officials put that number as high as 40,000.
The main reason for roaming dogs is poor government regulations that result in the unneutered and unspayed population breeding on the streets, so the population remains steady. Even dogs who do have a home are often not spayed or neutered and when they breed, many owners abandon the puppies.
Roaming dogs are susceptible to parasites, fleas, and various diseases. Even though there's a vaccination program in place, the disease still pops up from time to time.
The best way to protect yourself is to keep your distance and don't try to feed or pet them. I know I am certainly guilty of doing the exact opposite – and even of trying to separate two fighting dogs. But don't follow my lead and remain safe!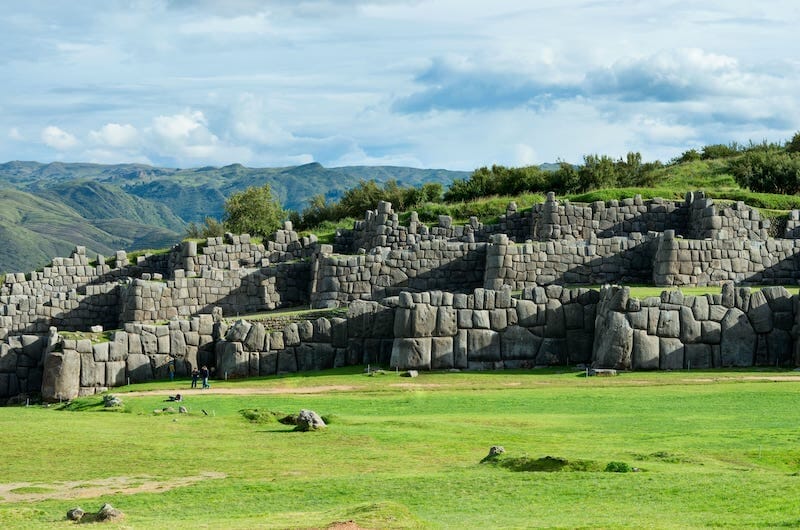 You will need Cusco Boleto Turistico
The Boleto Turistico is a must when you visit Cusco! This is a ticket that's required for entry to many of the top attractions in Cusco and the Sacred Valley. You can't show up at any of the sites listed and buy a single entry ticket. The Boleto Turistico needs to be purchased in advance and shown upon entry to these sites.
The full ticket costs 130 Peruvian Soles (that's less than $35.00 USD) and is valid for ten days. The partial ticket costs $18.50 and is valid for one or two days depending on which circuit you choose. You can purchase a Boleto Turistico at any of the sites listed on the ticket or you can purchase at the COSITUC office on Avenida el Sol.
Want to save time? Here's one of the most useful Cusco travel tips! Get your boleto turistico online! To get yours, click here or here.
Read my post How To Use Cusco Boleto Turistico.
Cusco is a great base to explore the Sacred Valley
After you visit Cusco, the Sacred Valley should be next on your list! This historic region of the Andean Highlands has many of the country's most famed ancient sites including Machu Picchu and Pisac Ruins. It's easy to explore The Sacred Valley region because the valley is only 25 miles away on route 3S.
There are several ways to get there from Cusco. One way is to take a bus. Minibusses leave Puente Grau and Puputi in Cucso and take travelers to the town of Urubamba. Take note that although these buses try to run hourly, there's no fixed schedule and they're often late.
Another way to get there is via private transfer. This way is a more relaxing journey with more stops at interesting places along the way if you wish.
A Colectivo is a van that leaves daily from the Colectivo transfer station at Grau and Pavitos in Cusco. The disadvantage to using this method of transportation is they rarely leave before all seats are sold. You can also take a taxi from Cusco to the Sacred Valley, but it will cost a bit more.
You can also take a train from Cusco to the town of Ollantaytambo or Aguas Calientes. Inca Rail and Peru Rail take passengers along this route several times a day via the Poroy Station which is twenty minutes from the center of Cusco.
The other way to get there is to join an organized tour. There are advantages to traveling this way. It's safer, you won't get lost or have to fuss with bus and train schedules and you'll have knowledgeable guides. The disadvantage is you won't have the freedom to do what you want when you want.
For a guided day trip to the Sacred Valley, click here.
Make sure to read my posts The Best Day Trips From Cusco, A Complete Guide To Peru's Sacred Valley and A Short Guide To Ollantaytambo.
Cusco is a fabulous getaway to Machu Picchu
The most famous attraction in the Sacred Valley is the 15th-century Inca site of Machu Picchu. The most efficient way to get to Machu Picchu from Cusco is to take a 3.5-hour journey by train with either PeruRail or IncaRail to the town of Agua Calientes which is about 5.5 miles from the site. Once in Agua Calientes, you can hike up the mountain or take a bus to Machu Picchu. The train ride costs about $140 USD for an economy ticket, roundtrip. It's highly recommended that you book train trips in advance.
Get your Expedition Train tickets on GetYourGuide here, or on Viator here.
Another cheaper way to get there is with a combination of bus and taxi. This method takes a bit longer at five hours although the distance between the two places is only 47 miles!
If you have a flexible itinerary and want to embark on the ultimate Machu Picchu adventure, Machu Picchu treks are available from many companies. During one of these guided treks, you'll hike from Cusco to Machu Picchu (with camping overnight) over several days. There are also tours, such as the Jungle Trail, that combine a variety of activities including hiking, biking, rafting, ziplining and exploring Machu Picchu.
Check out my posts A Complete Guide To The Inca Trail, How To Get To Machu Picchu and How To Get Machu Picchu Tickets.
How to get to Cusco
International flights to the capital city of Lima are plentiful but once there, you need to find a way to Cusco which is about 1100 km (684 miles) away. The quickest way to get to Cusco from Lima is to fly – it takes about 55 minutes. I don't recommend traveling by bus because it takes about 24 hours – only do it if you intend to break the journey along the way, to visit other places.
Renting a car to travel from Lima to Cusco is not recommended. The roads are rough, and you could find yourself lost or face to face with one of the other dangers that come with traveling in unfamiliar territory.
How to get to town from the Airport
Alejandro Velasco Astete International Airport is about 20 minutes from the center of Cusco. Cusco Airport Shuttle and Cusco Shuttle charge around $20.00 to take you to town, depending on what part of town your hotel is located in. Both of these companies allow you to book your return journey.
You can book your airport transfer here.
Taxis are actually cheaper and can cost you around $5 USD for the journey. The main downside is that you will have to haggle the price as drivers will try to charge you higher.
How to move around Cusco
Cusco covers a large area, but it's easy to get around. Most of the top attractions are in one area so you can walk from place to place.
Taxis are a cheap and convenient way to get around. They are regulated and charge standard rates rather than metered – but you will want to ask before hopping on what the final price will be. Uber is also available.
Another popular way to get around is to take a panoramic bus around the city. This is a great way to get to know your way around. A ride on a panoramic bus lasts about an hour and a guide provides narration about the different sites you'll see. It costs around $18 USD.
The Colectivos buses are another way to get around and cost about $1.50 per ride and regular public transport buses charge $0.25 per ride.
I don't recommend renting a car in Cusco. There is a lot of traffic – insane traffic! – and road conditions are bad. Besides, the driving is on the aggressive side and traffic jams are common.
Make sure to pack wisely
As I have said at the beginning of this post, it tends to get cold in the mornings and evenings so one of the best Cusco travel tips is to be sure to bring a warm, wind-proof jacket, gloves, warm hat and clothing that can be worn in layers. Despite the cool temperatures in the region, the sun is still powerful during the day, so make sure to take along sunscreen, a hat, and sunglasses. If you plan to go to restaurants or bars, be sure to pack at least one outfit suitable for the occasion as some places have dress codes.
Since you'll be doing a lot of walking, the most important thing to pack is a sturdy pair of walking shoes that are weather resistant. Also, remember to wrap your toiletries in plastic because the change in altitude can cause them to burst (I only know too well!)
Pin It For Later!