Are you looking for where to stay in Cusco?
One of the most visited cities in Peru, Cusco is a truly wonderful place. With a unique look that mixes Inca and colonial style architecture, the city will impress you with beautiful churches; excellent museums; airy squares; colorful, lively markets – all surrounded by the peaks of the Andes.
As a traveler, Cusco will also offer a selection of excellent accommodation options and fantastic restaurants, and the good news is that no matter your budget and your travel taste, you will find something suitable.
I have been to Cusco several times already, and I am happy to recommend where to stay in Cusco – the best areas, and also the best hotels in Cusco. Continue reading to pick your place!
Make sure to read my posts The Best Cusco Travel Tips, The Best Things To Do In Cusco and The Best Day Trips From Cusco.
Where To Stay In Cusco, Peru
Historic Center
Cusco's historic center boasts some of the most popular attractions in the city. Here, Inca foundations sit topped with opulent colonial structures, creating a striking mix of history and culture in the heart of the city.
It's no surprise, then, that this part of the city was actually declared a UNESCO World Heritage Site in 1983; the site is made up of over 100 historical monuments. This area is where to stay in Cusco if you want to be within striking distance of the top sights, as well as close to shops and restaurants.
If you choose to stay in this impressive hotel – easily one of the best hotels in Cusco – you'll get the chance to spend a few nights in the lap of luxury in an old colonial mansion. Guests are treated to rich, elegant interiors, complete with marble fireplaces, antique chandeliers and Baroque columns.
Throughout, the space has been designed with exclusivity in mind. There's the chance to indulge in massages, dine at the on-site restaurant or simply laze around in your ensuite bath. In terms of location, Inkaterra is close to the Museum of Pre-Columbian Art and just a 10 minute drive from the airport.
Another hidden gem in the heart of the historic center of Cusco, this property has been lovingly restored with modern amenities. Rooms here are spacious and well appointed, with large beds and wooden floors. All rooms open out onto an airy inner courtyard – the ideal spot for an evening drink or quiet moment alike.
The accommodation is close to numerous popular points of interest, including the Plaza de Armas, Cusco's cathedral, and the central market. A number of cafes and restaurants are also just moments away.
Find yourself a home away from home whilst staying in this historic city by opting for a homely studio apartment. Located less than a kilometer from the central market, you'll be staying among the hustle and bustle of the city but will still be able to enjoy peace and quiet and a restful night's sleep.
The studio is situated within a charming colonial building and features dark wood furnishings, hardwood floors and plenty of natural sunlight through the large windows. There's also a seating area and a kitchen for when you want to whip up your own meals. The bonus is the sunny terrace balcony. It's one of the best budget places to stay in Cusco.
Plaza de Armas
The main square of Cusco, the Plaza de Armas, is a lively spot to base yourself when staying in the city. The location of this central square sits almost exactly on the same setting as the former Incan main square, the ceremonial huacapata.
It's an ideal place where to stay in Cusco, thanks to it being easy to find your way back to after exploring the city. From here you can spot the towering ruins of Sacsayhuaman in the distance, whilst the plaza itself is always alive with local life, and packed full of shops and restaurants.
Situated in a historic building, this luxury accommodation option in Cusco is arguably the most beautiful way to spend your time in the city. This 16th-century mansion is replete with both period charm and sleek, modern amenities, from the polished bathrooms to the wood-paneled cocktail bar. It's not surprising that the hotel itself was declared a national monument in 1980.
Staying here means being able to opt for a range of rooms, including a large suite boasting luxurious upholsteries, frescoes and marble bathroom. In terms of services on offer, there's the choice of two on-site restaurants, and there's a sunny interior courtyard to enjoy. No wonder you'll always find it mentioned among the best hotels in Cusco.
The building that this hotel is situated in may be colonial-era, but the interiors are very modern. Here you can expect clean lines, white washed walls and large, comfortable beds – all with views out over the Cusco rooftops.
One of the best things about this hotel is the fact that it has its very own rooftop terrace: the perfect spot for breakfasting with a view of the historic city. There's an on-site restaurant for when you want to grab a bite to eat; the hotel can also aid you in booking tours and trips around or from the city.
Part of the Selina group of hostels, this budget option is a good choice for those backpacking who want to save on their trip. But don't be put off by the idea of a hostel: this is a polished accommodation, where digital nomads and long term travelers can enjoy creature comforts and stylish surroundings.
There's the option to stay in both private rooms and dorms here, and there's a number of communal spaces where you can mingle and make friends on your travels. The on-site restaurant is a bonus, meaning you don't have to go far for a bite to eat, while social activities – such as cooking lessons and themed nights – are an extra plus. It's where to stay in Cusco on a budget.
San Blas
Located just to the north of Plaza de Armas, San Blas may be close to the center but has an atmosphere different from other parts of the city. Here you'll find a laid-back bohemian vibe, streets lined with cute cafes, and interesting architecture.
It's where to stay in Cusco for those who like to wander around cities, all the while soaking up history and culture. Here you'll find Cusco's famous 12-angled stone (along a cobbled street, of course), as well as the tiny Iglesia San Blas, among other historic sights.
This charming boutique hotel is made up of 26 guest rooms, all situated in a rustic old building that's been lovingly restored. You'll find Antigua Casona San Blas down a romantic cobblestone alleyway, and upon arrival you'll find guest rooms boasting hand-carved wooden furnishings, terracotta tiled floors and balconies with ornate railings.
In terms of amenities, you can expect a complimentary buffet breakfast served up each morning, a bar for evening drinks, and even a fine dining restaurant with the option to enjoy your meal in the elegant inner courtyard. Location-wise, this hotel is within walking distance from many restaurants and bars, as well as a string of top sights.
Hotel Casa San Blas is a perfect mid-range accommodation choice in the San Blas area of Cusco. This boutique offering can be found very close to sights such as San Blas church, art museums, as well as cafes and bars.
The hotel itself offers good value for money with well-equipped rooms that are clean and modern. Rooms come in a range of sizes, meaning you could opt for a single or an apartment style with your own kitchen included (ideal for families). There's a choice of communal guest spaces here, which include an inner courtyard and a rooftop terrace – perfect for evening drinks. It's one of the best mid-range hotels in Cusco.
Filling all your budget needs in San Blas, this hostel offers fantastic value for money thanks to its amazing location down a quiet side street – and just a 10-minute walk from the Plaza de Armas. Rooms in this Spanish colonial-style property are comfortable and clean, and come complete with gleaming bathrooms and warm decor.
The property features a large communal terrace where guests can enjoy a sunny breakfast or drinks under the stars alike. The 24-hour front desk provides a friendly and professional service to help you get to grips with the city, or plan your onward adventures in Peru.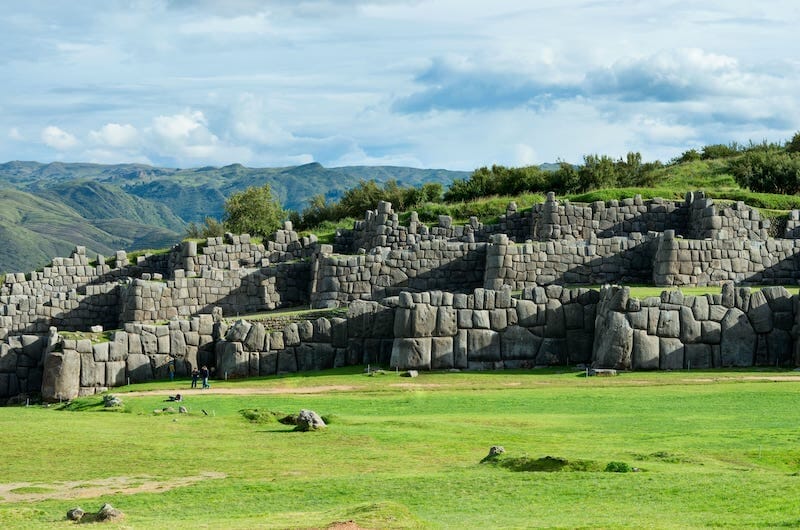 San Cristobal
Tucked away on the slopes of Sacsayhuaman, the San Cristobal church gives its name to this charming neighborhood (though it's officially called Inca de Qolcanpata). If you like the sound of Spanish architecture and winding cobbled alleyways, away from the hustle and bustle of the Plaza de Armas, then you'll like staying in this quarter of the city. Life here in this made-for-exploring neighborhood is decidedly slow paced.
Another of Cusco's incredible colonial properties turned hotel, you can expect a healthy dose of both high-end elegance and period charm at the 17th-century Palacio Manco Capac. This five-star hotel is an exclusive place to unwind in the city; with only a handful of rooms on offer, it's all about sophistication.
The amenities are as exclusive as the building's heritage itself, with high-end rooms, designer furnishings, huge windows and an impressive garden that boasts original Inca walls. One of the best things here are the incredible views out across the garden to the San Cristobal Church.
At Union Hotel, history has been given a fresh facelift for guests to enjoy a comfortable, modern stay in a building that still retains much of its historic value. The hotel itself is a four-star option, and has therefore been equipped to provide an excellent level of service.
Facilities include a restaurant, room service and a 24-hour front desk to help with all your travel needs. Nearby sights can be easily reached on foot, and include Cusco's cathedral and the Plaza de Armas.
Ayenda San Cristobal is a rustic option that offers a more simple place to stay than other accommodation choices in Cusco, but that doesn't mean it's not comfortable. Rooms here are clean, and boast large beds and ensuite bathrooms.
On-site facilities for guests add value, and include a restaurant, tour desk and outdoor terrace. Location-wise, you'll find this budget hotel secreted away along a quiet cobbled lane. Points of interest nearby include the city's central market and San Cristobal Church.
Santa Ana
Santa Ana is situated to the northwest of Plaza de Armas, and feels worlds away from the more touristed parts of Cusco. This is the where to stay in Cusco if you want to be somewhere local and authentic, and are looking to sample local food joints and culture alike. Some of the roads here can be steep, and the neighborhood is big, so prepare yourself for some uphill (and downhill) walking. But with this, you'll be discovering some of Cusco's most off the beaten path streets.
I stayed in Santa Ana myself the last time I visited Cusco, and loved the local, down to earth yet charming atmosphere – not to mention, the views of the city from the hill are beautiful.
Santa Ana may be residential, but it has its own branch of the Hilton. At this iteration of the global chain, you can expect decidedly modern luxury. The hotel is part of an old building, but there's sleek and stylish adornments throughout making it feel high-end and contemporary.
Views from the hotel across the city, and over to the mountains, make staying here extra special. Amenities include an on-site restaurant and bar, and a courtyard for chilling out in. If you're in town with your pet, you'll be pleased to know you can bring them along too.
Rustic and homely, the mid-range Casona de Santa Ana is situated in an authentic building of this local neighborhood – and right across the road from the Hilton. Staying here means staying with a very friendly local family, who will help organize your trip to places like Machu Picchu among other nearby attractions.
From here it's easy to get to downtown parts of Cusco via public transport, while nearby you'll find laundry services, shops and restaurants serving up a variety of local food. The rooms here are simple but clean, while there's also a fully-equipped kitchen for guests to make use of.
Loki Cusco is one of the most popular hostels in Cusco. It features both private rooms and dorms, making it good for backpacking buddies and solo travelers alike. It's a really welcoming place with many activities to get involved with – plus a lively bar for evening drinks.
The decor throughout is simple yet colorful, with historic original design details such as an inner courtyard and high beamed ceilings still in place. One of the best things about this hostel is the incredible view that you get from the rooms.
Further Readings
If you are planning a trip to Peru, these posts will come in handy:
Pin It For Later!