Are you thinking of visiting Arequipa? Among the most beautiful cities in South America, this is a place full of history, beautiful landmarks and surrounding by many incredible places. As you are planning your trip to Arequipa, you will likely have many questions and find it hard to answer. Don't worry! In this post I will tell you everything you need to know before visiting Arequipa and share the best Arequipa travel tips.
Things To Know Before Visiting Arequipa
The History Of Arequipa
Arequipa is a vibrant city and popular destination for visitors seeking unique cultural and historical experiences. The city is steeped in history that dates back to 1540 with the arrival of the Spanish colonists, but the area was inhabited long before that.
Cave paintings and stone carvings that have been unearthed in archaeological digs in places like Toro Muerto and Sumbay indicate the presence of indigenous people between 5,000 and 6,000 years ago. In later years and leading up to the 16th century, the Collagua, Cabana, Aruni and Inca Civilizations thrived in the region. It was during this period that intricate irrigation and farming systems were built in the mountains, the remains of which can still be seen.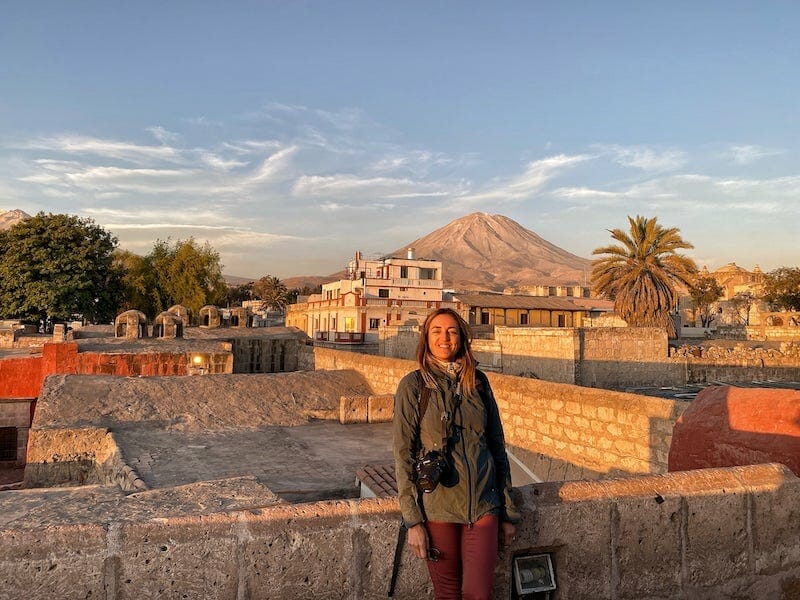 Even after the arrival of the Spanish, Arequipa remained fairly isolated from the rest of Peru until 1870 when the Southern Railroad was built and connected it to other cities along the coast.
Today, Arequipa is the second most populous city in Peru with a population of just over a million people. The city's historical center, found around the Plaza de Armas as it's locally known, is where you'll learn about its colonial history.
Inside some of these historic buildings and museums, you'll see colonial art, relics and monuments. The buildings themselves are relics with beautiful colonial architecture. The Basilica Cathedral and Santa Catalina Monastery are some of the historic sites still standing.
How many days should you spend in Arequipa?
For most visitors two days are enough for visiting Arequipa, to see the top attractions and learn the history. However, if you really want to immerse in the culture and get to know the city better by indulging in local food and attending events, a minimum of three days, but even four is better.
If you plan to do some of the popular hiking trips around the area, such as Colca Canyon, make sure to spend at least two of those days focused on Arequipa and perhaps make the city your base from which to embark on nearby adventures.
How to get to Arequipa
The easiest and quickest way to get to Arequipa is by plane. The city is home to the Alfredo Rodriguez Ballon International Airport so you'll find many direct and connecting flights. If you plan on exploring Lima before heading to Arequipa, you can easily catch a short two-hour flight to your destination. There are also direct flights to and from Cusco.
From other areas of Peru, it's possible to take a bus to Arequipa and there are two bus stations in the city. From Lima, there's a non-stop express bus that takes between 16 and 18 hours.
Traveling with reputable companies such as Cruz del Sur, Oltursa and Excluciva is a little more expensive than the other options but it's much safer. Other smaller local services make many stops so it's easy to have your luggage misplaced along the way. From Cusco, you can take the Cruz del Sur Cruzero service to Arequipa or the Peru Hop bus.
How to to get from the airport to the city
The Alfredo Rodriguez Ballon International Airport is about eight miles (about 13 km) away from Arequipa's city center. It takes over an hour to walk to the city from the airport and after a long flight, you'll likely prefer to get a ride.
Before your arrival, the first thing you should do is call your hotel and ask if they offer an airport pick up and drop off service.
If no airport shuttle is offered at your hotel, the fastest and easiest way to get from the airport to the city is by taxi which takes about 15 minutes and costs $3 – $5 USD. Taxi rides can be arranged with designated personnel inside the airport. For only $2 USD, you can take the ArequipaBus into the city. An Arequipa Rodriguez Ballon International Airport shuttle service is also available and takes passengers to various hotels around the city.
To book your transfer from the airport to the city, click here.
How to get around Arequipa
Getting around the main areas, including the downtown and the historic districts, is easy because Arequipa is a highly walkable city where almost everything you want to see is located in one central area.
There's never a shortage of taxis around and although it's one of the fastest ways to travel, it's much cheaper to take a bus. City buses are on a set route and schedule while combis, which are minivans, will be parked in select areas, typically tourist sites, with a sign indicating where they are going.
In the main square, you can hop on a tour bus that will take you around the city and to many of the top attractions. One of these tours takes about two to four hours depending on which one tour you book. They can be booked in advance through your hotel or on-site if space allows.
I don't recommend renting a car in Arequipa when there are so many convenient, affordable ways to get around the city. Besides, traffic in Arequipa is very stressful and congested. It's actually quicker to walk or take a bus!
Best time for visiting Arequipa
Arequipa is a nice place to visit any time of the year but typically, the best time for visiting Arequipa if you want to experience the best weather, avoid peak holiday crowds and save the most money is the period between July and September.
This is the driest season and the temperatures stay warm throughout the day. September, October and November are the warmest months but temperatures don't usually go higher than 75°F (around 24°C).
If you want to travel when the days are the longest, December is the best time to go. Once you get into January, you'll see more rain and that lasts until March.
Check out my post The Best Time To Visit Peru.
Safety in Arequipa
Arequipa is a fairly safe city by world standards but, because crimes do happen, it's important to be vigilant and to follow all the precautions you would follow when visiting any city anywhere in the world.
One of the most common crimes against tourists is scamming by bogus taxi drivers. What happens is a tourist will flag down a taxi, get in and be robbed later in the journey or scammed to pay more than they owe. This is a crime that can be easily avoided by following several rules.
First, never just flag down any taxi in the street. Always call a taxi company directly or have your hotel or restaurant arrange a safe taxi ride for you. The most reputable taxi companies in Arequipa are Turismo Arequipa, Megatur, Panataxi and Taxitel. These companies are very thorough in their hiring practices so they make sure they're hiring safe and honest drivers. Another of the best Arequipa travel tips is to be very careful with taxis at night and never travel alone after dark.
In Arequipa, muggings are fairly common. They don't just happen at night in dark alleys either. Some muggings happen in broad daylight at crowded tourist sites and sometimes the victim doesn't even realize they're being mugged!
To avoid falling victim of mugging when visiting Arequipa, always keep your valuables, such as your purse or camera, in front of you. Be wary of overly-friendly strangers as they might be trying to distract you while their accomplice robs you. Don't wear expensive jewelry or flash money because this will surely draw attention to you. Late at night, the downtown area is best avoided altogether.
If you do encounter any issues, many police officers are walking around the downtown area and the tourist sites. Most of them speak at least a bit of English and are only happy to help with any issues you have.
Another danger you may encounter when visiting Arequipa is food poisoning. It's best to completely avoid shellfish, watch for dairy products left out too long in the sun and only eat fruit that can be peeled.
Of course, the sun could present some issues as well, but as long as you always wear sunscreen, seek shade when it gets too hot and wear a hat, you'll be fine. This is especially important if you come from a northern climate as you'll need to get used to it.
If you do have a health emergency, medical care is top-notch in Arequipa but be aware that you'll likely have to pay cash upfront as many hospitals don't accept overseas medical insurance.
Don't drink tap water in Arequipa
Like in all of Peru, the tap water is not safe to drink so one of the most important Arequipa travel tips is to avoid it. Drinking local tap water can result in illness caused by both bacteria and the chemicals used in the water to try and manage bacterial levels. While using the water showering and brushing teeth are safe, it's still advisable to avoid swallowing any water.
The best way to reduce your risk of water-borne illness is to always drink bottled water, be careful with fruits and vegetables that are washed in tap water and be wary of ice cubes in your drinks. If you get an iced drink, make sure the ice is made with bottled water. If bottled water is not available and you have no choice but to drink tap water, make sure it's filtered and boiled first.
There is a great food scene
When it comes to food, Arequipa is much like the rest of South America so the food is delicious! Traditional Peruvian cuisine is at the forefront of the foodie scene in the city but there are those few must-try dishes that Arequipa lays claim to.
The foodie scene is Arequipa is an excellent mix of modern and traditional dishes so one of my top Arequipa travel tips is to get a good sampling of both trendy meals and meals made from recipes passed down through many generations.
While exploring the city, you'll find a variety of eateries including hip cafes, vegan hotspots, food trucks, traditional diners and high-end restaurants. Some of the top places to try out include La Plaza bar & Grill, Zingaro (my personal favorite: my friend and I had a memorable dinner there), Sol de Mayo, Tanta and the adjoint Chicha Por Gaston Acurio, who share the same kitchen, Zig Zag, Capriccio, Las Gringas, El Buda Profano and Casta Fior.
Many places allow visitors to order the Americano, which is a plate featuring samples of several popular dishes. If you're particularly hungry come dinnertime, you'll be happy to know that most restaurants around Arequipa tend to serve bigger than average portions.
At lunchtime, a popular place to go for delicious fusion cuisine is one of the Picanterias. On Sundays, Adobo, or pork stew, is a traditional meal that's served up early in the day.
Local dishes feature rich flavors and tend to be spicier than other Peruvian dishes. Some of the traditional dishes that are worth trying during a visit to Arequipa include Escribano, Chicha de Guinapo, Ocopa, Soltero de Queso, Locro de Pecho, Rocoto Relleno, Pastel de Papa and Chupe de Camarones. Cuy Chactado is Arequipa's version of the traditional Andean delicacy, fried Guinea Pig.
Of course, no meal is complete without dessert and a drink! Helado Queso is ice cream made of cheese and is a popular dessert in Arequipa restaurants. Delicious local cocktails include Pisco Sour (but you will find this in all of Peru) and Anis Najar. Many people claim that the city's beers are the best in the country.
You can stock up on hiking gear
There are many incredible day-hikes, overnight trekking trips and multi-day trekking trips that are popular with visitors to the Arequipa area and because of this, many local entrepreneurs have decided to open outdoor gear shops specializing in hiking and camping gear suitable for the terrain and weather of the area.
While you can take your own equipment to Arequipa, why would you want to deal with the inconvenience of packing all that gear, carrying it around airports, checking it onto planes and lugging it around during your travels? It'll likely cost extra to transport it such a distance and there's a chance it could get damaged in the process.
You have the option to buy new or used equipment or – even better – rent equipment. Renting is likely your best option because you can return it when you're done and not have to worry about lugging it around for the rest of your trip.
In Arequipa, you'll find everything you need for your hiking and camping adventures in many shops around the city including Horget, Escala Outdoor, Camping & Equipment and Tactical Peru.
Further Readings
For more information about Arequipa, make sure to read the following posts:
Pin It For Later!