You can go on many fun day trips from Arequipa. The White City of Peru (locally known as the Ciudad Blanca) is a great place to explore and you won't easily get tired of it. But there's more to it than churches and monasteries. Indeed, the surroundings of Arequipa surely deserve to be explored and the good news is that you don't have to travel too far to enjoy a hike, to admire stunning landscapes and even to spend a day at the beach.
While the Colca Canyon and Misti Volcano are the most popular day trips from Arequipa, there are more you can enjoy – and where you can have a less crowded experience. In this post, I highlight the best places to visit and things to do near Arequipa and share practical information to help you plan your day and make the most of it.
For more information about Arequipa, make sure to read my posts The Best Things To Do In Arequipa, The Best Arequipa Travel Tips and Where To Stay In Arequipa.
The Best Day Trips From Arequipa
Hike up El Misti
You can't miss out on El Misti. Even if you don't take a day trip to this majestic volcano, it's almost impossible to think that you wouldn't see it. This 5,882 meter (18,313,6 feet) tall volcano looms in the distance over the city, perfectly rising out of the landscape like a Peruvian Mount Fuji.
However, if hiking is what you like to do, then you'll be happy to know that it is possible to hike up El Misti on day trips from Arequipa (though granted, it's best tackled in two days). It is not something that you should consider doing if you do not have a good level of fitness – it really is physically tough, and a challenge even to experienced hikers.
As I have pointed out above, it is very common for hiking tours to El Misti to take two days. First of all, you'll be climbing to the base camp at the foot of the volcano, and then hike up to the summit (then down again) the next day. Tackling it all in one day would just be too much – most day tours won't actually include hiking, precisely because it's too much of a challenge in just one day.
Worried that El Misti is an active volcano? Well, it's considered to be dormant (not extinct), with its last "major" eruption dating to somewhere between 1436 and 1471 – though it did also erupt back in 1985!
One important thing to note is that I do not recommend that you attempt to climb this massive volcano by yourself! Not only is it unsafe to go hiking alone anyway, but it's a really high mountain that is tough to tackle even when you know the route. Hiring a guide, or going on a tour, is the best thing to do.
Another thing I'd like to point out specifically is that you will need to acclimatize to the altitude before you attempt the hike. As Arequipa itself already sits at 2,335 meters (about 7,761 feet) above sea level, you should spend a few days getting acclimatized in the city before even thinking of a day trip.
Needless to say, it's best to tackle this hike with a guide. To book your hiking trip to Misti Volcano, click here.
Check out my post The Best Hikes In Peru.
Marvel at the Colca Canyon
The Colca Canyon is Peru's very own version of the Grand Canyon, but is almost twice as deep, with its deepest part stretching down to 3,400 meters (11,585 feet). This makes it one of the deepest canyons in the world.
This amazing canyon was formed over millions of years as the result of a fault line between two volcanoes, creating what is today a richly diverse and breathtakingly scenic area. Naturally, it is one of Peru's most popular tourist destinations as well.
After the Spanish conquistadors came to the area around 1540, many of the traditional villages were resettled into colonial settlements, but this eventually led to a decline in agriculture in the valley. Fourteen of these settlements remain to this day, and make for popular destinations to explore and discover the area.
Many people choose to trek in the canyon itself, with some well trodden routes taking in famous viewpoints and leading down into the base of the canyon. Some people choose to take a few nights here and stay in one of the rural villages, or even at the bottom of the canyon – in fact, this is what I actually recommend doing, if you have time.
Cabanaconde is where many people start their adventures around Colca Canyon, and it makes for the jumping off point for many hikes around the area. You'll be able to see wildlife, such as condors, be taken to viewpoints and hot springs, and see some traditional village life unfold, too.
If you are time constrained it is possible to visit the Colca Canyon on day trip trips from Arequipa. It's actually over a four hour drive from Arequipa, and there are regular buses that connect the two destinations. But traveling by public transport would literally leave you no time to explore. Therefore, in order to pack in as much as possible into your visit to the canyon, a tour might be a better option.
Guided day trips from Arequipa to the Colca Canyon leave early (around 5:00 am) and arrive at the canyon around 9:00 am after having stopped at the Cruz del Condor to admire the magnificent birds.
To book your one day trip to the Colca Canyon from Arequipa, click here or here.
Make sure to read my post A Guide To Visiting The Colca Canyon.
Or at Salinas Salt Lagoon and Aguada Blanca National Reserve
While Bolivia may be more famous for its remarkable salt flats, Salar de Uyuni, it is not widely known that Peru has its very own salt flats as well. And it's possible to visit them on day trips from Arequipa. You'll find Salinas Salt Lagoon in the Salinas Aguada National Reserve, which is actually such an important wetland area that it has been designated a RAMSAR site.
The reserve, which is split between the regions of Caylloma and Arequipa, spans an area of 366,936 hectares and encompasses sweeping Andean plateaus, deep blue lakes and fresh meadows. It is home to multiple volcanoes including the one and only El Misti.
But what about the salt flats? Though located around two and a half hours from the center of Arequipa city, not many people are actually able to make their way to the salinas. There isn't much public transport that makes its way out this far, and so the result is a place that is just about nature: no people, no touts, no tourist traps.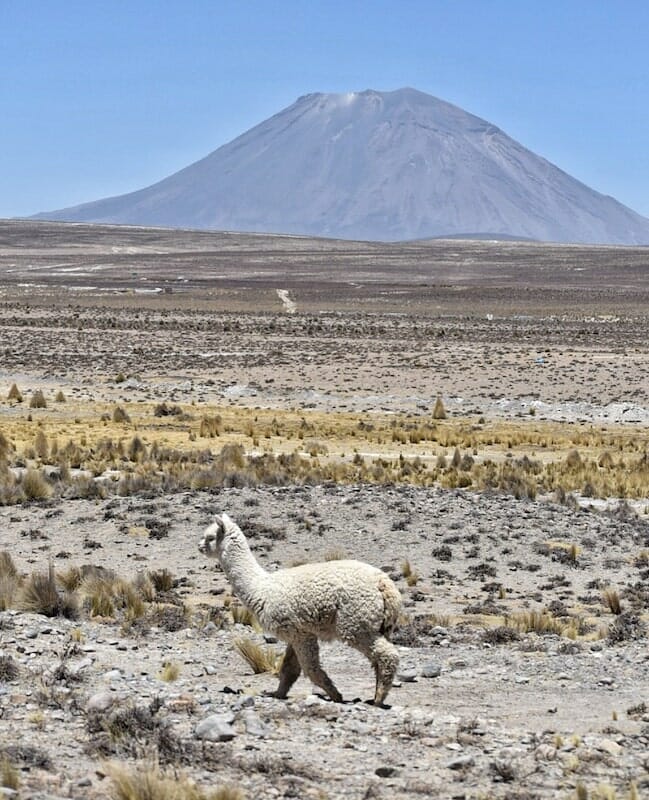 And unlike a trip to Colca Canyon, a trip to the salinas doesn't have to start at 5:00 am. And yes, of course only a tour can take you to these incredible salt flats. Your adventure will start from Arequipa between 7:00 and 8:00 am. You'll be taken to a few viewpoints around the salt flats, so you can catch a glimpse of the flamingos that live here (and other volcanoes besides).
It's a totally eerie experience. You'll have the jagged peaks of snow-capped mountains as a backdrop, while also being reflected in the perfectly still shallow puddles of the salt flats themselves. And with no one else around – well, except for Andean geese that, alongside flamingos, also make their home here.
You'll get to walk around the lagoon, so don't forget to bring your camera and ensure you have enough space on your memory card. You're going to want to snap more than just a few photos of this astounding, otherworldly landscape.
For information on tours and day trips from Arequipa to Salinas Salt Lagoon, click here or here.
For more information on day trips from Arequipa to Aguada Blanca National Reserve, click here.
Take a Trip to the Campiña
Campiña is the word used for the countryside surrounding Arequipa, also known to English speakers as "the outskirts". There are many charming towns and villages that occupy the rural areas just a short distance from the city.
Without a rental car, or without wanting to navigate public transport too much, it can be hard to explore this area. But there are many tours from Arequipa that head to the campiña, helping you to explore further into the Peruvian countryside.
Most tours usually take in a certain amount of sights. One of these is the town of Paucarpata. Just over 6.5 kilometers (4miles) from Arequipa, this is an attractive village that boasts some seriously scenic landscapes: it's surrounded by terrace farmlands (created by the Inca), and has El Misti as a backdrop.
Another is Sabandia, which is a stone's throw from Paucarpata. It's a popular spot for Arequipeños (that's what residents of Arequipa are known as) who come for the rustic, farmhouse-style restaurants that are situated here.
But there's more than restaurants here: there's also history. It's in Sabandia that you will find a great example of a molino – a water-powered mill dating back to the early 17th century. For yet more history, do not miss La Mansion del Fundador.
Just 9.6 kilometers (6 miles) from Arequipa, this colonial mansion is named after Don Garcia Manuel de Carbajal, the 16th-century conquistador who founded Arequipa and who once owned the property here (hence the name of the house).
A tour of the mansion gives you an awesome inkling into how life was lived by the elite of yesteryear, with antique furnishings and original oil paintings adorning the walls. It's open from 9:00 am to 5:00 pm every day.
For a guided day trip to Arequipa countryside with a stop to La Mansion del Fundador and Sabanbia and its water mill, click here.
Go Rafting on the Chili River
Yes: that really is the name of this river. The Rio Chili runs all the way from the snowy peaks of the Andes, through the center of Arequipa, and eventually out to the Pacific Ocean. It's always there in the city and to be honest, you may not think much of it.
However, it is possible to go and experience the river first hand with a rafting tour. Tours from Arequipa that offer rafting on the Chili River do vary: some drive you just 30 minutes or so from the city for rafting, while others will take you north, through the Chilena Valley to Charcani.
Here you'll get to hit up different classes of rapids, along a 6.5 kilometers (that's 4 miles) run to Puente Chilena. This is definitely one for more adventurous travelers, but don't worry: you'll go with guides who'll kit you up with wetsuits, paddles, helmets and give you all the safety information you'll need.
You can book your river rafting adventure on the Chili River here or here.
Check Out Toro Muerto
Translated as "Dead Bull", Toro Muerto is the name of a collection of petroglyphs that are situated in the Peruvian coastal desert. Specifically, they are found in Castilla province, around 1,500 meters (4,921 feet) above sea level, where a plateau of volcanic rocks has been etched out into a series of glyphs dating back over a millennium in age.
It's a really fascinating site, with white boulders creating the shapes of people, animals and birds in the middle of an otherwise barren landscape. More than five thousand of these have actually been discovered so far.
Much like the Nazca Lines, the origins of the Toro Muerto petroglyphs remain unknown. They are thought to have been created by the Wari people around 1,200 years ago. Interpretations of the artwork vary, but there do seem to be common themes throughout many of the glyphs.
And so to better understand what it is you are actually looking at, it is best to head to Toro Muerto with a guide to give you some meaning behind the boulders. It is also not very easy to make your way here independently, and so the best option is to visit with a tour company – it's definitely much more convenient even transportation-wise.
If you do want to go yourself, it's a matter of taking a public bus from Arequipa to Corire (taking around three hours), and then hiking along a dusty desert road for around two kilometers (1.2 miles) until you reach the entrance.
As it's out in the desert, it's also a good idea to go prepared with plenty of water, as well as your sunhat, sunscreen and sunglasses. Mosquitos can also be an issue here, so insect repellent is a must.
For a guided tour from Arequipa to Toro Muerto Petroglyph, click here.
Hit the beach
Ok, so Arequipa may not have much in the way of beaches (obviously: it's inland), but it is possible to get to beaches from the city. In fact, many Arequipeños take trips to the neighboring province of Islay to get away from it all.
In particular, the town of Mollendo – capital of Islay – is where people head for their very own slice of sun, sea and sand. It may not be a tropical paradise, but Mollendo is a super popular beach destination for city dwellers; its population more than doubles on summer weekends.
If you want to beat the crowds (and trust me, this place really can get crowded), then head to Mollendo mid-week. You'll be much more likely to find some room on the beach for you.
Another popular place for a day lazing on the beach is Camana, capital of Camana province. Again: don't come expecting a Caribbean atmosphere. The beaches here are good but, like those at Mollendo, very popular on the weekends; and of the two, Camana is known more as a town for young people.
It is possible to get to Mollendo by train, but it's not regular. The best way to get there is a "summer express" that leaves Arequipa on Saturdays bound for Mollendo, and returns on Sundays.
Reaching both Camana and Mollendo is actually very cheap, and minibuses leave from Arequipa's bus terminal regularly, taking around two and a half, and two hours to reach respectively.
Further Readings
Are you planning a trip to Peru? Make sure to read these posts to help you plan your trip:
Pin It For Later!