Looking for where to stay in Arequipa? You are in the right place!
The Ciudad Blanca (White City, in English) of Peru is a fantastic tourist destination, with many interesting attractions that reflect its Spanish colonial past as well as a strong indigenous influence. The city is packed with gorgeous churches and many well curated museums; you will find the beautifully kept Monasterio de Santa Catalina and a colorful market. Active travelers will find Arequipa to be an incredible base to explore the breathtaking landscapes of the Colca Canyon, and to hike El Misti Volcano. In other words, it's really worth visiting!
Arequipa is also the second largest city in Peru, with more than one million inhabitants. With a city so large, it's absolutely essential that you pick a good area to stay. My overall recommendation is to base yourself in the historic center: you will be close to all attractions and with easily available transport you will be able to get out of town in no time if necessary. The good news is that there are many great hotels in Arequipa – it's just a matter of researching them.
But don't worry: I have than that for you! i know the city well as I have visited a few times and I am ready to share a bunch of tips.
Finally, continue reading to discover why the historic center is really where to stay in Arequipa for all travelers, and to check out the best hotels in Arequipa by budget.
For more information about Arequipa, make sure to read my posts The Best Things To Do In Arequipa and The Best Arequipa Travel Tips.
Historic Center: Where To Stay In Arequipa For All Visitors
If you're looking for the best place to stay in Arequipa, then you should look no further than the historic center. It's home to many of the city's nearly 250 colonial buildings that comprise its UNESCO World Heritage Site, pointing to the city's origins when Spanish architecture mingled with Andean traditions. This style actually has its own name – the Arequipa school of religious architecture.
Made up of centuries-old mansions, churches and cobbled streets, many of the grand colonial-era structures that exist in the historic center have been restored and today house banks, hotels and eateries.
This is the central area of the city anyway, so basing yourself in this five block area (which comprises Vallecito, Selva Alegre and, far south, the easily accessible PeruRail Station) means you can easily navigate your way around the city. It's an urban area that can be easily explored on foot, with a long list of sites situated close to the main square.
Walking is a fairly safe way to get around, particularly in the area's bustling streets – even after dark. Nearby ancient districts, such as Yanuhuara and Cayma, are also just a stone's throw away; the more rural areas, the campina – with views of the volcanoes and old colonial-era mills – can be conveniently visited on a day trip from the historic center.
There are a number of hotels and guest houses located around the historic center of Arequipa, which can suit a variety of budgets and travel styles. When it comes to dining out, you can be safe in the knowledge that the historic center is well known for its rich culinary scene – there are actually many picanterias (traditional eateries) located here too.
In short, it's a beautiful place to stay and easily where to stay in Arequipa for first-time visitors; and can often feel like you're staying in an open-air museum – but with all the conveniences of a city center.
Finally, let's check out the best hotels in Arequipa by budget!
Where To Stay In Arequipa
Luxury hotels in Arequipa
Palla Boutique Hotel is a city center property – a sophisticated boutique offering that feels stylishly modern. The rooms here are decked out with hardwood floors, white washed walls and large, comfortable beds; bathrooms are contemporary. Many rooms feature rooms out over the city.
There are plenty of spaces throughout the hotel for guests to relax in, including a restaurant, an indoor courtyard and a rooftop bar. Overall, Palla Boutique Hotel is a beautifully designed option that's ideal for couples who are looking for a calm, romantic stay in Arequipa. It's easily one of the best hotels in Arequipa.
One of the best things about San Agustin Posada del Monasterio is the fact that it is set in a historic sillar mansion. This 18th-century property has been lovingly restored in order to protect its architectural heritage, and features spaces that have been updated with modern furnishings.
Dining can be enjoyed at the in-house restaurant that serves up a selection of regional and international dishes. There's also a rustic bar for drinks in the evening.
The guest lounge is situated in a cosy vaulted room, while antique furniture and oil paintings decorate the walls. You'll find the hotel in Plaza de Armas, next to the Convent of Santa Catalina. It's where to stay in Arequipa if you want a historic feel.
This brand new addition to Arequipa's accommodation options is a welcome one indeed. Set in a 16th-century volcanic stone building, CIRQA is packed full of refined aesthetics and high-end boutique sensibilities.
This very Instagrammable hotel comes with a striking terrace – complete with hot tub – while the guest rooms are a design lover's dream. There's an on-site restaurant for guests to use, a spa and wellness center, and a stylish bar, too. It's definitely one of the best places to stay in Arequipa.
This five-star hotel in Arequipa is just a stone's throw from the city center, and truly makes for a luxurious accommodation option for your stay in the city – it's where to stay in Arequipa in style. From its pink facade flanked by palm trees to its outdoor swimming pool, this place is all about the wow factor.
Throughout, richly decorated spaces mix heritage furniture with stylish contemporary decor – something that extends to the highly polished guest rooms themselves. There's an in-house restaurant and bar that serves up delicious meals, while there's also a gym for you to keep up with your work-outs.
This renovated colonial property situated in the Selva Alegre district is a five-star property. Not only is it a sophisticated hotel, but the location is amazing too: it's just a five-minute walk from here to Plaza de Armas and the Santa Catalina Monastery.
Rooms at the property itself are smart and modern, with dark wood flooring and a sultry color palette making them feel sophisticated. Elsewhere there's a particularly picturesque courtyard and serene spa facilities set inside a converted vaulted room. There's also an on-site bar (its hand-crafted cocktails are great) and an atmospheric restaurant.
For a unique place to stay in Arequipa, try out Casa Andina. This boutique hotel is situated inside a former mansion that dates all the way back to 1794; it was also a mint in the 1930s. All that history has meant it being declared a Peruvian National Historic Monument.
All the charm and heritage can be felt throughout the building – from its high ceilings to its frescoes and rustic stone floors. Guest rooms here are bright and comfortable, and spacious to boot.
There's also a range of amenities for guests to enjoy at Casa Andina, including a restaurant and bar that serves food and drink – including specialties from the local area – in the main courtyard.
Mid range hotels in Arequipa
Set in one of Arequipa's multitude of charming colonial style buildings, Le Foyer is located just 200 meters from the city's main square, Plaza de Armas. There's a selection of rooms on offer, each of which have been decorated with warm, welcoming colors, with large wooden windows that open up onto an interior courtyard.
Breakfasts are served up each morning and include a selection of natural fruit juices, as well as bread and eggs. There's also a bar at Le Foyer, where you can head for evening drinks; barbecuing is allowed on the patio. It's also just a short taxi ride from the airport, and three kilometers from the city's train station.
As its name implies, Katari Hotel is situated right on the main plaza in Arequipa. This fantastic location means that you'll have some of Arequipa's main sights right on the doorstep, and you won't need to go too far to explore.
The colonial-era in which this hotel is set is itself packed full of charm. Throughout the hotel, the building's historic architecture has been utilised for a polished heritage feel. Rooms here are equally polished, with hardwood furnishings and walls adorned with local artwork.
In terms of amenities, this hotel boasts room service, a restaurant and a bar, but the crowning glory is its outdoor terrace – complete with panoramic views of Plaza de Armas and volcanoes in the distance. It's one of the best mid-range hotels in Arequipa.
If you're visiting Arequipa with your family, then you may want to opt somewhere that's a little less mature and that comes with more space for everyone to stretch out. In that case, you may want to head for BTH Hotel Arequipa Lake.
Situated on the shores of Arequipa Lake, the surrounding landscape provides ample space for children to run around, with green fields and trees aplenty. The rooms here are decidedly family-sized – large and spacious, and with all the modern amenities that you'll need for a cosy stay.
In the grounds of the hotel, there's also the bonus of an outdoor swimming pool, and an attractive restaurant for family meals overlooking the water.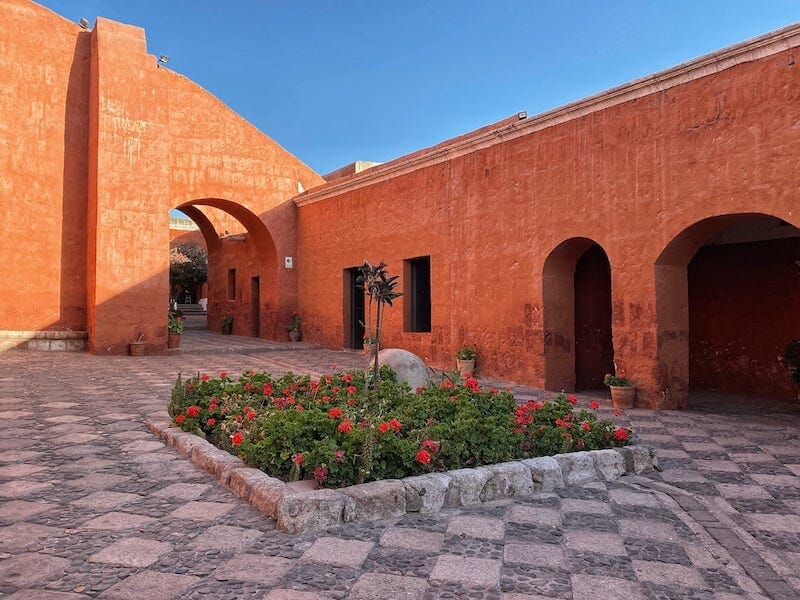 Tucked away in Arequipa's historic city center, this colonial era casona ("mansion") has been lovingly restored with rustic details and minimalist design, helping to retain its original grandeur. The old building provides a comfortable place to stay, with guest rooms located in sillar stone vaulted spaces.
Acolpacha Tambo Boutique also comes with a host of amenities. There's a courtyard to chill out in, concierge services and a shared kitchen.
Situated right in the heart of Arequipa, in Plaza de Armas, Casa Andina Select Arequipa Plaza boasts an amazing location. It's also situated in one of the city's Spanish colonial-style buildings, which means that throughout the property you can expect a cocktail of classic and antique decor.
Rooms here are smart, and feature crisp white linens, white washed walls and dark wood furnishings. There is a range of amenities on offer for guests to enjoy during their stay, ranging from a gym and an outdoor swimming pool, to a bar and its very own hair salon. The showstopper here is the hotel's ambient restaurant, however, which features balcony seats that overlook the plaza itself.
This landmark hotel in the city is set in a building that's been in the same spot for over 300 years. The mansion itself has been amazingly restored, and dates back to 1702, and was constructed out of the local sillar stone. It has a unique aesthetic, with its rough walls and parquet floors – all lit by chandeliers, of course.
There are a range of rooms on offer here to suit different types of travelers, from single rooms all the way to apartments that can accommodate a group. Staying at the hotel overall is a relaxing experience, thanks to its large open courtyard and oasis garden.
Located in Arequipa's residential Vallecito neighborhood, Dreams Hotel Boutique is close to the city's university, as well as a number of eateries. Away from what's on the doorstep, however, inside you can expect a modern hotel that's been designed as a comfortable, relaxing place to stay.
Throughout, the hotel has utilised eye-catching design, using plush furnishings and sultry colors to create an affordable yet well considered space. Rooms here are equally vibrant, and come decorated with artwork and textiles.
Amenities here include a bar and restaurant, as well as spa facilities. It's one of the nicest mid-range hotels in Arequipa.
Mint Hotel is a boutique property in Arequipa that's situated in a quiet residential street, around two kilometers from the Plaza de Armas. This new-build hotel has been tastefully decorated throughout; spaces are bright and airy, and have been decked out with modern artwork and eye-catching furnishings.
Rooms here are polished and feel like cosy spaces to unwind after a day of exploring. Some rooms at Mint Hotel even have their very own outdoor seating areas. There's also a selection of amenities for guests to enjoy, from massage services and a fitness room to drinking and dining at the hotel's restaurant and bar.
The bonus: the amazing volcano views to be had from the hotel dining room.
Budget hotels in Arequipa
Looking for where to stay in Arequipa on a budget? Azul Colonial may not be a boutique property, but what it lacks in chicness it makes up for in its welcoming atmosphere. The decor is colorful, utilizing local textiles to decorate its interiors. One of the best features of this hotel is the sunny courtyard dotted with plants. Other amenities include a cosy guest lounge and a communal kitchen.
Guest rooms at Azul Colonial feature terracotta tiled floors and rustic decor. Each morning guests will be served up a delicious breakfast to help start the day before exploring the city. Location-wise, you'll find it in the picturesque Yanahuara neighborhood.
Another of the city's purpose-built modern hotels, Hotel Casagrande is a large accommodation option that's great for a few nights' stay in the city. This classic hotel is clean throughout and boasts a number of facilities to make guests' stays run smoothly.
The hotel restaurant, for example, is a sophisticated spot that features large windows looking out over the grounds. Guest rooms are also large, and come with seating areas and modern bathrooms. In terms of location, the city's main square is less than 10 minutes' walk from the property, putting top sights right on the doorstep.
Traveling to Arequipa on a smaller budget but would prefer a stylish place? La Maison d'Elise is where to stay in Arequipa, then! The hotel is situated in a suitably striking ochre building, featuring classic Spanish colonial-style architecture and use of spaces. Rooms are situated in different buildings around a central courtyard, featuring a lawn and outdoor swimming pool.
The rooms themselves are calm and minimalist, but spacious, and are decked with hardwood flooring and contemporary bathrooms. Many rooms also come with their own outdoor seating areas, too.
Breakfast is available each morning in the dining room, while the restaurant and bar also provide evening and lunchtime meals. You'll find it close to Yanahuara Church and its famed viewpoint of El Misti, too.
This affordable accommodation option is situated in the center of the city. Staying here means you'll be just 300 meters from Plaza de Armas. The property features an array of different rooms to suit different traveler budgets. Each of these feels homely and relaxing, and come with private bathrooms and large comfortable beds.
There's a grassy outdoor area for guests to sit and unwind while soaking up some afternoon sun, while there is also a rooftop terrace that's great for views of the city and the volcanoes in the distance. The hotel provides breakfast each morning – a great way to start the day.
Best hostels in Arequipa
This fun and fashionable accommodation option in Arequipa is part of the Selina chain of hostels. Perfect for a backpacker, the sociable hostel comes complete with a long list of convenient facilities and communal spaces.
The whole thing is all centered around an outdoor courtyard that comes complete with a garden, swimming pool and bar. There's even a space for yoga classes to take place.
Inside the property, trendy decor creates a casual-cool atmosphere. Guests can make use of the comfortable movie room, the restaurant, and opt to stay in a choice of homely rooms. It's all just a 10-minute walk from Plaza de Armas. No wonder it's one of the best hostels in Arequipa.
Further Readings
If you are planning a trip to Peru, these other posts will come in handy:
Pin It For Later!