Although not exactly originating in Rome (more about that later!), bucatini all'amatriciana is one of the most typical dishes you can get at any good trattoria in the Italian capital. Much like carbonara, the traditional sauce is often object of debate – with purists (like myself) that will stick to the original ingredients and others that are happy to try variations of the dish and prepare it with pretty much whatever they have handy.
Now that I have tickled your tastebuds, let me tell you how to make this delicious dish at home!
Tips To Prepare Pasta All'Amatriciana
Use whatever kind of pasta
You sure can! Bucatini is the most traditional shape of pasta for this sauce, but spaghetti all'amatriciana is also excellent. There are different kinds of spaghetti you can use – n. 5 spaghetti are perfect, but n. 3 or spaghettoni will also do.
Don't use bacon
There is an ongoing debate over the use of pancetta (bacon) vs guanciale in pasta all'amatriciana. My dad will tell you that bucatini all'amatriciana made with pancetta are actually much better. Pancetta has a sweeter flavor and is a bit more meaty, less fatty compared to guanciale, so if that is the flavor you are after, go for it. I personally enjoy the strong flavor of guanciale so I'll stick to that!
Don't add onions
Here's a secret: for the longest time, my mom was convinced the recipe called for onion and that's how we used to eat it. Then, she once made it without and we realized it was so full of flavor already that no onion was needed. The same goes for garlic, which tastes even stronger.
Add a drop of wine
You can try sweating the sauce with water if you don't have any white wine. Of course, the flavor will be more delicate.
Eat the sauce when it's fresh
The sauce is best eaten fresh but if you have lots of leftovers you can store in the fridge for a day or two, in an airtight container. I don't recommend freezing.
Interesting Facts
Where were bucatini all'amatriciana invented?
The recipe originates from the town of Amatrice, which is actually a two-hour drive northeast of Rome. The first version of this dish is actually the Gricia (don't worry, I will be writing the recipe soon!) which is made with guanciale and pecorino, but no tomatoes – these were added only after they made their way to Europe from the Americas.
The 2016 earthquake and the role of pasta all'amatriciana
Amatrice and other small towns nearby were terribly affected by an earthquake in August 2016, and in order to raise funds for its reconstructions, restaurants serving spaghetti all'amatriciana donated a percentage for each dish ordered.
Yield: 4
How To Make Bucatini All'Amatriciana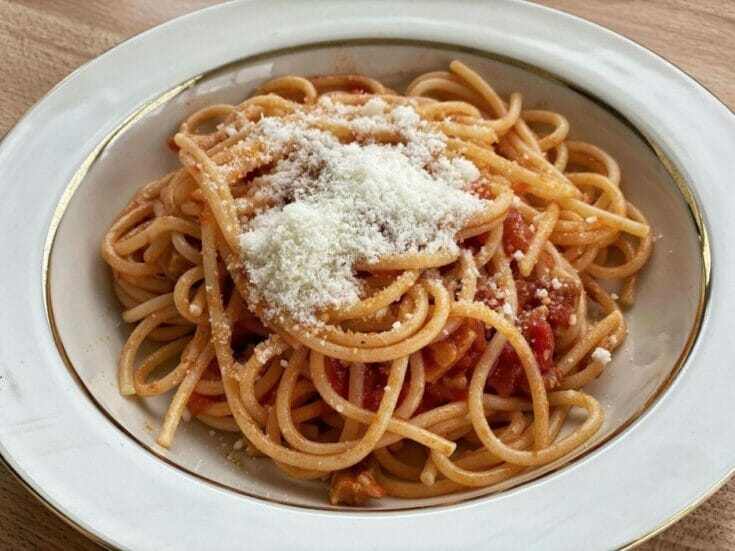 A very easy recipe to make bucatini all'Amatriciana, one of the staple dishes of Roman cuisine.
Ingredients
0.7 pound (320 grams) bucatini pasta
0.9 pound (400 grams) peeled plum tomatoes 
1 or 2 tablespoons extra virgin olive oil
5 oz (150 grams) guanciale in one piece
3/4 cup (75 grams) grated pecorino romano cheese
1 fresh or dry chili pepper, seeds removed
1/4 cup (50 grams) dry white wine
Salt to taste
Salt to boil the pasta
Instructions
STEP 1 - PREPARE THE GUANCIALE
Remove the pork rind from the guanciale, then cut it into slices about 1/4-inch (1 cm) thick and small cubes about 1/8-inch (1/2 cm) wide
STEP 2 - COOK THE GUANCIALE
Start boiling water for the pasta and add salt.
In a large pan or skillet, heat a spoon of extra virgin olive oil and add a whole chili.
Remove the chili and add the guanciale cubes and let it brown on low heat for about 7 minutes, stirring occasionally.
Once the fat has melted, add the white wine, increase the heat and let it evaporate.
STEP 3 - TRANSFER THE GUANCIALE
Once the wine has evaporated, transfer the guanciale to a plate.
Pour the peeled tomatoes into the same pan, breaking them up with your hands directly into it.
Cook the sauce for about 10 minutes, stirring occasionally.
Once the water boils, pour the bucatini and cook them until firm (al dente).
STEP 4 - ADD THE GUANCIALE TO THE SAUCE
Add salt to the tomoto sauce, then pour the guanciale back in an stir.
STEP 5 - SAUTE THE PASTA AND SERVE
Once the bucatini are cooked al dente, drain them and pour them into the pan, sauté them quickly to mix the sauce.
Portion your bucatini all'amatriciana and grate some pecorino romano cheese for serving.
Notes
Serve as soon as ready, with a good sprinkle of pecorino romano cheese.
Nutrition Information:
Yield:
4
Serving Size:
1/4
Amount Per Serving:
Calories:

528
Total Fat:

34g
Saturated Fat:

12g
Trans Fat:

0g
Unsaturated Fat:

16g
Cholesterol:

44mg
Sodium:

1528mg
Carbohydrates:

40g
Sugar:

5g
Protein:

14g
Other Recipes
Want to taste more dishes or Roman cuisine? Try these ones:
Pin It For Later!