If you're a fan of mystery, history or simply like the idea of exploring a ghost town, then you should definitely put Celleno Borgo Fantasma on your itinerary when you visit Italy. This is one of the country's 6,000 or so villages or hamlets that have been left practically abandoned – Borgo Fantasma literally means "Ghost Town".
Compared to other ghost towns in the region, such as Civita di Bagnoregio, it is a nice, lesser crowded option.
Head over to my post A Complete Guide To Civita Di Bagnoregio.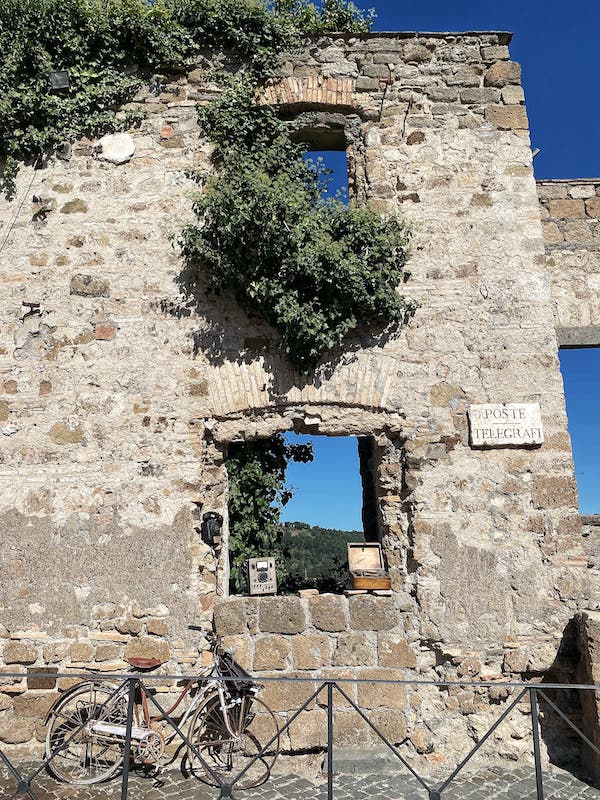 Celleno is located in the province of Viterbo, making it easy to access from Rome and perfect for a day trip. It's a hilltop town that was built in a strategic location and provides an intriguing window into the region and the past of Italy as a whole. It's a surreal place to visit and explore; situated high up on a bluff, and surrounded by badlands, it's accessible only by one entranceway.
Entering the town and discovering the deserted destination makes for a mystifying experience. You'll be standing in the main square, surrounded by old towers and crumbling buildings – and all with breathtaking views out beyond the walls. The town has become dilapidated over time and is something of an open-air museum and is a must-see for anybody interested in history and architecture. And since it's still unknown to international tourism, it is blissfully quiet and chances are that, when you visit, you'll have it all to yourself.
Curious to find out more? Continue reading: I will be sharing all of Celleno's secrets!
Make sure to read my post The Best Hidden Gems In Tuscia.
The History Of Celleno Borgo Fantasma
There's been a settlement on the site of Celleno since the Etruscan (that is, pre-Roman) age. The foundations of Celleno's castle date back to 1026, when the territory was given to the Conti di Bagnoregio family by Conrad II, emperor of the Holy Roman Empire.
The Conti di Bagnoregio family used Celleno as a strategic outpost. It helped to cement their control over the area.
In the following centuries, the town became more and more fortified, eventually coming under control of Viterbo. Celleno was then embroiled in various wars and conflicts in the region, engaging in many disputes with the Papal States of Rome.
Heading into the Middle Ages (the 14th to the 15th centuries), there were many different families that came into possession of the hilltop town. That was until 1527 when it became a fief of the Orsini family, from which the town's castle still takes its name. The Orsini family, however, only owned the town until 1580, after which it was finally absorbed into the Papal States. This meant that the town lost its strategic importance, and it went into a gradual decline from then on.
Moving into the modern era, the medieval buildings were suffering from erosion of the rocky outcrop on which it sat. By the 1950s, the 1,300 inhabitants that still called Celleno home were forcibly relocated to a new settlement due to safety concerns. In the 1960s, some of the buildings had to be torn down because they were in such bad condition.
Despite its sad demise, the town has seen a new lease of life in recent years. Visitors seek out the charm of this abandoned settlement, coming from all over the world to explore its empty streets and uncover its Etruscan, Roman and medieval history.
What To See In Celleno Borgo Fantasma
Aside from wandering around the town itself, there's more to see at this historic hilltop town than simply old buildings. There are actually a number of sights, including museums, to stop by and make the day trip from Rome to Celleno even more interesting.
Talking Machines Museum
Known in Italian as Museo delle Macchine Parlanti, the Talking Machines Museum may sound strange but it's actually an intriguing insight into musical instruments. Here you can find both ancient musical instruments, as well as more modern inventions such as radios, televisions and jukeboxes. Located inside the 15th-century Church of San Carlo, situated in the town's main square, the museum is actually the collection of ex-resident Mario Valentini.
Valentini's passion for music and machinery meant that he spent much of his time dedicated to seeking out interesting instruments; he then generously dedicated them to the community. The exhibition goes back over hundreds of years and is a nostalgic trip into the past. Ask the museum attendants to show you how the instruments work!
Museum of Peasant Civilization
Celleno is home to many old buildings. A handful of them have been reused as the Museum of Peasant Civilization. Inside these old houses – once home to former residents of the town – you can see everyday objects from life in the 18th and 19th centuries. Walking through these old residences, you can get a real taste of what life would have been like for centuries in this hilltop hamlet. It's like walking into an open-air museum.
The Convent of San Giovanni Battista
Also known simply as the Convent, this landmark is a dominant feature of the landscape of the village. Made up of a Romanesque church, and connected by a series of arches, it's surrounded by woodlands.
The origins of the convent date back to the 17th century, when Pope Paul V granted permission for its construction. It's actually built on the site of an ancient church, which is itself a good example of Lombard style architecture from the 10th and 11th centuries.
Unfortunately, much of the site underwent damage following an earthquake that struck 1695. However, it is still an interesting sight to explore. Inside visitors can see frescoes that date back to the 16th and 17th centuries.
Path of the Castle and Fairy Tales
This five-kilometer walking trail is ideal for those who want to get out and do some exploring of the local landscape. Beginning at the town of Celleno itself, you can follow this trail as it passes through the neighboring village of Sant'Angelo di Roccalvecce. The unique thing about this village is that its walls are daubed with colorful modern murals depicting Italian fairy tales. A must for street art fans.
Orsini Castle
Standing watch over the village is the imposing Orsini Castle. It's accessed via the scenic Via del Ponte, which leads into Celleno's main square. The defensive walls of the castle soar more than 10 meters into the sky, and it is the best-preserved building in town. It's easy to see how strategic this castle was in its heyday – situated on a hilltop and with no way in apart from one door.
Church of San Rocco
Tucked away at the foot of Celleno's castle, the Church of San Rocco was built in the 15th century in order to ward away plague from the local population. Inside the church you can see examples of Renaissance frescoes and a particularly interesting wooden crucifix that sits high above the altar.
Town Hall Square
The main square has gone by different names over the years. In 1816 it went under the name Piazza del Commune; under the Papal Control in 1872 it was named Piazza Maggiore; but today, it is simply known as the Town Hall Square (Piazza del Municipio in Italian). This storied meeting place was the center of life in Celleno before it became a ghost town, home to municipal buildings as well as two churches, shops such as a butchers, a cobblers and the post office were also situated here.
Standing in this part of town, you'll be able marvel at 14th-century buildings as well as other medieval structures. There's also a Market Square, which was more the center of commercial activity; this is situated at the foot of the Orsini Castle.
Practical Information To Visit Celleno Borgo Fantasma
How to get there
Self-driving from Rome is the most convenient option. It takes around an hour and half to drive the 133 kilometres (83 miles) there from central Rome. Take the A1 and exit at Orte towards Viterbo, turning off to the right at Bagnaia Montefiascone and follow signs to Celleno Borgo Fantasma. Note that this route is tolled.
Otherwise, you could take the train from Roma Termini or Roma Ostiense station to Viterbo, which takes between 1 hour and 35 minutes and 2 hours. Then from Viterbo to Celleno Borgo Fantasma the bus will take around half an hour.
Tickets
Although it seems like an open-air museum, you don't actually need tickets to enter the town itself. It's free to explore, and you can even stay the night there to get the best experience after the (few) visitors have gone home.
Should you get a guided tour?
It's not necessary, however if you're traveling to the Tuscia region on a guided tour, then chances are Celleno Borgo Fantasma may be included on the itinerary. If you want more insight, then it would be a better idea to not travel independently to Celleno and opt for a tour directly from Rome instead. Marco Zanardi is a reputable local guide around Tuscia. You can get in touch with him via email at info@visitarelatuscia.it and enquire about guided tours in the area.
Where to eat
Celleno may be a ghost town, but there are a handful of places to stay here that not only provide a bed for the night, but meals for visitors, too. One of these is San Rocco, a charming local spot that serves up a selection of delicious refreshments: think coffee and cornetti (croissants) and more filling meals, too. The views are also lovely. You can view it here.
Further Readings
For more places to visit in Tuscia, check out my posts:
Pin It For Later!