Situated just 93 kilometers (57 miles) northwest of Rome, the UNESCO-recognized city of Tarquinia is a great place for a day trip from the capital. With its Etruscan roots and ancient Etruscan necropolis, and location just seven kilometers (four miles) inland from the Tyrrhenian Sea, there's plenty of history to marvel at – and some beautiful nature to soak up, too.
Curious to discover more? Let's check out the history of Tarquinia, Italy, and its main attractions.
Make sure to also read my posts The Best Day Trips From Rome and A Curated Guide To Tuscia.
A Quick History Of Tarquinia
Tarquinia was originally founded by the Etruscans, an ancient civilization that predates the Romans. The earliest archeological remains date back to the 9th century BC, though its origins are drenched in mythology.
According to legend, this once-important city was founded by Tarchon and his brother Tyrrhenus – siblings who were also credited with founding the Dodecapoli, the Etruscan league of 12 cities.
Many of the religious rites and ceremonies in Rome are thought to have originated in the ancient Tarquinia. In the 8th century BC, the city was an influential stronghold due to its location close to mineral resources in the surrounding hills.
It is thought to have been a thriving city when Greek immigrants were brought over by Demaratus of Corinth for building work. He was the father of Lucius Tarquinius Priscus (aka Tarquin the Elder), the fifth king of Rome.
After the overthrow of the Roman monarchy in 509 BC, when it became the Roman Republic, the family of the seventh king – Lucius Tarquinius Superbus – went into exile at Caere, plotting to regain the throne. Forces of this final king fought against Rome but ultimately, Rome was victorious.
The city of Tarquinia became powerful again by the end of the 5th century BC, with the city expanding and smaller settlements popping up in the vicinity. This occurred under the noble Spurinna family, the tombs of whom you can still see today. It's decorated with frescoes and inscriptions, pointing to the importance of the family, who remained influential in Tarquinia well into the 1st century AD.
During the 4th century BC, Tarquinia became more powerful and influential than other Etruscan cities (Caere, for example). Enormous defensive walls were built around the town to protect against attacks from outside, mainly from Celts and from Rome. Various conflicts occurred after that.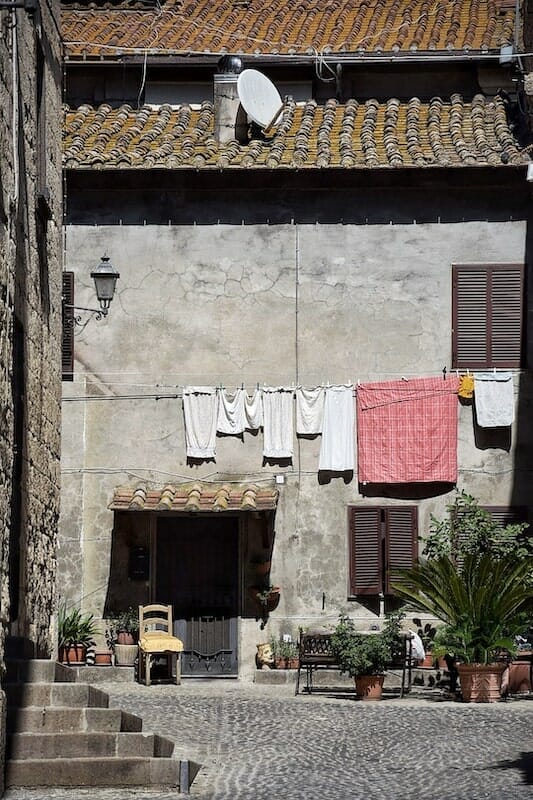 It's thought that, by 181 BC, it became a Roman colony and in 90 BC, its population received Roman citizenship. Not much is known about Tarquinia under Roman rule, but its port was used for fishing and the export of wine.
In the late Roman era, the city declined. It was all but abandoned in the 6th century AD, after the invasions of the Lombards and the Saracens. The ancient city dramatically decreased in size. By the Middle Ages, Tarquinia was mainly known for the fortified settlement at its core.
The inhabitants moved away from the central castle to a low-lying area referred to as Corneto. The last references to "Tarquinii" were in 1250. It was only in 1922 that Corneto and the old city were again named Tarquinia.
The Main Attractions In Tarquinia
The main attraction of Tarquinia is its ancient history. The oldest tomb here is probably pre-Etruscan; others are shaft graves that contain ashes of the dead. Some of these feature well-preserved, detailed paintings, showing a relationship between this area and ancient Greek art. Here's a more in-depth look at the incredible history on display at Tarquinia.
The Etruscan Necropolis of Tarquinia
The Etruscan Necropolis of Tarquinia, or officially the Necropoli di Tarquinia, is a 7th-century BC necropolis and one of the most important of all Italy's Etruscan remains.
Arriving at this historic burial site, you may feel underwhelmed at first. But enter inside and you'll be greeted by incredibly vivid and colorful frescoes hidden from the outside world.
Around 6,000 tombs have been excavated in this part of Tarquinia; incredibly, digs here began in 1489. Around 140 contain paintings, but only 22 of the tombs can be visited by the public.
The vivid paintings in these tombs depict a rare glimpse into the world of the Etruscans. Think banqueting, illustrations of clothing, animals, and mythology.
The most famous of the tombs is the so-called Fowling and Fishing Tomb. Painted in around 520 BC, and discovered in 1873, the frescoes in this tomb are a polychromatic display of hunting in the ancient Etruscan world. In the frescoes, the human figures are painted small in a wide natural environment; this is considered to be a development in the history of art, with no precedents in the Greek or Etruscan world like it. The image is thought to represent a journey crossing the ocean to the afterlife.
Also counted among the Etruscan Necropolis of Tarquinia are The tombs of the Lionesses, of the Augurs, and of the Bacchantes. These show rich banqueting scenes and dancing.
Discovered in 1830, The Tomb of the Triclinium is another important tomb, one of the most famous, dating back to 470 BC. This one features colorful frescoes that feature yet more scenes of dining and dancing.
Do you need a guide to visit Tarquinia Necropolis?
You don't really need a guide to visit Tarquinia Necropolis. It's actually quite easy to see without a guide, thanks to the good signage that you can find everywhere throughout the site. Since it's possible to get a combined ticket for the Necropolis and the Tarquinia National Museum, you can combine your trip and make sure you get the most out of your visit.
The Necropolis is open from Tuesday to Sunday from 9:00 am to 5:00 pm. Admission to the site is €6 for adults and €2 for 18–25-year-olds, and is free for children 17 and under; the cumulative ticket for the Etruscan Necropolis of Tarquinia and the Archeology Museum is €10 for adults.
Tarquinia National Museum
Sadly, since the tombs have been opened up to the public, conservation has been an issue. The problem of moisture and fungus arising is a major threat to the preservation of the frescoes. Because of this, much of the collection of artifacts found in the tombs and paintings are held in this archeological museum in Tarquinia.
Here you can see Etruscan exhibits, with plenty on display to wow you. There are sarcophagi, vases, jewelry, carvings of animals, and more. The biggest draw to the archaeological museum in Tarquinia, however, is the pair of enormous terracotta winged horses that were once housed at the pediment of a Tarquinian temple. It's thought to be one of the greatest Etruscan artistic masterpieces to have ever been discovered. Trust me, it will wow you.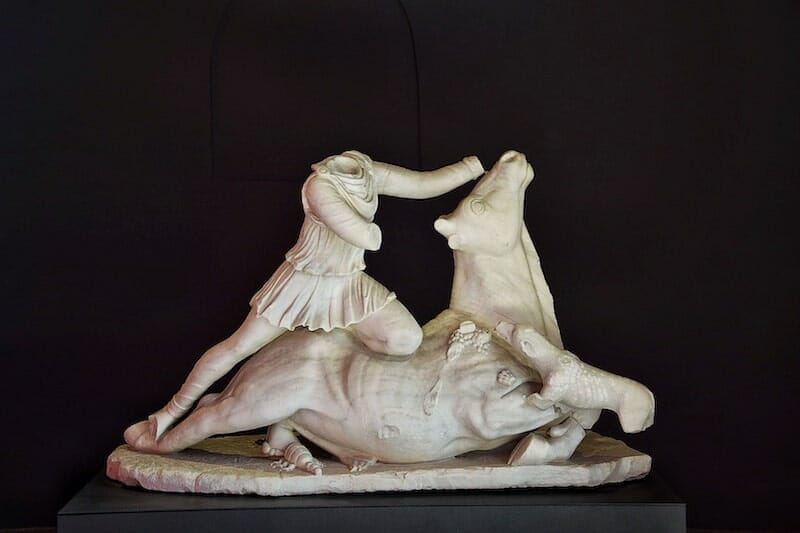 The museum building itself is a historic building, the Palazzo Vitelleschi. It's an old palace that was built between 1436 and 1439 for the Cardinal of Corneto. It was donated to the Italian state in 1960. It is possible to get a guide for the museum, who will show you some of the more in-depth details, if you like (but it's not needed).
The Museum is open from Tuesday to Sunday from 9:00 am to 7:30 pm. Admission is €6; €2 for 18–24-year-olds; it's free for children aged 17 and under. The cumulative ticket for the Etruscan Necropolis of Tarquinia and the museum is €10 for adults.
Ara della Regina
The remains of a great Etruscan temple, known as Ara della Regina (literally "Queen's Altar") can still be seen to this day in Tarquinia. Unfortunately only the foundations of this probably once-great 4th-century BC temple remain.
It is the largest Etruscan temple ever found. It's made out of blocks of limestone and is dedicated to an unknown goddess.
Etruscopolis
Another museum that you may want to hit up during your visit to Tarquinia is this one, the Etruscopolis. Dubbing itself an "underground city", this museum is set in a former quarry and houses many exhibits and models that aim to recreate how Etruscans lived.
Here you'll find objects of daily use, ceramics, bronze sculptures, surgical tools and weapons all once used by the Etruscans. It also features recreations of the frescoes inside the tombs. All in all, it paints a good picture of everyday life in the ancient city of Tarquinia as lived by the Etruscans, and so makes for an interesting visit if you want to learn more about this ancient civilization.
The museum is open on Saturday and Sunday from 10:00 am to 1:00 pm and from 4:00 to 7:30 pm. Admission is €9 for adults; €6 for children between 4 and 12 and free for children up to 3 years of age.
Historic Center
The historic center of Tarquinia is beautiful. With its medieval fortifications and turrets, it sits high on an outcrop of tuff that commands views out over the Tyrrhenian Sea and surrounding countryside. It's worth spending some time exploring the winding lanes, soaking up the ancient atmosphere of the town.
English writer D.H. Lawrence, writing in his 1927 travelogue Etruscan Places, described the ancient city: "We soon saw Tarquinia, its towers pricking up like antennae on the side of a low bluff."
And if you get hungry during your meanderings of Tarquinia's medieval core, make sure to swing by Pasticceria Belle Helene. This is the spot for fresh baked goods and sweet treats: think macarons, jam tarts, eclairs, croissants. Anyone who finds themselves in the historic center needs to stop here: it's ranked among one of the best pasticcerie in Italy. People travel from all over just to eat something from this place.
Santa Maria di Castello
You're never too far from an interesting old church anywhere in Italy, and Tarquinia is no exception. Situated on the western side of Tarquinia, nestled against the old city walls, this Romanesque style church was built in 1121.
Though outside it looks impressive enough, step inside and you'll be treated to a world of decorative 900-year-old mosaics. There's actually a guardian of the church who will welcome you inside, and who can even take you on a tour (on quiet days).
Places to see nearby
As if Tarquinia wasn't already interesting enough, if you find yourself itching to see more in the area – don't worry. There are a few nearby sights that are certainly worth your time. Here are a couple of good spots to head to.
Lido di Tarquinia
This popular local hangout is a black sand beach located just a few minutes' drive from the old city of Tarquinia. It's often considered the best beach in the Viterbo region, and so it makes for the ideal spot to visit on a sunny day once you've fully explored the ancient history of Tarquinia. Don't even try to compare it to the white sand beaches of Sardinia though – that's not even close to what you'll get. But for a few hours, it will do.
Here people come together to enjoy the sandy beach, which is backed by Mediterranean plants and pine forest. It's a family-friendly destination with plenty to keep everyone entertained, including kitesurfing and windsurfing. There are also sunshades and loungers available.
Saline di Tarquinia
This now natural spot was once very much in use by humans. This is actually a former salt works, used by generations of people from the Etruscans and Romans through to the medieval nobility. Even Popes were able to make a fortune from the salt works of Tarquinia.
Production here ceased as recently as the 1980s, and since then the marshes here have become a natural spot, rich in flora and fauna. It's a popular location for bird watching and photographers.
Practical Information
How to get to Tarquinia from Rome
Guided tour
To remove the hassle of transport from the equation, you could opt to take a guided tour from Rome directly to Tarquinia. This means you won't have to worry about train times or renting a car. Plus you'll also have a knowledgeable guide thrown in for the price, meaning you get to learn more about the destination – and have someone to ask if you have questions about the history.
You can book your day trip from Rome to Tarquinia here or here.
By car
If you are traveling by car you can take the Via Aurelia from Rome, and then continue on the highway towards Civitavecchia. Pass Civitavecchia and continue north for another 21 kilometers (13 miles), until you see the signs for Tarquinia. In total, it takes an hour and 15 minutes to drive from Rome to Tarquinia.
By train
It is possible to reach Tarquinia by train from Rome, making it even more convenient for a day trip. There's a direct train from Rome Termini station and it takes around one hour and 15 minutes. Tickets start at €5.60 one way, so it's very convenient budget-wise too.
Further Readings
Looking for more places to visit in Tuscia? Check out these posts:
Pin It For Later!