There are many incredible palaces in Rome. Some of them you have probably heard about before – they are home to famous art galleries. Others may well be Rome's best kept secret, but are equally worth visiting – and will provide a nice escape from the crowds of tourists.
Some of these palaces in Rome are now owned by the government, whereas other, impressive ones are still privately owned.
Needless to say, next time you are in town you should make it a point to include some of these palaces in your itinerary. I promise you it will be a very rewarding experience.
Now, without further ado, let me show you the best palaces in Rome, and share some tips that will help you plan your visit.
Make sure to also read my posts The Most Impressive Buildings In Rome and The Best Hidden Gems In Rome.
The Most Beautiful Palaces In Rome
Villa Albani-Torlonia
You will find Villa Albani-Torlonia in Via Salaria 92. When it was first built, the area surrounding it was countryside. It was constructed between 1747 and 1767 by architect Carlo Marchionni, who was commissioned by Cardinal Alessandro Albani.
The large villa played host to the cardinal's large collection of ancient and contemporary art, including Roman-era sculptures.
The villa is made up of a series of staircases, frescoes, statues and fountains that reflect the Baroque and antiquarian tastes of the mid-18th century. The villa became a much sought-after sight to be visited on the Grand Tour, and many English aristocrats found their way to its hallowed halls.
Although the villa was a private dwelling, owing to its collection of ancient artifacts, it was more of a museum than a residence. There was a rich tapestry of life, design and history on show here that attracted a circle of literati acquaintances to Albani's villa.
Here they would discuss art and philosophy, all while surrounded by the impressive collection of ancient art.
Eventually the villa was purchased by the aristocratic Torlonia family in 1866. The family still owns it to this day.
Thankfully, the Torlonia family have saved the villa in its original form and it still stands today – complete with its ancient artifacts – for visitors to admire its grandeur. In fact, the collection of Roman artifacts on display here is second only to the Vatican in terms of size.
Palazzo Patrizi Montoro
Rome is home to numerous grand palaces – some of them are famous and on the tourist trail, while others are hiding in plain sight. Palazzo Patrizi Montoro, the very central Piazza di S. Luigi de' Francesi, 37, belongs to the latter category.
Tucked away between the Pantheon and Piazza Navona, the property is currently in the hands of the Patrizi family, and has been since 1642.
The interiors of this decadent palazzo are still decorated with original furnishings; the second floor in particular is a treasure trove of ornate antique furniture and artwork. The architectural and interior design features, from the carved stone archways and tiled floors, are stunning.
Visits to this private property are only available by arranging an appointment in advance. But since it's far from the tourist circuit in Rome, it's definitely an attraction that independent travelers should not miss.
A tour here, conducted by the Marquis Corso Patrizi Montoro himself (the current head of the family), takes you through the history of the palazzo, and showcases the collection of original paintings, sculptures and sumptuous furnishings.
Palazzo Farnese
Easily one of the most impressive palaces in Rome, you will find Palazzo Farnese in Piazza Farnese 67, close to Campo de' Fiori, in the heart of the historic center of Rome.
It took a whopping 75 years to build this stunning Renaissance villa – construction started in 1513, following the design of the facade by Michelangelo, one of the city's favorite artists back then. The palace was expanded under Alessandro Farnese – who became Pope Paul III in 1534.
Highlights of the palace include The Loves of the Gods, a recently restored ceiling fresco by Annibale Caracci; Hercules Room, which used to house the original Hercules statue now in Naples; the statues of Giacomo della Porta which you'll find propping a beautiful fireplace.
Palazzo Farnese has been the location of the French Embassy since 1874, but it's still open to the public, who can visit on Mondays, Wednesdays and Fridays. Tours – which are conducted in English, French and Italian – last 45 minutes and must be booked at least a week in advance.
Don't forget to read my post Where To See The Works Of Michelangelo In Rome.
Palazzo Spada
Close to Palazzo Farnese and Campo de' Fiori in Piazza Capo di Ferro, 13, Palazzo Spada was actually built for Cardinal Girolamo Recanati Capodiferro (1501-59), a member of the court of Cardinal Alessandro Farnese (future Pope Paul III in 1534), and then was bought by Cardinal Bernadino Spada in 1631.
He was the one who in 1635 hired architect Francesco Borromini to create the garden and make the house seem larger. And Borromini certainly obliged, creating a stunning colonnade that caused an optical illusion to the point that the courtyard appears as if it is 37 meters (121 feet) long, when it's actually only 8 meters (26 feet) long!
Other than that, Palazzo Spada is a fantastic art gallery, housing the works of Artemisia Gentileschi, Titian and Tornioli.
Head over to my post A Guide To The Stunning Palazzo Spada.
Villa Borghese
One of the most famous palaces in all of Rome, this landmark palace – located in Piazzale Scipione Borghese 5, is most well known for its sweeping public gardens.
Situated on the Pincian Hill, a stone's throw from the Spanish Steps, the villa and its gardens were the project of Cardinal Scipione Borghese – the nephew of Pope Paul V.
The palace was designed by Scipione, who sketched the ideas himself, and developed by architect Flaminio Ponzio. It was built outside the walls of Rome at the beginning of the 17th century, with construction starting in 1633.
The English writer John Evelyn described the property in 1644 as "an Elysium of delight" with "fountains of sundry inventions, groves and small rivulets of water."
The gardens were a later development. In 1775, Prince Marcantonio IV Borghese decided that the formal gardens should be transformed into an English landscape garden (fashionable at the time). The whole villa has been extended and developed many times, before eventually being sold – along with the whole estate – to the Italian government in 1902.
Today the property boasts 20 rooms across two floors, with rooms devoted to classical antiques, neoclassical sculpture and landmark Renaissance masterpieces.
You can get your Borghese Gallery tickets on the official site here or on Tiqets here.
For a guided tour of Villa Borghese, click here or here.
For a private tour of Borghese Gallery, click here.
Check out my post A Guide To Visiting Villa Borghese.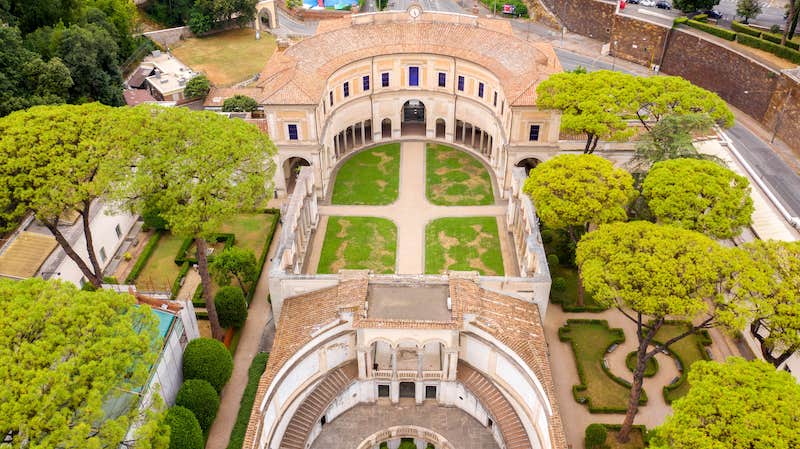 Villa Giulia
If you are into Etruscan history and archeology, Villa Giulia is definitely a must see. Housing the Museo Nazionale Etrusco, it's located in Via di Villa Giulia 9, actually really close to the Borghese Gallery.
Once a holiday residence for Pope Julius III, the project of the 16th century villa was undertaken by many artists and architects of the time, including Michelangelo. Once inside, make sure to spot the sarcophagus of the spouses – it's the finest piece in the gallery.
Pair a visit with that of the National Museum in Tarquinia and Tarquinia Necropolis for a full overview of Etruscan art.
To book a guided tour of Villa Giulia, click here.
Palazzo Altemps
Home of the National Museum of Rome, 15th century Palazzo Altemps is located in Piazza di Sant'Apollinare 46, a stone's throw from Piazza Navona. Here, you'll be able to admire Ludovico Ludovisi's incredible sculpture collections. The nephew of Pope Gregory XV, he accumulated lots of sculptures in his life.
The most impressive sculptures are the very vivid Battle Sarcophagus, Apollo the Lyrist, the Ludovisi Athena, the Throne, the Ares, and the Gallic Soldier and his Wife Committing Suicide, which was discovered in 1621 during the construction of Villa Ludovisi.
Another must see is the Sala delle Prospettive Dipinte, a beautifully frescoed hall.
Palazzo Doria Pamphilj
The Palazzo Doria Pamphilj, in Via del Corso 305 close to Via della Gatta, is one of just a handful of palaces in Rome that are still owned privately by aristocratic families.The palazzo contains a large collection of sculpture, paintings and furniture that have been gathered by the family since the 16th century.
The collection is based on that of Pope Innocent X, who bequeathed it to his nephew, Camillo Pamphilj. Over the centuries, that already enormous collection has grown in size to what is thought to be the largest private collection of art in Rome.
On display across the state rooms are a mind-boggling collection of intriguing antiquities, including the mummified corpse of the family saint. Elsewhere you can find Medieval and Byzantine art, portraits by Renaissance artists including Bernini, Raphael and Caravaggio.
But the interiors themselves are gorgeous; gilded and elaborate, with frescoes and antique furnishings to match, these are sure to wow any visitor. To put the scale and grandeur of this palazzo into perspective, Villa Doria Pamphilj boasts more rooms than Buckingham Palace – over 1,000!
You can book your ticket online on the official website here. Tickets purchased on the official site can't be refunded and changes to the reservation are not allowed, so for more flexibility, you may want to purchase them on a third party booking site. For more information, click here.
For a private tour of Doria Pamphilj Gallery, click here.
Don't forget to read my posts A Curated Guide To Doria Pamphilj Gallery and A Guide To Visiting Villa Doria Pamphilj, Rome.
Palazzo Colonna
This is one of my favorite palaces in Rome. Located in Piazza dei Santi Apostoli, 66, it's steps away from Piazza Venezia. The palace once belonged to the wealthy Colonna family. Construction saw a mix of style which include Renaissance, Baroque and Roman Rococo.
The palace itself is very well kept, with intact antique furnishing, tapestries, marble floors, etc.; but you will want to visit to be able to admire the impressive art collection, with paintings of Pinturicchio, Carracci, Guido Reni, Tintoretto, Bronzino, Guercino, Veronese, Vanvitelli and more.
The most beautiful room of the palace is the Great Hall, lined with beautiful mirrors, sculptures and paintings and a frescoed ceiling that depicts the battle of Lepanto.
Palazzo Pallavicini Rospigliosi
You probably haven't heard of the Palazzo Pallavicini Rospigliosi and its Casino dell'Aurora, but if you like your sightseeing to be more about lesser-visited attractions, then you should note this place down in your Rome itinerary.
Situated on the highest point in Rome, in Via XXIV Maggio, 43, the casino – part of the Palazzo Pallavicini-Rospigliosi – was built in 1570.
It has a long, illustrious history. For one thing, the ground on which the casino stands (roughly around two acres) once belonged to Julius Caesar himself. After him, it was owned by the historian Sallust, and then a line of Roman emperors – beginning with Tiberius – were the owners of this property. Later they were the site of the Baths of Constantine.
Construction on the modern palace and casino as they appear today began in 1621 on the orders of Cardinal Ludovico Ludovisi, nephew of Pope Gregory XI. Over time, the property was expanded, going on to occupy 90 acres of land.
The casino itself was originally built on the designs of a hunting lodge. Spread over two stories, it features a large central hall which is bordered by two smaller halls. In 1704, the powerful Pallavicini-Rospigliosi family purchased the property – and its been in their hands ever since.
Visitors can step inside this landmark building today and see frescoes by an array of notable artists. Most notably, there's the fresco by Bolognese artist, Guido Reni (1575-1642), known as "L'Aurora" – this is where the Casino takes its name from.
There's also the stunning frescoes "Triumph of Fame" and "The Triumph of Love" by Roman artist, Antonio Tempesta (1555-1630).
It's not just the art. The interiors of the Casino themselves feature an array of marble and travertine moldings, accented with ancient Roman sculpture.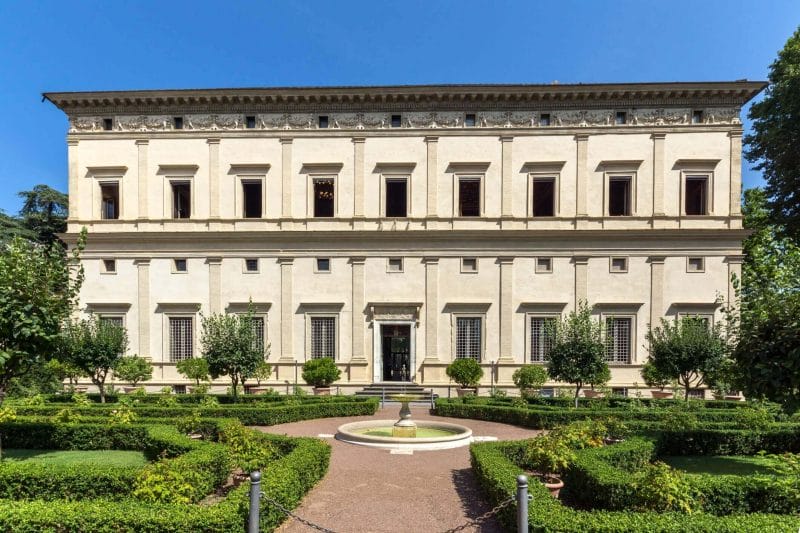 Villa Farnesina
This is one of my favorite palaces in Rome. Located in Via della Lungara, 230, in the lively Trastevere, Villa Farnesina was designed by architect Baldasarre Peruzzi and built between 1506 and 1511 for Agostino Chigi, who then named it Villa Chigi.
It was meant to be a place to wow wealthy Romans, and with the lavish decorations and beautiful garden it certainly did.
The Renaissance palace is known to be packed to the brim with beautiful paintings by Raphael. The most beautiful room is definitely Raphael (and his students) painted Loggia of Cupid and Psyche.
Other rooms you will be in awe of are the Hall of Galatea, where you can see Raphael's Triumph of Galatea; and the Room of the Perspectives.
For guided tours of Villa Farnesina, click here.
Make sure to read my post Where To See The Works Of Raphael In Rome.
Palazzo Silvestri Rivaldi
It's shocking this palace never gets more attention, since it's actually really close to the Colosseum. The 16th century palace was abandoned for the longest time, until renovation works started in 2004 and it finally opened to the public.
Inside, you will be able to see frescoes from the school of Raphael; and more than 600 marble sculptures of Greek and Roman origins, dating back from the 5th century BC to the 4th century AD, and known as Torlonia Marbles since they were a private collection of prince Alessandro Torlonia.
Palazzo Corsini
I often say that Trastevere is home to some of Rome's most interesting sights, and in fact, right in front of Villa Farnesina, in Via della Lungara 10, you will find Palazzo Corsini, a unique art gallery located in a late Baroque palace that belonged to the Corsini family and that has been the home, among others, of fashion designer Elsa Schiaparelli.
The highlight of the visit is certainly Caravaggio's 1604 John the Baptist painting; but you will also be able to spot other Caravaggio's, Van Dyke, Rubens and Fra Angelico's pieces. Make sure to also spend some time in the stunning Biblioteca Corsini, a library decorated with frescoed ceilings, columns and statues.
Head over to my post Where To See The Paintings Of Caravaggio In Rome.
Palazzo Barberini
With its 12,000 square meters and 187 rooms, this is one of the largest palaces in Rome. You will find it in Via delle Quattro Fontane 13, where it houses the Galleria Nazionale d'Arte Antica.
Beautifully decorated with Renaissance and Baroque paintings and frescoed ceilings, this is where you'll be able to see Raphael's famous La Fornarina, the portrait of the "baker's daughter" with whom the artist fell in love while he was working on the frescoes of Villa Farnesina.
Palazzo Barberini is also home to Caravaggio's Judith Beheading Holofernes and Artemisia Gentileschi's Self Portrait. For a wow factor, check out Cortona's Triumph of Divine Providence, which was commissioned by Pope Urban VIII in 1632, and finished by Cortona in 1639.
To get tickets to Palazzo Barberini, click here. For a guided tour, click here.
Palazzo della Cancelleria
In Piazza della Cancelleria 1, the Palazzo della Cancelleria was built in 1483 upon wishes of Cardinal Raffaele Riario, a nephew of Pope Sixtus IV, and became property of the Vatican in 1516, when Pope Leo X seized it after finding out that Cardinal Riario was plotting to have him assassinated.
The Pope thus donated the palace to his cousin Cardinal Giulio de Medici (future Pope Clement VII), who was the Vice-Chancellor of the Church (hence the name Palazzo della Cancelleria).
Designed by Bramante (the master behind the beautiful loggia) and Bregno, the travertine facade is a stunning example of Renaissance art. The main floor, known as "piano nobile" is decorated with carvings meant to symbolize the power of Cardinal Riario.
History has it that in order to build the palace, other sites in Rome were stripped – for example, 44 granite columns were taken from the Theater of Pompeii, and marble was taken from the Colosseum.
The most impressive sight here will be the Hall of the Hundred Days, painted by Giorgio Vasari painted in a mere 100 days upon orders of Cardinal Farnese. Another thing worth mentioning is that the remains of a 4th century basilica were found in the courtyard in the 19880s.
Pin It For Later!