Among the most important landmarks in Rome, the Pantheon is an iconic building in the historic center of town, located in one of the nicest piazzas. This part of town is actually a great neighborhood to stay to explore the city – especially if you are visiting Rome for the first time.
If you are looking for the best hotels near the Pantheon, Rome, you are in the right place. I have selected the best places to stay in the area, with options for any kind of traveler and any budget.
Make sure to read my post A Guide To Visiting The Pantheon.
13 Best Hotels Near The Pantheon, Rome
Luxury hotels near the Pantheon
This hotel is situated in the old Singer Building which was changed into a chic boutique hotel in 2018. The transformation brought stylish design and high-end service into this iconic building but retained original features such as the eye-catching Art Deco staircase, paneled round lifts and ornate ceilings. All of these beautiful features in this restored palazzo take centre stage.
Modern details have been added, including the showstopper of a restaurant and bar. Set over two stories, it features a wraparound terrace, rooftop views and plush seating as well as delicious food and drinks. There are also indoor and outdoor lounge areas for guests to recline in too.
There are 30 rooms to choose from here. Each is decked out with parquet floors, color pops and custom paneling; there are also nine suites for those who want a little bit more room while traveling with their family. Some rooms face the attractive inner courtyard of the building while others look out across the city.
As the name of this hotel might suggest, it is mere steps from the storied Pantheon. That means that as soon as you leave the front door, you'll have many of Rome's top sights within easy walking distance – even the Piazza Navona is a stone's throw from here.
But don't let the location fool you. The Pantheon Iconic Rome Hotel is actually tucked away down a narrow side street meaning you'll get a slice of solitude during your stay in the Italian capital.
The building itself is an elegant palazzo that has been stylishly updated to become this high-end accommodation. Throughout, the decor here has taken inspiration from the temples of Ancient Rome. Here you'll have 79 rooms to choose from, all imbued with boutique style and elegance, with top of the range mattresses, smartphones for guests to use and luxury amenities.
The dining at this hotel really shines though. The on-site Dionysus restaurant is run by a Michelin-starred chef.
For a slice of old-school luxury in the form of polished Art Deco style aesthetics, look no further than Chapter Roma. This incredible hotel is strewn throughout with dark green and orange velvet furnishings, wood floors and exposed brick walls. The building itself actually dates back to the 19th-century, but it's not all historic – there's a sense of fun and light-hearted flair to the decor throughout.
The rooftop terrace is a wonderful place to unwind – it's dotted with sofas and signs exalting phrases like "Life's Better On Top". Of course, there is a bar up here too. Elsewhere, guests can start their day with the hotel's breakfast buffet served up in its fresh and airy wood-paneled cafe.
Youthful, energetic and with eye-catching artwork dotted around the place, it's almost like a sleek, urban apartment – you may just want to move in yourself.
Mid-range Hotels near the Pantheon
You can't get much closer to the Pantheon than right opposite the ancient sight, and that's exactly where this hotel is located. Situated on Rome's Piazza della Rotonda, Antico Albergo del Sole al Pantheon is a four-star boutique hotel with all the stylish furnishings and polished fixtures you'd expect.
Each of its 25 guest rooms have been lovingly designed to reflect the long 500-year history of the building in which the hotel is situated. The hotel takes many of the details from the 15th-century heyday of the building and adds touches of modernity throughout, so you can comfortably enjoy unwinding here after a busy day in the city.
Rooms at Antico Albergo del Sole al Pantheon are fashionable with parquet flooring, plush rugs, velvet furnishings and are accented with houseplants for that extra touch of contemporary cool. Stay here, and you'll be joining the ranks of famous guests who have stayed at this storied hotel over the years including Jean-Paul Sartre and Simone de Beauvoir.
Another of Rome's top hotels near the Pantheon, located actually in Piazza della Rotonda itself, Albergo Abruzzi is actually situated just meters away from the attraction. This three-star family-run hotel is small and compact with 24 rooms to choose from all of which have been recently renovated.
An ideal mid-range option, guests at Albergo Abruzzi can enjoy the sparklingly clean rooms here – they're spacious, bright and decorated with eye-catching artworks. In-room amenities include air-conditioning, smartphones and sound insulation so you can get a good night's sleep. That also means it's a good option for families. In fact, the hotel openly welcomes children.
Staying here means you can enjoy an American style buffet breakfast that's served up daily in a cafe on the piazza. Room service is also provided around the clock, so you won't even have to lift a finger. Staff will also be on hand in case you need to ask advice on what to do, what to see and (most importantly) what to eat in the surrounding area.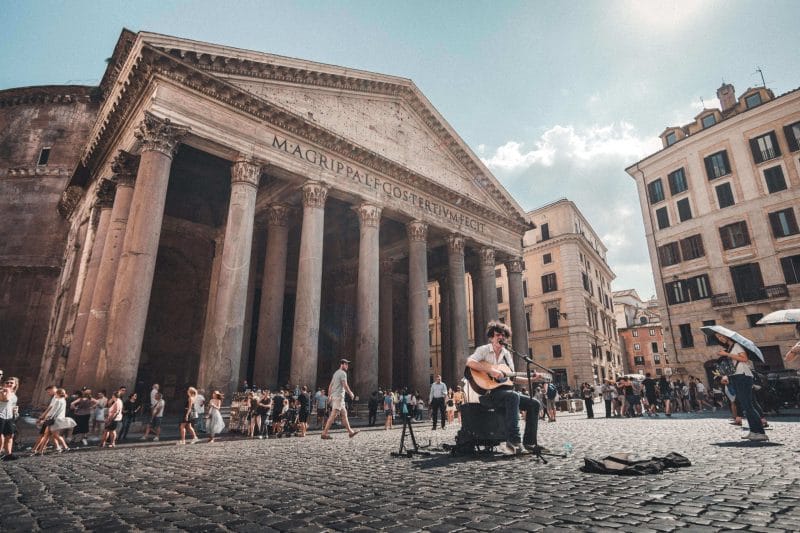 This small guest house may only have six rooms to its name, but that doesn't make it any less of an option if you're looking for somewhere to stay near the Pantheon in Rome. Sun Suite Luxury Pantheon is a boutique offering that occupies the second floor of a historic palazzo.
The location, a five-minute stroll to the Pantheon in Rome's historic centre, puts you in a prime position to explore the Eternal City at your leisure. The hotel also boasts incredible views out over the archaeological complex of Largo di Torre Argentina – a group of four ancient Roman ruins, including remains of Pompey's theatre.
The rooms, however, aren't ancient at all. They're very stylish, bright affairs, with gleaming surfaces, and come with large, comfortable beds and contemporary bathrooms filled with up-to-date fittings. The whole place feels calm – almost spa-like – in terms of atmosphere.
There's not a restaurant on site, but the hotel does offer room service. If you're in need of a coffee first thing, don't sweat – each room has its very own espresso machine.
Budget Hotels near the Pantheon
Reginella Suites is yet another historic building in Rome where guests can enjoy an attractive mix of original features (think wood beamed ceilings) and modern, contemporary fittings. This time around, however, it's great value for money and makes for a good place to stay for those on a budget.
The guest rooms here offer rustic-style interiors with large windows and wooden floors feeling overall very cosy and almost cottage-like.
The staff at this budget Rome hotel are very friendly and will help you settle into your vacation with ease. There are also lots of little extras dotted around to make you feel at home – there's an a la carte breakfast available for guests to enjoy each morning, for one thing. There's also room service.
When it comes to location, the three-star Reginella Suites is ideally located for exploring the city. There are a lot of restaurants and cafes, as well as sights and even transport connections close by.
Hotel Smeraldo provides a pleasant place to stay in Rome while surrounded by the ancient sites of the city. From this budget option, it's easy to reach not only the Pantheon but also the Campo de' Fiori and the iconic Piazza Navona. It's also close to Largo Argentina, meaning you'll be well served by both bus and tram connections.
The hotel itself is situated in a recently renovated historic building, which offers a choice of 50 rooms – of varying sizes and styles – for guests to stay in. They range from compact to more spacious options – all of them are affordable, yet luxurious.
It's a perfect three-star gem of a hotel to stay and has just about everything you need for a convenient stay in the city. It boasts a rooftop terrace (complete with cocktail bar for evening drinks) and an on-site eatery to boot.
Some rooms have balconies while others feature spa showers. Pets are allowed – good news if you're traveling to Rome with your pooch!
Tula Inn is actually situated inside a historic building that has been beautifully updated, with contemporary fittings and furnishings and an overall minimalist aesthetic. So while it may only call itself a guesthouse, it certainly feels more on the side of a boutique hotel than anything else.
This guesthouse has six rooms and, despite being a budget option, each one is nicely decorated with a modern finish. They're bright and spacious, and have a homely kind of personal vibe to them, with white-washed walls, wooden flooring and houseplants.
Elsewhere there's a guest lounge, which features a kitchen and dining area really adding to the value-for-money factor at Tula Inn. It's a good option for everyone from solo travelers all the way to families.
The location is perfect for exploring the city. The Pantheon is mere minutes away on foot, while the Campo de' Fiori and the lively Trastevere area are less than half a kilometer away.
Don't be put off by the name – this is far from anyone's idea of hell, let alone Dante's. Instead, this bed-and-breakfast provides a bargain place to stay right in the historic heart of Rome. Unlike some of the other hotels in Rome, this place has retained a real traditional atmosphere; the rooms here aren't the most fashionable or cutting edge, for example.
What you do get here is an antique style place to stay in Rome – much more Italian, you could say. Rooms come complete with tasteful dark wood furnishings and shuttered windows and oil paintings adorn the walls. That said, the bathrooms are modern, and the guest rooms are spacious.
Rooms also boast city views, so you can enjoy a view out over the old rooftops as you sip coffee at your table. They also come with air-conditioning (a must in summer), a flatscreen TV and a fridge. There may only be three rooms to choose from, but that just makes it a more intimate place to stay. The hotel also provides guests with a complimentary Italian breakfast each morning, which can be eaten in your room.
Apartments near the Pantheon
For those who want a home away from home during their trip to Rome, then this apartment is the ideal place to stay. Located just 500 meters away from Piazza Navona, the Pantheon is also just 300 meters from the front door. Staying here means you'll have these famous sights (and more) very close by.
The apartment itself, situated inside a historic building, is well designed, with a clever use of space. The front door opens up into a tiled kitchen and dining area, with a small wooden ladder leading up to a mezzanine floor with a large comfortable bed. Below, the bathroom has been recently updated and is clean and modern.
Everything feels very comfy and cosy here. The hosts are good too, making sure your stay goes without a hitch. There's even daily housekeeping so you won't have to keep the place clean. You'll also be given a smartphone to use – very handy for helping you to get around the city.
This one-bedroom apartment is a wonderful place to stay if you want a short-term base for exploring the city. It's a bright and spacious apartment that has been newly decorated to a high degree, adding in modern furnishings alongside historic features such as high beamed ceilings, cornices and large windows.
Throughout, the apartment has hardwood flooring and has been decorated with powder blue walls for a charming, cottage-y feel.
Amenities include a fully equipped kitchen, so you can make your own meals with ease – a separate bedroom (great if you're not a fan of studios); a lounge and dining room; and a contemporary bathroom.
And the location? It's situated just 200 meters from the Pantheon with Piazza Navona and Campo de' Fiori close by too.
Further Readings
Traveling to Rome? Make sure to read my other posts:
Pin It For Later!