Are you looking for where to stay in Bari? This post has you covered!
Bari is one of the most underrated cities in Southern Italy. I have visited a few times – the first, well before my blogging days – and I have always enjoyed it way more than I thought I would.
If you are considering a trip to southern Italy which includes Puglia, and are thinking of exploring the stunning Valle D'Itria, it's likely you will pass by Bari at some point. Make sure to stop there for a few days: I am sure this city will cast a spell on you with its magnificent vistas, its narrow alleys, the welcoming locals and all the delicious food.
But where should you stay when visiting Bari? Since I have visited a few times, I thought I'd share my tips on the best area to stay in Bari, and provide some guidance on the best hotels in Bari, with something for all budgets and travel needs. Continue reading to find the perfect place to stay in Bari!
For a travel itinerary around Puglia, make sure to read my post The Best 2-Weeks Puglia Road Trip Itinerary.
To best prepare for your trip, read my post What To Know Before You Visit Puglia.
You should also read my post 13 Cool Things To Do In Bari, Italy.
Where To Stay In Bari
Murat – Where to stay in Bari for first timers.
Located just south of the Old Town, the district of Murat connects up the center of Bari with the main railway station. The area takes its name from Gioacchino Murat, marshal of Napoleon, who was behind the construction of this new part of Bari in 1816. The old walls of Bari were dismantled, and the new district was built on a grid plan.
During the Fascist era and following World War II, Murat underwent significant development. The result is a high-density mix of architecture, with buildings home to shopping malls, restaurants, and bars.
Murat is where to stay in Bari if you want to be in the middle of the action, with good connections to public transport, as well. Incidentally, it's where I stayed the first time I visited as I need to move around by train quite a bit and the location was very convenient.
Below are some of the best hotels in Bari's Murat district.
Luxury – Mercure Villa Romanazzi Carducci
This branch of the Mercure hotel chain offers up polished guest rooms along with a long list of fantastic amenities to make full use of. For starters, there's a large outdoor swimming pool located in the lush grounds, a well-equipped fitness center, and a restaurant and bar. Location-wise, you'll find it situated close to Bari Centrale train station. It's definitely one of the best hotels in Bari.
Mid-range – Moro 34
Moro 34 is another of Bari's centrally located accommodation options. This guest house features a range of rooms, all of which have breakfast included in the room rate. Bike hire is available, so you can explore the nearby streets with ease, with sights like Bari Cathedral just over a kilometer away (and with restaurants and cafes on the doorstep, too). It's one of the best places to stay in Bari overall.
Budget – Bari Antica Boutique B&B
This charming property offers a collection of private rooms for visitors to choose from, some of which come with their own terraces to soak up the sunshine. Each guest room has been carefully decorated with comfort and style in mind. Amenities at this property include bikes for hire, a shared lounge and breakfast included in the price.
Bari Vecchia – Where to stay in Bari for history buffs
Literally meaning "Old Bari", Bari Vecchia is a place that seems to have paused in time. Walking around its narrow, cobbled streets feels more like walking around a medieval village than a city. Here, visitors can get lost among the alleyways that twist and turn through this northern part of Bari, which also boasts a seafront location.
Bari is full of hidden piazzas to discover, charming trattorie where you can sample rustic cuisine, and several interesting historic sights. One of these is the Cathedral of San Sabino, a 13th-century giant of a building that features an iconic bell tower made of white stone, not to mention a fascinating crypt. There's also the Basilica di San Nicola, which dates back to 1197 and remains an important pilgrimage destination to this day.
It's in the neighborhood of Bari Vecchia that you'll find what remains of the old city walls, too, as well as the Castello Svevo, the Norman-era castle built in 1132. Needless to say, this is where to stay in Bari for history lovers and those who want to learn more about the culture of the area.
If you are traveling to Bari by car, however, keep in mind it will be complicated to find a parking spot. When I recently visited with my sister, we had a car and we had to park quite a way as nothing was available nearby. Just make sure to look for a place that has parking space or ask for recommendations on where to park.
Here are the best places to stay in Bari Vecchia.
Luxury – Palazzo Calò
The historic Palazzo Calò is an accommodation option with stripped back charm, allowing some of the building's historical features to shine, featuring original stone walls, spiral staircases and wood beamed ceilings. One of the best things about this property is its rooftop terrace, which features views out across the old city. It's easy to see why it's often mentioned as one of the best hotels in Bari.
Mid-range – Al Pescatore
Al Pescatore is a polished B&B located near the Bari's storied cathedral. Guest rooms here are decorated with calm color palettes, while large windows allow the views over this historic part of town to take center stage. It's perfectly located to explore the surrounding streets.
Budget – B&B La Maison Del Borgo Antico
Set inside an old house, the location of this simple yet comfortable property gives it great value for money. There's plenty of interesting charm throughout the B&B, while the owners are endlessly helpful. And here you can start your day with a delicious breakfast (included in the price).
Porto – Where to stay in Bari on a budget
Bari is home to an important international ferry port, connecting up this part of Italy with neighboring European destinations, namely Albania, Montenegro, Croatia and Greece.
Because of its international ferry connections, the port area, which is literally called Porto ("Port"), is chosen by many visitors as a place to stay when they arrive, or depart, from here. In fact, the port of Bari has long been known as Europe's door to the Balkans – and to the Middle East.
Because of it being a working port, Porto is slightly more industrial than other parts of Bari. However, the plethora of affordable accommodation options in the area means visitors can easily stay a night or two even if they are traveling on a budget.
Porto is also not too far from the center of Bari, meaning the historic Bari Vecchia – among other districts – can be easily reached on foot or by bus.
Below are some good accommodation options in Porto.
Luxury – Dimore Macrì
This clean, modern collection of apartments provides a chic place to stay in Bari in the busy port area. There's a choice of different units to choose from, some of which boast luxurious spa baths, but all of which have been newly renovated with contemporary decor; some even come with their own balconies. They all have seating areas and a small kitchen.
Mid-range – DeShome Guest House
Reflecting the history of Bari, DeShome Guest House takes up space inside an old stone house. Located close to nearby eateries and interesting local sights, this accommodation option is a great place to enjoy a good night's sleep; it's comfortable and everything is well maintained.
Budget – Flavì
This tiny little guest house, which overlooks the port, features compact apartments – ideal for those arriving in (or departing) the city by ferry. Everything is clean and up-to-date, and the apartment features all the amenities you'll need to help make your stay smooth and comfortable. There's even a small terrace where you can watch life go by in the port.
Quartiere Umbertino and Madonnella – Where to stay in Bari close to the beach
To the east of Murat lies the neighborhood of Quartiere Umbertino and, next to that, Madonnella.
Quartiere Umbertino, hugging the Adriatic coast, features busy streets lined with eye-catching Art Nouveau buildings, making it an attractive area to stroll. Similarly, Maddonnella, which sprang up towards the end of the 19th century, is picturesque and comes with coastal credentials in the form of a beach and seafront promenade.
Interestingly, its name comes from an image of the Madonna which once looked out on the fields of the area from a niche for several centuries. This old terracotta image is thought to have been destroyed during World War II, but a new stone version can now be found in Madonnella's central square.
Both areas are good to stay in for those who like to explore, and who like 20th-century architecture, but most of all if you're a fan of the beach it's a good spot to base yourself.
Continue reading to discover where to stay in Quartiere Umbertino and Madonnella.
Luxury – iH Hotels Bari Grande Albergo delle Nazioni
This large, purpose-built hotel sits right on Bari's seafront and makes for an ideal place to spend time unwinding during your trip. The interiors here reflect the nautical heritage of the city, while adding a quirky modern flair to the decor. Many of the lounges and guest rooms boast large windows that put sea vistas at center stage; amenities include a swimming pool, bar, and on-site restaurant.
Mid-range – B&B Baciami Ancora
B&B Baciami Ancora is a sophisticated place to stay in Bari. All rooms here have been chicly decorated with a warm brown and caramel color palette, and which feature polished, well-appointed bathrooms to match. There's an Italian style breakfast on offer each morning, while days here can end with a couple of drinks at the onsite bar.
Budget – RosAmar
The bright, fresh apartments available at RosAmar make for the ideal base for staying near the coast in Bari. Located just 100 meters from the beach, the apartments here include all the home comforts you'll need, with breakfast included as part of the price, too. The friendly and helpful host makes sure everything runs smoothly, but the self-check-in makes this feel like an independent accommodation choice.
Bari Palese – Where to stay in Bari close to the airport
Far from the center of Bari and to the west of the city, lies the district of Bari Palese. This large neighborhood is home to Bari Karol Wojtyla Airport, the city's international transport hub with connections all over Europe. For this reason, Bari Palese is where to stay in Bari if you have an early morning flight, or if you arrive by plane late at night.
Just because it's outside the center, and near the airport, that doesn't mean that Bari Palese is devoid of sights or culture. In fact, it's here that you'll find the 9th-century Church of Annunziata; built in sandstone, it's a combination of Byzantine architecture and later Norman influence.
In terms of accommodation, there is a handful of affordable hotels and B&Bs to stay in, which can act as a good alternative for a base in Bari away from the nightlife and bustling center of town. To get into the center, it's a relatively straightforward train ride from Bari Palese station to Bari Centrale (it takes around 10 minutes).
Below are the best places to stay in Bari Palese.
Luxury – Parco Dei Principi Hotel Congress & SPA
This large, modern hotel is a four-star property situated a stone's throw from Bari's airport. Set among 13,000 square meters of private land, the hotel boasts a very long list of amenities, including a spa and wellness center, an indoor swimming pool, a Turkish bath and a well-equipped gym. There are also two onsite restaurants and the bonus of an airport shuttle.
Mid-range – Bed and Breakfast La Villa
This B&B option is located around 700 meters from the beach at Bari Palese, which means you can spend your time near the coast. The villa itself boasts a selection of clean and comfortable guest rooms decorated with contemporary style. Guests can make the most of the southern Italian sunshine on the shared terrace, which is lined by greenery; as a bonus, breakfast is also included in the price.
Budget – La Casa Particular
The simple yet welcoming rooms at this B&B make it the ideal budget accommodation option in this neighborhood of Bari. Each room at La Casa Particular comes with its own bathroom and seating area; each room also looks out onto the shared garden area. One of the main benefits of staying at this property is not only the free breakfast, but also the outdoor swimming pool!
San Nicola Stadium – Where to stay in Bari if attending a game
Bari's large football stadium, featuring a capacity of 58,000 people, is the home of the city's team, FC Bari. The stadium itself opened in 1990 as a venue for the FIFA World Cup held that year. It's not just football that takes place in this flower-shaped arena, it's also a venue for large-scale occasions such as concerts and other sporting events.
Visitors to Bari who are in town to attend such events should consider staying in the area, given that it's set on the southeastern edge of the city. The public transport connecting Bari Vecchia or Murat, for example, isn't that straightforward – so it's easier to just sleep here.
There's a good amount of accommodation nearby, much of it centered on newly built, modern hotels constructed around the time of the stadium's opening.
In the fields surrounding San Nicola Stadium are several crumbling ruins, many of them former farmhouses, some of which, like the late 18th-century Villa Lamberti, are fortified.
Below are the best hotels in Bari's San Nicola area.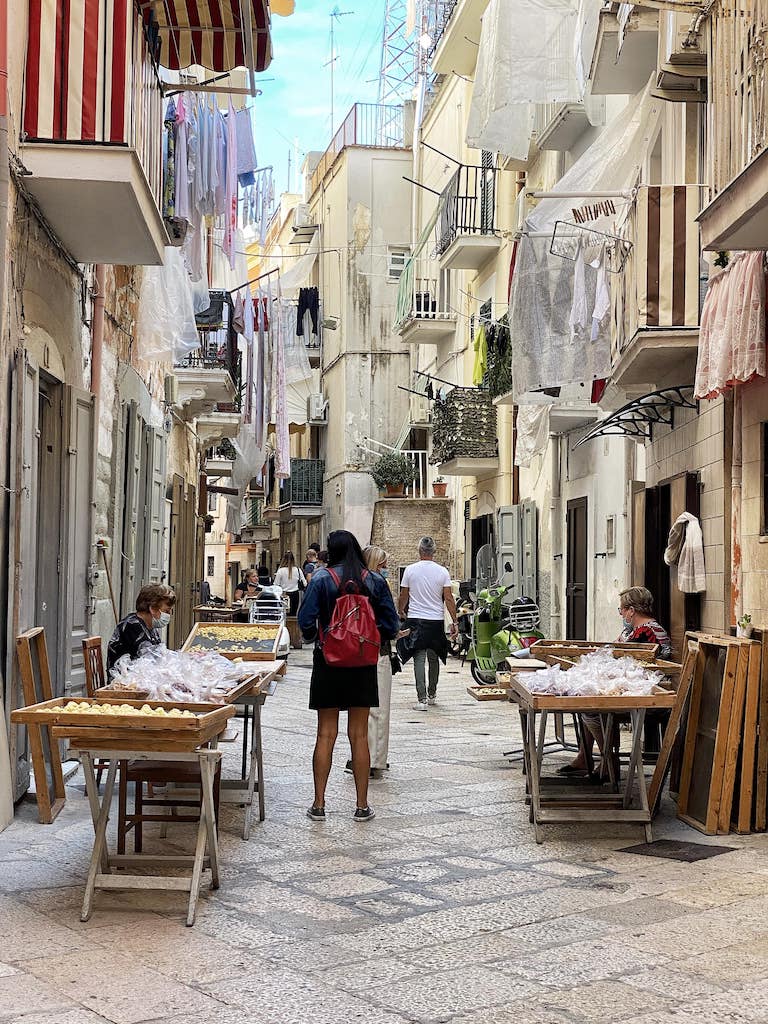 Luxury – The Nicolaus Hotel
This four-star hotel offers up a high-end accommodation option close to San Nicola Stadium. Staying here means guests can enjoy dining at one of two onsite restaurants, one of which is located on the 14th floor of the property. Amenities include an indoor swimming pool, gym, and sauna, while guest rooms are sleek, spacious and modern.
Mid-range – Comeacasatua
Run by a friendly local couple, this comfortable hotel is a warm and welcoming place to stay in Bari. Mornings here start with a hot cup of coffee, after which you can explore nearby sights. The hosts will help you rent a car if you'd like to do that (the property features free parking). Rooms here are large and feel cozy – as the name suggests!
Budget – Villa Franca
The beautifully decorated rooms at Villa Franca range from compact private rooms all the way to your own spacious apartments. Full of Art Deco style, the decor is one thing, but the apartments are also well equipped and run by friendly owners who'll make sure your stay runs as smoothly as possible. The free private parking makes it great for those arriving by car on a road trip.
Further Readings
If you are planning a trip to Puglia, these other posts should be useful:
Pin It For Later!