At the heart of Puglia, in the heel of Italy, Valle d'Itria (Itria Valley, in English) is one of the most charming places to visit in Italy. You may not have heard of it before, but I bet that if I say this is where the trulli (the small white conical huts) are located, you will understand what I am talking about.
This part of the country is increasingly becoming a popular destination among Italians and foreigners, who enjoy the rolling hills, the olive groves (this is one of the best olive oil producing regions in the world!), the quaint small towns, and the overall relaxed atmosphere.
If you are thinking of visiting the Itria Valley (I suggest spending a minimum of a week there), this post will be useful. Here you'll find a selection of the places you can't miss, and some practical information to plan your visit.
The Best Places To Visit In Valle D'Itria, Puglia
Alberobello
The most famous town of Valle d'Itria, Alberobello is known as the trulli town. Trulli are white, conical dry stone huts with corbelled roofs. The town is now a UNESCO World Heritage site, and it is where you'll find the highest concentration of them (there are 1030!).
You can visit the smallest trullo in the historic center, known as Rione Monti or, if you walk across the street to the Rione Aja Piccola, go to the Trullo Sovrano, the largest one in Alberobello and the only two-floors one. Rione Aja Piccola is where you'll also find a viewpoint – it's the best spot for panoramic photos.
For a guided tour of Alberobello, click here.
Check out my post A Short Guide To Alberobello.
Ceglie Messapica
One of the most charming towns of the Itria Valley, Ceglie Messapica is also one of the oldest towns in the region – some sources suggest it was founded in the 15th century AD!
Home of the Castello Ducale (Ducal Palace) and of the gorgeous Sant'Anna Church, another place you won't want to miss while there is the Piazza del Plebiscito, where the Clock Tower is located.
Small as it is, Ceglie is also home to a handful of excellent restaurants. The best dining experience is by far at Cibus, in Via Chianchie di Scarano 7.
Locorotondo
My sister and I used Locorotondo as our base during our trip to Valle d'Itria, and we couldn't have been happier. A 15 minutes drive from Alberobello, it is significantly quieter but doesn't lack any of the charme.
The historic center of town follows a circular map and is built on a hilltop, so the views from afar are striking. It is also home to the oldest trullo in the region (yes, that's not in Alberobello!), called Trullo Marziolla.
If you are a fan of wine, don't miss a Locorotondo DOC wine tasting experience!
For a guided walking tour of Locorotondo, click here.
Read my post What To See And Do In Locorotondo.
Cisternino
Right next to Locorotondo, Cisternino is another typical Valle d'Itria town with whitewashed buildings and cobbled alleys. The main sights are St. Nicholas Church (known as Chiesa Matrice) and the towers – the Torre Normanno Sveva, Torre Amati and Torre Capece.
Hang out at the airy Piazza dell'Orologio to catch some local action and enjoy a meal in one of the local "fornelli" – butcher shops which serve delicious barbecued meats.
For a guided tour of Cisternino, click here.
Head over to my post The Best Guide To Cisternino.
Martina Franca
This is actually my favorite town in the Itria Valley, and also the largest one. The city was founded in the 10th century AD, and its historic center is a maze of white, narrow alleys with gorgeous churches and colorful doors for just that pop of color.
Lama – that's how the historic center is called – is where you'll find the 17th century Palazzo Ducale and the gorgeous San Martino Basilica. Another sight you should not miss is the Arco di Sant'Antonio, also known as Porta di Santo Stefano (Santo Stefano gate).
If you are feeling hungry but only want a quick meal, have a plain capocollo sandwich – this slice cured pork is incredibly delicate and delicious!
For a tour of Martina Franca which includes wine tasting, click here.
Make sure to read my post The Ultimate Guide To Martina Franca.
Ostuni
Known as the White City (Città Bianca, in Italian), Ostuni is one of the most popular places to visit in the Valle d'Itria. Much like other towns in the area, the historic center is built on a hilltop, but this time it is overlooking the sea!
That's where you'll be able to spot the impressive Gothic Cathedral, which dates back to the 15th century. Facing that, in Piazzetta Cattedrale, you can't miss the Arco di Scoppa – a beautifully intricate arch that connects the Bishop's Palace and the Seminar's Palace.
Make sure to walk along the city walls and hang out at Piazza della Libertà to catch a bit of local action too.
For a walking tour of Ostuni, click here.
Don't skip my post A Brief Guide To Ostuni.
Grotte di Castellana
Castellana Grotte are truly impressive caves located in Castellana. You can only visit them on guided tours as they are highly protected. The guide will lead you through the various chambers while sharing the history of how the caves were discovered and explored.
Tours last about 90 minutes and cost €18 and are offered in various languages. You can get tickets once you get there.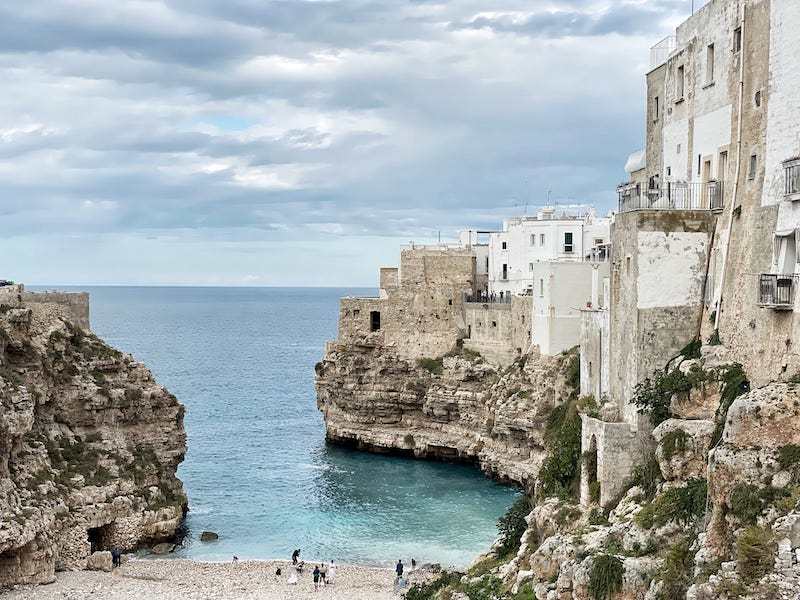 Places To Visit Near Valle D'Itria, Puglia
The great thing about Valle d'Itria is that it's actually so centrally located in Puglia that you can easily visit many other places if you pick it as your base. Bari is just one hour away by car; Lecce an hour and a half. But there are more places that are actually even closer! Here are the ones that you should not miss.
Polignano a Mare
An incredibly popular place to visit in Puglia, Polignano a Mare is a small coastal town famous for its Lama Monachile beach – a tiny cove with waters of an incredible shade of blue that is located literally in the center of town.
The beach is actually rather uncomfortable as it is pebbly, but so scenic that you should not miss out on the opportunity to photograph it.
Head to the viewpoint of Terrazza Santo Stefano and then to the Pietra Piatta (access is right by the statue of Domenico Modugno, singer of the famous "Volare") for the best photos.
Don't miss a walk through the historic center of Polignano, where you can hang out in Piazza Vittorio Emanuele II – that's where the 13th century Santa Maria Assunta church is located. And if you are visiting in the summer months, enjoy a boat tour of the caves.
For a boat cave tour in Polignano a Mare, click here.
Read my post The Complete Guide To Polignano A Mare.
Monopoli
A quick drive from Polignano a Mare, Monopoli is just as charming – minus the crowds! The historic center of this small coastal town is where you'll find the beautiful Basilica della Madonna della Madia, the Cathedral whose construction was started in 1107 and finally completed in 1772.
Piazza Garibaldi – once known as Piazza dei Mercanti – is the busiest one in town, home to the Torre Civica and the Palazzo della Dogana.
Monopoli's Porto Antico – the old harbor – is probably the most iconic sight. That's where you'll spot the colorful red and blue wooden boats, docked after a day at sea. Make sure not to miss a walk along the Lungomare and the Bastioni at sunset.
For a guided tour of Monopoli, click here.
Check out my post A Quick Guide To Monopoli.
Matera
Matera is actually located in the region of Basilicata, but it's literally across the border from Valle d'Itria and just one hour drive from Alberobello. Thus, if you are planning a trip to this part of the country, it may be worth adding it to your itinerary.
The gorgeous Città dei Sassi is a UNESCO World Heritage site that will take your breath away with its quaint corners, beautiful churches (some are actually rock hewn!) and traditional homes where you can get a glimpse of how local life used to be less than a century ago.
The best thing to do remains a tour of Parco della Murgia, from where you can catch sunset over the city. It literally looks like a fairytale.
For a guided tour of Matera, click here.
For more information, read my post The Best Things To Do In Matera.
Practical Tips To Plan Your Trip
When to visit Valle d'Itria
Puglia is an excellent destination to visit year round. Winter in Puglia is typically mild, with temperatures between 6 and 15°C (43-59°F), though the chances of rain are higher.
Fall and spring are excellent times to visit too – days are longer than in the winter, and temperatures, averaging 20°C (68°F), make it perfect for sightseeing.
You may get quite a bit of rain in the fall, though – that's what happened when I visited in October, but it didn't deter from the fun.
Should you decide to visit in the summer, you'd better be prepared for higher temperatures – often rising above 30°C (86°F) so make sure to double check your room has air conditioning – and larger crowds, especially in August (that's when Italians typically).
Summer months are peak season, so prices tend to be higher too.
For more information, read my post The Best Tips For Visiting Puglia.
How to get to Valle d'Itria, Puglia
Puglia has two airports: Bari International Airport-Karol Wojtyla (BRI), located in the capital of the region and served by regular and budget airlines with flights from various cities in Italy and Europe; and Salento Airport (BDS) in Brindisi, with budget flights connecting it to various European and Italian cities.
You can fly to either of them, but Bari is probably a better choice as there are more flights.
Both airports have a selection of car rental companies where you can pick your car. If you'd rather use public transport, it's best to fly to Bari as there are direct trains and buses to most towns in the Itria Valley.
Bari is a nice city in its own right and you should consider visiting. Make sure to read my post The Best Things To Do In Bari for information on attractions and activities, and Where To Stay In Bari, Italy, for information on places to stay.
How to move around Valle d'Itria
As I have said before, you can get to Valle d'Itria by either bus or train from Bari, and there are indeed services connecting the various towns.
However, these are limited and the region is so scenic that it calls for a road trip. You will have an infinitely better time if you decide to rent a car and move around on your own whim.
Want to have an idea of how much it costs to rent a car in Puglia? Check it out here.
Driving around Valle d'Itria is certainly a lot of fun. However, you may often end up in small roads in the countryside – locally referred to as "contrade."
Locals seem to have no issues dodging those narrow lanes, but I won't deny that despite being accustomed to driving in Italy, even I found it challenging at times. Make sure to drive slowly and keep your eyes open especially at night, when wild animals may walk along the road.
A GPS is definitely useful too – but road works will often force you to take detours. I guess it's all part of the fun!
Looking for an itinerary? My post The Best Itinerary For A Puglia Road Trip will come in handy.
Where to stay in Valle d'Itria
One of the perks of Valle d'Itria is the chance of staying in one of its trulli. Some of them have been turned into gorgeous small apartments fully equipped with everything you need and that easily accommodate a couple or a small family.
For something a bit more traditional in terms of accommodation, you can opt for a masseria (a fortified farmhouse). You will find several in the countryside, typically not far from a small town. Most come complete with a nice pool and gorgeous outdoor spaces where you can relax after exploring the region.
In terms of location, I recommend staying in Locorotondo or in Cisternino. They are much quieter than the more famous Alberobello, which can get truly crowded with tourists during the peak season; and they are centrally located in the valley so that you can easily plan day trips to other towns and attractions in the region.
For the best places to stay in Itria Valley, click here.
You should also check out this useful guide on the best masserie in Puglia.
Pin It For Later!