Deciding what to wear in Rome can be surprisingly hard. If you are planning to visit Rome in the summer, you will have to deal with the terrible heat and humidity, but at the same time you will have to cover up whenever you enter a church. And there will be hordes of mosquitoes ready to bite every bit of exposed flesh you may leave (well, at least that's what happens to me).
If your trip to Rome is in the winter, you won't have to worry about the dress code as much, but you may get rain and – again – humidity may make the city feel way colder than it actually is. So you will have to bundle up to stay warm.
With Rome being the political and administrative center of Italy, the heart of the Italian movie industry, and one of the countries' main economic and financial centers, you may think that locals are always super-fashionable and may feel the urge to get dressed to impress all the time. Let me reassure you that Rome is a very European capital in this sense and while you will certainly find people that are dressed very smartly, casual and comfortable dress are completely acceptable and in fact recommended – especially considering you are there for a purpose: exploring!
If you are finding the task of packing for Rome a challenging one, don't worry! I am a Rome expert and I am about to tell you what to wear in Rome in any season. While this Rome packing list is mostly geared towards female travelers, there are plenty of recommendations in this post that are easily applicable to men too – it's just a matter of adapting my suggestions.
Finally, continue reading to discover what to wear in Rome. Let me start with some useful recommendations.
How To Decide What To Wear In Rome
Dress code
The first thing that you should consider when packing for Rome is the specific dress code for religious places. If you want to visit the Vatican and St Peter's Basilica, or any of the many churches and holy places around the city, you will need to dress appropriately.
The dress code for most religious buildings in Rome is to cover up. Both men and women are required to wear clothes that cover the legs from their knees up, as well as the upper arms. Shorts and skirts above the knee are not allowed. Sleeveless tops, low-cut tops or crop tops are all not allowed.
If you are visiting the city in the summer months when the temperature is high, you might want to pack a coverup which you can throw on over your clothing before you enter a religious space. I always pack a light sarong or shawl to cover my shoulders and chest.
Make sure to read my post The Vatican Dress Code.
Style
No matter what time of year you're heading to Rome, you're going to want to know what to wear in Rome to be as trendy as the locals. Rome is a city of smart-casual dressing, and if you don't want to go around looking like a tourist at every opportunity it's best to stick to simple yet stylish clothes.
When walking around the tourist sites and exploring the city, you will want to make sure that you are wearing clothes that are practical and that fit the dress code for the attractions you're visiting.
In the evenings when you might want to head to bars and restaurants it's all about looking low-key chic. Think stylish but nothing too over-the-top and flashy – it's Rome, not Vegas after all!
Weather
You may be heading to the Eternal City but there's no escaping the weather. In the summer months, the Italian capital is a hot and humid city which means that you should leave any heavy, thick clothing at home. The winter months can bring cold snaps and rainy spells which require sweaters and coats to be worn and umbrellas to keep dry.
Autumn and Spring are both changeable seasons and it's always a good idea to opt for layering during these seasons. The weather can be fairly changeable, in the daytime it can be glorious sunshine, but evenings can be more than a bit chilly.
Make sure to read my posts The Best Time To Visit Rome, A Guide To Visiting Rome In Winter, Should You Visit Rome In August? and A Guide To Rome In October.
Shoes
When thinking of what footwear to pack for Rome I always recommend going for comfort. Think about all of those miles you will be walking from historic site to historic site, from cafe to cafe. If you're wearing shoes that aren't comfortable, you're going to be in a lot of pain by the end of the day.
Choose footwear that you are going to be happy wearing with your outfits and that's suitable for the season; in summer comfortable sandals, in winter warm shoes or trainers.
Pack some smart footwear for the evening too. You don't have to wear stilettos, or they don't have to be heels or brogues, just something which is smart.
If you're planning on doing any day trips from Rome or big walks around the city then make sure to pack a pair of good walking shoes. Alternatively, if you want to spend that day at the beach or by a pool, then a pair of casual sandals or flip flops are a good idea. But flip flops are't meant for walking too long!
Now that you know how to decide what to wear in Rome, let's check out a Rome packing list for the winter, and one for the summer.
What To Wear in Rome In The Fall / Winter
As the temperature starts to drop in Rome, packing for a trip to the city is all about layering. In the Fall, temperatures can still be fairly warm but as the months wear on, expect chilly days and fewer hours of sunshine.
Here is a selection of items I recommend:
Jacket/Coat
Pack a warm winter coat or jacket for your trip. If you're traveling in winter temperatures can be low and you will want to keep warm. A packable waterproof coat for rainy days is also a good idea.
With regards to jackets, I am a fan of Kuhl Spyfire Parka – they also have a jacket and a hoodie version, and a vest for warmer weather.
You can check out the best jackets for your Rome packing list here.
Cardigans and sweaters
Stay warm during winter walks around the city with a few handy sweaters. Pick some that are more casual for the day and one or two that can be paired with outfits for evenings out.
Kuhl has some wonderful warm sweaters that are perfect for colder temperatures. My favorite is the Sienna. The Solace Wrap, on the other hand, can be easily dressed up and is perfect to wear over a little black dress.
You can check out the nicest sweaters here.
T-shirts
Your base layer for exploring the city. Include a few short sleeved t-shirts and perhaps a long-sleeved top to keep you warm in cold weather.
Shop for t-shirts here.
Shirts
Shirts are perfect for dressing up and down a casual outfit. They can add a touch of style to evening outfits and look fashionable in the daytime.
You can check out the best-wear shirts here.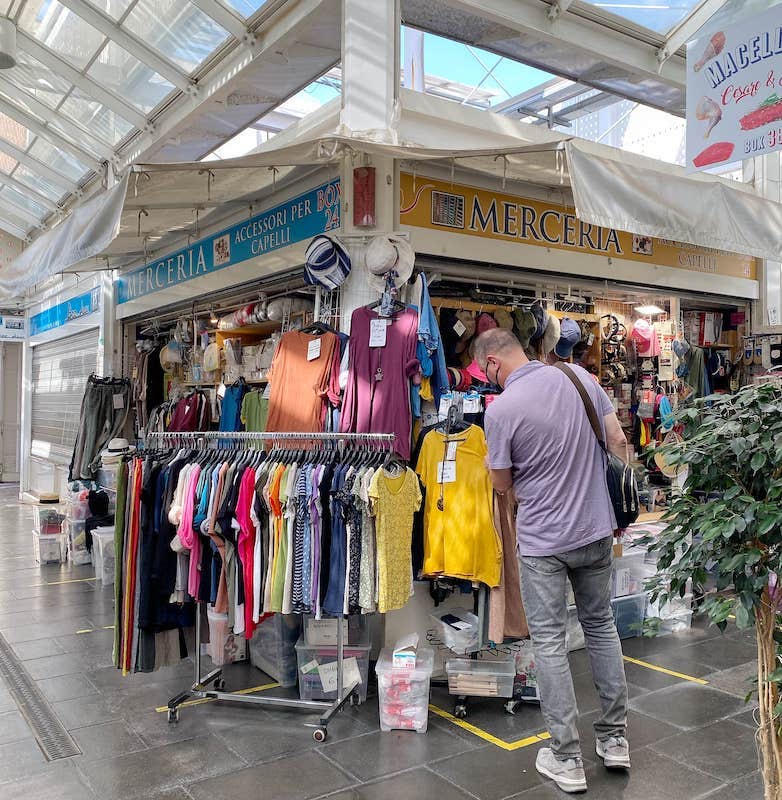 Comfortable walking shoes
It may be winter but a visit to Rome pretty much always means walking. Make sure you bring a pair of shoes that you know are going to be comfortable but also keep you warm. A pair of smart waterproof boots such as these Blundstone Classics and a pair of walking trainers such as these ones are both good choices.
Smart evening shoes
Don't forget about what you're going to be wearing on your feet in the evenings. You probably don't want to be sitting in a restaurant wearing your old walking trainers, go smart-casual with a pair of clean, smart shoes.
Hat and scarf
Both a hat and a scarf are pretty much a must. In winter, think something warm and wooly to keep the cold at bay; in summer, you'll want a sun hat or cap to keep those UV rays off your skin. A large, light scarf in summer can also double up as something to cover you up when visiting churches.
You can get a Merino beanie here. For more options, click here.
Dress/Skirt
Even in the winter a dress and a skirt are ideal additions to your travel wardrobe. Dresses can be easily dressed up and down for days and evenings and work as a whole outfit – perfect if you want to pack light!
You can shop for dresses here.
Leggings
Leggings are perfect for winter travel, they add a much needed warm layer to your wardrobe and mean you can wear them under a dress to keep warm. Not only that, but they're great if you want to get active and go on a run or hike near Rome but also pack down to a small size which is ideal for a weekend in the city.
You can shop for leggings here.
Pants
Leggins are comfortable to wear, but consider adding one or two pairs of pants to your Rome packing list. They are practical and will keep you warm, and once again with the right accessories they can look very smart!
Kuhl has an incredible selection of pants that are at the same time comfortable and smart. You can check them out here.
I also swear by Kuhl jeans. Jeans aren't normally very comfortable, but Kuhl makes them very comfortable and easy to wear – even the skinny ones. My favorite are the Kontour Flex. You can check them out here.
Underwear
It's an obvious one, but no less important than anything else. A good rule of thumb is to bring as many pairs as days you'll be away for, and then double it, or at least add more than just a few extras. Freshening up between the day and night in summer definitely calls for new underwear, too!
You can shop for top quality underwear here.
What To Wear in Rome in the Spring/Summer
As the warmer weather arrives in Rome you can expect longer days and higher temperatures. Spring is a beautiful time of year for exploring the city and you can start to wear some cooler clothing with a light jacket to protect you from the elements.
The height of the summer is extremely hot in the city and I recommend anybody who visits during these peak summer months to dress for warm weather.
Sandals/Lightweight Shoes
Don't overlook the necessity of comfortable walking shoes when you're in Rome in the summer. Pack shoes that are too enclosed and you will be hot and sweaty, opt for lightweight and breathable shoes such as walking sandals or breathable sneakers.
Before you rush off to Rome in your shiny new sandals, make sure that they're comfortable enough to walk around the city in – there's nothing worse than getting blisters!
You can find a selection of top quality sandals here.
Shorts
Shorts are a great idea, but just remember that you likely won't be able to enter churches if they are really short shorts (i.e. anything above the knee). In that case, don't forget a scarf to wrap around yourself.
Kuhl makes some lovely shorts. The Kontour Short are easy to dress up with a nice top. I have them in yellow! If you want something more comfortable, opt for the Freeflex. You can check out all shorts on Kuhl here.
Loose pants
Loose pants are a great idea! They will keep you cool during the hottest hours and they will allow you to adhere to even the strictest dress code. And you can dress them up with a nice shirt for an evening out.
The Freeflex Metro are perfect for a day of exploring. Check them out here.
For more options, click here.
Dresses/Skirt
Ideal for spring and summer in Rome. Dresses are an outfit all in themselves, while skirts can be easily paired with a T-shirt or top. If you're wondering what sort of style to go for, I would recommend something loose – tight-fitting clothing just does not work all that well in summer and gets uncomfortable very quickly.
I have the Lucie Dress in both Aqua and Peony and actually wore it all over Rome. I love the fact it has pockets! You can check it out here.
My favorite skirt is the Freeflex Skort. You can check it out here. However, remember you will need a skirt that covers your knees – such as this one – to be able to enter churches.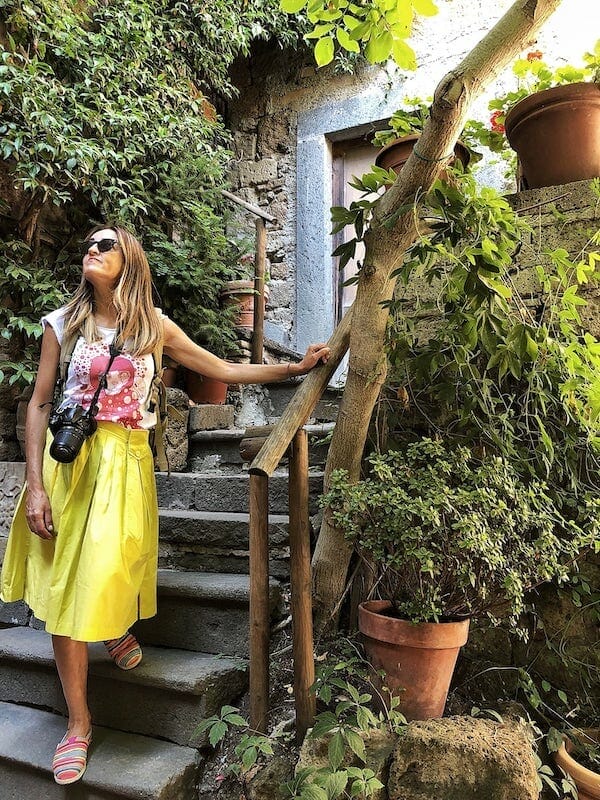 Loose Shirts and T-shirts
Easily paired with skirts, trousers or shorts, loose shirts allow air to flow better, giving you some respite from the warm weather when you're out and about. I'd go for something long-sleeved and loose – you can always roll the sleeves up if you want.
You should also include a few T-shirts in your Rome packing list, if you're planning on mostly wearing T-shirts and shorts in the daytime then you may want to take a fresh T-shirt for each day so that you stay fresh in the heat.
You can shop for shirts and T-shirts here or here.
Light Jumper
Even though it's the spring or summer months, you should pack a light sweater just to keep warm on chilly evenings.
I love the Stria Pullover Hoodie. I have it in Metal Blue and it pairs perfectly with jeans. You can check it out here.
Sunglasses
Keep your eyes shielded from the sunshine and look stylish as you explore the city.
Sunhat
The sun can be very warm during Rome's spring and summer months, pack a sunhat to protect your head from the heat.
You can get a hat here.
Swimming Costume
When the sun is out Romans head to the city's pools and nearby beaches. Don't miss out on a cooling swim, pack a swimming costume and cool off like a local.
Thin Scarf/Sarong
You will need to cover up when entering religious buildings in Rome but that's not always practical when you're trying to stay cool in the city. Pack a cover-up that can be folded away into your day bag and thrown on to make your outfit appropriate for a church.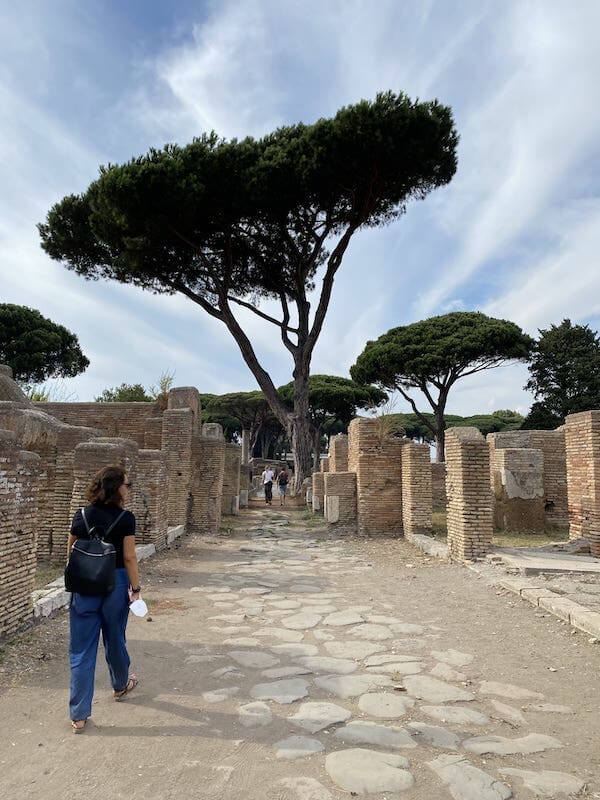 Other Items To Add To Your Rome Packing List
Finally, here are some other things you should consider adding to your Rome packing list.
Water bottle
Packing a refillable water bottle for your trip to Rome in spring or summer is a must. Not only will you save money on not having to buy (expensive) bottled water, but you will also be saving the planet from unnecessary plastic waste. Rome has plenty of drinking water fountains and nasoni – public drinking water taps – that can be used for free; there's even an app you can download to find your nearest nasone!
You can get your water bottle for Rome here.
Sunblock
An important item that you shouldn't overlook, sunscreen will help save your skin from getting burnt. Even in the spring, it's a good idea to protect yourself from the harmful sun's rays.
You can get yours here.
Mosquito repellent
Unfortunately, mosquitos abound in Rome. If you are sensible to mosquito bites like I am, make sure to pack and apply a good repellent.
You can get yours here.
Day Bag
When you're out in the daytime exploring Rome, you will need a good day bag for keeping all of your belongings safe. A backpack or a cross body bag is a good idea as it's a portable and practical way to store much needed items such as an umbrella and a water bottle.
Make sure you choose a bag which has internal pockets for keeping important items like your wallet and phone safe. Not only that, but comfort should also be part of your decision making when choosing the bag that's right for you.
You can get your day bag here.
Umbrella
An umbrella is probably going to come into use more in the winter than the summer in Rome but you never know when the heavens will open. A light, foldable umbrella is a small and inexpensive item to pack in your bag but could save you from getting completely drenched in a rain shower.
Power Bank
Don't let your dying phone battery stop you from taking snaps of the amazing monuments or working out where you are in the city with maps on your phone. Get yourself a power bank and always have a healthy amount of battery for your amazing trip.
You can get one here.
Plug adapter
Depending on where you're coming from in the world, the chances are you will need to bring a plug adapter with you. An Italian plug has two or three round pins and you will need to use them if you want to charge your phone, use a hairdryer or charge a laptop. Easy to overlook but also super annoying to leave at home.
Get your plug adapter here.
Conclusions On What To Wear In Rome
Sometimes you can pack, check your packing list twice, and still you might forget to pack something you need. In that case, I wouldn't worry too much about it: Rome is a fabulous city for shopping, and if you did forget to pack something you won't have too much trouble finding it!
Pin It For Later!