Visiting Rome in August can be an interesting experience. This is the second hottest month in town, with very high temperatures and just as high humidity. It's also when Ferragosto – Italy's biggest summer national holiday – falls and that's when traditionally most Italians go on holidays. If you visit then, you may find the city is a bit devoid of locals – yet crowded with tourists.
I normally recommend not visiting Rome in August. However, if that is the only month you have to travel there, you should not miss on the opportunity: Rome is always worth visiting. This guide will explain you everything you should expect, and share some useful tips to make the most of your time.
Should You Visit Rome In August?
Just like any other time of year, of course you should visit Rome in August – if that's the only time you have to go there, that is. It's a beautiful city whatever the weather, all year round.
In August, it seems everyone is on holiday – ancient ruins still have crowds of tourists, and locals come out to enjoy open-air events, dining and summer festivals or disappear entirely to the mountains and beaches.
However, if you are planning a trip to the Eternal City during August, then there are a few things you should know.
Still considering when to go to Rome? Check out my post The Best Time To Visit Rome and A Guide To Visiting Rome In October.
Weather In Rome In August
There's no getting around it – the weather in Rome in August is hot and humid. Some may even say too hot and too humid, but it depends what you're used to.
August is actually the second-hottest month in Rome, with July slightly warmer.
However, with warm days and clear blue skies, the Mediterranean climate provides the perfect backdrop for exploring the Italian capital – you'll just have to make sure you're adequately prepared.
It's mainly hot in the city center so you're going to need to stay hydrated when exploring the sights (thankfully there are plenty of drinking fountains!). You should also do what the Romans do and keep out of the sun at the peak of the day.
The start of the month sees average temperatures of 27° Celsius (that's 80.6° Fahrenheit). Let me stress that this is an average estimate – you can expect it to be much hotter during the day!
However, towards the end of the month, things start to cool down (a bit), dropping to 25°C (77°F) on average. The average lows are 18°C (64.4°F), with highs occasionally above 30°C (86°F). Night-time temperatures hover around a comfortable 25 degrees (77°F).
Rainfall is almost non-existent in August in Rome, so you can leave your waterproof jacket at home. For when you want to chill out at the beach, the sea temperatures are at a blissful and bath-like 26°C (80.6°F) making days spent on the sand a great option.
How Busy Is Rome In August?
It depends. As many Roman locals themselves head to the coast, or into the mountains, following the Italian national holiday of Ferragosto (August 15), some establishments shut.
In the past, supermarkets, restaurants, cafes, even pharmacies, would close their doors for the rest of the month – but that has changed in the last couple of decades, mainly to accommodate tourists. So while it's quiet in terms of locals, tourists more than make up for the numbers.
Tourists from all over, but specifically from Europe, flock to Rome in August to get the most out of their summer vacation. The busier tourist sights have long queues, so planning ahead is important if you don't want to be waiting around in the heat. You can book your tickets in advance to make sure you get the most out of your time in the city.
To book your tickets for Rome attractions, click here.
For another tip, go where the remaining locals go instead. There are a host of events and summer-specific open-air eateries and bars that pop-up in the summer months. I've listed a few of the best ones below.
In short: it's still pretty busy, so be prepared!
Is August Peak Season In Rome?
As I said, Rome is super busy with tourists in August. To be honest though, both July and August are the peak tourist season for Rome. That coincides with many countries' summer vacation periods.
Because it's peak season, you can expect hotel prices to rise along with the temperature. As like I said before, book in advance for every top attraction, and even for your hotel. Another tip is to get up early to try to avoid some of the crowds (and the worst of heat of the day too).
What To Wear In Rome In August
With the heat in Rome in August making things pretty sticky and sweaty for visitors, you'll need to pack your travel wardrobe accordingly.
Basically, that means light, breathable clothes. It's best to opt for longer sleeves and legs to cover up against the sun's strong rays, too. Not only that, but you'll always need to cover up to adhere to the strict dress code for churches: stick to clothes that cover your shoulders, chest and knees. Wear anything too revealing, and you'll have to cover yourself with a shawl or scarf.
So here's what to take:
Big shirt: The looser, the better. Also good for throwing on in case you visit a church (and to protect you from the sun). Natural fibers, i.e. linen or cotton, are best. Kuhl's Aryn Shirt is just about perfect.
Sandals: Although it's hot, chances are you'll be walking a lot, so opt for sturdy sandals that won't rub your feet (for example, Tevas). For evenings, pack an extra pair that you can dress up.
Long skirt: This means you'll be covered up for visiting churches and avoid getting sunburn, too.
Summer dress: A nice, breezy dress that's not too low cut (and not too high above the knee) will do the trick in Rome, day or night. I love Inara dress by Kuhl for that. You can view it here.
Trousers or shorts: Loose and baggy is the way to go – trust me, you'll want that air flow! Don't go for anything too short or tight. These PrAna pants are exactly what you need.
Sun hat: Wear a hat that shades your face and neck from the sun's strong rays – you'll need it when you're wandering through piazze or sitting out on the terrazza enjoying a cooling drink. You can get one here.
T-shirt: A T.shirt made from breathable, natural materials is a good idea for more casual days. You may want to consider this one.
Scarf/sarong: Keep one handy in your bag, especially if you're wearing a sleeveless top or short shorts. It's also a good idea to cover up at the beach.
Bikini/swimming costume: Not for the middle of the city, obviously, but you'll want one of these when you're chilling at the beach or by the pool.
What To Eat In Rome In August
Rome is an amazing place to enjoy food no matter what time of year, but August means you get to sample an array of seasonal produce. After all, food in Rome is a seasonal affair.
In August, the city's markets reflect that, with a colorful array of fresh produce, brimming with Mediterranean vegetables which, at this time of year, are beautifully ripe.
Tomatoes are the obvious choice. In August, they're packed with flavor. The small datterini are super sweet and a lovely bite-size snack. As a result, bruschetta is wonderful this time of year; with plenty of fresh basil and olive oil, they're refreshing.
Peperoni – not pepperoni, but bell peppers – are big, bright summer staples of Roman cuisine. Grilled, they are sublime.
White-ribbed zucchine romanesche, grown in the south of Rome, are a staple of the city come summer. Sold with the flower still attached, you'll see them on markets and on menus. They're delicious on pasta, or grilled and marinated.
Melanzane (eggplant) has to be sampled. They arrive in all forms in the summer: fried, cooked in sauces, served with cheese and tomato (such as the delicious melanzane parmigiana). They also come in different colors, too.
For more dishes, check out my post What To Eat In Rome.
Make sure to also read my post The Best Gelato In Rome.
The Best Things To Do In Rome In August
Head to a beach
The perfect way to get a break from Rome's heat is to do as the locals do and head to the beach. Luckily, it's really easy to take a day trip from Rome to the nearby coast, and there is a whole load of options for you too.
The closest is Ostia, around 30 km (18.6 miles) from Rome – you can also pair it with a visit to the archaeological site here too. Elsewhere, about an hour away by train, are the attractive beaches at Santa Marinella and Santa Severa.
Check out my post The Best Beaches Near Rome.
The Capitoline Museums
The Capitoline Museums are a must visit in Rome, no matter the time of year. But in summer, the fact that they're inside – away from the baking sun – makes them that much more attractive. Just make sure you book ahead to see all the ancient and Renaissance marvels on display here.
Opera at the Baths of Caracalla
The Baths of Caracalla are a sight in themselves, but summer is when they come alive with productions by Rome's very own Teatro dell'Opera. T
he crumbling ruins of the baths themselves are a stunning setting for these open-air performances, ranging from Tosca to Madame Butterfly. Performances take place from mid-July to early August.
Cineporto Summer Film Festival
Taking place at Parco della Farnesina, Cineporto is a summer film festival in Rome (one of many) that any film lover should pay a visit to. They show new releases, classic films, and foreign movies across two separate screens. There's also live music – just check the schedule.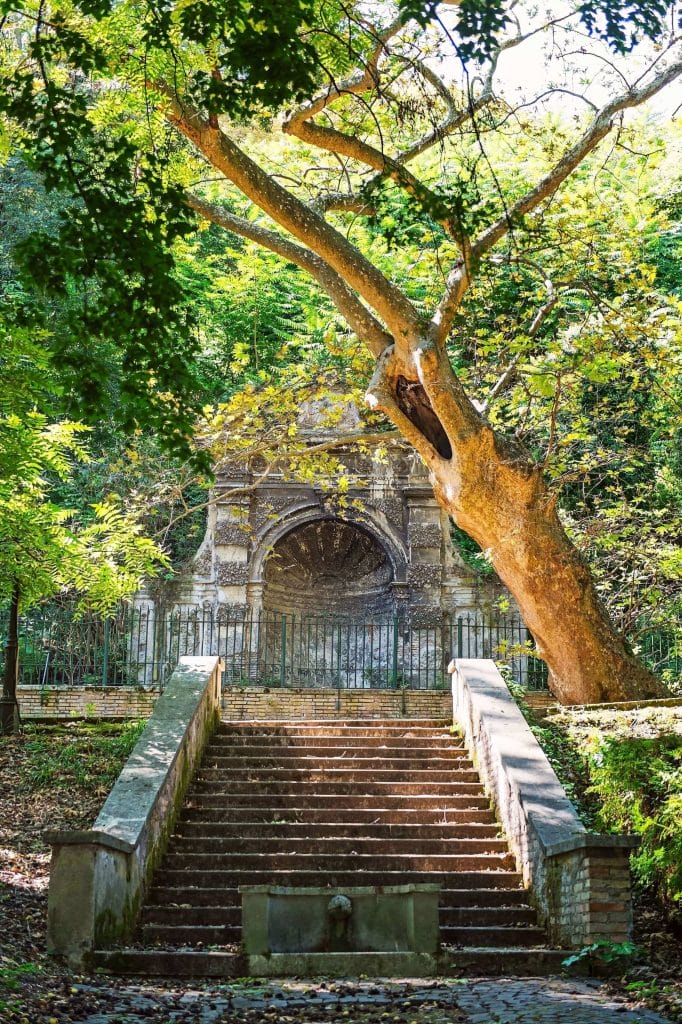 Rome Botanical Gardens
What better way to cool off in Rome than in one of its many green spaces? Founded in 1883, Rome Botanical Gardens is a beautiful space to enjoy nature. This green oasis spans 12 acres and is filled with pathways that wind through differently styled spaces, including a Japanese garden and a medicine garden.
Looking for more parks in Rome? Read this post.
Go in search of Rome nasoni
Meaning "large nose" the humble nasone or water fountain is a time-honored feature across the city. These little fountains – some grandly made of marble – become veritable watering holes for the general public across summer with free supply of H2O.
First introduced in the 1870s, there are now an estimated 2,500-2,800 nasoni in Rome. There's an app called Waidy that maps them all.
Read my posts Can You Drink Tap Water In Rome? and The Most Beautiful Fountains In Rome.
Vatican Museums
Like the Capitoline Museums, the Vatican Museums are a must-see attraction in Rome. Though August brings crowds to the Italian capital, thankfully the Vatican Museums boast extended opening hours on Fridays and Saturdays throughout the summer months, allowing visitors to see the Sistine Chapel after hours (until 10:30 pm). Buy tickets online beforehand.
L'Isola del Cinema
Summer in Rome means time spent outdoors, even if that does mean watching a movie. For one of the best cinematic experiences in Rome in August, head to Tiber Island – in the middle of the River Tiber – and check out L'isola del Cinema ("The Island of Film"). From screenings of documentaries to vintage films and Italian classics, they play it all.
Villa Borghese
Villa Borghese isn't just a fantastic art gallery – it's also a beautiful city park. Situated right in the heart of the city, you'll be able to soak up a quiet, relaxing atmosphere here.
But also in summer, the villa's very own replica of London's Globe Theatre puts on productions of Shakespeare (2021 marking its 18th edition). So why not catch Romeo and Juliet or the Merchant of Venice as you kick back in one of Rome's loveliest gardens?
Rome Jazz Festival
Jazz lovers should make sure to catch a performance or two at Rome Jazz Festival. This huge summer festival takes place every August at Villa Celimontana and has in the past played host to some big names in the music world, including Miles Davis, Ray Charles, BB King, and even Bob Dylan. It continues to wow to this day.
Go swimming
You don't have to go to the beach to go swimming – in fact, you can stay put in the heart of the city and find a pool to cool off in. Belle Arti, a large pool surrounded by sun loungers, is one affordable option (€20 for the day).
Another option is the family-friend Club Piscina delle Rose, featuring an Olympic-sized pool (€25 for the day). There are many others, of course! Just keep in mind that most pools will be closed on August 15.
Check out my post The Best Pools In Rome.
Catch the Viaggio nei Fori
This night-time light show, taking place on the Via dei Fori Imperiali during August (through to November), commemorates Rome's first emperor: Octavian Augustus. It's an hour-long spectacle that takes you on a journey through ancient Rome. Another option is the Forum of Caesar, a different but no less impressive show.
Rooftop bars
Rise above the heat of the city streets (literally) and head up to one of Rome's glitzy rooftop bars. It's a great way to get a view of the city from above and sample some delicious cuisine or cocktails while you're at it.
The Minerva Roof Garden at the Grand Hotel de la Minerve boasts a 360-degree view from the 8th floor of the hotel, while the Terrazza dei Papi (Mecenate Palace Hotel) has such an amazing skyline view that you won't want to leave.
Gay Village
Taking place each year from mid-June to mid-September, from Sunday to Wednesday, Gay Village is an open-air summer festival with a fantastic LGBTQ+ friendly atmosphere. The location changes yearly, but what doesn't change is the amazing live shows and other events including a disco, outdoor cinema, bars, and live music.
Festa della Madonna della Neve
Planning a trip to Rome in early August? Make sure you schedule in some time to check out the Festa della Madonna della Neve on August 5. This celebrates the very unseasonal snow that fell way back in 352 AD on Esquiline Hill.
It's marked by a special mass, which involves a confetti of rose petals that burst from the roof onto the congregation below – it may not be snow to cool off from the summer heat, but it's fun all the same!
Castel Sant'Angelo
The Castel Sant'Angelo is a beautiful spot. That may be because it's less visited by tourists, even in August, but one of the best things about it are its summer concerts. There are a selection of different concerts and events taking place here as part of Lazio's Art City summer program. Check online for the schedule.
Lungo Tevere Roma
Another outdoor wonder of the River Tiber, Lungo Tevere (literally "Along the Tiber") is an extravaganza of open-air drinking and dining. In August, this area comes alive with pop-up bars, restaurants, shops, and other amusements. You'll often find live music and street performers too making for a lively atmosphere well into the night. Come hungry!
Check out my post The Best Things To Do In Rome At Night.
Pin It For Later!