This Patagonia packing list has everything you need to take with you if you intend to hike in Patagonia.
I first visited Patagonia in February 2012 and although it was the peak of the summer, sudden weather changes were a regular occurrence, and snow happened a few times, catching my by surprise. Fast-forward a few years, and having learned my lesson I knew what to pack on my second and third trip – and what to leave behind. Indeed, when planning a hiking trip to Patagonia there are certain items that shouldn't be missing from your backpack, and others that you can probably do without.
My packing list for Patagonia highlights all the essential gear for a hiking trip, however, it is meant for accommodated trips where you have the option to sleep at hostels or hotels. I do not offer advice on camping gear. This list is suitable for all seasons, taking into consideration that the weather in Patagonia is often unpredictable!
Make sure to also read my post What You Must Know Before Visiting Argentina.
The Best Patagonia Packing List
Hiking Essentials And Trekking Gear
Main Backpack
Choosing the right backpack is essential for a trip to Patagonia and will determine the success your trip; besides its size and fit will influence the rest of what you carry.
No matter how long you are traveling for, I recommend packing as light as possible. You shouldn't carry a backpack that packs more than 40 liters for women, or 50 for men. It has to be lightweight, but also sturdy and either waterproof or with a good cover that you quickly put on if it starts raining.
The best backpacks have various compartments and open from both the top and the bottom. They also come with side pockets where you can place items you want to easily get hold of, such as your water bottle.
I have used various backpacks throughout my traveling career, of various brands. My favorite are by far the Osprey packs. Other brands such as The Real Berghaus are also very good. The following are the best 40 and 50 liters backpacks:
Daypack
Unless you are planning to hike long distance, make sure to have a daypack too. It should be small enough so that you can carry it around easily and at the same time fit an extra layer of clothes, enough food and water for the day, a basic first aid kit, your camera, smartphone and power bank. I have tried several daypacks and these are my favorite:
Osprey Daylite Plus – it carries just about enough for a day out; the two side pockets are perfect to fit a bottle of water, the small front pocket allows you to keep small items such as a phone or tissues.

Lowe Alpine 22l

– it nicely fits a camera, it has an adjustable waist strap and a waterproof rain cover and lots of small pockets to fit items such as tissues, keys, lip balm and your smartphone.
Hiking Clothes
Your Patagonia packing list should include the following clothes:
2 pairs of loose fitting, rain proof Hiking Pants. Loose fitting pants are necessary so you can wear a base layer underneath on the coldest days. I swear by my Kuhl Kontour Straight or my Kuhl Weekendr Tight.
Leggings or thermal underwear to wear under your hiking pants on the colder days. I love Kuhl Kaskade.
2 tank tops that you can wear as the under layer. I am a fan of Juniper tank top and Kuhl Acacia.
2 long and 2 short sleeves t-shirts. I usually pack my Kuhl Athena pullover and the Kuhl Svenna shirt. Both of them are long sleeves.
A thermal or technical shirt to wear on colder days. I have a W'S Wildkard Hybrid Jacket.
A comfortable cotton t-shirt – I like Kuhl W'S Born T because it's comfortable, lightweight, and good to either go out or to sleep in.
A good fleece – I like Kuhl Alska. Take an extra one in case it gets extra cold: you may want to invest in a micro-fleece: it will keep you warm despite being super lightweight.
A good Gore-Tex waterproof jacket. I am a fan of Hydroflex Rain Jacket.
A warmer jacket for the colder days – Kuhl Skyfire Down Parka is perfect if it snows. Another good option is Kuhl Spyfire Hoody.
3 pairs of underwear and the same amount of hiking socks that will prevent you from getting blisters.
2 comfortable and quick dry sports bras for the ladies.
A hat to protect against the sun, and a beanie to keep you warm on cold days. Thrown in a scarf too!

Gloves – it can get really cold in the morning.
Hiking Boots
Good hiking boots will keep your feet warm and dry even when the terrain is wet and muddy, or if it snows or rain. You also want to make sure that you have proper ankle support and a good grip when the terrain is uneven, rocky or slippery.
These are some excellent hiking boots:
Make sure to also add a pair of flip flops or light sandals. They are essential to give your feet a break after a long day of hiking. You may also want to take a pair of good walking shoes that are fit for very light hiking.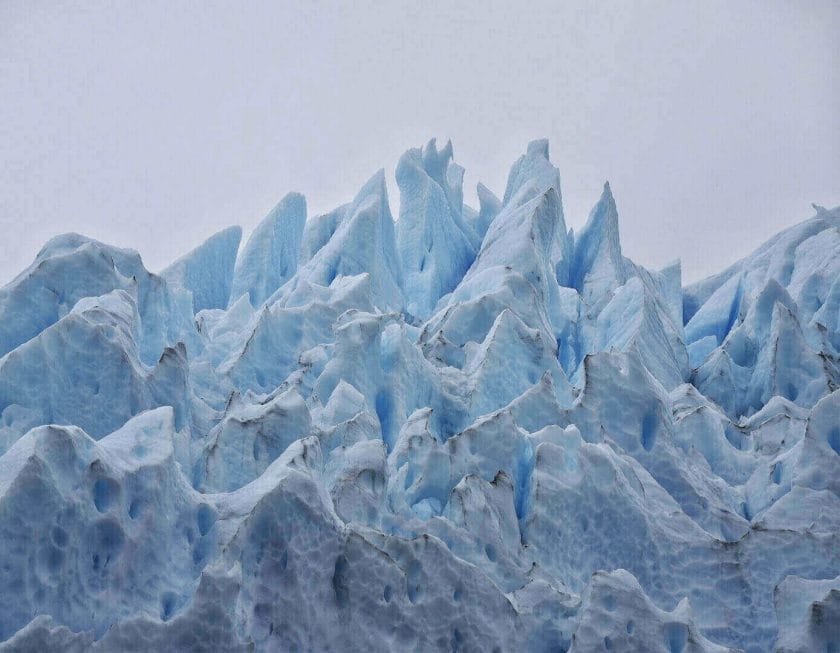 Other Items
Camera Gear
The incredible landscape of Patagonia calls for photography and it would be a pity not to take pictures. Make sure to bring a good camera and lenses, and if you are not a photography geek, go for a good smartphone with a great camera.
My camera gear typically consists of the following:
A good DSLR camera. I use a basic Nikon D3300.
A couple of good lenses. I generally carry a 18-105 millimeters, good for landscape photography, and a 70-300 millimeters one for wildlife photography (the guanacos and red foxes in Patagonia are perfect models).
A smartphone with a good camera. The iPhone 11Pro or iPhone 12 are great.
A power bank – to charge your phone on the go.
Alternatively, you can also use:
A go pro – good for hiking, mountain biking and even for rafting.
A compact camera – there are some great one that are nice and easy to use, and that pack very light. But honestly, if your smartphone has a good camera just stick to that!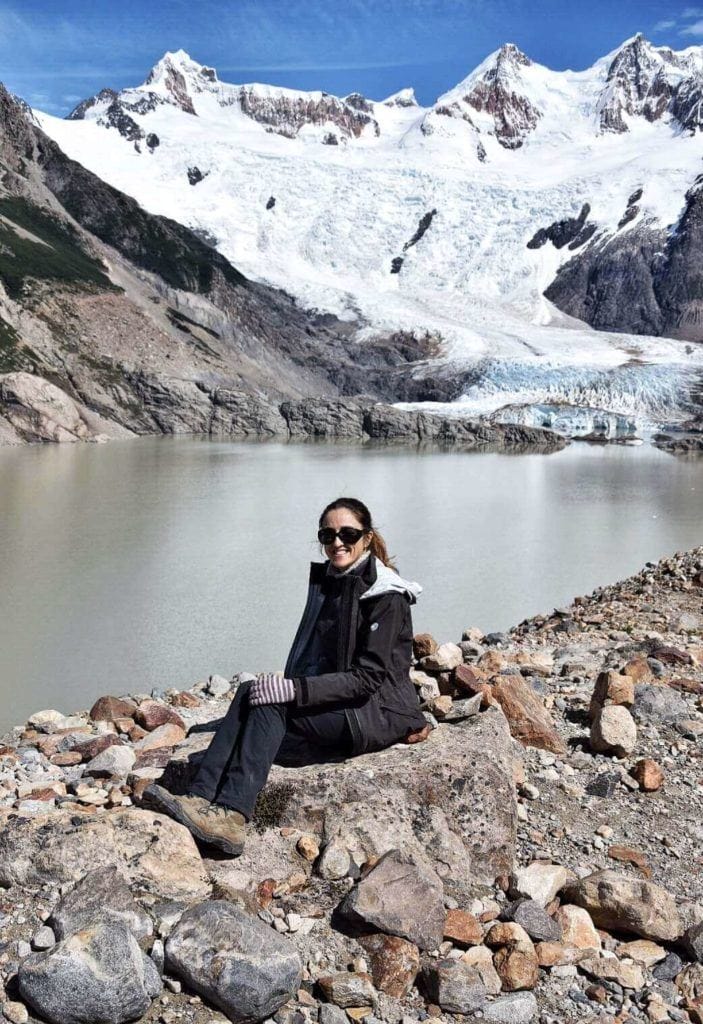 Beauty And Personal Care Items
If you are traveling carry on only make sure to pack the travel size version. You may even want to consider things such as solid shampoo and conditioner since they pack super light and obviate the issue of liquid restrictions.
Other than the obvious, this is what you should add to your Patagonia packing list:
Sunscreen

, best if high SPF – the sun can be very strong in Patagonia.
Hand sanitizer.
Very hydrating lip balm.
All purpose biodegradable soap bar: you can use it as a laundry soap and even to shower or wash your hair.
Tea tree oil: you can use it to medicate minor cuts, and can apply it on insect bites to ease the itch.
Toilet paper or tissues.
First Aid Kit
A good Patagonia packing list must include a first aid kit and a few medications. Here are some essentials:
basic pain relief medicines such as paracetamol.
imodium or any other diarrhea medication.
bandaids and other bandages.
antiseptic wipes and cream.
cortizone cream.
Miscellaneous stuff
Other things to include in your Patagonia packing list are:
Sunglasses – they protect from the sun and from the strong wind and dust of Patagonia.
A GPS device.
A compass: it will help you navigate the trails, especially if all else fails.
A water bottle that you can refill – the rivers in Patagonia are pristine and you can easily refill.
A water filter – if you want to be extra safe.
A padlock.
A head lamp or a torch – chances are you won't need it if you travel to Patagonia in the summer, as the days are very long, but you never know!
Snacks – to give you a quick energy boost till you make it to dinner.
A pair of jeans and a shirt and extra sweater to wear when you are not hiking.
A swimsuit in case you get to a pool or to hot springs.
A quick-dry travel towel.
A Kindle.
Another essential item you should include in your Patagonia packing list is a dry bag (in fact, you could bring a couple) – this is an essential item to have to make sure that your precious belongings are safe and dry even it's pouring outside. Use it for things such as your camera gear, your phone and even your passport.
You could also consider compression sacks, so that you can pack down your bulkier clothes super small!
Travel Insurance
Don't forget to get a good travel insurance for your trip to Patagonia. You can get a quote here.
5 Things To Consider When Packing For Patagonia
Pack light
You are better off packing light and keeping to the bare essentials. There are occasions when you may have to carry your backpack for longer than you may wish, and in any case the chances of you having to dress up in Patagonia are virtually non-existent: people walk into bars and pubs right after hiking, covered in mud and dirt!
Be prepared for rain, wind and snow – any time of the year
The weather tends to be unpredictable in Patagonia, and you have to be prepared for it. You may enjoy sunny warm days as I did when I hiked to Laguna Torre and Laguna de Los Tres; or be caught up in heavy rain and snow like I was in Ushuaia (yes, it was the middle of the summer!). This means that your packing list for Patagonia should factor in rain gear and warm technical gear for even colder conditions.
Wear layers
This is actually true for any hiking trip, and even more so if you travel to Patagonia, whatever the season. Start with a technical tank top as the under layer, and then a thermal (in winter) or quick dry shirt as a base layer. Add a good fleece and wear a wind and rain proof jacket as a top layer. You will likely get warm and sweat a bit on a sunny day and if you walk uphill, and you will have to take layers off. But as the weather changes rapidly the temperatures may drop again and you may need to layer up again.
Opt for quick dry clothes
You really want items that dry quickly, and that you can easily wash at night in the sink of your hotel room and which will be dry by the morning, when you are hitting the trails again.
Consider your accommodation options
Another think to consider when preparing your packing list for Patagonia: do you intend to camp or to sleep in hostels or hotels during your trip to Patagonia? If you are thinking of camping, you'll inevitably have to bring a tent, a heavy duty sleeping bag and a camping mattress with you and keep the rest of the list even more to the bare essentials.
This packing list for Patagonia is meant to be for travelers staying at hostels and hotels, and who will have a bed to sleep and a bathroom to shower and wash their clothes.
Final Notes
A trip to Patagonia is all about enjoying nature and the incredible views, and on challenging yourself to hike some more. This is to say: don't worry about looking pretty; just make sure to be comfortable, stay hydrated and healthy, and eat earthy food (carbs, vegetables and proteins) to give you lots of energy to hike.
Other Packing Lists
Further Readings
Make sure to read my other posts about Patagonia:
Pin It For Later!