Are you planning a trip to Argentina? I am so happy for you! This is one of my favorite countries in the world. I have visited multiple times and long to go back for more. If it is your first time in Argentina, you are probably searching the web for some useful, practical information that will help you plan your trip. As I know the country really well, I thought I'd put together a selection of Argentina travel tips, with everything you need to know before visiting Argentina.
The Best Argentina Travel Tips: What You Must Know Before Visiting Argentina
Argentina Quick Facts
Let's start this post with a selection of essential information you need to know before visiting Argentina.
AREA – 2,780,400 km2 (1,073,500 sq mi)
POPULATION – 47,327,407 (2022 estimate)
CAPITAL – Buenos Aires (urban area population 15,624,000) (2021 estimate)
LANGUAGE – Spanish. Most people speak English and many also speak Italian.
CURRENCY – Argentine Peso (ARS)
COUNTRY CODE – +54
EMERGENCY NUMBERS – 911 (General Emergencies); 101 (Police); 100 (Fire); 107 (Medical Emergencies)
The best time to visit Argentina
The best time to visit Argentina is in the late spring and summer months, between the end of October and the end of March, when you can enjoy the whole country thanks to the favorable weather conditions. December to February is peak season and all the main tourist destinations will be busy. You will have to make reservations for buses, internal flights and accommodation well in advance.
Summer is the best time to visit Argentina if you want to admire wildlife in the areas of Peninsula Valdes and Punta Tombo (though whales and orcas are spotted during the winter months). Patagonia is best visited in the summer, when Perito Moreno is not prohibitively cold; the same can be said for Tierra del Fuego.
Buenos Aires gets tremendously hot in the summer months, but it's very pleasant in September and October, when all the large boulevards are colorful with jacaranda trees in full bloom.
Buenos Aires doesn't get too cold in the winter months, but Patagonia may be unaccessible – unless you plan to go skiing in places like Ushuaia or Bariloche.
Make sure to read my posts A Guide To Tierra Del Fuego, The Best Things To Do In Puerto Madryn, A Short Guide To Perito Moreno Glacier and The Best Things To Do In Buenos Aires.
What to pack for Argentina
One of my top Argentina travel tips is to pack extremely wisely. Even if you visit Argentina in the summer, the weather will vary dramatically from one place to the other, with very hot and humid days in Buenos Aires or Iguazu Falls, and cold (and at times even very cold) temperatures in places like El Calafate and Ushuaia. You will need to be prepared for it.
If you are hitting the trails in Patagonia, bring all sorts of hiking gear with you, including very good hiking shoes, hiking pants and a wind and rain-proof jacket (and a warmer one if you are heading to Tierra del Fuego). No matter where you go, pack a good pair of walking shoes.
Head over to my post What To Pack For Patagonia.
How long do you need in Argentina?
Here's one of the most useful Argentina travel tips I have for you: if you don't have enough time for a proper trip to Argentina, postpone it until you do.
Argentina is the 8th largest country in the world – in other words, it's massive. Ideally, you'd need three full weeks in the country and even then you'd barely be scratching the surface and would have to plan everything in advance, booking your accommodation and a few domestic flights. As a minimum, you will need 10 or 11 full days to explore the main sights in Buenos Aires, Patagonia and Mendoza. With two full weeks, you would be able to see a bit more – ie add Iguazu Falls or even Puerto Madryn.
Check out my posts The Best Things To Do In Argentina and Two Wonderful Argentina Itineraries For First Timers.
Consider joining a guided tour of Argentina
If you want to travel to Argentina but have no time to plan the trip, or aren't exactly a fan of it, leave it to the experts! Many companies run excellent tours of Argentina: you will be shown the most beautiful places, have a tour guide or a tour leader taking care of all the logistics and the only thing you'll have to worry about is taking your camera with you.
Do you need a visa for Argentina?
If you have a European Union passport or are coming from Canada, the United States, Australia and Switzerland you won't need a visa to travel to Argentina. Your passport will be stamped and you will get a tourist visa, free of charge, for 90 days from the date of arrival. The Argentina Reciprocity Fee has recently been suspended for US, Canada or Australia passport holder.
However, the suspension of the reciprocity fee isn't set on stone so here's one of my Argentina travel tips for you: check the website of the Argentine consulate in your country to make sure you don't need a visa for your trip to Argentina, just in case!
How to get to Argentina
Traveling to Argentina isn't exactly cheap. My advice is to look for flights on engines such as Skyscanner. If your travel dates are flexible, you can set up the search system so as to show you the cheapest months to travel, and within that month the cheapest dates. You can even set up price alerts so as soon as you see a deal that is within your price range, make sure to grab it.
Ezeiza (EZE) airport in Buenos Aires is the main international hub in Argentina. The airport is connected via direct flights to North America, the United Kingdom, most European countries (there are direct flights from Rome), South Africa and most countries in South America.
Make sure to read my post How To Get From Ezeiza Airport To Buenos Aires.
The other two airports in Buenos Aires are Aeroparque Jorge Newbery (AEP), which is located in Palermo and mostly serves domestic flights and some international flights to Uruguay, Chile or Brazil, and El Palomar (EPA), which serves mostly budget airlines.
If you plan to fly to another Argentine destination from Aeroparque Jorge Newbery on the same day you land in Argentina, leave plenty of time to make it to the airport and for all formalities (checking in, going through security etc). Aeroparque is 41 km (25 miles) from Ezeiza, and with the insane traffic in Buenos Aires it cane take up to two hours to get there.
If you are visiting Argentina as part of a longer trip across South America, you will find overland border crossing from Bolivia, Paraguay, Brazil at Puerto Iguazú, Chile (there are several crossing, including one between Torres del Paine and El Calafate, whereas the journey from Santiago de Chile to Mendoza is absolutely incredible in terms of views); from Uruguay (various crossing, including the ferry from Colonia del Sacramento in Uruguay).
Crossing the border to and from Argentina
There are several places to cross the border between Argentina and Uruguay, Bolivia, Brazil, Chile and Paraguay. Crossing the border is usually a rather easy process but keep in mind that no fruits and vegetables can be carried into Chile. Whatever fresh food item you have with you needs to be either thrown away before crossing the border or declared in your immigration card.
The fines for omitting to do so aren't high, but the Chilean authorities will take their time to measure every single item that can't be carried into Chile to give you a proportionate fine, and this may slow down the entire border crossing process – and aggravate anybody traveling on the same bus.
How to move around Argentina
Have I said Argentina is massive? Distances are enormous. To give you a few examples, the flight from Buenos Aires to Ushuaia takes almost 4 hours; it takes 20 hours by bus to travel from Puerto Madryn to El Calafate, and 15 hours to go from Mendoza to Buenos Aires. With this in mind, unless you have a couple of months to explore the country, you'll be better off catching the occasional flight.
Aerolinas Argentinas is the main national carrier and serves the entire country. You may also be able to get deals with low cost airlines such as FlyBondi and JetSMART. One thing to consider is that you will often have to connect in Buenos Aires to reach your final destination – for example, there are no direct flights from El Calafate to Mendoza, or from El Calafate to Puerto Iguazu. This means that at time your entire day will be spent flying from one side of the country to another.
Buses in Argentina are usually punctual and comfortable. Seats can be fully reclined and long distance buses even pass around meals (don't expect anything fancy). Seats typically have a personal screen, you will be given headphones and many long distance buses will have Wi-Fi.
You can check out the schedule and the prices of flights and buses in Argentina on the Omio App here.
Another option to get around Argentina is to rent a car. You won't need it in Buenos Aires, where traffic is terrible and public transportation works really well (more about it in a bit). However, a car is certainly handy if you are visiting the northwestern province of Salta (you can plan a road trip around the Quebrada de Humahuaca), or in Tierra del Fuego or Patagonia.
Roads in Argentina are generally good, though in the most rural areas you may come across dirt roads. There will be some toll roads so having some spare change handy is recommended. You'll need to keep your headlights on, even during the day. Driving is on the right-hand side of the road (like in North America and Europe, but unlike the UK, South Africa and Argentina).
I recommend using a comparison site to check out the prices of car rental in Argentina. My favorite one is Discover Cars – you can check it out here.
Make sure to check out the rental conditions as some companies will restrict the mileage. Finally, remember that most rental cars in Argentina have manual transmission.
Make sure to read my post A Guide To Renting A Car In Argentina.
How to move around Buenos Aires
Public transportation works really well in Buenos Aires, and there are plenty of buses, the SUBTE (metro) and trains you can count on. Download the app Cómo Llego (literally: "how do I get there") to check the best way of getting from one place to another. Google Maps also works well.
To use public transport in Buenos Aires you will need a SUBE card. You can get this directly at a ticket window at any metro station or at any kiosk around town.
You can also count on cheap and reliable taxi service. Taxis work by the meter, so you can be sure you will be paying a fair price – however, here's another of my Argentina travel tips for you: check the best route before you get on. While most drivers are honest, there are a few that will try to scam tourists and opt for the longest route to get to a destination. Speaking Spanish and / or acting confident as if you know the exact route will definitely help avoid a scam.
Uber doesn't really work in Buenos Aires – you can find an occasional one, but to be fair it's best if you download the Cabify App to book cabs.
Get a good travel insurance
The healthcare system in Argentina is quite good, and at times free even for foreigners. For example, my sister was not charged for an emergency appointment at the clinic in El Calafate (she had a bad conjunctivitis). However, it's always better to purchase a reliable insurance before your trip.
You can get your insurance here.
Get a local SIM card
If you want to stay connected with your family and friends, one of my Argentina travel tips is to bring your unlocked phone with you and get a local SIM card as soon as you arrive. The main providers are Personal, Movistar and Claro. Personal has a stand right outside the terminal in Ezeiza airport, and all providers have shops in town where you can get your SIM card. Bring your passport with you as the shop will need a copy to complete the transaction.
To top up your SIM card just look for a kiosk or shop with the logo of your provider.
Currency in Argentina
The Argentinian peso is the most fluctuating currency in South America, if not in the world. Inflation rates are very high and prices can change dramatically in the course of a few weeks.
Cash is king in Argentina. While credit cards (Visa and Mastercard, but not American Express) are accepted in hotels and restaurants catering to tourists, you will see that they aren't as widely accepted in smaller shops and you will find yourself using cash rather than credit cards most of the time as a surcharge is often applied to card payments. Make sure to always carry cash with you.
However, here's another issue: ATMs in Argentina are very expensive. Even though your bank may not charge you for any withdrawal you do while in Argentina, local ATMs will apply a fee of up to $10 USD for any withdrawal, and put limits on the amount of money you can withdraw in a single transaction. There really is no other way around it, and you should factor withdrawal fees in your trip budget.
Dollars and Euro are widely accepted – in fact, bring some with you and plan to either pay directly in USD or € (many shops will have the coto – daily exchange rate – listed at the register); or exchange them when you need.
Money exchange in Argentina
This obviously brings the next question: how to exchange foreign currency in Argentina?
Read carefully, as I have one of the most important Argentina travel tips for you.
First of all, don't exchange money at the bank in your home country, or at your hotel in Argentina (only do it as a last resort). The exchange rate is really bad.
Instead, try to exchange your US dollars or Euro at the mercado azul (blue market) – basically the black market. The exchange rate is much better, and you can get almost twice as much for a dollar at the blue market vs the official rate. Make sure to check the exchange rate for the dólar oficial (official exchange rate) on sites such as XE.com and compare it to the rate of the dólar informal (also know as the blue dollar) – you can do that on sites such as Ambito.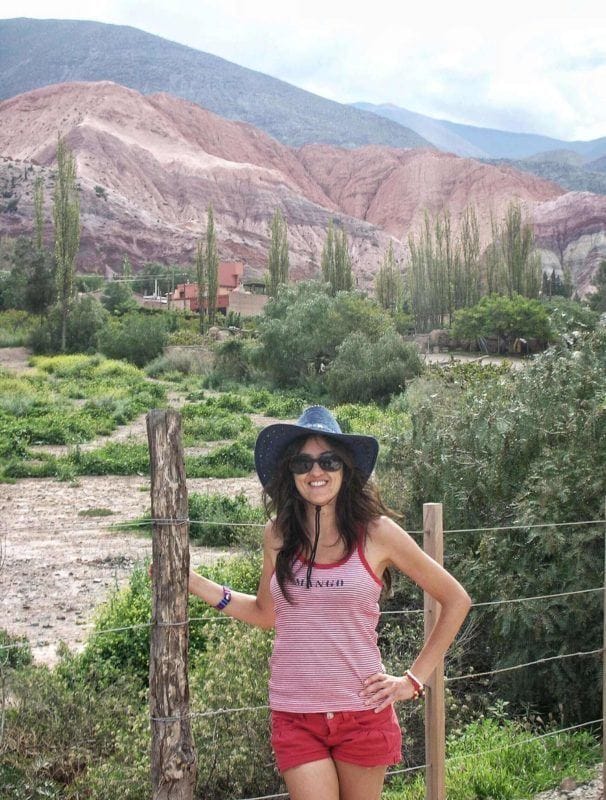 To give you an idea, when I changed USD at the black market in 2015, I got an exchange rate of 14 ARS to $1 USD, versus the official rate of 8 ARS to $1 USD. At the time of writing, the official exchange rate is about 124 ARS to $1 USD, whereas a blue dollar is sold for 226 ARS.
To exchange your USD at the blue dollar rate in Buenos Aires, look for an arbolito (literally "small tree" but it is used to refer to a money changer in Argentina). There are many in the area of Microcentro in Buenos Aires – chances are you will hear them call around "cambio!" (exchange).
In other towns and cities, the best way to find a blue dollar exchange is by hearsay – ask at your hotel or hostel. That's how I found one in Mendoza.
Tipping in Argentina
The rules for tipping in Argentina are very similar to those that are commonly applied in Italy. In general, you are not expected to tip. Some restaurants will add a service charge, but if you want to leave a tip you can usually just round up the final bill or add a small tip of no more than 10%.
Check out my post A Guide To Tipping In Italy.
Learn some Spanish before you go
Most people in Argentina speak some level of English; a lot speak Italian and when all else fails they will be happy to communicate with you via sign language. In other words, don't worry about the language barrier, you will definitely get by during your trip.
Having said so, I usually recommend learning at least a few words of the local language before traveling to a new place, and the same applies here: one of my Argentina travel tips for you is to learn at least some basic Spanish before your trip.
Don't know where to start? Read my post How To Learn A Foreign Language.
A word of warning though: the Spanish spoken in Argentina is actually fairly different from that spoken in Spain or even Mexico. In general, it's a bit slower, the intonation is different (and actually more similar to Italian), some sounds and hence words are pronounced completely differently, and in fact different words are used to refer to the same thing.
Is Argentina safe?
I have always found Argentina to be a safe country, and people are truly and genuinely friendly. Having said so, it's worth using some precautions when visiting Argentina – though not particularly different from those you'd use in other places.
Keep an eye out for scams – they are no different from those you'd encounter in other countries. Watch out for pickpockets in large cities – especially Buenos Aires. Keep an eye (and a hand) on your belongings when riding the metro or the bus, and in markets: make sure your bag / backpack is properly closed and prefer a crossbody bag. Wear your backpack in front of you when on the bus or metro, and close your taxi window just in case someone drives by on a motorbike and snatches your phone out of your hands.
Finally, watch out for motochorros – muggings.
Here are some additional Argentina travel tips to keep you safe:
Hop on a taxi to take you back to your hotel at night, especially if it's a long walk away.
Avoid walking around alone in poorly lit areas.
Learn some basic Spanish to help you get by in taxis and on the bus or metro, or to ask for help.
Keep a low profile – try not to appear too much like a tourists and don't flash your belongings like a camera, phone or jewelry.
Don't leave your phone on the table when you are eating or having a drink.
Carry a copy of your passport with you – but not the actual passport.
If you are being mugged, don't fight back.
Make sure to get a good insurance for your trip to Argentina. You can get your insurance here.
Visiting Argentina as a solo female traveler
Argentina is a safe destination for solo female travelers. I have been there three times, two of which on a solo trip, and had a fantastic time. If you are visiting Argentina by yourself, plan to stay at hostels (you can almost always get a private room, if you don't want to stay in dorms) and take advantage of their social spaces and events to meet other travelers. You'll have a great time.
Speaking Spanish will be a bonus as it will help you connect with locals.
Dogs are everywhere
Argentina is packed with dogs. It's not uncommon to come across a paseo perros (a professional dog walker) walking up to 12 dogs in Buenos Aires, especially around the residential areas of Recoleta and Palermo. However, in more rural areas there are many stray dogs. Most are actually quite friendly and chances are they will follow you around for pets – they are typically well fed and taken care of by volunteer organizations, to which you can make a donation.
With so many dogs around, watch out for dog poop – you definitely don't want to step on it!
Where to stay in Argentina
The range of places to stay in Argentina is incredible: from hostels to hotels, from bed and breakfast to guest houses and self catering apartments, there is something for any budget. The standard of hostels is generally good: clean, well equipped, with a nice vibe and they even organize nights out, parties and dinners for very good prices.
For something really unique, consider staying in an estancia (called finca in some parts of the country), a ranch. Estancias are located out of town, usually in rural areas. There are some fabulous ones in Patagonia, but you will find a nice selection also close to Buenos Aires.
Check out my post Where To Stay In Buenos Aires.
Eating and drinking in Argentina
Food in Argentina is delicious: the country is a real paradise for meat eaters, and enjoying a good asado (a mix of barbecued meats) is a must.
Vegetarians and vegans visiting Argentina used to have a hard time, but things have improved a lot in recent years and the choice of vegan restaurants is now quite large, especially in cities such as Buenos Aires and Mendoza. Thanks to its Italian heritage, you will also find lots of good Italian food: home made pasta and pizza are available in lots of restaurants, making the life of vegetarians and vegans a bit easier.
Empanadas (sort of small calzones with various fillings) are a good option of cheap and tasty food – you will find them served as appetizers or snacks in all restaurants, eateries, markets and even in the streets. Another common thing to eat is humitas (sort of tamales, made of corn dough).
Dulce de leche (caramelized milk, almost nauseatingly sweet) is very popular and pretty much spread on anything, or so it seems. Alfajores are also popular: they are two rounded dry biscuits joined together by (usually) dulche de leche and often covered in chocolate. Thanks to the Italian heritage, gelato is very good in Argentina and you'll find it easily.
Argentinians typically eat a small breakfast consisting of café con leche (coffee with milk) and medialunas, similar to small Italian cornetto. International hostels and hotels offer a bigger variety for breakfast which usually includes fruits, cereals and also eggs.
Finally, don't try to have an early dinner. Locals won't even consider eating before 8:00 pm!
Head over to my post 25 Delicious Argentina Food To Try.
In a country where meat is a staple, it almost goes without saying that wine is fabulous. The biggest producing regions are Mendoza and Cafayate, where you can go on a wine tasting tour.
Beer is also a very popular drink and in recent years craft beer has become more easily available. The best off-the-counter beers are Quilmes and Salteña, which is more popular in the region of Salta. They come in very large bottles too!
Last but not least, one drink you need to try when visiting Argentina is mate – a strong infusion of yerba mate, a bitter herb high in caffeine. Argentinians swear by it, but to be honest it takes a bit of an acquired taste to appreciate it (and I haven't acquired it even after three trips).
What's special about it is the culture around it: first of all, many locals never leave their house without their mate. They will carry around a thermos of hot water (strictly at 84°C), a bag of yerba mate, and their cup and bombilla – a metal straw used to drink the infusion. Most importantly, locals normally pass around the mate and share it in a group, all drinking from the same straw. Up to you if you want to try it or not!
Movies and series to watch before visiting Argentina
Are you still looking for inspiration for your trip to Argentina? Consider reading a book or watching a movie or even a Netflix series to get a sense of the country, its culture and its beauty.
I have a full post dedicated to the best movies set in Argentina – you can read it here. Don't miss Relatos Salvajes (Wild Tales) – a movie of 6 short stories that are hilarious and at the same time sad. You should also watch El Secreto de Sus Ojos (The Secret in Their Eyes), which won the Oscar for Best Foreign Language Film in 2010
When it comes to Netflix series, I am a massive fan of Casi Feliz (Almost Happy), a series based in Buenos Aires where the main character is Sebastian, a popular radio host who finds himself regularly in the most absurd situations. It's sweet, funny and bitter at the same time.
Pin It For Later!