Should you visit Rome in winter? I say, absolutely! Rome is a fantastic city year round, but it's during the winter months that you really have a chance to see the real Rome – a city that very much belongs to locals. So, if your work schedule only allows you to travel during the winter months, go for it – I promise you won't regret it.
Rome in winter has a special aura. It's still mostly sunny, but the occasional rain gives it that perfect touch of romance – the kind that will make you want to sit at a café to sip a hot chocolate; or enjoy a good class of wine.
While winter in Rome is not nearly as harsh as it may be in other European capitals, the city definitely gets cold (in fact, we Italians say it's the humidity that will kill your bones!) between November and March. All it takes to fully enjoy the Italian capital during the winter months is going in knowing what to expect and being properly geared.
Curious to find out what to expect when traveling to Rome during the winter months? Continue reading.
The Weather In Rome In winter
When you're in Rome in summer, it's difficult to ever imagine this place being cold. It's boiling hot and humid throughout the summer months, but come winter, the city does actually get surprisingly chilly. In December, the average temperatures in Rome fall between highs of 13°C (55°F) and lows of 4°C (39°F).
You can expect similar weather in January and February, with January seeing temperatures fall as low – and lower than – 3°C (37°F). Rainy days are not unheard of in winter – though keep in mind that rain in Rome comes in quick, thunderous sprouts that don't last very long. Snow or even just freezing temperatures, on the other hand, aren't that common.
Reasons To Visit Rome In Winter
Flights and accommodation are cheaper
Since it's not peak season, booking both flights and accommodation for your Rome trip in winter won't cost you the world. It is possible to find many budget flights this time of year and save a good amount of money on your hotel, too. In particular, prices are much cheaper after Christmas, when it will be pretty feasible to bag yourself a bargain break to stave off the winter blues.
Everything is still open
Although popular tourist resorts in Italy and other parts of Europe often close for the summer, that's not the case for Rome. The capital city is very much in operation 24/7 throughout the year. Of course, over the Christmas period there will be some closures, but in general winter is business as usual and everything – including the top sights – will be open.
Read my post The Most Famous Landmarks In Rome.
The crowds are thinner
Gone are the hot days and hefty crowds of Rome in the height of summer: Rome in winter means actually having space to breathe. You'll be able to see some of the city's most famous sites without battling through hordes of tourists or queuing for hours to visit the top museums (though it's still better to bag yourself skip-the-line tickets, just in case). The best time to visit Rome in winter if you don't want the prospect of many other visitors at all is to book your trip for January or February.
It's the perfect time to visit top sights
Since it's not so hot, the winter months offer up the chance to explore Rome without the sweltering stickiness of summer sapping your strength. Instead, you can wander the streets at your own pace, wrapped up warm in your jacket, and step inside cozy wine bars, cafes, and museums where you can warm up from the cold – and enjoy the culture, of course.
The light is beautiful
Those of you who are photographers, or like taking pictures for Instagram at least, will love seeing the city this time of year. As the haze of summer fades, and the city moves past fall into winter, a warm light begins to illuminate the monuments, the skies are crisp and clear, and the shadows are gorgeously long. Not only that, but as the days are shorter, you'll be able to see some spectacular sunsets, too.
Make sure to read my post Where To Get The Most Impressive Views Of Rome.
The city is decorated for Christmas
Come Christmas, Rome is fully decked out with the most beautiful festive decorations. Throughout the city you can expect to see streets strung with lights – the big shopping streets like Via Condotti, Via del Corso and Via Veneto are particularly beautiful. Elsewhere, Christmas trees steal the show – these are often magnificent at Piazza Venezia and Piazza San Pietro.
There are also the traditional nativity scenes that you can find in many, if not all, of Rome's churches – it can be pretty fun to go around local churches nestled in various piazzas and see the different styles of nativity scenes they have going on.
The Best Things To Do In Rome In Winter
As I have pointed out before, winter is a great time of year to visit all the main tourist attractions in Rome. Other than those, you will have a bunch of other interesting things to do. Here are a few ideas.
Celebrate Christmas in Rome
Christmas celebrations in Rome are wonderful. For starters, if you go to the Vatican City on Christmas Day you can be there to receive the traditional blessing and the Christmas message from the Pope himself.
There's also the chance to indulge in delicious Italian Christmas foods, such as lamb cooked with garlic and rosemary and hearty vegetables, pasta, and sweet treats like panettone.
And New Year's Eve
You'll never be stuck for things to do for New Year's Eve in Rome, because there's always a party happening somewhere – well, everywhere, actually. After eating a meal with friends or family, Romans take to the streets which are transformed into a city-wide festival.
This is particularly centered on the Circus Maximus – expect fireworks and concerts. For midnight, other Romans head to lookout points around the city to see firework displays taking place – the Pincio and the Gianicolo Hills, for example.
Go ice-skating
Ice skating – in Rome? This may not seem like the most Roman thing you could be doing, but what a dreamy way to spend a cold day in the Italian capital! There is actually a selection of different ice rinks that pop up around the city as the temperature drops. Choose from a handful of locations with iconic landmarks as the backdrop to your skating shenanigans, such as Castel Sant'Angelo.
Alternatively, opt for an indoor adventure at places like Ice Village Roma and the Auditorium Parco della Musica. Rinks pop up around the middle of December and run until February.
Celebrate Chinese New Year
Don't forget Chinese New Year – Rome is home to a sizeable Chinese community, and during Chinese New Year, you can expect celebrations in the city. Usually in mid-to-late February, the celebrations include a parade with lion dances, floats, and music – it runs from Via del Corso and ends at Piazza del Popolo.
Sip coffee in cafes
What more Roman pastime could there be than bundling into a cafe for a quick espresso wrapped up in your coat, then tumbling back out into the chilly streets? It's much more romantic than in summer, when the thought of an espresso can be a little daunting given the high temperatures.
Now, pepped up on caffeine, you'll be well fueled to explore the city, find a charming street to wander down, or hit up a storied museum. While sipping a coffee over a long time isn't really traditional, there are a growing number of coffeehouse-style cafes where you can while away the hours over a large coffee and a book.
Warm up with wine
Sometimes there's just no better way to spend a wintry afternoon than with a couple of glasses of wine. The best place for this sort of thing is in one of Rome's many charming and comfortable enotecas. These are the ideal places to sit down with some wine, contemplate the museum you just visited, and enjoy the buzz of the locals sitting around you.
Some of these include Il Vinaietto – a real traditional kind of place with an unspoiled atmosphere and affordable wines – or Chourmo, a local spot with a fantastic selection of wines and live jazz on weekends. My absolute favorite, however, is La Cuverie, in Trastevere.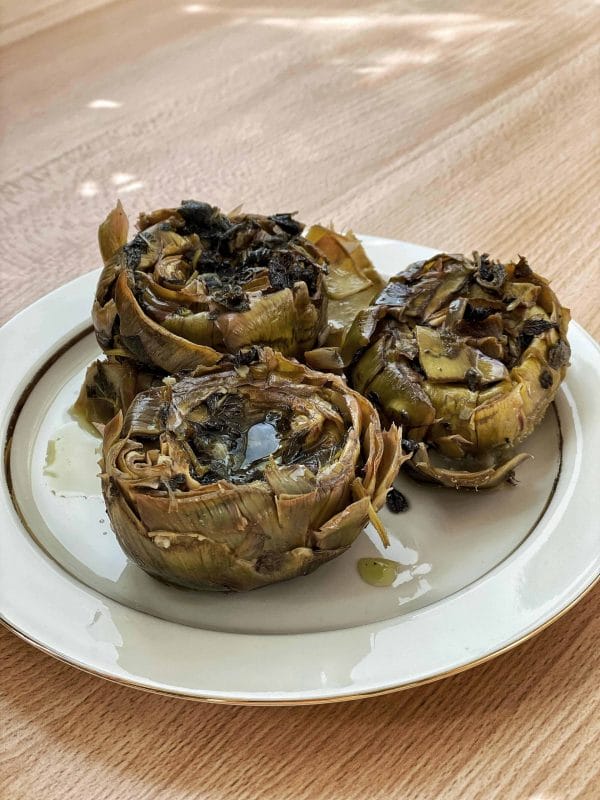 Tuck into seasonal food
It's not just about the Christmas food, but the seasonal food in Rome that makes winter an ideal time to visit the city for foodies. This time of year is all about the comfort eating – the hearty dishes, pizzas, and bowls of pasta.
Find yourself a family-run restaurant and tuck into a homely dish of oxtail stew, carbonara, cacio e pepe or even pasta e ceci (pasta with chickpeas). For the best carbonara, look no further than Da Renato e Luisa, close to Largo di Torre Argentina. The best Cacio e Pepe is at Felice a Testaccio. For an incredible food experience in Rome, go to Trattoria Vecchia Roma.
Winter is also artichoke (carciofi, in Italian) season, so that's when you will be able to taste two of Rome's most popular dishes – carciofi alla giudia, which are best eaten in the Jewish Ghetto; and carciofi alla romana.
Read my post What To Eat In Rome.
Learn to cook Italian food
With the onset of the cold weather, it's the perfect time to spend indoors learning how to whip up a Roman feast. You can get cozy inside as you pick up some serious skills, learning how to make some prime Italian cuisine from scratch. There are a number of different places to choose between, everything from a one-off cooking lesson to a more intensive course of learning the ropes of Roman gastronomy.
You can book your cooking class in Rome here.
Catch an opera performance
Winter in Rome means opera season. Make sure you book tickets to the Teatro dell'Opera for one of the many amazing classical concerts and operas that get shown here. But if you don't make it there, don't worry – this is also the time of year that concerts take place across the city, in palazzi and churches, and in the Parco della Musica. Chances are you'll find somewhere to see some live music.
To see what's on, check out the website of the Opera in Rome here.
Enjoy Rome's nightlife
Those of you who like nightlife will enjoy the simple fact that, in Rome, the nights are longer in winter. Night owls will relish the nighttime activities of the city, from hopping around wine bars to sampling different restaurants.
At night, the city is illuminated and the facades of historic buildings are dramatically beautiful – perfect for a post-dinner stroll. Party animals can enjoy partying the night away till the early hours of the morning in Rome's nightlife hotspots, too.
Take a look at my post The Best Things To Do In Rome At Night.
Shop until you drop in the sales
Many people come to Rome to shop for Italian products and buy some Roman fashion. If that's you and you're planning a trip to Rome in winter, then it would be a good idea to aim for January. This is when the New Year sales start, and it's possible to snap up some bargains throughout the city.
The Piazza del Popolo and Piazza Venezia are the ideal places to start off your shopping odyssey in Rome – that's where Via del Corso starts and ends; and from there you can reach Via Condotti and the surrounding streets for more high end shopping. For something more unique, head to Trastevere.
Head over to my post Where To Go Shopping In Rome.
Useful Tips For Visiting Rome In Winter
Make sure to wrap up warm
Rome may not be as cold as some places in Europe during winter, but it does still get cold, and you will need to dress accordingly. Think boots, trousers, sweaters, and jackets, as well as hats, scarves, and gloves (especially at night). Wrapping up warm in layers is recommended, as you'll want to be able to peel off a few outer insulators when you're in a tiny cafe, or just wandering around a warm museum.
What to wear in Rome in winter
Below is a more detailed list of what to wear when visiting Rome in the colder weather.
WARM PANTS – Jeans will hardly keep you warm, so you may want to pick a pair of thick cotton or even wool or fleece pants, such as these. You may also want to bring a pair of fleece lined leggings that you can wear under jeans or dresses on colder days. Kuhl Akkomplish are perfect for that – check them out here.
WINTER DRESSES – A turtleneck dress is perfect for a winter trip to Rome. You can easily wear it during the day to wander around town, and with the right accessories you can easily dress it up for a night out. You can get one here.
FLANNEL LONG SLEEVE SHIRTS – Kuhl makes the nicest, most comfortable flannel shirts that are perfect to wear with jeans. My favorite is Tess – check it out here.
A SWEATER OR TWO – Layering up is key when traveling in the winter months, and you will need a good sweater or two. Sienna sweater is comfortable without being bulky, and very stylish, and it comes in several neutral colors which makes it easier for mixing and matching – take a look here.
THERMAL TOPS – These are ideal as they pack super light and they keep you super warm! You can wear them under a shirt or a dress for extra comfort. Get yours here.
A WINTER JACKET – Ideally, you want something with a hood and that is also waterproof, just in case it rains. For something that is super comfortable, warm and stylish, take a look at Kuhl Arktik – I have had one for years and I can assure you it does its job perfectly!
A BEANIE – For the extra cold day, or when Rome gets windy, having a nice beanie will keep your ears warm. Get yours here. Make sure to pack a scarf too!
GLOVES – If you are anything like me, your hands will suffer in the cold temperatures and no matter how much you keep them in your pocket, they will never warm up! Make sure to get a good pair of gloves to keep them nice and warm. Take a look at these ones here.
BOOTS – You will need a pair of comfortable shoes for your winter trip to Rome. I recommend boots over shoes as they are perfect in case of rain, and they will keep your feet and legs warm.
Wake up early to enjoy more light
You will have a more limited time to see Rome basked in the light of day in winter. Days are shorter in winter, with the sun setting around 5:00 pm (compare that to 8:00 pm in the height of summer). This gives you less time to see the sights in daylight and basically means you'll have to get up earlier if you want to make the most of the sun.
It's not about the Christmas markets
There are a lot of reasons to visit Rome, but the Christmas markets shouldn't be a reason by itself. While there are Christmas markets in Rome, they're nowhere near as extensive or festive as other Christmas markets in Europe. Sure, they can be a part of your trip, and by all means stop by for a slice of festive cheer, but you'll be disappointed if the focus of your Rome vacation is to see a Christmas market or two.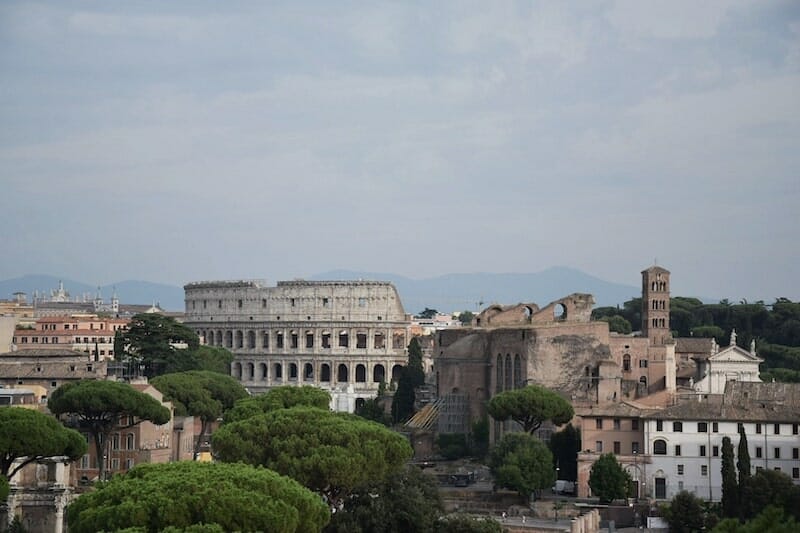 Double check opening hours at Christmas
During the festive period before and after Christmas, you should know that opening hours for various businesses around the city may change. Family-run restaurants may close for the holidays (a week or more), and stores will be generally closed on Christmas and on Boxing Day, on December 26th. Most attractions such as museums and art galleries will be closed on Christmas day too.
So if you're a tourist and you're in Rome for Christmas Day itself, it's a good idea to find a restaurant that's open in advance and book yourself in for all the trimmings.
Prices are usually cheaper after Christmas
Speaking of Christmas, if you were thinking of a winter trip to Rome and you're not that interested in seeing Christmas itself, then try planning your trip for just after the festive season. January and February are cheaper for accommodation and flights, and as I have said before, the crowds are thinner too.
Bring an umbrella
It can be quite rainy in Rome in winter, so bringing an umbrella is very recommended for your trip. Having a poncho or waterproof jacket is good, but having to take it off when you get into a restaurant, rather than simply closing an umbrella, can be a whole lot of hassle.
Further Readings
Make sure to read my other posts:
Pin It For Later!