Exploring Rome at night is part if the fun of visiting the Italian capital. The Eternal City is the perfect place for a night stroll, when all the most famous attractions are beautifully illuminated – and the crowds of tourists are busy having dinner.
In fact, there are days when you can even visit some of these attractions, for a truly enchanting, unique experience.
If you are traveling to Rome, you should totally factor in a night or more out and about, taking in the fantastic, chilled yet bustling atmosphere. Worried about safety?
Don't be! Rome is safe to explore even at night – just adopt the typical precautions you'd use anywhere else and make sure to make a mental note of the metro hours (you can read about public transport in Rome here).
In doubt, you may want to join a night-time guided walking tour of the city. You can book it here.
Also remember that dinner time in Italy is never before 20:00 (in fact; more like after 20:30 or 21:00 during the summer months) – so don't try to sit down for dinner at 18:00 so that you can have an early night: only restaurants exclusively catering to tourists would serve a meal that early! And remember, making dinner reservations is definitely the way to go.
Now – curious to see what you can do in Rome at night? Continue reading!
What To See And Do In Rome At Night
Admire the Trevi Fountain, minus crowds
The Trevi Fountain is one of Rome's most popular sights. Famous the world over, the iconic fountain draws hordes of crowds throughout the day – all vying to toss their coins in and pretend they're Audrey Hepburn in Roman Holiday.
Come here late at night, however, and the Trevi Fountain is a much more peaceful place to enjoy the elegant fountain in all of its magnificence. Once the sun sets, the fountain is illuminated and bathed in warm lights.
With barely any crowds, the fountain becomes more magical than it is by daylight. It's certainly one of the most beautiful places to visit in Rome at night.
Head over to my post The Most Beautiful Fountains In Rome.
Chill out in a piazza
When in Rome, do what the Romans do – namely, hanging out in a piazza. These landmark squares are the perfect places for people watching in the evening. Piazza di Spagna or Piazza Navona are the ideal spots to take a seat and watch as people stroll by, children play, and street performers draw crowds.
This is even better when done with a snack in hand; simply take your seat – before or after dinner – and enjoy. It's also a great time for photographers to snap some Instagram fodder of evening life in the city.
Check out my post The Most Beautiful Piazzas in Rome.
Tour the Colosseum after dark
Another one of Rome's top sights, visiting the Colosseum by day means either booking ahead well in advance, and it almost always means crowds. However, it doesn't have to be that way. The Colosseum actually opens up for visitors with evening tours, too – and this is one of the most interesting, impressive sights in Rome at night. Sure, it is more expensive than visiting during the day – but you only live once, right?
Even if you aren't visiting on a tour, laying eyes on the Colosseum at night is equally impressive. Lights illuminate the ancient arches highlighting the history and architecture of the building. As for the tour inside the grounds, there are various companies that offer this – it can be more expensive than in the day, but it's worth it.
To book a night tour of the Colosseum, click here.
Visit the Vatican without the crowds
For one of the most beautiful views of Rome at night, head to St. Peter's Square to admire St. Peter's Basilica. Completely illuminated, the church is simply magnificent.
Unfortunately, the Basilica is closed at night. But for a truly special experience, you could actually plan to visit the Vatican Museums and the Sistine Chapel after dark! Every Friday and Saturday during the summer months, the museums are open until 22:30, with last access at 20:30. You should definitely book your visit in advance; or even better you could go on a night tour.
You can book your night tour of the Vatican here.
Go underground at the catacombs
Not only can you visit Rome's catacombs in the daytime, you can also go down into the depths at night. The catacombs themselves are ancient with around 40 different systems dating between the 2nd and 5th centuries AD.
Though it's dark underground whether it's day or night, exploring these subterranean passageways at night-time is distinctly more eerie.
With a lack of crowds and other tours, you and a small group will descend underground to see the spectacle of the catacombs, learning about their history as you go, before emerging back up into the world of the living and heading straight for a stiff drink! It's definitely one of the eeriest things to do in Rome at night.
To book your tour of the Catacombs, click here.
Spot the illuminated Pantheon
As night falls, Rome's iconic sights are lit up, and the Pantheon is no different. Make sure not to miss this landmark when it's illuminated in the evening as it's one of the most charming places in Rome at night. In the daytime, the piazza is crowded with groups of tourists all wanting to see inside the Pantheon – this can make seeing the building in all its glory a little bit difficult.
The Pantheon may be closed at night, but with its beautiful lighting, you can see up into the outer portico and admire the huge columns of this ancient wonder.
Read my post The Most Famous Buildings In Rome.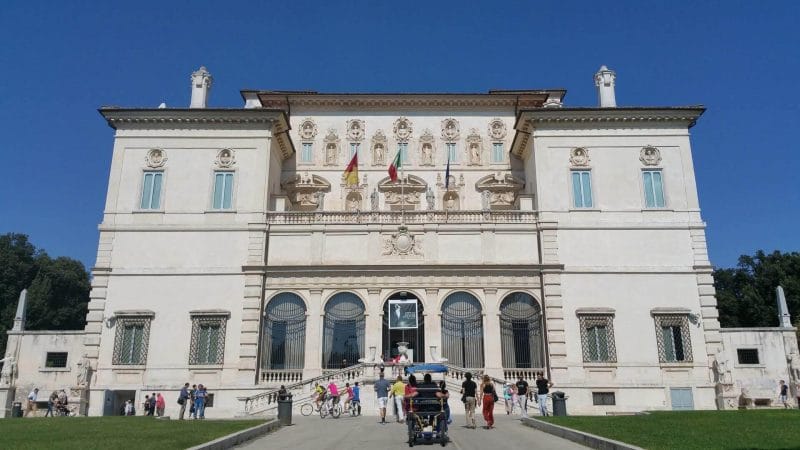 See the Museo e Galleria Borghese at night
Another of Rome's top sights, the Museo e Galleria Borghese is packed full with incredible artworks and masterpieces from throughout the ages. But like all of the city's top sights, visiting during the day – and especially in peak season – can mean it's a crowded experience.
However, also like many of Rome's biggest attractions, you can also visit the gallery after dark. On Wednesdays, the museum has longer opening hours with it closing at 22:00 and two available time-slots: from from 19:00 to 20:30 and the other from 20:30 to 22:00. Simply rock up and enjoy some amazing art – maybe even after an aperitivo.
You need to book your evening visit of Borghese Gallery in advance. Get your tickets here.
Head to Castel Sant'Angelo for sunset
Castel Sant'Angelo is often overlooked by tourists at the best of times, so it's always worth a visit. However, if you're looking for a sunset spot, come here. You can actually go to the top floor of the castello where you can see the city skyline and the Tiber River snaking through it.
Better still is the fact there's a deli here where you can grab a snack and a glass of wine or two as the sun goes down. It's a spectacular sight.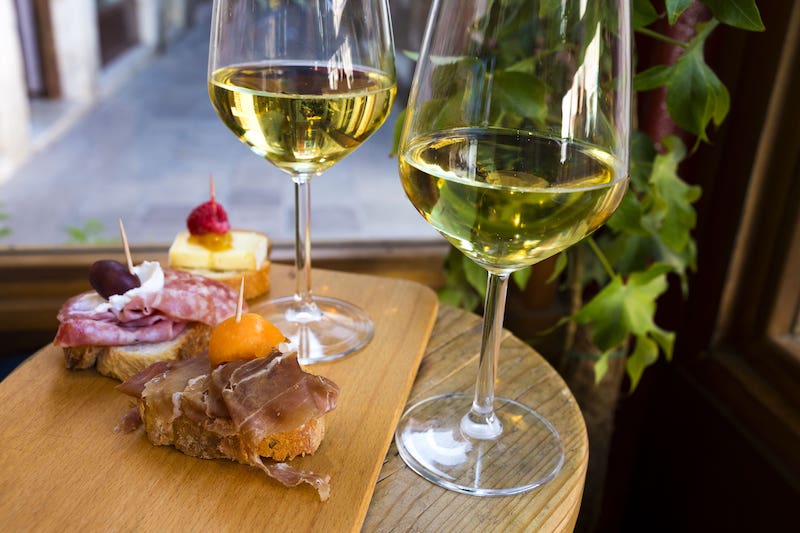 Enjoy an aperitivo
It wouldn't be a night in Rome without starting things off with an aperitivo. Aperitivo time starts around 19:00 and goes on for a few hours, before people start making their way to dinner around 21:00 or 22:00.
Aperitivo just means going for a drink or two with a few light nibbles – maybe a cheese board, maybe some salami, maybe a few olives. It's the ideal way to round up your day and ease into the evening.
A traditional aperitivo is a spritzer, like Aperol or Campari. In summer, most local bars have terrace seating, so you can soak up the night air and watch people go by.
Go for drinks at a rooftop bar
One of the coolest things to do in Rome at night, especially during the summer, is having a drink at a rooftop bar. Rome has no shortage of rooftop bars. There are countless cool spots to enjoy a drink and a view from up high. The problem is figuring out which one to go to!
For a couple of options, right at the top of the Spanish steps you'll find the Cielo Bar. With striped red and white seats and umbrellas, this rooftop hangout has gorgeous city views soundtracked by live music. The rooftop bar at Singer Palace Hotel is a chilled-out spot with jaw-dropping views of the city.
The Race Club Speakeasy Rome
Just a few steps from the Colosseum you'll find this hidden bar. Tucked away underground, The Race Club Speakeasy is easily missed – the entrance looks more like a car garage than a bar.
But walk through and down the steps, and you'll be ushered into a world of swanky cocktails and vintage decor.
This secret saloon is staffed by professionally trained cocktail makers and features a menu of 10 signature cocktails to choose from. Reservation is by email or WhatsApp, and you'll have to pay €5 for a membership card to gain access, but it's totally worth it.
Eat in Trastevere
When you're in Rome, you're going to want to eat a lot of delicious food. Lucky for you, there are a whole world of choices when it comes to dinner. If you're not sure where to go, you should make a beeline for the Trastevere area.
This trendy district is a magnet for locals and visitors who want to enjoy Rome's culinary delights alongside its pretty piazze and alleyways.
Here you'll find a whole host of bars and restaurants to enjoy. Babylon Cafe is a neighborhood institution for drinks and small plates while Coffee Pot Trastevere offers Mexican-styled tapas dishes – for easygoing bites and terrace seating, head to Meccanismo.
If you'd like to join a night street food tour of Rome, you may want to look into one that also goes to the Jewish Ghetto and Campo de Fiori. You can book it here.
Make sure to read my post What To Eat In Rome.
Enjoy the ambience at Garden of Delights
For more wining and dining fun, make sure you don't miss out on Giardino delle Delizie, the Garden of Delights. This aptly named epicurean spot is a hidden garden and elegant building (named Borgo Ripa) dating to the 17th century once belonging to the Pamphilj family.
On a warm summer's evening, it's the perfect spot to enjoy a meal. It's a great spot where you can select some delicious bites to eat while sitting out under the stars in a beautiful garden. It's an enchanting place.
Dine on the Tiber River
As if there weren't already enough wonderful places to eat in Rome, the city had to go and offer something else to make it even more special. That's where Rome's riverside dining comes into play.
However, it's not just along the river but on the Tiber itself. Baja is a floating restaurant on a converted boat that has been stylishly reinvented as the chic space it is today. Expect Italian cuisine, wine, cocktails, and a buzzing atmosphere – the lighting adds to the romantic feel of the place too.
Check out my post The Most Romantic Things To Do In Rome.
Tuck into a gelato
Gelato is delicious no matter what the season is. Even as the sun sets, it's never the wrong time to enjoy these delicious treats – in fact, we Italians typically enjoy a night stroll sporting a gelato. Rome has some amazing gelaterias where you can select from an array of different flavors – traditional and more inventive.
Il Gelato di Claudio Torce, close to the Circus Maximus, boasts all-organic, high-quality gelati. There's also Gelateria I Caruso near to Repubblica Train Station for wonderfully fresh flavors. If you're near the Spanish Steps, Ciampini is not to be missed.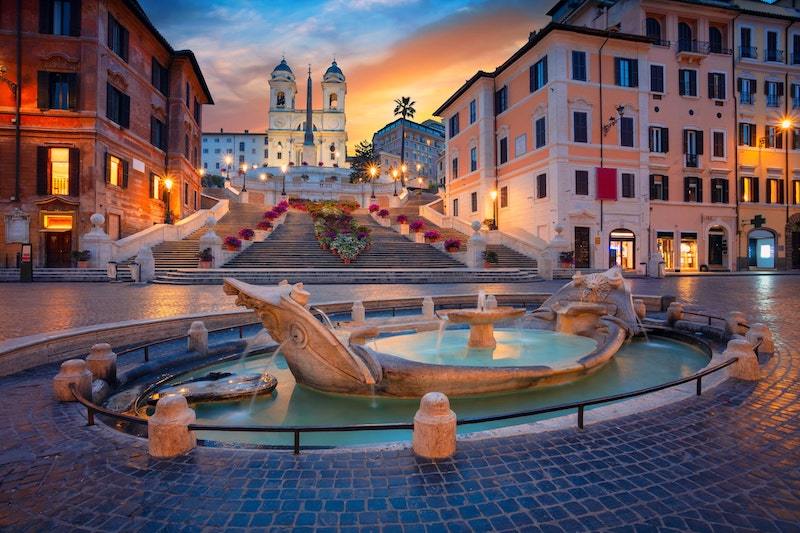 Watch an open air movie
You might be surprised to know that Rome has a whole host of outdoor cinemas where you can catch a movie and enjoy the warm summer air. The moonlit movies are a perfect way to soak up the atmosphere of the city, and you can find them in piazze and in parks alike.
Cinema in Piazza is a film festival in which piazze across the city are turned into movie theaters, showing films free of charge. At Villa Borghese, Casa del Cinema hosts an open-air cinema across three months in the summer.
Read my posts The Best Free Things To Do In Rome and A Guide To Visiting Rome In August.
Go to the opera
The Teatro dell'Opera is a historic theatre in Rome, opening its doors way back in 1880. This building may not seem like much on the outside, but inside is the perfect venue to enjoy some memorable performances.
You can get your opera tickets in Rome here.
Otherwise, if you're in Rome during summer, head to the Baths of Caracalla where you can enjoy opera performances on the backdrop of ancient ruins. The Teatro dell'Opera puts on these open-air summer shows and they're not to be missed.
Dance the night away at a nightclub
It's not all about aperitifs and long dinners – Rome also has some pretty cool nightclubs where you can dance the night away. From electro and techno music, to disco and salsa, there are all sorts of clubs to fit all sorts of people in Rome.
Goa in the Libetta district is where to go for electronica and techno, but if you're into something a little more mainstream then head to Profumo Spazio Sensoriale. For a fashionable night out, try Raspoutine – it's an Ibiza-style spot with international DJs part of its regular line-up.
Enjoy some live music
It might surprise you to learn that Rome has a pretty vibrant live music scene with some amazing jazz and blues venues in particular that music lovers should check out. These cool spaces are great for soaking up some great music on a cold winter's evening or a steamy summer night alike.
The city's oldest jazz club is to be found at Alexanderplatz. This venue was founded in 1984 and boasts live music every single evening. Jazz Cotton Club is a more contemporary space located in Trieste – a good crowd of students and after-work aficionados. Elsewhere, Gregory's Jazz Club – near the Spanish Steps – features chic cocktails and a laid-back lounge setting.
Treat yourself to The Sanctuary
If you really want to unwind after a day of pavement pounding, then take a trip to The Sanctuary. This eco retreat provides a spa venue that can be used after dark, and for dining as well, making it a great option for those who really want to find some Zen – to a soundtrack of chilled house music.
It's a laid-back spot but with a Bali or even Cambodian feel – think tropical plants, parklands and ornate design. There are lots of different cozy corners where you can find a space to relax, as well as a program of events you can take part in, including yoga.
For some extra fun, take a trip on TramJazz. This jazz bar and restaurant is actually situated on a tram that trundles around the city to the soundtrack of live music as you drink and dine aboard.
Pin It For Later!