There are some excellent hotels in Trastevere, and if you are looking for a centrally located part of town, with easy access to a lot of attractions, and you aren't bothered by noise, this is definitely one of the nicest neighborhoods in Rome.
To me, Trastevere embodies Rome perfection. You can expect to find some of the most beautiful churches in Rome: not only the famous Santa Maria in Trastevere, but also Santa Cecilia Basilica and San Crisogono to name a few. It's narrow cobbled alleys and lovely squares galore. There are some interesting museums and art exhibits, too.
Stepping away the cultural sights, this is one of the best places to go shopping in Rome. Trastevere is also home to a few excellent restaurants – Enzo Al 29 is just one of them; and a multitude of bars that make Trastevere the main hotspot for nightlife in Rome.
With the busy nightlife, it goes without saying that staying in Trastevere comes with a major downside: it is incredibly noisy, and if you are a light sleeper you will need a good pair of earplugs to block the noise that often continues well beyond 2:00 am.
If the noise doesn't put you off and you are still thinking of staying in Trastevere, you may be looking for the perfect place to stay within your budget range. So, here's a selection of all the best hotels in Trastevere.
18 Best Hotels In Trastevere Rome
Best Luxury Hotels In Trastevere Rome
Trilussa Palace Hotel Congress & Spa is an elegant accommodation option in Trastevere. For a little bit of luxury in this part of the city, this 4-star hotel is a good way to go. It's run by a friendly team of staff who'll make sure your stay is as enjoyable as it can be.
Rooms here are plush and modern, with large, comfortable beds, high ceilings, and well appointed bathrooms; some rooms have their very own balconies, too. The hotel has a selection of dining choices, including the chic cocktail bar and stylish terrace restaurant. For when you need to unwind, guests can take a break at the spa or hit the gym.
Designed by Baroque architect Francesco Borromini in the 17th century, this former monastery is now a refined hotel boasting opulence at every turn. Be wowed by the opulent corridors, relax in the sweeping courtyard gardens, and take some time to reflect in the hotel's own magnificent chapel.
In terms of the guest rooms, you can expect an elegantly simple charm on show, with four-poster beds, antique furniture and contemporary bathrooms to top it off. Dinner can be enjoyed by candlelight in the hotel's manicured garden, while a buffet breakfast can be enjoyed outdoors in the summer months, too.
With rooms decorated in a plush, boutique style, and Instagrammable interiors throughout, Hotel Parrasio is a good option for design lovers – or couples looking for a romantic getaway in Trastevere. Overall, the hotel is relatively small, but it's perfectly comfortable and conveniently located for a trip to the city. Location-wise, you'll find Villa Aurelia, Piazza di Santa Maria and a ton of restaurants and bars nearby.
The friendly local owner is welcoming and will help you with recommendations for sights to see, things to see and places to eat in Rome. But the hotel also features its own popular restaurant (which specializes in sushi), which boasts terrace seating for long and lazy summer meals.
This beautiful boutique hotel is a fantastic option for couples looking for somewhere to stay in Trastevere. Situated inside a sizable historic building, rooms here reflect the heritage of the building but with contemporary comforts providing all you need. The rooftop terrace is a great bonus: it boasts 360-degree views across Rome's rooftops, and is the ideal place to enjoy drinks as the sun sets.
The location is also fantastic. Hotel San Francesco is situated right next door to the 15th-century church of San Francesco a Ripa. Nearby there are also a number of bars and restaurants to enjoy, as well as tram and bus connections to the rest of the city.
The gorgeously decorated Residenza San Calisto is a perfect example of how Trastevere's historic buildings can be transformed into comfortable and stylish modern hotels. Spaces throughout have been lovingly restored and redesigned, highlighting the history of this 18th-century building.
This doesn't stop at the guest rooms, each fitted with antique wooden furnishings, beamed ceilings and oil paintings; there are also studios and apartments to choose from.
Each morning a hearty, sweet and savory buffet breakfast is served up in the restored antique cellar turned dining room. The location of Residenza San Calisto puts guests just steps away from Piazza Santa Maria, with local restaurants, bars, cafes and markets on the doorstep.
Best Mid-Range Hotels In Trastevere Rome
If you want to stay somewhere that really reflects the history of the district, then Hotel Santa Maria is the accommodation for you. It's set inside a restored 16th-century convent, so as you can imagine, much of the hotel has retained the building's historic features. Even the cozy rooms, with their traditional brickwork, look out across the convent's courtyard.
The courtyard itself is a veritable oasis from the buzz of the city streets, with its lush Mediterranean greenery and orange trees. Hotel Santa Maria also boasts its own bar, which serves a selection of regional wine and plates; there's also the option to enjoy a nightcap or an aperitivo in the courtyard.
This family run bed and breakfast is located in a historic building in Viale Trastevere, the main road in the neighborhood and at a stone's throw from all the main attractions, cafés, bars and restaurants in the area. The road below is busy, but hardly any noise makes it to the rooms so you are guaranteed a good night's sleep.
All rooms are spacious, spotless, cozy and different at Paola A Trastevere, which gives it the extra homey feel. Paola and her daughter Costanza, who run the place, are incredibly friendly. Breakfast is served in your room – a selection of fresh fruit salad, coffee, croissants, yogurt, cereal and even savory options if you wish.
Of all the places to stay in Trastevere, this is easily my favorite and the one I always return to.
One of Trastevere's more modern accommodation options, Hotel Ripa Roma is set in a purpose-built hotel. Because of that, there is a wide selection of rooms to suit your travel needs, from a double room with its own balcony all the way to studio apartments. All rooms, however, have been decorated with sleek, modern furnishings and a muted color palette.
Amenities at Hotel Ripa Roma include a restaurant serving local specialties, a free gym, and the option for breakfast to be served in the rooms. Pets are also allowed, in case you're bringing your pooch along for the ride.
More of Trastevere's history can be found in this historic hotel. Casa Di Santa Francesca Romana e Ponte Rotto is situated in a beautiful medieval building: think wood-paneled ceilings, terracotta tiled floors, original stone, antique furnishings, and oil paintings. Guest rooms at the hotel are simple and classically furnished, but are spacious and relaxing.
The hotel itself is centered around a charming courtyard, where a sweet and savory breakfast is served during the summer months. In terms of location, Casa Di Santa Francesca Romana e Ponte Rotto is ideal for exploring the district; Porta Portese flea market is 600 meters from here, the Great Synagogue of Rome is a 10-minute stroll away, and the Bocca della Verità is also nearby.
This is one of the only hotels in Trastevere that comes with its own outdoor pool – a rarity in the neighborhood. This classic hotel boasts a large manicured garden, where you'll find the pool screened by Mediterranean plants and greenery.
Inside the hotel itself, guests can enjoy dining in the hotel restaurant, which has spectacular views over Rome's rooftops, including St. Peter's Basilica. There's also the option to dine in the orangerie, where you can enjoy a variety of local wines.
Elsewhere, Grand Hotel Gianicolo features a rooftop terrace, which is another place to admire gorgeous views of the city. The guest rooms here are traditional, and though not very modern, they are still clean and polished.
This bright and colorful B&B is a good option for accommodation in Trastevere. Set inside a historic building, the rooms at Divine Bed & Breakfast have been decorated with various modern furnishings and color schemes in mind. Think white washed walls, a pastel rainbow of wooden floors, with matching bed linens, and pop art adorning the walls. Each room comes with its own desk, wardrobe, and modern ensuite bathroom.
Hotel staff are one of the bonuses of staying here; they're always on hand to help with anything you need, and will welcome you from the moment you step through the doors. Breakfast is provided at a nearby cafe, where you'll be served coffee and croissants, Roman-style. The location is great: it's just a block away from Trastevere proper, so it's a little more peaceful and quiet.
Billing itself as a "jewel set in the most trendy district of Rome," Hotel Trastevere is an affordable mid-range accommodation option. This 3-star hotel overlooks the action of the bustling Piazza di San Cosimato, and is just steps from Santa Maria in Trastevere.
The hotel itself is warm and welcoming, with a selection of traditionally decorated guest rooms on offer. The rooms may not be overly spacious, but they have been carefully maintained with comfortable furnishings, white washed walls and modern amenities. Options run from one-bed rooms to family suites. Breakfast is available each morning in the hotel's dining room, which is the ideal way to set yourself up for a day of exploring the city.
Another 3-star hotel in Trastevere, this offering is full of the charm that the district is known for. Start your day by indulging in a large buffet breakfast in the hotel's plant-filled inner courtyard, then head out to explore the nearby sights; Piazza di Santa Maria, the Orange Garden, and the Rome Synagogue are all within easy walking distance.
Returning back to your hotel after a day of discovery, you'll be able to enjoy the relaxing atmosphere of Relais Le Clarisse a Trastevere. Recline on your double bed and lap up the historic atmosphere; rooms are decorated with terracotta tiles, plastered walls, and high wood beamed ceilings. Alternatively, you can take a sunny seat on the shared balcony terrace for views of Trastevere's streets below.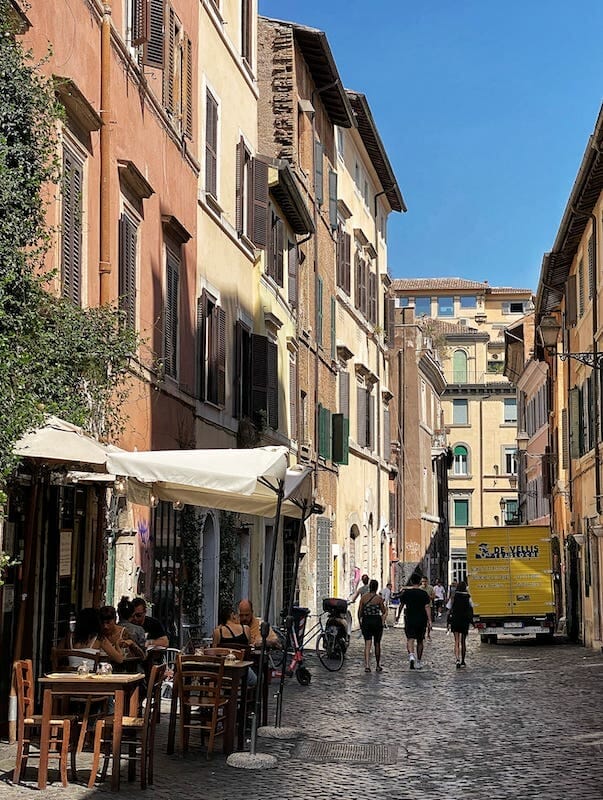 Best Budget Hotels In Trastevere Rome
Set in a large historic building, this down-to-earth accommodation is a small but charming place to stay in Trastevere. The location is very convenient as it's right in the heart of the district, surrounded by all the action of the area, and just 50 meters from the nearest tram stop. On Sundays, the traditional Porta Portese outdoor market takes place right outside the building.
The guest rooms are welcoming and decorated with contemporary interiors, hardwood floors, and stucco walls; they also feature large windows. The hotel itself is run by a friendly local who provides fresh croissants and other pastries each morning. It may be more like a B&B, but Dulcis In Fundo makes for a homely experience.
Trastevere Corner Eight is another one of Trastevere's affordable properties. Its handful of rooms on offer are modern and spacious, and come with everything you may need for your trip. Throughout, the hotel has maintained traditional elements of the historic building such as tiled floors, high stucco ceilings, and large windows; there are modern touches, too, like polished concrete walls.
Amenities at Trastevere Corner Eight include a communal kitchen and shared lounge, which means you can help keep the costs of your trip to Rome low – and there's the bonus of having a place to unwind after a day off exploring, too. Location-wise, it's close to the Basilica of Santa Maria in Trastevere, and is surrounded by bars and restaurants.
Those looking for a budget hotel in Trastevere may want to consider Hotel Carmel. For one thing, the location is great. Set in the heart of Trastevere, along a residential street, much of the area is walkable, so you can easily reach restaurants and bars; top sights are also in easy strolling distance.
In terms of guest rooms on offer, the hotel provides down-to-earth but clean lodgings – expect tiled floors, dark wood furnishings, and colorful artwork. One of the highlights of the hotel is its central courtyard, where you can tuck into a delicious breakfast under the dappled sunlight during the summer months. Other benefits include handy amenities, and pets are allowed to stay, too.
Best Apartments In Trastevere
Offering up a home away from home, this property provides a calm and contemporary space for visitors to Rome. You'll find it situated just a stone's throw from Piazza di Santa Maria, and with plenty of bars, restaurants, and shops on the doorstep it's a perfect central location for exploring Trastevere.
The apartment itself is clean, with bright, retro mid-century furnishings, a pink terrazzo floor, and period features such as high ceilings and large windows. It even has its own balcony to kick back on, and a kitchen to make full use of. All in all, it's a great option for families or a group of friends.
Trastevere Sweet Home is a stylish Roman apartment – ideal for those who want some privacy and independence during their time in the Eternal City. The apartment comes with two bedrooms, one of which features a double bed, a living room (with a sofa bed), a bathroom, and a fully equipped kitchen. It's stocked with everything you need to make yourself at home.
The building itself dates back to the early 20th century, so there's a lot of charm to soak up here – particularly when you step through the enormous front door and down the step into the apartment itself. The location puts guests within walking distance to the Basilica of Santa Maria in Trastevere, Campo de' Fiori and even St Peter's Basilica.
Further Readings
For more ideas of places to stay in Rome, check out these posts:
Pin It For Later!