Vitorichiano is one of a collection of pretty towns to be found in the Tuscia region. Taking its name from the Etruscans (a pre-Roman civilization), not only is this area strewn with ancient origins, it has also played an important role in medieval Italian history – and beyond.
I grew up with a poster of the old town of Vitorchiano in my parents' living room – so much my dad loves it – so you can imagine it's almost a mythological place to me and one of those I go to whenever I can.
This town is one of the prettiest and most dramatic in Tuscia. It literally clings to an outcrop of peperino rock at the foot of Monte Cimino and is a warren of old streets and crumbling medieval buildings. Outside, it's surrounded by hilly, forested landscape, but inside, it's a world of narrow lanes, flower boxes, and architecture that's like a window into the past.
If you can catch a glimpse of it from afar, on a good day you'll be able to take some incredible photos of a town that looks like something right out of a fairytale or fantasy novel, with buildings rising out of a jagged rock jutting out from woodland. In autumn, it's particularly stunning.
Think monuments, palaces, and breathtaking views – all rolled into one. And just a stone's throw from Rome itself, meaning it's easy to get to.
As you may be able to tell, Vitorchiano is worth a visit! And since it's a special family place for me, I know it well and I am ready to share all there is to know for you to visit.
Make sure to read my posts The Best Hidden Gems In Tuscia and A Curated Guide To Tuscia.
The History Of Vitorchiano
Situated on its high peperino perch, the history of Vitorchiano is inextricably connected to its landscape. It's located in the heart of ancient Etruscan lands, with the name itself believed (by some) to be linked to the Etruscan language, specifically the word for water – ur, which is the element of Etruscan goddess of fortune, Northia.
Either way, the clifftop was known to be home to a thriving village toward the end of the Bronze Age, dated to around the 11th century BC. It was then thought to have been occupied by the Etruscans before the Romans set up a fortified town here in the 4th century BC, under the leadership of consul (and war hero) Quintus Fabius Maximus Rullianus.
Eventually, following the decline of Rome, the town – like many in the region – fell into the hands of the Lombards. The occupation of Vitorchiano is mentioned in a document attributed to Lombard king, Desiderio, in 757 AD. During the Middle Ages, Vitorichiano was under the control of the nearby town of Viterbo, which was a powerful state in the region.
Eventually, Vitorchiano declared itself free from ties with Viterbo, at which point the town was besieged by militia from Viterbo. The town called on Rome for help in 1201, and after this aligned itself with Rome.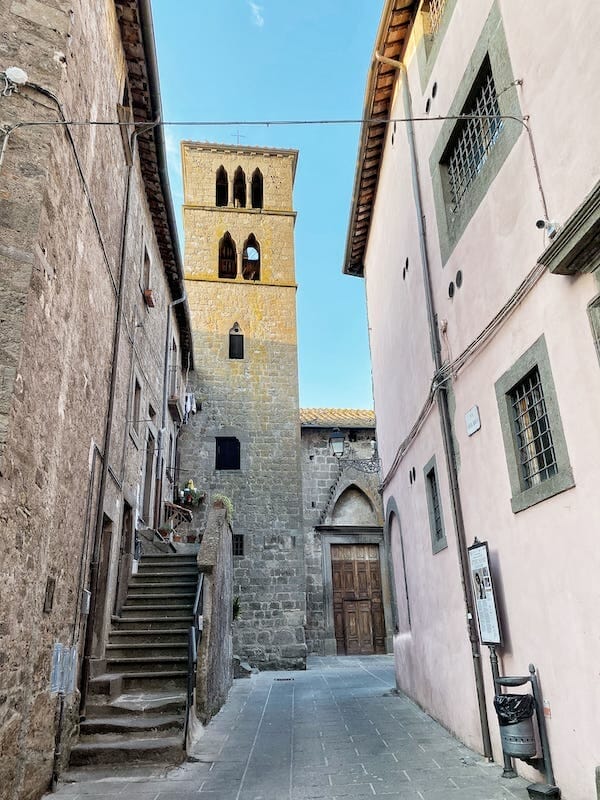 But in 1232, Viterbo was able to take control of Vitorchiano and, in the process, almost completely destroyed it. After this, fortifications were built anew by Viterbo, with enormous walls constructed that made the town almost impregnable. However, the people of the town didn't want to live under the rule of Viterbo. The village again asked for Rome's help, but to no avail.
Finally, in 1267, Vitorchiano made a formal act of submission to the Roman Senate, and the town was declared "Terra Fedelissma all'Urbe" – part of Rome itself. The town enjoyed tax exemptions, its castle was declared Roman. Even the Roman motto, SPQR (Senatus Populusque Romanus; "the senate and the people of Rome" in Latin) was added to its coat of arms.
But probably the most important part of this agreement was the provision of soldiers from Rome. These members of the Capitoline guard were called Fedeli di Vitorchiano. This is something that actually remains in place to this day. In fact, visitors to the town will be able to notice the Guardia del Campidoglio on guard in their official uniforms. Taxes paid in Rome still reimburse Vitorchiano for this privilege.
Main Attractions In Vitorchiano
Gates of Vitorchiano
Because of its fortified credentials, the town of Vitorchiano plays host to many historic gates that allow access through its walls. Two medieval gates still stand, through which visitors will pass to enter the oldest part of the town. They're made of the dark peperino stone and look as imposing as they were intended to be when they were first built.
One of these gates is known as the Snow Gate. This has various legends attached to it, one of which being a story about snow appearing on the gate in the summer month of August – hence the name. The gate itself is beautifully decorated, with carvings of coats of arms and ornate inscriptions.
Ancient Walls
The town was heavily fortified by Viterbo in the 13th century, and these medieval additions still stand to this day. These look particularly impressive as they're made from the same rock on which the town sits, so it looks like the whole thing – both town and cliff – is just one massive castle.
There are numerous towers that were constructed around the edge of the settlement, as well as ramparts, which were added in the 15th century. In most places, these large structures remain undamaged and intact – the way they always have been. It's a particularly well-preserved example of a fortified hilltop town in the Tuscia region, and one of the best things to do in Vitorchiano is simply wander around this medieval part of town taking it all in (and probably taking lots of photos, of course).
Saint Mary's Church
Called Santa Maria Assunta in Cielo in Italian, this Romanesque style church dates back to the second half of the 13th century. It's one of the most important attractions in the town. As well as its medieval elements, this church also features a 15th century belltower with prettily mullioned windows and decorative columns. With these decorations, the belltower differs from the simpler medieval church building itself, which is typical of churches in the Tuscia region.
Inside you will find a peaceful atmosphere, with some timeworn frescoes on the walls, one depicting the baptism of Christ, and another depicting "doubting Thomas".
The Town Hall
Located in the aptly named Piazza Roma, Vitorchiano's town hall – complete with clock tower – dates back to the 16th century. It is located right next to the old city walls, and features architecture that makes it seem as if the town hall itself could be a part of the fortifications; only two windows decorate the facade, signaling that it would have been useful as a defensive building.
The clocktower is home to an interesting plaque, dating back to 1320. Interestingly, the plaque states that murderers and traitors are prohibited from living in the village!
It's possible to enter the old town hall. Here, the main attraction is the board room. You'll find many indications here as to the town's historic (and current) ties with Rome. There are paintings and rich frescoes adorning the walls, completed by local artists of the Viterbo school, as well as a pulpit and a fireplace constructed of peperino stone. Even the wooden doorways feature carved lintels.
The town hall also features a second tower, which can be accessed after you enter. You can climb the stairs here to arrive at a good viewpoint over the rest of the town and the dramatic landscape below.
Saint Agnes Nunnery
Situated opposite Santa Maria Assunta in Cielo, this nunnery (dedicated to Saint Agnes) dates back to 1466. The nunnery is actually situated among a complex of religious buildings, complete with its own church and a small garden. The church features its original 15th-century wooden door.
Church of Santissima Trinità
Also located close to the Santa Maria Assunta in Cielo, the Santissima Trinita is a 14th-century church that can be found near the entrance to the medieval part of Vitorchiano. According to legend, one of the chapels in Santissima Trinita is the home of the relics of San Amanzio – in a gilded wooden urn, apparently.
The church itself, similar to other Romanesque style churches, has a plain facade, while inside there's a wooden ceiling, a narrow nave, and a 16th-century wooden crucifix.
Church of San Pietro
Another of Vitorchiano's Romanesque churches, the 14th-century San Pietro is also constructed with peperino stone and has a relatively plain facade. Though it is somewhat unloved, and a small part of its former glory, the Church of San Pietro is still worth stopping off at to see more of the history of Vitorchiano.
Moai statue
Perhaps the strangest addition to the monuments of Vitorchiano is the town's Moai statue. It's 20 feet (about 6.1 met4ers) tall and carved out of the local peperino stone. It faces towards the town itself from afar.
Though native to Easter Island (9,000 miles away), this stylistic stone head looks strange and out of place in the leafy medieval landscape of this Tuscian town.
So how did it get here? Well, the statue is thought to have been hand-carved by the Atan family. The family are descendants of Ororoina, the only survivor of a civil war on Easter Island. The statue was originally unveiled in the main piazza of Vitorchiano during a televised event; the aim was to raise awareness of the poor conservation of the Moai statues on Easter Island itself.
The statue was then moved outside the town and replaced with a fountain. The Moai statue still stands to this day – complete with a pukao (hat-like or topknot structure on Moai statues) made of pink peperino stone. It's a link between two civilizations: the Rapa Nui and the Etruscans.
Other things to do in Vitorchiano
Snap a panoramic photo
For the best overall view of Vitorchiano, as well as the best sunset spot, head to Via della Taverina, an easy walk from Piazzale Umberto. It's where all the panoramic shots in this post were taken!
Enjoy delicious food in Vitorchiano
All of this wandering around in Vitorchiano is bound to make you hungry, and when that happens, you'll be in luck. The region is blessed with riches in terms of food and produce, and you can find some of that tastiness in Vitorchiano's eateries.
There are a handful of restaurants and trattoria that serve up dishes from traditional menus scattered throughout the town. One of these is La Fraschetta Della Mela Stregata, a family-run joint that guarantees a delicious experience. Next door is the more intimate Ristorante Zafferano Di Buzzi Paolo, serving up simple dishes of excellent quality, with very welcoming staff to boot.
For a fine dining experience in Vitorchiano, head to Casa Iozzia in Via de la Quercia 15/B. It's a Michelin starred restaurant where you will enjoy an extensive wine list and impeccable service. The adjoint Basilicò is more easygoing and has more of a focus on grilled meats.
Shopping in Vitorchiano
Aside from soaking up the sights and eating food, there are many chances to stop off and pick up a souvenir in Vitorchiano. Many small streets lead off from the main piazza, and are home to boutiques and little shops. Here you can pick up gifts and handicrafts.
But the main thing that people shop for in Vitorchiano are its food products. The town and villages in the Tuscia region are well known for this, but there are a few things you should definitely look out for. Hazelnuts and chestnuts are of exceptional quality here and are often used in confectionery and other products.
Wine (both red and white) from this region is also high quality, and Vitorchiano is one of the best places to buy it. You can pick up good quality wine from almost any bottle shop in town. Olive oil is also top notch from Vitorchiano and has a rich flavor that's ever so slightly bitter – the perfect addition to local dishes. Mushrooms are a big deal, too, which grow on the forest floors of the woodlands surrounding Vitorchiano; this includes the iconic porcini mushroom.
Practical Info About Visiting Vitorchiano
How to get there
The easiest place to base yourself to explore Vitorchiano is Viterbo, the capital of Tuscia. If you are in Rome, you can easily visit on a day trip too. Here's how.
Read my posts The Best Guide To Viterbo and The Best Day Trips From Rome.
By Car
Driving is probably the best way to get to Vitorchiano. It means you can explore at your own pace without having to rely on infrequent public transport.
From Viterbo, there are several ways of getting to Vitorchiano. The best thing to do is to find your way to SS675 – it's straightforward and not windy. It's an easy 15 minutes drive.
If you're driving from Rome, just take the A1 motorway. It takes around an hour to drive. Tolls should cost you about €4.
By Train
Traveling to Vitorchiano from Rome takes quite a while. First of all, you leave from Rome Termini station, taking the train all the way to Viterbo Porta Fiorentina. Then you take the bus from Viterbo to Vitorchiano (around 15 minutes, but buses can be unreliable). All in all, this takes around 2 hours.
Guided tours
There really aren't guided tours of Vitorchiano departing from Rome – which goes to show how local and off the beaten path this small town is! You may want to enquire locally at the tourist office in Piazza Roma 18 to see if any guided tour may be running, otherwise just set out to explore on your own.
Best time to visit
If you want to make the most of your trip, it's probably best to arrive earlier in the day. That way you won't miss out on the opening hours of the churches and the restaurants that make up the town. Keep in mind that the sunset overlooking the old town is stunning.
Another good thing to point out is the time of year you'll be visiting; in summer it can get quite hot, so you should make sure to take a rest in the middle of the day in some shade. The best time of year to visit for the nature is probably early autumn, when the trees are turning shades of yellow and brown, making for an attractive scene.
Other useful information
If you are planning on visiting any church, make sure to observe the dress code: you shouldn't have your shoulders uncovered, or have bare legs on show above the knee. Either dress appropriately or make sure you've got a shawl to cover up with.
Further Readings
For more places to visit in Tuscia, head over to these posts:
Pin It For Later!