The main town on the Sorrentine Peninsula, Sorrento is little over 48 km (less than 30 miles) from Naples – a mere hour drive. This colorful coastal town is packed with interesting sights, lots of shops and swimming areas, and there are many restaurants to try too.
If you are planning a trip to the Naples area, you should definitely visit!
If you you staying in Naples but looking to make your way to Sorrento for a day or more, and are searching for information on how to get to Sorrento from Naples, you are in the right place!
In this post, I will highlight all the available options to reach Sorrento from Naples, so that no matter what your budget or travel style is, you will find something suitable.
If you are visiting Sorrento, don't forget to read my posts The Best Things To Do In Sorrento and Where To Stay In Sorrento.
How To Get To Sorrento From Naples
Take the EAV Circumvesuviana train from Naples to Sorrento
Taking the train from Naples to Sorrento is the fastest and easiest ways of traveling between the two cities. It's also one of the cheaper methods of transportation. There are two trains that offer this route but prices and departure times vary between the two.
Circumvesuviana is one of the trains that travel from Naples to Sorrento. This is the commuter train that runs approximately every half hour and makes stops at various cities along the way (including for example Pompeii).
You can catch the first train of the day with this company at 5:57 am and the last one of the day departs at 9:33 pm. Because it's a commuter train, it takes about 70 minutes to reach your destination. A one-way ticket is €4.20.
The Circumvesuviana station is located on a lower level of the Naples Centrale Train Station. Tickets for this train cannot be purchased in advance but you can get them at the ticket window or a newspaper stand at the train station.
The Circumvesuviana trains are not managed by Trenitalia, but by the Ente Autonomo Volturno (EAV). You will find the exact timetable and the prices of tickets on the EAV website here. The site is in Italian, but there is a button on the right hand side of the menu for English that will take you to the timetable.
Take the Campania Express train from Naples to Sorrento
Another train that connects Naples to Sorrento is the Campania Express. This is a tourist train that runs four times per day starting at 8:49 am from Napoli Piazza Garibaldi Station.
The trip takes about 45 minutes because there are fewer stops along the way and a one-way ticket costs €15. The best thing about traveling on this train is you're always guaranteed a seat and there's air-conditioning and luggage storage.
As a tourist route, the train runs during peak season from the middle of March to late October. Unlike the commuter train, tickets for the Campania Express can be purchased online on the company's website (link here) but you can also get them directly at the station. You'll need to get your ticket at least 20 minutes before departure. If you get last minute tickets, you won't have an assigned seat.
Take the bus to Sorrento from Naples
The only bus to Sorrento from Naples is operated by a company called Enjoy Traveling. This is actually a stop along a much longer route that is served by the company.
There are two daily buses that leave from Napoli Metropark Centrale station – one at 10:45 am, and the other at 4:40 pm.
The bus takes around one hour and 40 minutes to reach Sorrento. Tickets cost €35.
You can check the bus timetable and buy your tickets on the Omio app here.
By private transfer
By far, the most comfortable and fastest way to get from Naples to Sorrento is via private transfer.
While this is also the most direct way to get there, there is a little bit of flexibility involved when using this method of transportation because your driver will typically make stops along the way at your request.
See a view you'd like to take a picture of? The option to pull over is there because there are no other travelers waiting to get to their destination.
If you're traveling with several other people, especially children, a private transfer is definitely the best way to travel. It's also the most convenient and quickest way to travel straight from the airport in Naples (more about this in a bit) because there aren't very many other options to leave directly from the airport.
The people who drive with the companies that provide private transfers are professional drivers and are very knowledgeable about the region so you'll get a safe and personalized experience. Most companies will even pick you up at a destination of choice such as your hotel or a certain landmark.
The only possible downfall to using a private transfer service is it's the most expensive option available. Typically, it costs about €100 one way for a standard vehicle with two people traveling and it takes about an hour to get to Sorrento if traffic isn't too heavy.
You can get a quote for a private transfer from Naples to Sorrento here.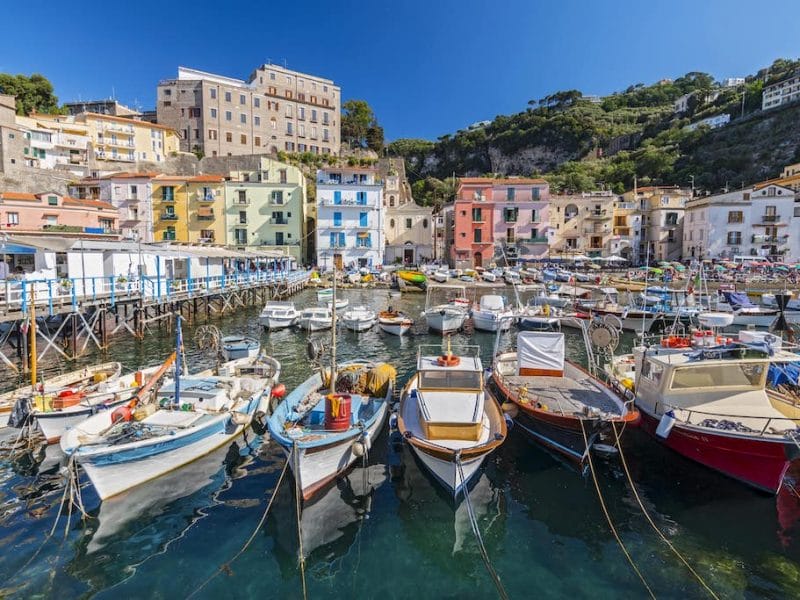 Take the ferry to Sorrento from Naples
Another way of traveling between Naples and Sorrento in the peak season – that's from April to October – that many people are not aware of is by ferry and there are many benefits to traveling this way to your destination.
If you like your transportation to be a little more exciting than being seated in a crowded bus, train, or car, traveling by ferry is the perfect option for you! Travel on the open sea with a refreshing breeze while you get to enjoy amazing views of the shoreline.
The best thing about taking the ferry to Sorrento is it's the fastest way to get there: you won't have to worry about getting stuck in traffic and it's one of the cheapest transportation options for this route.
There are two companies that offer ferry service from Naples to Sorrento.
The most well-known company is Alilauro which usually sails four times a day. There are departures at 9:00 am, 11:00 am; 3:05 pm and 5:15 pm. A one way ticket costs €14 and the ride to Sorrento takes about 40 minutes.
For the full schedule of Alilauro, click here. You can also book your ferry transfer on Direct Ferries here.
NLG operates one daily ferry to Sorrento from Naples. The ferry departs from the Molo Beverello at 6:25 pm and takes 35 minutes to get to Sorrento. Tickets are €15.
For the full schedule of NLG, click here. You can also book your ferry transfer on Direct Ferries here.
The ferries depart from Naples Molo Baverello Port (which is close to the Municipio and the Maschio Angioino Castle) and you can purchase your ticket either online or at the port before departure. If you wait to purchase them on site, be sure to be there at least an hour before or more during peak season.
While onboard one of these hydrofoil ferries, if the sea is not rough, you can see outside and you'll enjoy views of the Bay of Naples which includes Mount Vesuvius.
Join a guided tour to from Naples to Sorrento
If you want to sit back and relax while someone else does all the driving and takes care of the little details, a guided tour might be the best option for you.
While it takes away some of the freedom that comes with exploring on your own, it's also a great option for first-time visitors because it's a great way to get familiar with the region without spending time looking for things and getting lost.
You won't be able to stop where you want when you want, but you'll get to see many of the top attractions without the fuss of looking for parking or waiting in lines. Another bonus to taking one of these tours is many of them stop at various attractions along the way including Pompeii and various towns on the Amalfi Coast.
There are many different tours available including half-day, all-day and multi-day tours. The price will depend on what attractions are included and how long the tour is,
For a full day tour of Pompeii and Sorrento departing from Naples, click here.
For a guided tour of the Amalfi Coast that also stops in Sorrento, click here.
Drive
There's always the option to rent a car to drive yourself from Naples to Sorrento but this is not the most recommended method, especially if you've never been to the area and are not familiar with the roads and local drivers.
While the roads themselves are in good condition, they tend to be narrow and windy. Then there are the drivers. In Italy we tend to drive quite fast and we aren't exactly timid behind the wheel, and this can prove to be an intimidating and even a dangerous experience for anyone not familiar with these conditions.
There's also the issue of heavy traffic. Although it's only 30 miles (little over 38 kilometers) from Naples to Sorrento, it could still take up an hour or more to get there! Traffic tends to be heaviest during peak season in the summer and on weekends.
Wait, there's more! Once you arrive at your destination, you'll have to deal with parking and this can be another hassle. Not only are parking spots hard to find, but parking can be expensive.
If you decide to drive to Sorrento and are planning to stay overnight, it's best to book a hotel that has parking available on site as your car will be safer parked nearby and you might get a deal along with the booking of the room.
There's only one driving route to Sorrento from Naples, and it's via the A3 and SS145 highways. Be aware that there are tolls along this route. If you are starting at the airport, you'll have to make your way to the A3 highway.
If you are in town, from Piazza Giuseppe Garibaldi make your way to Via Galileo Ferraris. Drive along this road for about two minutes before turning onto the A3 and onto the SS145 which will take you all the way to Sorrento.
The best place to rent a car in Naples is the airport – it's where you'll have the most choices in the same place. Some of the rental car companies that are available include Enterprise Rent-A-Car, Budget Car Rental, Dollar Car Rental, Hertz Car Rental, Alamo Rent A Car and Naples Rental Car.
The final price of car rental in Naples will depend on the time of year you're traveling and the type of car you decide to rent. If you're traveling with only one or two other people and have limited luggage, a compact car will suit you fine and is best for navigating the narrow and twisty roads. However, if you're traveling with more people or you have a lot of luggage, a bigger car might be needed.
To check the prices of car rental in Naples click here.
Check out my posts A Guide To Renting A Car In Naples and A Guide To Driving In Italy.
BONUS! How to get to Sorrento from Naples Capodichino Airport
If you're arriving in Naples by plane and wish to immediately head to Sorrento, you will have several options too.
The most budget friendly way of getting to Sorrento from Napoli Capodichino Airport is by bus. Currieri Viaggi operates 8 daily buses between the two, with the first ride ad 9:00 am and the last one at 7:30 pm. The bus will leave you in Piazza de Curtis after a ride of about one hour and 15 minutes. Tickets cost €10.
Alternatively, you can either rent a car or hire a private transfer that will take you directly to your hotel.
You can get a quote for a transfer to Sorrento from Naples Airport here or here.
If you want to book a shared transfer, click here.
Further Readings
If you are traveling to Naples and its surroundings, these other posts may be useful:
Pin It For Later!