There are many incredible things to do in Argentina. This is a country I have fallen in love with to the point that I have visited three times – and watch this space, as I will be going again! Argentina is a country that will impress you with its stunning beauty.
Argentina tourist attractions are many. This incredible country has something for just about anybody: cities packed with interesting museums; a fantastic cultural life; tango galore; unique wildlife; mountains and glaciers; jungle and waterfalls; infinite possibilities for adventure seekers; friendly people who are always in for fun; incredible food and delicious wines.
If you are planning your first trip to Argentina, you are certainly wondering what places you should not skip and what the unmissable things to do are. Don't worry! Since I have been many times, I thought I'd share my knowledge with you and have selected the very best for you.
25 Things To Do In Argentina That You Can't Miss
Explore the magnificent Buenos Aires
Buenos Aires is among the unmissable places to visit in Argentina. Known as "The Paris of South America," the Argentine capital is a great (and huge) European-looking city with a fabulous Latin Vibe.
Next to state of the art modern buildings there are beautiful examples of colonial architecture. You will find many parks and interesting museums. Its boulevards are immense, but just around the corner there are tiny cobbled alleys.
Plan to spend enough time in Bs. Aires (or Baires, as locals call it) to enjoy the gorgeous little cafés where the porteños (this is how people living in Buenos Aires are called) like to meet; the trendy bars and night clubs; the milongas where even the most reluctant ones will be seduced by tango.
In this city, modernity and history mix gracefully. BAires, as the locals call it, is incredibly spread out, but with a little bit of effort, most of the tourist attractions can be visited in a day.
Make sure to also read my post The Best Argentina Travel Tips.
The heart of the city is Plaza de Mayo. This is where the Mothers of Plaza de Mayo used to meet with pictures and signs of the desaparecidos – the victims of the Argentine dictatorship – demanding to know where their sons were being held and reporting the human rights violations committed by the authorities. 
That's where you'll find the Catedral Metropolitana and the iconic Casa Rosada, seat of the Argentinian President and the political heart of the city. Not far from it, Manzana de las Luces is another must see, as it is the oldest colonial church in Buenos Aires.
Microcentro, the commercial centre of the city and close to Plaza de Mayo, is another area of Buenos Aires worth exploring. There you will spot the trendy porteños all dressed up, rushing to business meetings.
Not far from Plaza de Mayo, Puerto Madero is a great place for a walk. This used to be a pier once but it currently is one of the trendiest barrios of the city, with its luxury apartment buildings and trendy restaurants. It is also home to famous architect Calatrava's Puente de la Mujer.
Another part of Buenos Aires you will definitely like is Recoleta. This is where the wealthiest families of Buenos Aires moved in the 1870s, when an epidemic of yellow fever hit the neighborhood of San Telmo. Go for a walk along Avenida Alvear, with its beautiful villas, the lovely shops and the Cementerio de Recoleta, the cemetery where Evita Peron, one of the most important persons in the history of Argentina, is buried.
You can book a guided tour of Buenos Aires here or here.
For a guided tour of Recoleta Cemetery, click here.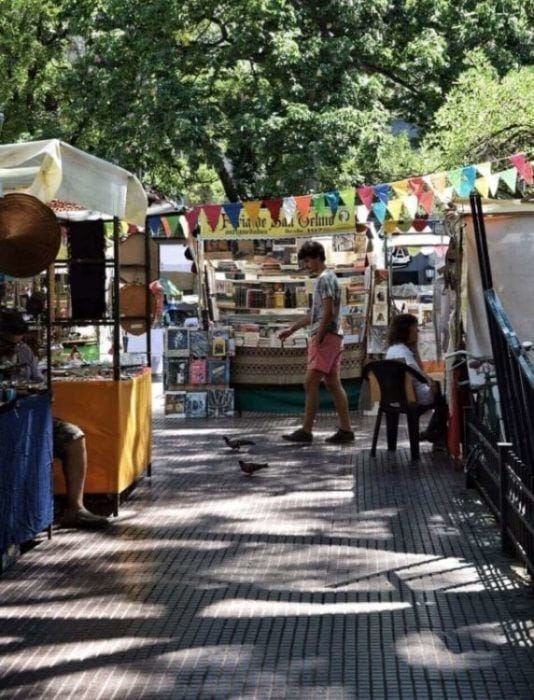 San Telmo and La Boca are the most charming barrios of Buenos Aires, and paying a visit is a must. San Telmo used to be an elegant area where the wealthiest families in town lived but, following the yellow fever epidemic, they moved to Recoleta.
With its cobbled streets and colonial buildings, it is now a favorite of artists and bohémien, famous for its Sunday antiques market and for the lively Feria de San Telmo (the local market).
La Boca is where Italian and Spanish immigrants settled in the 19th century and it is now a popular tourist spot for its colorful Caminito and for the Boca Juniors impressive football stadium, La Bombonera.
For a guided tour of La Boca, click here.
Palermo Viejo is one of the trendiest areas of Buenos Aires, packed with gorgeous buildings, cobbled streets and beautiful boulevards. You can also explore Palermo Soho and Palermo Hollywhood, which are packed with great street art.
For more information on graffiti tours of Palermo, click here.
If the weather in Buenos Aires is not nice, make sure to visit one of the many fantastic museums! My two favorites are the Museo Nacional de Bellas Artes, which has Argentina's best art collection with pieces of Renoir, Monet, Picasso and Gauguin, and the Museum of Modern Art.
Make sure to also read my posts 25 Unmissable Things To Do In Buenos Aires and A Complete Guide To Where To Stay In Buenos Aires.
Watch a fútbol match at La Bombonera
People take fútbol very seriously in Argentina. Diego Armando Maradona is still a national hero and Lionel Messi is a star. If you are going in the right season, plan to go to La Bombonera for a fútbol match. Try to get tickets for a superclásico – Boca Juniors v. River Plate.
Not sure where to start looking for tickets for a soccer game? Click here.
Dance tango
Watching a tango in one of the many milongas is one of the musts in Buenos Aires. In fact, you should taking a class or by all means dance as well.
Many people gather in San Telmo to watch spontaneous tango dancing in the main square, on Sundays, but otherwise you can buy tickets for a café where tango shows are regularly on air.
For a tango show at Piazzolla, click here. For private tango lessons, click here.
Drink Mate
Mate is a bitter infusion made with chopped yerba mate leaves and hot water.
Drinking mate is a huge part of the Argentinian culture, to the point that people in Argentina hardly leave their home without carrying a thermos of hot (never boiling!) water, enough yerba mate, a cup (which is usually called calabaza, Spanish for pumpkin, and is indeed a calabash gourd) and a bombilla, the straw used to drink it.
Drinking mate is a national ritual: Buenos Aires parks are packed with people sitting on the grass and drinking mate on Sundays. They pass along the cup and the straw and sip it for hours at end. It is not uncommon to also see mate stations, where people empty their calabaza and fill up on hot water.
Visit El Tigre
About 35 km (21.7 miles) from north of Buenos Aires, Tigre and its river delta are a favorite of porteños and they are nice places for a day out of town. A train ride away from Retiro station, Tigre is a small, quiet city where you can get away from the heat of Buenos Aires during summer days.
Make sure to visit the Puerto de Frutos, a lovely local market that sells any kind of goods. You can also go on a boat ride that takes you along the delta: the view of the traditional homes and nature are stunning.
You can book your day trip from Buenos Aires to El Tigre here.
Check out my post 10 Fantastic Day Trips From Buenos Aires.
Go on a day trip to Colonia del Sacramento (Uruguay)
Colonia del Sacramento is among the places to visit in Uruguay, and only one hour away from Buenos Aires by ferry. It is a lovely escape for a day trip from Buenos Aires. You can catch a fast boat across the Rio de la Plata to visit the gorgeous little city, which was founded by the Portuguese in 1680.
The main attraction of Colonia del Sacramento is the Barrio Histórico, a UNESCO World Heritage Site, with its old gate, the Portón de Campo; the tiny Calle de los Suspiros; the beautifully kept colonial buildings; Plaza Mayor 25 de Mayo and Plaza de Armas; and the ruins of the Convento de San Francesco.
The lighthouse is the perfect spot to admire the views of the Rio de la Plata. Colonia is also packed with perfectly kept vintage cars.
Make sure to read my posts 15 Great Things To Do In Colonia Del Sacramento Uruguay, The Best Things To Do In Uruguay and 25 Cool Things To Do In Montevideo.
Admire wildlife in Peninsula Valdes and Punta Tombo
Puerto Madryn is definitely one of the places to visit in Argentina. A small port town on the Gulfo Nuevo, it gives easy access to some of the top tourist attractions in Argentina: the beautiful Península Valdés and Punta Tombo.
In the summer months, it is also a beach destination (though don't expect Caribbean style beaches!), and throughout the year it's a great base to explore the region where you can admire wildlife.
Go there in the winter and spring, between June and December, to admire the austral whales directly from the town jetty (although apparently the best place to spot them is Puerto Pirámides, in the Península Valdés).
Opt for a boat tour for higher chances to spot these huge, beautiful animals. For more information, click here.
Visit during the summer months (between December and March) to admire penguins and go on a boat tour to spot other marine life such as dolphins and sea lions. Puerto Madryn is perfect also for for hiking, biking, going kayaking, scuba diving, or even learning how to windsurf.
To book your snorkeling experience with sea lions, click here.
The Reserva Faunistica Peninsula Valdés is a UNESCO World Heritage Site. This is one of the best places to observe the incredible wildlife in its natural habitat. Among others, during a tour of Peninsula Valdes you will be able to admire sea elephant and lions, guanacos, nandus, foxes, magellan penguins. Depending on the season, even orcas show up.
Punta Tombo is the largest penguin nesting region in South America. Besides a variety of birds which includes cormorants and seagulls, you'll find a colony of over half a million magellan penguins who set up their nest and lay their eggs each year between September and April.
For a guided tour of Punta Tombo departing from Puerto Madryn, click here or here.
Finallym Puerto Madryn also has several interesting museums. One of them, the Ecocentro, is a work of art of interactive exhibits where great artistic sensibility and outstanding scientific research are joined together for superb results. It also has a fantastic library with beautiful view of the gulf.
Head over to my post A Complete Guide To Puerto Madryn, Argentina.
Venture to Ushuaia and Tierra del Fuego
To appreciate the country's Argentina unspoiled nature and appreciate its wilderness, Ushuaia is one of the places to visit in Argentina.
Located in a wide bay on the southern coast of Isla Grande de Tierra del Fuego, with the Martial mountain range at its north and the Beagle Channel lays at its south, this is a prime destination to admire wildlife and hike in the summer months.
During the summer the city (which is the closest point to Antarctica) gets a lot of daylight and the temperatures, despite being cold, are not as prohibitive as in the winter months (May to August), when on the other hand skiing is the reason to visit.
Spend at least 5 days in Ushuaia to take in all it has to offer, including hiking, kayaking, dog sledding, wildlife watching and Antarctica cruises. Use it as a base to hike Cerro Martial and its glacier, to explore Parque Nacional Tierra del Fuego and the Strait of Magellan and the Beagle Channel.
Read my post The Best Things To Do In Ushuaia.
Hike to Laguna Esmeralda
Hiking is one of the best things to do in Argentina, and there are hardly better places than the scented forests of Tierra del Fuego for that. The one to Laguna Esmeralda is definitely one of the most rewarding hikes in Tierra del Fuego.
It's a fairly easy 8 km (about 5 miles) (there and back) hike through the forest and a large peat moss that will take you to a beautiful emerald lake with mountains and glaciers at its back.
The trail is easy to find – there is transportation from Ushuaia, and back – and to follow, but if you prefer you can join a guided tour.
For a guided hike to Laguna Esmeralda which includes transportation from Ushuaia, click here.
Check out my post A Complete Guide To Hiking Laguna Esmeralda.
Explore Tierra del Fuego National Park
The Tren del Fin del Mundo offers a very scenic train ride that goes through the Tierra del Fuego National Park, one of the most impressive national parks in the country.
It's definitely the most popular tourist attraction in the region, but you can get away from day-trippers by following one of the many hiking trails, some offering views of the Beagle Channel and of Isla Navarino and Isla Hoste.
It's also a great place to visit to spot local wildlife which includes cormorants, seagulls, rabbits, non-endemic north American beaver and even condors.
Make sure to head to Lapataia Bay, and walk to the Mirador Lapataia, for impressive views. Check out the Acigami Lake and the Southernmost Post Office.
You can book your guided tour of Tierra del Fuego National Park here or here.
If you want to ride the Fin del Mundo train to the National Park during high season, you are better off booking the ride in advance. You can do so here.
Check out my post 15 Amazing National Parks In Argentina.
Go on a cruise on the Beagle Channel
Boarding a day cruise across the Beagle Channel is a great way to explore the various islands of Tierra del Fuego, such as those of the Alicia Archipelago.
Bird Islands, Seal Islands and Isla Martillo are packed with wildlife and this is where you can admire colonies of sea lions and seals as well as the Magellan Penguins.
Most tours of the Beagle Channel will include a stop by the beautiful Les Eclaireurs Lighthouse.
You can book your Beagle Channel tour here or here.
Visit El Calafate
Patagonia is one of the best places to visit in Argentina, and the small town of El Calafate is the perfect base to eplore it. Located on the southern coast of Lago Argentino, surrounded by the Andean peaks, lakes and glaciers, this small town is pretty and a lovely place to relax for a few days, as it is packed with nice cafés, restaurants and shops.
Those cafés come in really handy with the sudden weather changes. Even in the summer months, El Calafate can be really cold and it can snow!
Read my post A Complete Guide To El Calafate, Argentina and for more information on Patagonia, check out my post 30 Things You Should Consider Before Traveling To Patagonia.
Admire Perito Moreno Glacier
Perito Moreno Glacier is – quite simply – impressive. From a distance, the view is that of an enormous river of ice that slowly moves towards the lake, surrounded by mountains. Getting closer, it looks like a wall of ice.
Go on a cruise on the Lake Argentino, along the Canal de los Témpanos, to get right to the bottom of Perito Moreno and to admire the icebergs that float on the lake.
Make sure to listen to Perito Moreo, too – then the ridges tear away from the glacier they crash loudly onto the lake. The sound this produces is similar to that of a thunder in the distance.
For a Perito Moreno Glacier tour with optional boat ride, click here.
For a Perito Moreno Glacier tour with an optional nautical safari, click here.
Check out my post A Complete Guide To Perito Moreno Glacier.
Go on a glacier hike
One of the most incredible things to do in Argentina is hiking on the Perito Moreno glacier. It is actually not so cold when you do it – I found the temperatures much colder on the balconies.
During the hike – which lasts roughly one hour – you will get to see the cracks and crannies of the glacier, try its water and even sip a whiskey on the rocks coming from the glacier itself.
You will need wear proper gear for the hike – good hiking boots and socks, a good snow jacket, hat, scarf and gloves and thermal underwear will all be necessary.
For a Perito Moreno Glacier tour that includes a boat ride and Perito Moreno Glacier trek, click here.
Visit an Estancia
Estancias are ranches that are found throughout Argentina. The best ones are in Patagonia – either close to El Calafate or to Ushuaia. You should visit them to learn a bit more about the traditional way of life in these regions.
If you find yourself in Tierra del Fuego, you can head to Estancia Rolito, one of the very few working estancias – most in the region have now turned to being tourist attractions for the most part. It's actually a bit out of the way, so you will need a guided tour to visit.
Estancia Rolito can be visited as part of Tierra Turismo tour to Cabo San Pablo.
Estancia Haberton is one of the most popular attractions near Ushuaia – it's an extensive ranch where you can embark on a number of activities.
If you want to visit Estancia Haberton, consider joining this guided tour.
If you are in El Calafate, consider a day trip to Estancia Cristina. While most visit to just get an idea of the life at the ranch, where there's also a small museum, this is a great starting point to hike all the way to a viewpoint of Uppsala glacier. It may be very windy, yet the hike isn't too strenuous.
During the hike you will walk along the Cañadón de los Fósiles, where you will be able to observe a large number of marine fossils dating back to an era precedent to the formation of the Andes, and see othe glacier from the great viewpoint of Lago Guillermo.
Finally, you also get to visit Estancia Cristina, which was once a ranch and it has currently been turned into a fabulous boutique hotel where it is great to spend a few nights.
You can book a tour to Estancia Cristina here.
You can book your hike to Cañadón de los Fósiles here.
Go to Torres del Paine
Lots of people who in El Calafate feel tempted to go on a day trip to Torres del Paine National Park, in Chile. This is a great place to visit, and it is for a good reason that it is a UNESCO World Heritage Site.
However, I would not recommend going to Torres del Paine just for a day. I speak with good reason as I was one of those who made the mistake and wasted a full day (and a good amount of money) on what turned up to be just a bus trip where stops would consist of no more than 30 minutes for pictures.
The park is too gorgeous to just spend a few hours there and deserves at least a few days to explore the various hiking trails. If you do decide to go, make sure to spend a few days there.
Still want to see Torres del Paine in a day? You can book your day trip to Torres del Paine from El Calafate here.
Hike Mount Fitz Roy
Adventure sports are among the things to do in Argentina, first and foremost hiking, but also rafting and kayaking. El Chalten is considered the Argentinian hiking capital thanks to the iconic Fitzroy mountain range.
Located in the northern side of the Parque Nacional los Glaciares, this is actually a tiny village. Yet, it is the perfect starting point for many hiking trails and fairly easy to reach even on a day trip from El Calafate.
Once in El Chalten, you will find many hiking trails. The best is by far the one to the base of Fitz Roy – known as Laguna de los Tres. It's a long hike (about 24 km – 15 km) which is for the most part easy, except for the 1 km (0.6 mile) that leads to the actual lagoon and which is a very steep ascent and just as steep descent along the same trail.
The trail to Laguna de Los Tres is very well marked and easy to follow and you can hike independently. If you like the idea of joining a group, several guided treks depart from El Chalten every day. For more information, click here.
Make sure to also read my detailed posts A Guide To Hiking Laguna De Los Tres and An Excellent Guide To El Chalten. Also check out my post Hiking In Patagonia: 16 Incredible Trails.
And Laguna Torre
Another fantastic hike in El Chalten will take you to the Laguna Torre. Much like that to Laguna de los Tres, this is an easy to moderate hike for the most part, save for the last km (0.6 mile) that will take you to the Mirador Maestri where you can admire the glacier in all its glory.
You can easily hike to Laguna Torre independently. If you'd rather join a guided hike, there are several that depart from El Chalten every day. For more information, click here or here.
If you are toying with the idea of hiking Laguna de Los Tres and Laguna Torre together, you can actually go on a 2-day hiking tour such as this one.
Head over to my post A Complete Guide To Hiking To Laguna Torre. Make sure to also check out my post Hiking Gear And More: The Perfect Patagonia Packing List.
Take a wine tour in Mendoza
Lively during the day, Mendoza becomes fully alive at night when locals and tourists crowd the many restaurants and bars.
The city is a fun place to visit, but most travelers go there to explore the Parque Provincial Cerro Aconcagua – home of the highest peak of the Western hemisphere, the Cerro Aconcagua (6,962 meters – 22,841 feet) – and the fact that the region where Mendoza is located produces some of the best wines of South America.
The area of Mendoza is packed with incredible bodegas (vineyards) producing world class Malbec and Merlot wines. To explore the wineries, you can join a guided tour – most of them also include lunch – or opt to visit by bike.
At a leisurely pace, you can go from bodega to bodega and in each one have a tour of the vineyards, of the cellar and a (few) sampling of wine at the end. Needless to say, you can also buy several bottles of wine to bring home with you. 
For a wine tasting tour in Mendoza click here or here.
For a wine tasting tour by bike, click here.
Traveling to Mendoza? Make sure to check out my posts A Guide To The Most Fun Things To Do In Mendoza, Argentina and 13 Fantastic Wineries In Mendoza.
Have a proper asado
Eating a good asado is easily one of the unmissable things to do in Argentina. Having a mixed grill (that's what asado is, basically: it comprises beef, pork, lamb and chorizo) with friends is still very much a Sunday tradition in Argentina, and if you eat meat you should definitely make sure to try it.
If you are traveling on a budget and staying in a hostel, you will be glad to know that most organize an asado night where for a very reasonable price you can have lots of meat and salads (as well as wine). If your budget allows, go to one of the many restaurants where it's on offer (the best are in Patagonia). However, the best asado would be at a local family!
Gorge on empanadas
Empanadas are easily found anywhere in Argentina. They can be eaten as a quick lunch; a filling snack; an apertif or as an appetizer. Locals would be able to tell you the stuffing of an empanada by its closure, but in doubt just ask.
There are all sorts of stuffing: from beef to chicken to ham and cheese, and also lots of vegetarian options. You will find empanadas at all restaurants, bars and markets in Argentina.
Check out my post What To Eat In Argentina.
Explore Salta and the North West
Salta is the biggest city in the North of Argentina, laying on a beautiful valley surrounded by the fantastic Andean peaks. It's the indigenous heart of the country, and a beautiful city.
The central plaza is a great place to hang out and among the places of interest in town there are the Cathedral and Iglesia San Francisco.
You can get the teleférico to the Cerro San Bernardo, which allows you to have a great view of the city (hint: go right before sunset to take in the incredible light).
Salta is also home to a great anthropology museum, the MAAM (Museo de Antropologia de Alta Montaña), considered the most important museum of North Argentina. You will get to see 3 mummies found in 1999.
Make sure to read my post A Complete Guide To Salta Argentina.
Go rafting and zip-lining on Rio Juramento
Among the incredible things to do in Argentina there are all sorts of adventure sports. Patagonia is generally considered the best region for hiking, but Salta and its surroundings offer incredible opportunities for adrenaline seekers.
Rafting along the Rio Juramento is certainly the highlight of a trip in the region.
I recommend joining a rafting expedition with Salta Rafting, the most reputable operator in the area. The day usually starts quite early: at 8:00 am you will be picked up to drive two hours drive on a beautiful, scenic road, to reach the base camp on Rio Juramento, where you will be given all necessary equipment to raft and get fully trained.
After two hours of rafting you'll get to a place where a bus will be waiting for you to take you back to the base camp, were you will be able to take a shower and then offered a delicious asado.
If you are looking for more adventure, after rafting you can go zip lining on a system of ten cables connecting various parts of the canyon, going above the river. It is a bit scary, but also breathtaking, fun and the views were spectacular!
You can book your rafting and zip lining experience in Salta here.
Take the Tren a las Nubes
Another of the great things to do in Argentina that can be enjoyed while in Salta is the Tren a las Nubes (Train to the Clouds), which goes into the Lerma Valley all the way to the Quebrada del Toro, through San Antonio de los Cobres, one of the highest villages in Argentina. The highlight of the ride is La Polvorilla Viaduct, at 4,220 meters (13,845 feet) above sea level.
Visit Calchaquíes Valley
South west of Salta, one of the most beautiful places to visit in Argentina is the Calchaquíes Valley – a gorgeous combination of dry landscapes, pretty adobe villages, traditional crafts markets and some of the best wines in the country.
The good news is that, compared to the rest of the north of Argentina, this region is still not as explored. Make sure to visit the Devil's Gorge, the Conchas Gorge and the beautiful Cafayate, a village surrounded by picturesque wineries.
Go on a road trip to the Quebrada de Humahuaca
Exploring the incredible Quebrada de Humahuaca is one of the things to do in Argentina. This is a land where blue skies meet the high desert planes, small adobe villages are scattered along with small yet interesting archeological sites.
It is a palette of colors, so unique to be included in the UNESCO list of World Heritage Sites. The people who live in the Quebrada are among the few remaining indigenous groups of Argentina – they are Quechua, much as the indigenous groups that currently live in Cusco and the Sacred Valley of Peru.
Make sure not to miss the tiny yet lovely Purmamarca, at the foot of Cerro de los Siete Colores: it has a lovely market. The village of Maimará is another must see: it looks incredible against the "Paleta del Pintor".
Tilcara is known for its unique carnival, which lasts a few days and where the celebrations are contagious: musical bands walk around the village, incessantly playing their music while others dance and play tricks to passersby, throwing flour or talcum powder at them.
The Pucará de Tilcara, an Inca archeological site just outside the village, is an interesting place to spend a few hours – don't expect anything as magnificent as Machu Picchu, but it is interesting nonetheless.
On the other side of the Trópico de Capricornio, the village of Uquía is located at over 2,800 meters (9,186 feet) above sea level and has a beautiful church built in the 17th century. Finally, Humahuaca, at almost 3,000 meters (9,842.5 feet) above sea level, is the largest village in the area: it is packed with color, beautiful cobbled streets, lively markets and friendly locals.
You should spend at least 3 days exploring the Quebrada of Humahuaca, but if you are short on time you can go on a guided trip from Salta. To book a guided day tour to Humahuaca from Salta, click here.
Check out Salinas Grandes
West of Purmamarca, you'll find the beautiful Salinas Grandes, a large salt flat at 3,350 meters (10,991 feet) above sea level.
The visual effect of the salt flats is a blinding light, though when the region gets some rain, the area appears like a large lake that beautifully reflects the mountains and the clouds. Visiting Salinas Grandes is one of the things to do in Argentina!
If you want to visit Salinas Grandes on a guided tour, click here or here.
Be mesmerized by Cataratas del Iguazu
Of all the things to do in Argentina, visiting the incredible Cataratas del Iguazu is, to put it simply, a must. Located between Argentina, Paraguay and Brazil, these incredible waterfalls are a spectacular natural wonder and a real show of the mighty power of nature.
The climate in this part of the country is tropical, and it is hot and humid throughout the year – but depending on when you visit there will be more or less water in the waterfalls.
The nearest town to the waterfalls is Puerto Iguazu, at the border with Brazil. The town itself is nothing special, but it is a great base to explore the waterfalls, as several buses per day leave from the bus station in Puerto Iguazu, either going to the Brazilian border and dropping visitors off directly at the park in Brazil, or to the Argentinian park.
The Brazilian side is very panoramic – the views are incredible and there are endless possibilities to take postcard-like pictures. You can follow several trails to admire the local wildlife (though the most interesting animals are night creatures!).
The Argentinian side is more fun. You will be able to see the waterfalls from a distance, and then get close to them, get under them, get above them. You will truly live the waterfalls.
Follow the various trails to cross to Isla San Martín. You can also walk through a 1.2 km (0.8 miles) footpath on the forest to reach the famous Garganta del Diablo, where a platform is laid right above the river.
You can also go rafting; hike on various trails (such as the Black Well Trail and the slippery Sendero Macuco) and even kayaking. One of the most interesting experiences is seeing the full moon from the Garganta del Diablo, when the natural light illuminates the waterfalls. This can only be enjoyed on 5 consecutive nights per month.
For information about a one day guided Iguazu Falls tour click here or here.
For a guided night Iguazu Falls tour, click here.
Check out my post Everything You Need To Know Before Visiting Iguazu Falls Argentina.
Get off the beaten path in Rosario
Finally, one of the best things to do in Argentina is steering away from places that are on the main path. Rosario is the perfect place to do that. A million miles away from the most popular destinations such as Buenos Aires or El Calafate, set on the Parana River banks, this is a place where you can really get to experience the real Argentine way of life – slower, peaceful.
The city is a great place to enjoy culture, music and art – and to make the most of the gorgeous sunsets, right by the waterfront. Besides, this is Ernesto 'Che' Guevara's birthplace!
Make sure to read my post The Top 13 Things To Do In Rosario Argentina.
Have you ever been to Argentina? What were your favorite things to do in Argentina?
Pin It For Later!