While Paris is universally recognized as the most romantic city in the world, Rome is definitely a contestant to the title. If you are traveling to the Italian capital with your better half, you certainly won't have troubles finding romantic things to do in Rome.
From incredible vistas to fine dining experiences; from art at every corner to gorgeous parks and narrow alleys perfect for a stroll – and much more! If romance is what you are after, you will certainly find it in the Eternal City.
Curious to discover the most romantic things to do in Rome? Continue reading for a selection of activities you should not miss.
The Most Romantic Things To Do In Rome
Throw coins into the Trevi Fountain
Audrey Hepburn did it, and so can you. Throwing coins into the Trevi Fountain is a must if you're visiting the city with your other half and you're looking up to those Roman Holiday vibes – easily one of the most romantic things to do in Rome! All you have to do is throw three coins over your left shoulder using your right hand – legend has it that you'll return to Rome someday.
The Trevi Fountain is the largest Baroque fountain in Rome and dates back to 1762, so a visit is also a chance to experience the rich art history that is crucial in the Eternal City. My tip is to head there at night for extra romance (it's gorgeously illuminated) and almost none of the crowds.
Head over to my posts A Guide To Trevi Fountain and The Most Beautiful Fountains In Rome.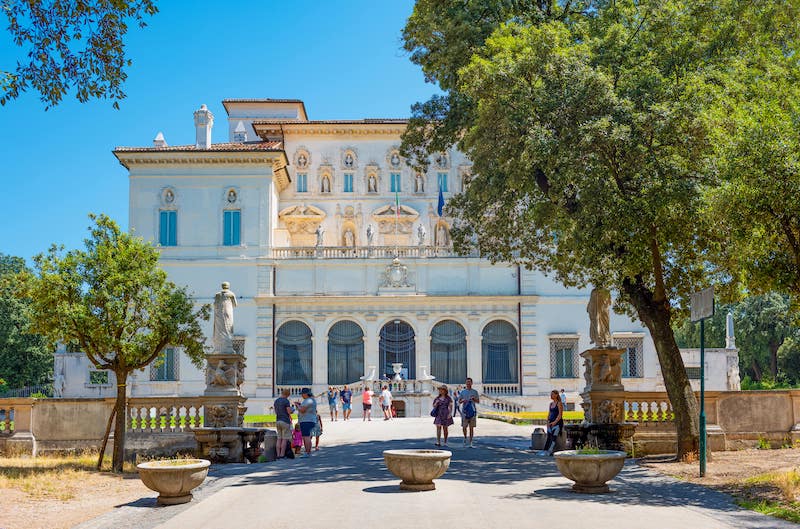 Stroll hand in hand around Villa Borghese
Rome has no shortage of beautiful green spaces and manicured gardens, and one of the most famous is Villa Borghese. Located on the Pincian Hill, close to the Spanish Steps, the gardens roll out for over 80 hectares, crisscrossed with tree-lined avenues.
These wonderful gardens date back to 1606 when Cardinal Borghese turned his personal vineyard into the largest garden of the city. In the 19th century the gardens were re-sculpted and completely redesigned in the English landscape style and became a public park. The bonus? They're free to enter and stroll at your leisure.
Read my post The Nicest Parks In Rome.
Dine on a rooftop
What better way to enjoy the ambience of the Eternal City than by dining by candlelight with your partner looking out over Rome's storied skyline? If this sounds like heaven to you, then you'll be pleased to know there are a good few rooftop venues where you can do just that in Rome.
For something high end, head to Aroma at Palazzo Manfredi – in this intimate spot you can enjoy Michelin-starred cuisine while gazing out over the Colosseum. Another good option is Mirabelle which is situated on the seventh floor of a luxury hotel – come here for a chilled rooftop garden atmosphere. AcquaRoof Molinari Terrazzo features dining throughout the day with a cocktail bar thrown in for good measure – don't forget the amazing views, of course.
Take a cruise along the Tiber
The River Tiber is Rome's ancient waterway and has been an important part of the city for millennia. Still flowing elegantly through the historic Italian capital, one of the best ways to see the city is from the famed waters of the river itself.
A cruise along the Tiber, especially at night when the city is illuminated, makes for easily one of the most romantic things to do in Rome. Seeing the city from the river is a different perspective from strolling the city streets, and there are a number of different cruises you could choose from. You could even opt to float along the river in style with dinner by candlelight and music to accompany your voyage.
To book your cruise on the Tiber River, click here.
Explore Trastevere together
If you and your partner like taking a step off the main tourist trail, then Trastevere is the area for you. This down-to-earth, once working-class district of Rome is the place to be for laid-back eateries, cool bars, and cobbled lanes to explore.
This romantic, medieval neighborhood is best reached over the stone footbridge, Ponte Sisto. Once there you'll be welcomed by quiet streets by day and vibrant establishments by night. It's not short of historic sights either – make sure you don't miss the 12th-century Basilica di Santa Maria with its golden mosaics inside.
Check out my posts The Most Beautiful Bridges In Rome and The Most Charming Neighborhoods In Rome.
Visit Orto Botanico, Rome's botanic gardens
Also known as the Orto Botanico di Roma, this botanic garden was founded in 1883 and is still managed by Sapienza University. Although that's relatively recent for Rome, it was actually the successor of the Papal Botanic Gardens, which have a much longer history, originating in the Renaissance period.
Situated on the slopes of the Janiculum Hill, the gardens are home to over 3,000 species of plants. It's free to enter and is an idyllic spot for a stroll in nature – you'll find a Japanese garden, medicinal plants, and a bamboo grove. Ideal for garden lovers and those who want a calm spot away from the city streets.
Read my post The Best Free Things To Do In Rome.
Soak up the views from Aventine Hill
The southernmost of Rome's famous seven hills, the Aventine is a quiet area dotted with ancient ruins and historic churches. Legend has it that it's here that Romulus decided to officially found the city of Rome. Wandering in this leafy part of the city is the perfect antidote to busy piazze and tourist sites in the Centro Storico.
But if you do like attractions, then one of the best parts of the Aventine Hill is getting a glimpse through the famed Knights of Malta Keyhole. Through this tiny vantage point, you can get a view down a trimmed hedgerow all the way to St Peter's Basilica. For a less constricted view, head to the Giardino degli Aranci – an orange grove with a vista overlooking the Tiber.
Read my posts A Complete Guide To The Aventine Hill and Which Are The Seven Hills Of Rome?
Spend the evening at Teatro dell'Opera
There's no end of interesting things to do in Rome in the evenings, but for a really special night, you should make a beeline to the Teatro dell'Opera to catch a performance.
Rome's grand opera house opened its doors in 1880 and is a place to watch and be seen – make sure you have a suitably fancy outfit if you're planning on catching a show at the opera. It can be a glamorous occasion, and with the horseshoe design of the seating, all eyes are on everyone as well as the performance.
In summer, the theatre puts on shows at the Baths of Caracalla with the Roman ruins creating a magnificent backdrop to the company's summertime performances.
Visit Castel Sant'angelo at night
One of Rome's lesser visited attractions is the no less impressive Castel Sant'angelo or "Castle of the Holy Angel". It was originally commissioned by Emperor Hadrian in the 2nd century AD as his mausoleum but was later used as a castle and a fortress by successive popes.
Once the tallest building in Rome, its cylindrical structure is made more famous due to the statue of Archangel Michael that tops it (giving the castle its name). The lead-up to Castel Sant'angelo, the Ponte Sant'angelo – also built by Hadrian – is flanked by angel statuary too – one of the many works of Bernini in Rome.
It's best seen in the evening, however, when the building is elegantly lit. You can also take a tour inside the castle itself at night and get views of Rome from its ramparts. It closes at midnight, so makes for a romantic after-dinner jaunt.
You can book your visit to Castel Sant'Angelo here.
Make sure to read my posts A Complete Guide To Visiting Castel Sant'Angelo and The Best Rome Hidden Gems.
Stay in one of Rome's romantic hotels
This one is a no-brainer, but it has to be said – Rome is full of amazingly romantic hotels. To get the most out of your trip to the Italian capital, you and your partner could choose to stay in a historic palazzo, with views over Baroque fountains; opt for hotels with original Renaissance features; and linger on rooftop terraces draped in ivy.
One of the most romantic hotels in Rome is the Residenza Napoleone III. Named after the French emperor who once stayed here, the hotel remains impossibly grand. Think chandeliers, oil paintings, and luxurious rooms.
Elsewhere the Hotel Locarno is an Art Deco affair which was once a favorite of creatives in the 1960s – it's full of charm and romance. There's also the Hotel Singer for more early 20th-century style.
Take a look at my post The Most Romantic Hotels In Rome.
Enjoy the sights and sounds of Campo de' Fiori market
One of the oldest marketplaces in Rome, the Campo de' Fiori has been hosting stalls and their wares since 1869. The square, just south of Piazza Navona, was once a field – the name actually translates to "Field of Flowers".
Every morning from Monday to Saturday, the square comes alive with a market, with stall holders selling colorful flowers, fruits and vegetables. It's a bustling affair, often busy with locals and tourists alike.
If you're not able to visit in the morning, make your way over after sunset; this is when you'll find Campo de' Fiori lively with terrace cafes and restaurants hosting friends for dinner and drinks.
Read my post The Best Markets In Rome.
Lounge around an outdoor pool together
When everything gets too hot on a balmy Roman summer day and you just want to chill out with your beau, it's time to head to one of Rome's outdoor pools. Surprisingly, you have options – from the budget-friendly to out and out luxury.
The Aqvi Blu Pool at Sheraton Roma offers an affordable dip in their outdoor pool – you can also enjoy drinks and lunch here, too. For something a bit more high-end (and high up, too), the Hotel Anantara Palazzo Naiadi Roma is a five-star spot with a rooftop terrace complete with an infinity style pool that overlooks the historic skyline of the city.
Visit my post The Best Outdoor Pools In Rome.
See the Pantheon at night
Many of Rome's top landmarks look better by night – that's because they're wonderfully illuminated. But it's not only that, it's also the lack of crowds that makes these historic spots much more romantic. The Pantheon's ancient architecture is one such – it's one of the best preserved monuments in the city.
Even though it's not open for after-hours tours, this incredible piece of Rome's history is definitely something you should put on your list of romantic things to do in Rome. It's a great way to start or end an evening, exploring the streets at night around this feat of engineering.
Be amazed by St. Peter's Basilica
When you're in Rome, visiting the Vatican is something you shouldn't miss out on. This independent state is full of wonders, one of which is the momentous St Peter's Basilica. Next to it is where you'll find one of the world's most famous works of art: the Sistine Chapel.
Complete with frescoes by Michelangelo and other great artists such as Raphael and Bernini, the chapel truly is an awe-inspiring sight. There's so much history here, so I'd recommend taking your time and spending the day with your partner learning about Rome's storied past and admiring some of the greatest works of art the Vatican Museums has to offer.
Dine in style at Casina Valadier
If you've got the budget, or maybe you feel like treating yourself for an evening of all out epicurean delights, book a table Casina Valadier. You might want to make that a terrace seat – the views from here are ones you won't be forgetting about in a hurry. That's because this extremely high-end restaurant is located at the highest point of the Pincian Hill.
The Neoclassical building itself was designed by architect Giuseppe Valadier and built between 1816 and 1837. Accordingly, it's a stylish spot. If you don't have the budget for a full-on dining experience, perhaps stop by for their "business lunch", a coffee, or an aperitif.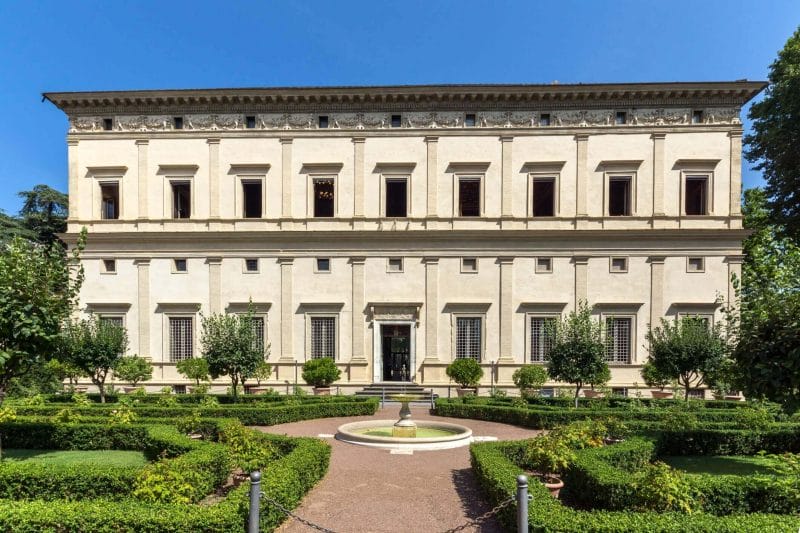 Get caught up in the romance of Villa Farnesina
This magnificent Renaissance era mansion was built between 1505 and 1511 and still stands today as a testament to the artistic values of the Italian Renaissance. Originally built as the residence for a wealthy banker from Siena, Villa Farnesina is located in Trastevere a stone's throw from the banks of the River Tiber.
On your arrival, prepare to be wowed. Inside the Baldassare Peruzzi-designed mansion, there are frescoes by Peruzzi himself as well as Sebastiano del Piombo and Raphael. One of Raphael's most striking works here are the frescoes in the Sala di Galatea. Throughout, it's all about luxury interiors and opulence. You could pretend you're house hunting – for just a moment, at least!
Spend the day at the beach
If you feel like getting out of the city for a day and hitting up the beach, well, that's definitely something you can do. There are a number of beachside destinations in easy reach of Rome making spending some time on the sand a breeze.
A lot of the beaches boast stabilimenti, sort of like beach clubs, so you don't even have to worry about bringing anything with you. Just turn up and you'll be able to rent a sunbed, umbrella, and even enjoy drinks and snacks. One of the nearest beach destinations is at Ostia, but there's also the Blue Flag-rated beaches of Santa Severa and Sperlonga, while Sabaudia boasts pretty cafes and clear coastal waters just an hour and a half from Rome.
Head over to my post The Best Beaches Near Rome.
Zip along the streets of Rome on a vespa
If you have seen the movies Roman Holidays and La Dolce Vita, you will know that riding a Vespa through the streets of the city is one of the most romantic things to do in Rome.
If this is something you want to do, you basically have two options: either rent a scooter and zip through the city on your own; or join a guided tour so you don't risk getting lost (though that could be fun and romantic too).
There are several Vespa tours of Rome that you can book online. For a vintage Vespa with manual transmission, you can consider this tour here. For plain Vespa rental, click here.
Make sure to read my posts A Guide To Scooter Rental In Rome and The Best Movies About Rome.
Enroll in a pasta making class
Is there anything more romantic than a fine dinner at a beautiful table with a view? Well, how about actually cooking the meal you eat together? There are a million cooking classes you can join in Rome, to learn to master its most famous pasta dishes and not only. It's also a great way of learning more about local culture and way of life!
To book your cooking class in Rome, click here.
Check out my post How To Make Spaghetti Cacio E Pepe.
Pin It For Later!