Unlike Florence, Venice is not near Rome. The distance from Rome to Venice by air (because you can fly there) it's 394 kilometers (245 miles), while by car it's 536 kilometers (333 miles). While you could do it in a day, this would mean you wouldn't have much time in Venice to see all the sights.
It just takes a little too long to get there for it to be efficient enough for a day trip, and there are so many places to visit near Rome that are great for a day trip, that it would make no sense to travel so far.
Make sure to read my posts The Best Things To Do In Venice and The Best Day Trips From Rome.
Don't get me wrong, it is doable, if that's what you want to do – especially by train – this is arguably the best way to get there, whether you want to stay there for a day or more.
If you drive, you'll be spending around seven hours on the road one way. I'd only recommend doing that if you are planning a road trip around central and northern Italy!
So, what's the best way of getting to Venice from Rome? Let me highlight all the available options so that you can pick the most suitable one!
Looking for information on how to get from Rome to Cinque Terre? Read this post.
How To Get From Rome To Venice
Take the train from Rome to Venice
There is a high speed train from Rome to Venice, making it a very convenient way to travel between the two cities. Train travel is the most stress-free way of traveling. It's way more streamlined than driving, and much easier than catching a plane, what with all the security checks, delays and having to be at the airport long before your flight it meant to depart.
Trains bound for Venice leave Rome Termini station, arriving at Venice Santa Lucia station. Two companies ply the route. There's Trenitalia with the Frecciarossa and Frecciargento services, and the private Italo, both of which offer high speed services and take more or less the same amount of time to reach Venice. That means you get to take in the landscapes, and enjoy the comfort of the modern trains and all their amenities.
Make sure to read my posts How Many Train Stations Are There In Rome?, How To Use Rome Metro and A Guide To Rome's Public Transport.
How long does the train from Rome to Venice take?
By train, the journey between Rome and Venice takes short of four hours. The train travels at speeds of over 240 kilometers per hour (150 mph), leaving Rome, passing through the suburbs, and heading out into the countryside.
After it passes through Florence, the scenery becomes quite dramatic. Tunnels allow the train to go super fast, but it does mean that your view of the surrounding landscapes will be obscured at some points. And when you arrive in Venice, you'll get a glimpse of the lagoon, making it quite a beautiful way to approach the city.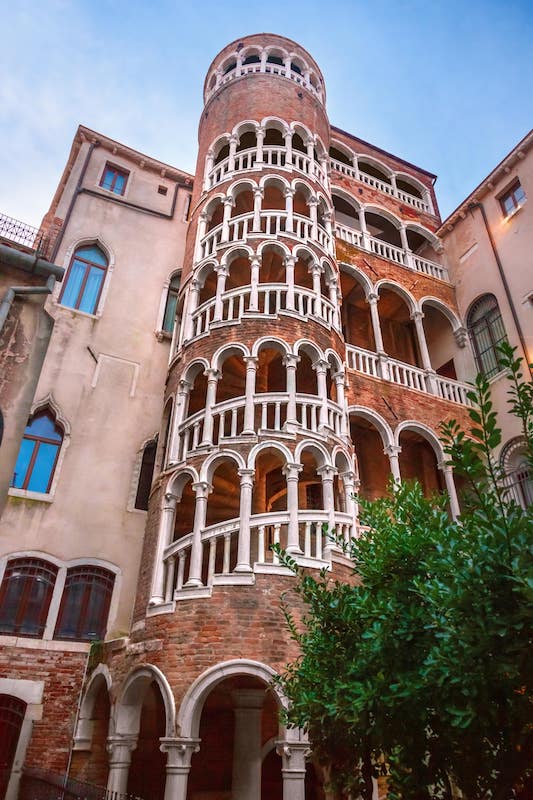 How much does it cost?
The cost of a train ticket from Rome to Venice starts at around €30, if you book in advance and opt for the slow Intercity train that stops at many stations – not you mention, you may have to change at some point. The cheapest Frecciarossa train costs around €70 – and it's going to be much higher for a first class ticket, too. Italo trains are a bit cheaper, with special offers available for as cheap as €35.
There are bound to be special offers if you book your seats well in advance, so you should definitely try to do that! You can purchase them up to a few months in advance, which is the best way to do so as you'll get the best prices and a better choice of seats.
There is the option to purchase your tickets at the station just before departure, but this will usually mean you'll pay a higher price for the ticket and you won't have much room to pick a seat.
If you don't mind traveling slowly, or you actively enjoy slow travel, there's the option of buying a ticket for a regional train. A journey from Rome to Venice on one of these more local trains takes around eight hours; on the other hand, they're also cheaper than high speed trains.
How frequently does it run?
There is one train per hour with Trenitalia, and one every couple of hours with Italo, so you'll have plenty of availability to travel between the two cities. The first train leaves at 5:35 am and the last train high speed train leaves at 7:35 pm.
You can check the schedule and prices of the train from Rome to Venice on the official website of Trenitalia or Italo, on the Omio app here.
By Plane
Flying is the fastest way to travel between Rome and Venice. This takes around one hour. Flights leave from both Rome Ciampino and Rome Fiumicino airports, and usually arrive at Marco Polo International Airport in Venice (though there's also Treviso Airport).
There are multiple departures throughout the day; but you should also factor in the cost of getting to and from the airport, and baggage allowance, too. Shopping around on sites such as Skyscanner can result in real bargains, but oftentimes the cheaper flights are at really odd times and don't include any of the comforts you may need (ie a baggage allowance).
You can check the schedule and prices of flights to Venice from Rome on the Omio app here.
Make sure to read my post How To Get From Marco Polo Airport To Venice.
You should also read my posts How Many Airports Are There In Rome?, How To Get From Fiumicino Airport To Rome and How To Get From Ciampino Airport To Rome.
Join a guided day trip to Venice from Rome
There's also the option of booking yourself onto a guided tour. Many tours utilize the high speed train from Rome to Venice as their mode of transport, booking you onto the train and picking you up at the train station in Venice to begin your tour of the city.
The bonus is you'll also have a knowledgeable guide showing you all the sights that Venice has to offer. Another extra convenience is the transfer these tours offer to and from your accommodation to the train station.
However, this service doesn't come cheaply. With a tour guide, a tour such as this one will cost around €230 per person.
For more information about day trips to Venice from Rome click here or here.
By Car
Unless you're super keen on driving, or you're up for an adventure, then driving probably isn't a good option. For one thing, it takes a long time to arrive. At the very least, it takes five and a half hours, while other routes along the coast can take upwards of seven hours. Driving is only a good idea if you plan to make several stops along the way and see this as a nice road trip across central and northern Italy.
How much does it cost to drive from Rome to Venice?
The cost of a rental car can be as low as €30 per day, but it can get as high as €80. Prices depend on the type of car you hire, and whether it's low or high season.
You'll also have to pay an additional premium for dropping off your car at a different destination you picked it up from – unless you're driving back to Rome. As with most forms of transport, book in advance online for the best deals.
Another cost to factor in are the tolls. It can amount to €41, but if you take different routes or stop off along the way, the cost of tolls could creep higher. You should also consider the price of fuel and of stopping at roadside services for a bite to eat or a bathroom break.
Check out the prices of car rental in Italy here.
By Bus
Given that it takes around seven hours to drive to Venice, you can expect the bus from Rome to the more northerly city to be a pretty slow option. And it is, but this also makes it a cheaper option than traveling by high speed rail.
There's a handful of bus companies that operate this route. One of the most popular is FlixBus; another is Itabus. Both FlixBus and Itabus services leave from Rome Tiburtina station, and arrive at a terminal near Venice Santa Lucia station, specifically on Isola Nuova.
There are also night buses, which means you can save money on the cost of accommodation for one night.
How long does the bus to Venice from Rome take?
Depending on the bus company, the journey takes anywhere between six hours and 20 minutes, and nine hours. This depends on how direct the route is, and what stops/rest stops they make along the way.
How much does it cost?
Prices start at €10 on Flixbus: booking earlier will secure you a lower rate in the long run.
How frequently does it run?
Bus services from Rome to Venice leave throughout the day, from 1:10 am to 11:55 pm.
You can check the schedule and prices of the bus to Venice from Rome on the Omio app here.
Pin It For Later!