Rome may not come across as a romantic city – yet it is! From places with incredible views of the city to lovely parks perfect for a leisurely stroll, from beautiful piazzas to delicious restaurants, the Italian capital won't disappoint even the most romantic travelers.
If you are visiting the Eternal City with your better half, you may be looking for a cozy place to stay where you can relax at the end of a day of exploration – a place that is perfect for a romantic escape, complete with views, bathtubs and more.
Curious to discover the best romantic hotels in Rome? Continue reading, as there is something for any budget!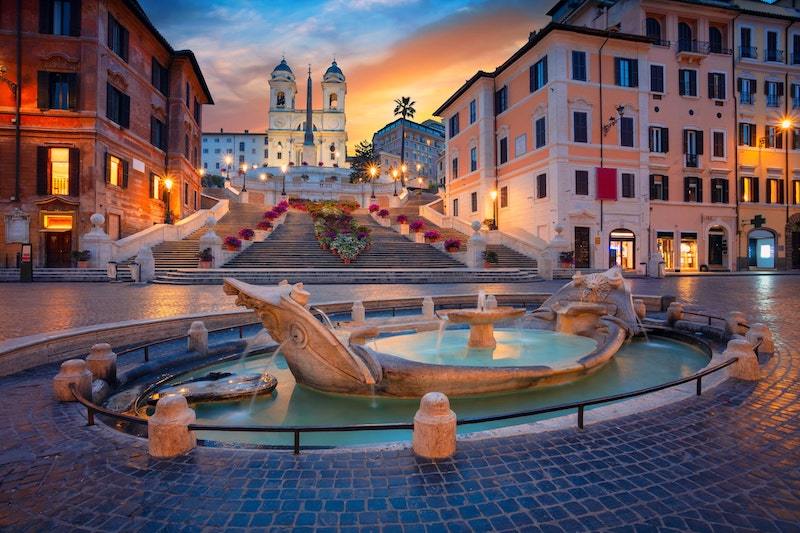 The Best Romantic Hotels In Rome
Luxury romantic hotels in Rome
Romance and Rome go hand in hand, and at this chic hotel in Rome, there will be no end to the luxurious time you and your partner will have. Throughout this immaculately designed hotel each space has been carefully curated with mid-century modern furnishings, subtle design details, indoor plants and sparkling marble floors.
Guest rooms here are sophisticated but elegantly simple, boasting big plush beds, high ceilings with original features and well-appointed bathrooms. Some come with their own private balconies that overlook the city, so you can enjoy a glass of wine with your partner. In terms of location, the Pantheon and the Spanish Steps are steps away!
In terms of amenities, guests can enjoy delicious Italian and international cuisine at the on site restaurant. Everything is made using fresh produce daily. You can enjoy a drink at the sophisticated bar. Or, simply order room service and chill in your bathrobes.
You can't get much more romantic in Rome than spending your time in a 17th-century palace. This truly is a part of Rome's living history. The location of this former palace is, of course, amazing – rooms look out onto the Fountain of the Four Rivers by acclaimed Baroque artist Bernini.
As well as being located in Piazza Navona, the hotel is close to St Peter's Basilica, Castel Sant'Angelo, the Pantheon and the iconic Trevi Fountain. It's the perfect base for sightseeing in the Eternal City.
The guest rooms are, as expected, elegant. They feature modern furnishings combined with traditional elements, such as original frescoes and other original features of the building (think high ceilings and huge windows).
Eitch Borromini Palazzo Pamphilj doesn't skimp on amenities. There's an onsite art gallery where you can admire masterpieces, plus there's the stylish Terrazza Borromini restaurant, which is so good that even locals are regular patrons. They serve up seafood dishes and Italian classics from their a la carte menu.
Built as luxury apartments by architect Francesco Settimi, this offering was transformed into a hotel by the entrepreneurial hotelier Francesco Nistelweck in 1889. It was the very first hotel in Italy with an elevator, electricity, running water and heating, and it definitely is one of the best romantic hotels in Rome.
Don't worry though – it's certainly kept up with the times. Today, and newly refurbished in 2017, this luxury five-star hotel in Rome is the place to indulge in the timeless elegance of the Italian capital itself. The neoclassical Hotel Eden is quite literally like a palace, with luxury interiors that sparkle with gold, ornate design details, antique furnishings and gleaming floors.
The hotel features penthouse suites if you feel like splashing out, but all rooms here are decked out for the ultimate in comfort and sophistication. The award-winning and even Michelin-starred rooftop terrace restaurant, La Terrazza, is where guests can wine and dine in candlelight with beautiful views out over the city.
Of course, the location is great – the Spanish Steps are just 550 meters from the property.
Mid-range romantic hotels in Rome
For something a little less grand, but still historic and no less stylish than high-end hotels in Rome, Relais De La Poste is a wonderful option for couples looking for that special place to stay.
Each of the guest suites here has been decorated in a fashionable combination of original features and modern furnishings to create a stylish aesthetic. Think high wood-beamed ceilings, hardwood parquet flooring and retro vintage furnishings.
Rooms are fairly sizable. Some come with their own cozy seating areas, and others boast views out over the city. All of them feature modern bathrooms with large showers and sparkling tiles.
Staff at Relais De La Poste are very helpful and will be on hand to help make your stay as special as possible. The whole hotel is immaculately clean and well maintained. For some extra downtime, there's an on-site spa where you can indulge in various relaxing treatments.
There may not be a restaurant on site, but a continental breakfast is served up each morning. The location – five minutes' walk from Piazza di Spagna – means you'll be close to an array of drinking and dining options.
This hotel offers up cozy rooms situated inside yet another of Rome's 17th-century mansions. There are 19 rooms to be exact, all modern and newly renovated, taking up the 4th and 5th storeys of the property.
There's a whimsical, boutique feeling to this place, with colourful modern art adorning the walls throughout. Each guest room here has been decorated in a slightly different but fashionably executed style – from the attic room to the private room with a double terrace, you can choose one that suits your style.
Parlamento Boutique Hotel feels like a warm and welcoming place to stay, with staff on hand to make sure everything runs smoothly and to keep everything spick and span. Breakfast is served each morning and can be taken out on the terrace patio where you can sit among Rome's rooftops in the sunshine.
In terms of location, you'll find this hotel just meters away from Piazza di Spagna and the Spanish Steps as well as Piazza Navona, too. It can't get much better than that in terms of romantic hotels in Rome.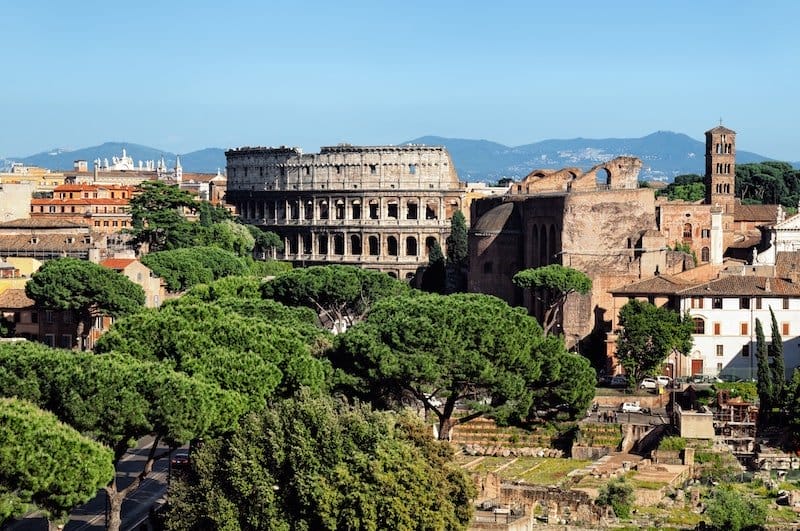 Situated in the bohemian neighborhood of Monti – just one stop on the Rome Metro from Termini Station – the Fifteen Keys Hotel features 15 individually designed bedrooms situated in what was once a five-storey town house. It was converted into the four-star hotel it is today in 2015.
Each of the guest rooms vary in size but have been tastefully designed with a smart and elegant palette of blues making use of original features such as hardwood floors, high ceilings and large windows. All rooms overlook either the hotel's leafy courtyard or the rooftops of Rome.
When it comes to amenities, these include a few handy offerings for guests. There are complimentary bikes to rent, while there is also a continental breakfast served up either in the dining room or on the courtyard terrace. In the evening, drinks are served in the glow of candlelight on the cozy terrace.
Budget romantic hotels in Rome
Traveling on a budget certainly does not mean you have to skimp on the romance, and this budget-friendly hotel proves it. Eccelso is situated in the Prati neighborhood, just half a kilometer from the Vatican City and all its iconic museums, and with a slew of cafes and restaurants right on the doorstep.
Rooms at the hotel run the gamut from their self-styled "budget rooms", which come with double beds, seasonal air-conditioning, a kettle, bathrooms with large showers (the hotel notes these are large enough for two) and even their own balconies – all the way to "superior," which are spacious and come with king size beds, city views and bespoke furnishings.
Amenities include either an a la carte or American breakfast on offer at a nearby cafe; an on-site bar if you fancy a nightcap after sampling one of Rome's many restaurants; plus, there's also room service for your late-night snack needs.
If a memorable place to stay is what you're looking for, but you're on a budget, then Hotel Barrett will really deliver. A self-proclaimed "art hotel", Hotel Barrett features 20 rooms that drip with over-the-top interiors inspired by Imperial Rome and Baroque styles. Each room here is unique, some of which feature views of a 16th-century palazzo, others looking out onto an interior courtyard.
It may not be everybody's taste, but it's certainly a memorable experience and provides great value for money. Breakfast is also included in the room rate which further adds to the value; this is the typical Italian style breakfast consists of croissants, fresh fruit and coffee.
Hotel Barrett is a great base to explore the city from. Not only is it merely 350 meters away from the Pantheon, but the staff here will also prepare walking routes for guests who want to experience a personally curated and very local self-tour of Rome.
Located in the leafy Esquilino district of Rome, the three-star Hotel Balilla is exquisitely located, being just steps from the 4th-century Temple of Minerva. There is a slew of other historical sights situated nearby – including Porta Maggiore – plus a metro stop just meters away which will help you explore the rest of the city.
The building itself was constructed in 1930 and comes complete with polished rooms that feel classic and comfy. All are spacious and clean featuring private bathrooms and modern fixtures and fittings.
Elsewhere in the hotel, guests will find a large, marble staircase leading to an outdoor terrace where you can sip champagne among Rome's historic architecture. Breakfast can also be provided in the onsite dining room, though there are a whole array of eateries for guests to choose from in the streets surrounding the hotel.
To make sure your romantic getaway to Rome goes smoothly, the staff here are amazingly helpful and cannot do enough to help you with anything you might need during your stay.
Romantic Apartments in Rome
If you want a little more space and privacy with your other half during your trip to Rome, then Palazzo Scanderbeg may be the place for you. Here you can opt for private suites and apartments set inside a four-star hotel.
Suites here are effortlessly stylish with modern design throughout, and come with spacious seating areas, large kitchens and multiple bedrooms – some even have mezzanine floors and a private terrace to relax on.
Elsewhere on the property, guests will have the chance to enjoy everything that a top Rome hotel can offer. You'll be pleased to hear that the hotel can take care of grocery delivery for you, access to a wine cellar and breakfast served each morning in your apartment. There's also a butler service available – even pets are allowed, if you wish to bring along your pooch!
Located along a cobbled street, right in the heart of Rome's Centro Storico, it's just 100 meters from Palazzo Scanderbeg to the famous Trevi Fountain. Quirinal Hill is also nearby, as is Piazza di Spagna and the Roman Forum.
Situated in the lesser visited district of Trionfale, Aurelia Vatican Apartments offers up the chance to live a balance of local life while being in proximity to some of Rome's top tourist sights.
Close by, you'll find the Vatican City and its iconic attractions while there are also great bus and metro connections to ferry you around to other renowned sights. There are also cafes, restaurants and bars to sample in this quiet, Roman neighborhood.
Originally an apartment block dating back to the 1900s, this family-run accommodation option was transformed into a boutique hotel. Now completely restored, there is a range of apartments, many of which are ideal for couples angling for a romantic time in Rome. The apartments feature small kitchens, balconies and soundproofing for a convenient, peaceful stay.
Here, it's really possible to make yourself at home in the city. Since daily cleaning is included in the price, you won't have to worry about lifting a finger at all during your stay. There's also a reception where staff will be able to help you with anything you need.
If you're looking for an apartment in Rome but you'd prefer something more budget-friendly, then this place could very well be the spot for you. Set in the quiet neighborhood of Appio Latino, this one-bedroom apartment features a charming vintage style with shuttered windows, wooden floors and cute design details throughout.
Here guests can cook meals in the well-equipped kitchen and enjoy a good night's sleep in the large double bed, all while pretending to be a Roman local together for a weekend.
The host is very helpful and will make sure you stay runs smoothly. Further adding to the convenience, there's a bus stop nearby and a metro station so you can get around easily. Supermarkets, cafes and restaurants are also within easy walking distance.
Further Readings
Traveling to Rome? Make sure to read my other posts:
Pin It For Later!