Whether you are traveling to Rome in the summer time and want a place to cool off a bit at the end of a day of exploration; or you are a swimmer much like yours truly who appreciates a pool to train daily; you will certainly appreciate a good hotel with a pool.
However, hotels with pool in Rome aren't as easy to find as you'd hope, especially if you are looking to stay in the city center where large hotels aren't common, and many places are located in historical buildings.
So, I thought I'd research them for you and I have good news: there are a bunch and they are fabulous! And if you worry about budget, stop right now! Hotels with pool in Rome don't have to cost a fortune – though granted, most of them are in the 5-star category.
Curious to discover the best hotels with pool in Rome then? Simply continue reading!
The Best Hotels With Pool In Rome
This marble building from the 1800s offers up a luxury place to stay in Rome, and with all the amenities you'd expect from such an elegant accommodation. The pool at the stylish Anantara Palazzo Naiadi is located on the rooftop which means swimming and reclining with a view of the historic skyline of Rome.
Elsewhere, the rooms at this hotel are beautifully designed and spacious with historic touches and modern comforts combined. In terms of location, you'll find Anantara Palazzo Naiadi situated close to the Repubblica Metro Station and close to plenty of bars, restaurants, and boutiques.
Those wishing to spend their time chilling out by the pool or taking a refreshing swim while on their trip to Rome should consider this chic hotel – it's easily one of the best hotels with pool in Rome. Situated just minutes from the Vatican City – and also close to Villa Doria Pamphilj – views from here boast glimpses of St Peter's Basilica and the surrounding city.
The outside pool area feels especially relaxed thanks to its Mediterranean plants and shrubs, helping you to fully relax away from the busy hustle and bustle of the city below. Also close to the pool is the hotel's restaurant, complete with outdoor terrace where you can enjoy meals throughout the day (including breakfast).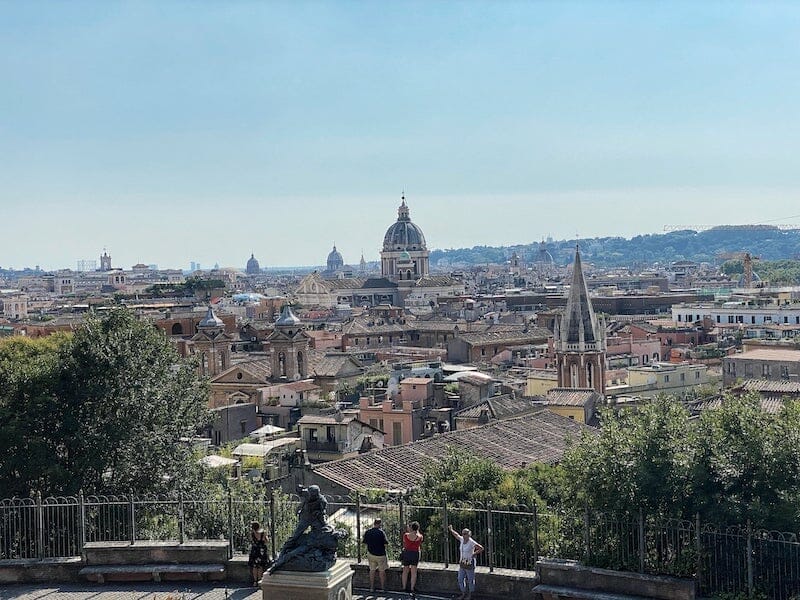 For more of a spa experience when staying in the Eternal City, you may want to consider Hotel The Building. Here guests can spend time unwinding amongst the grandeur of the hotel and make the most of its historic spaces and charming contemporary design.
Amenities here include a well-equipped gym to keep up with those fitness routines, an indoor pool set in a vaulted brick cellar, and an outdoor pool that's the perfect place to catch some rays and cool off on a warm afternoon. The hotel also boasts a fine-dining restaurant, a complimentary breakfast, and a piano bar in the lobby.
If you're looking for a more relaxed atmosphere when staying in Rome, and not necessarily a luxury hotel, then the villas at Roma Camping In Town are a great option. The ideal base for exploring Rome, especially for families and groups of friends, guests can choose from a bungalow or sizeable chalet. Each comes with its own kitchen and outdoor terrace.
Away from the villas, there's a large outdoor pool here with two Jacuzzis and numerous loungers for soaking up some summer sun – complete with a poolside bar, of course. There are also places on site to buy drinks and snacks.
Staying at the five-star Villa Agrippina Gran Melia is like staying in a piece of Roman luxury from the city's ancient past. Situated between the Janiculum Hill and Vatican City, this large hotel features refined rooms decorated with classic works of art and modern furnishings.
Staying here means luxuriating in the utmost elegance as guests can opt for rooms that come complete with their very own plunge pools – among other numerous room options (a hot tub on your private terrace, for example). Amenities include a wellness center that offers an outdoor vitality pool and Turkish bath. It's definitely one of the best hotels with pool in Rome.
Laid back and down to earth, but still very charming, Grand Hotel Gianicolo is situated in a private neighborhood on Janiculum Hill, around a 10-minute stroll to Trastevere. It's a classic Renaissance style residence surrounded by trees, making for a secluded stay in the Italian capital. Even the hotel restaurant is set in an orangery with a scenic courtyard.
The large outdoor swimming pool, for example, is tucked away among palm trees and magnolias with views of St Peter's Basilica – the pool also comes with its own bar with drink service. Rooms here are cool and quiet with marble floors and traditional furnishings.
This hotel may look modern on the outside, but inside the interiors have been extravagantly decorated to emulate the past – think wood-paneled walls, draped curtains, plush carpets, and antique furnishings. It all makes for a regal stay in Rome. Location-wise, you'll find this hotel next to the landmark Villa Borghese, with views out across the city and easy access to iconic sights.
In terms of the pool options, there are two pools at Parco dei Principi Grand Hotel & Spa – one is a sizeable outdoor pool, the other is an indoor spa pool: you can't ask much more for hotels with pool in Rome! Other amenities include a wellness center, a Finnish sauna, and a Turkish Bath.
For those who wish to have everything at their fingertips during their vacation to Rome, A.Roma Lifestyle Hotel is a great option. Featuring a range of amenities, this contemporary hotel has a whole host of things to keep you busy when you're not out exploring the historic sights on the doorstep.
One of these is the seasonal outdoor swimming pool, where you can relax on sunbeds surrounded by greenery. There's also the indoor spa pool, where guests can completely unwind and recover from busy days spent exploring the city. Elsewhere, the restaurant features eight cooking stations and a range of delicious food to sample.
Situated in an ideal location in Rome, this enchanting hotel can be found a mere 10-minute walk from the Spanish steps, and just 200 meters from Piazza del Popolo. Staying at Palazzo Dama is much more than just making use of its convenient setting – it's also beautiful. In fact, this Liberty-style building was once the home of the noble Malaspina family.
Now, you can stay where aristocrats and the elite once lived. It's gorgeously decorated throughout, with modern additions helping to make its period design pop. In terms of the swimming pool here, you'll find it in a lovely terrace setting with sophisticated design features.
This modern, purpose-built hotel has everything you'll need for a stress-free vacation in Rome. Rooms here are smart and sleek, and come with hardwood floors, crisp white linens and colorful artwork. Guests can take time out of their sightseeing schedule with a swim in the hotel pool, which you'll find on the rooftop.
Other amenities include a compact fitness room, a Turkish bath, and massage services to boot. When it comes to food, you can choose to dine at the hotel's own restaurant, Uno Zero, while there's also a breakfast buffet available, and for a nightcap, a lobby bar serving freshly mixed cocktails.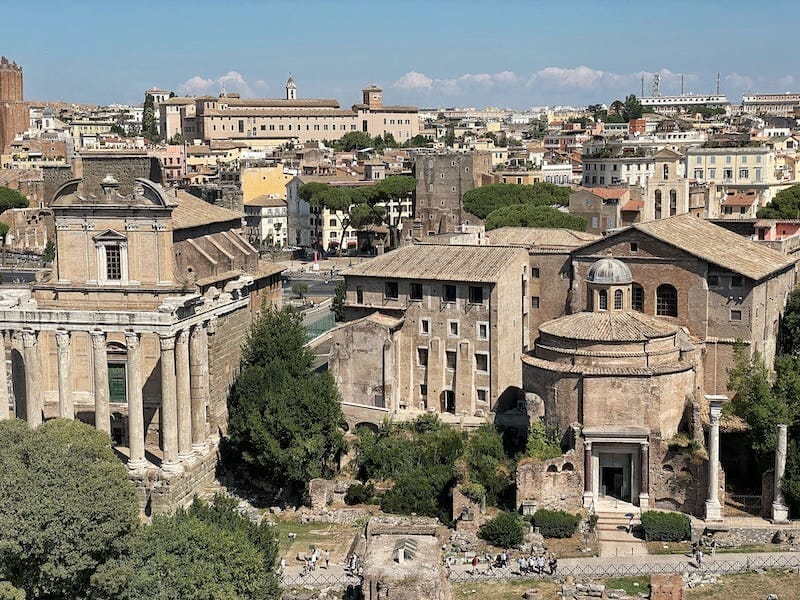 Like a modern day villa, Fauno Urban Resort lives up to its name. Designed by architect Lucio Passarelli in the 1960s, throughout this sleek complex guests will find minimalist clipped gardens and high-end interior design.
The sun terrace at this property is surrounded by lush lawns and blooming wisteria, and at the center is the swimming pool – complete with loungers and a nearby restaurant and bar area. You'll find the hotel near Circus Maximus, which it actually overlooks, with the Colosseum and Roman Forum also nearby.
Palm Gallery Hotel is actually set within the grounds of a historic villa, and it comes complete with all the ornate gardens and architecture you'd expect. This boutique hotel has been lovingly restored, with sophisticated rooms that mix period features with contemporary furnishings.
The pool area at this stylish accommodation option is located in the garden, and is set in a wooden decked area, complete with tables and reclining seats. The pool itself may be compact, but it's perfect for cooling off and unwinding – especially in the heat of a Roman summer.
Tucked away in the Balduina residential district, around 20 minutes' walk from the Vatican City, is the Grand Hotel Tiberio. While it may not be luxurious, this is an affordable four-star hotel that features 91 clean, traditionally decorated rooms with high ceilings and modern flooring.
The hotel's outdoor swimming pool is situated in a contemporary terrace area, shaded by the privacy of trimmed green hedges, while there are also loungers to soak up some sun as well. The hotel restaurant serves up delicious food, while the terrace and bar on the 6th floor provides views of St Peter's Basilica.
This sizeable, modern hotel is a great option for your Rome vacation if you want somewhere conveniently located, with plenty of amenities and, of course, its own swimming pool. The pool is large and features swimming lanes, so keen swimmers can enjoy a few lengths, while there are loungers for those who just want to kick back.
Elsewhere, for the ultimate in relaxation, Hotel Villa Pamphili Roma provides a spa area complete with indoor pool, saunas and whirlpools, as well as a gym and seven treatment rooms. Throughout the hotel you can expect refined design and modern fittings and fixtures.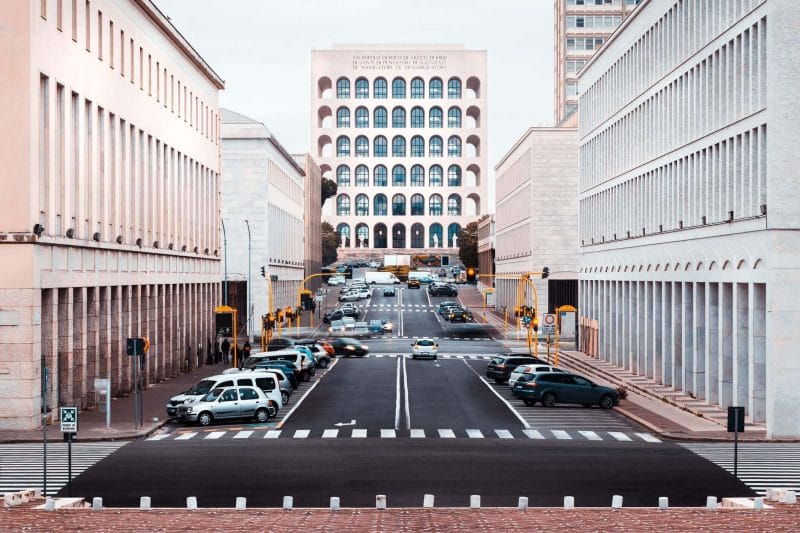 This hotel's location in the EUR district makes it good for those who wish to see a different side to the city away from the historic center (which remains easily accessible by metro). Hotel Cristoforo Colombo is actually located next to a large shopping center, and near to Rome's GRA ring road, making it a convenient spot for those on a road trip. To get into the heart of Rome, there's public transport nearby.
At the hotel itself, you can expect polished rooms with balconies and large beds, while there's the option to dine in its marble-floored restaurant at mealtimes. The outdoor pool here is seasonal, and feels like a high-end place to hang out or swim a few lengths.
Part of the Hilton Hotel franchise, the five-star Aleph Rome Hotel is an ornate option for those on holiday in the Eternal City. For one thing, the building in which it is located is an enormous, neoclassical structure that was once the headquarters for a bank.
The location is ideal. It's a 10-minute walk to some major sights, including the Spanish Steps, the Trevi Fountain and Villa Borghese. Once you're done hitting up the highlights, you can return to the relaxation of the hotel, its high-end Jacuzzi pool in the spa and its rooftop swimming pool, too.
With its hilltop position on Monte Mario, Rome Cavalieri boasts incredible views out over the capital, including the Vatican City and the historic cityscape of Rome. Those wishing to stay in a 5-star hotel in Rome – with classic paintings, sophisticated interiors, and a long list of amenities – should consider this accommodation.
For starters, Rome Cavalieri is home to Rome's only three-Michelin-starred restaurant. If that's not enough, there are also four bars, two red clay tennis courts, and that all-important swimming pool, of course. The sprawling gardens even have their own 800-meter fitness trail.
Located right in the heart of Rome, Mercure Roma Centro Colosseo is – as its name suggests – just a stone's throw from the Colosseum. Aside from its location, it's the ideal mid-range accommodation option in Rome, with smart rooms and plenty of amenities to keep guests entertained.
In fact, the hotel is crowned by a rooftop pool, bar, and sun terrace meaning that you can enjoy amazing views of the Colosseum and the rest of the city as you unwind in the pool or sip a glass of wine. When you're hungry, guests can opt for snacks from the bar, while there's also a breakfast buffet available each morning.
Nestled away from the busy city streets, this secluded hotel is fantastic for those who want to truly relax during their stay in Rome. The hotel is actually housed within a former 19th-century villa that was once a convent, meaning guests can soak up the palatial historic ambience – think marble floors and classical artwork throughout.
Guests will find the sophisticated outdoor swimming pool in the meticulously maintained garden, surrounded by Mediterranean plants, but there's also a relaxing spa pool indoors at the hotel's very own wellness center. Other amenities include a garden bar with live music. Plus, the hotel's restaurant is Michelin-starred.
Further Readings
These other posts may come in handy when researching your accommodation options in Rome:
Pin It For Later!