I must admit that the area around Termini Station is hardly my favorite in Rome. But just as well, I must also say that it's very convenient if you need to get out of the city, and I have often picked to stay in the area to easily move around.
Trains from Stazione Termini will connect you to the rest of Italy; and from there you can also find taxis, buses and trains to the two airports in Rome. Termini Station is also a major city transportation hub, so you'll find buses to take you literally to the rest of the city and all the attractions. Rome metro lines A and B also interconnect here.
If for whatever reason you decide to stay close to Termini Station, worry not: there are plenty of good hotels near Termini Station, with something for every budget and travel need.
Continue reading to find the best hotels near Termini Station, Rome.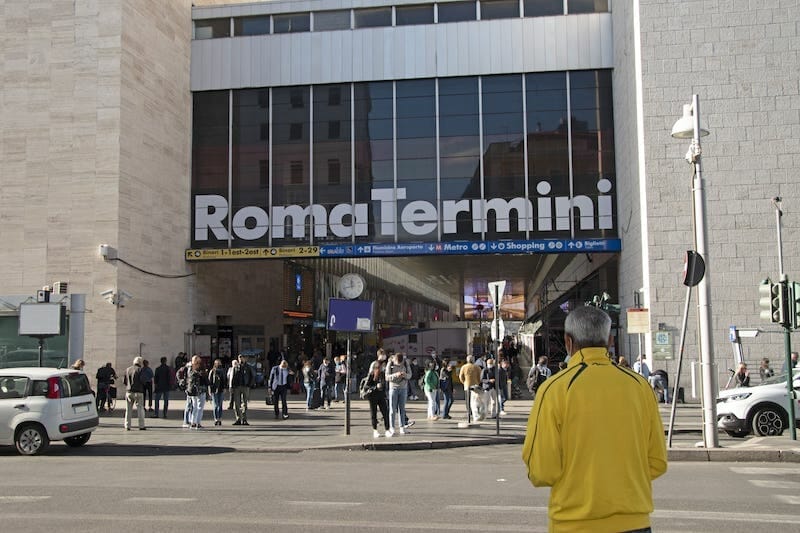 The Best Hotels Near Termini Station
If you're looking for accommodation just a stone's throw from Termini station and if you're on a budget, then Raeli Hotel Siracusa is a great option: it's one of the best budget hotels near Termini Station.
Conveniently located just across the road from the train station, this small hotel offers up fantastic value for money. Its 24-hour reception will welcome you whatever time of day you arrive, and the staff are friendly and helpful.
Rooms at this hotel are clean with a calm color palette and tiled flooring. There's also an Italian restaurant on site which adds to the convenience factor here – the restaurant actually overlooks Termini station, so you can see just how close you are!
Breakfast is also served at the hotel, so you can start your day before catching a morning train or heading out to explore the city.
For something a little grander, check out the Palazzo Cinquecento. This enormous building dates back to the early 20th century and comes with all the elegant trimmings you'd expect in such a landmark historic building.
The location of this hotel is strategically placed at the entrance to Termini railway station. That's because this hotel was actually the original offices of the Italian Railway Company. In fact, it was once an entrance to the station itself with platforms situated on the lower floor.
Today this luxurious accommodation provides chic suites and rooms for guests to rest after a long journey. Stylishly accented with modern interiors, rooms also make use of period features and boast views out over ancient ruins. There's also dining available onsite for an added bonus.
Named after the Greek goddess of love, the four-star Hotel Aphrodite is one of the best mid-range hotels near Termini Station. You'll find it just a few minutes from Rome central station itself, with plenty of food, entertainment, and attractions in easy walking distance in addition.
Staff here will be able to help out with travel plans as well as tips for eating and drinking nearby. The guest rooms at the hotel are simple, with fresh, bright colors and a selection of different options to suit different budgets – some even come with their own spa baths.
One of the best things about Hotel Aphrodite is its rooftop terrace. Here you can enjoy a breakfast in the summer months or a nightcap looking over the rooftops of Rome.
Another mid-range option near Termini station, Traveller House is just steps from the transit hub. It's perfect for those who are on a quick business trip or even if you're on a weekend getaway. Rooms here are clean and comfortable – expect crisp white linen, modern furnishings and cozy beds.
As a brand new, purpose-built hotel, everything at Traveller House has been well thought out with guest comfort and convenience in mind. It comes with everything you might need for your stay, however long it might be.
And while there's no onsite dining available, guests do have the use of a well-equipped kitchen to make snacks and meals for themselves (also meaning those on a budget can keep to it). Alternatively, there are plenty of eateries in the surrounding area.
Situated on Gioberti Road, this hotel is a mere 100 meters from Termini station. It's a four-star accommodation option that feels like a welcoming place to arrive after a long train journey.
The hotel, which was completely refurbished in 2017, boasts stylish and sleek interiors that feature a mix of modern furnishings and period design features. Guests have the option of dining in the hotel's elegant restaurant or enjoying a long, leisurely breakfast on the rooftop terrace.
The rooms themselves are polished, and come with high-end, mid-century style pieces, rich fabrics and sultry wood furniture; they also feature well-appointed contemporary bathrooms.
All in all, everything is very clean and well maintained. The rooms also come with sound proofing, which means you can get a good, uninterrupted night's sleep ahead of an early start.
Golden Tulip Rome Piram is one of the chicest hotels near Termini Station – the four-star hotel is around 200 meters or a five-minute walk from the station.
It's set in a large 19th-century building and comes with all the Belle Epoque era elegance you'd expect. Guest rooms have large windows, private marble bathrooms, and high-end furniture.
Elsewhere, the rooftop bar is the place for sunset cocktails – or you could indulge in a relaxing treatment at the hotel's very own spa, which comes with a Finnish sauna and Turkish bath.
Days here start with a hearty breakfast, and then it's just a quick stroll to the metro to explore further afield, or an easy walk to many nearby sites.
Situated a five-minute walk from Termini station, Hotel Agora is a budget-friendly accommodation choice in Rome. There's a wide selection of room choices here for travelers who want accommodation with a convenient location.
While the hotel itself is not overly fancy, rooms here are clean and well maintained. Some rooms are decorated in a more traditional style, with tiled floors and dark wood furnishings; others have been updated with wooden floors in a more contemporary style. All rooms have private bathrooms, and a few also have their own seating areas.
If you're arriving by train late at night or early in the morning, there's no need to worry as the 24-hour reception here will be open to welcome you. The staff are always on hand to offer advice for travel and things to do around the city, too.
So while this may not be the fanciest of hotels, it's comfortable and the location is ideal.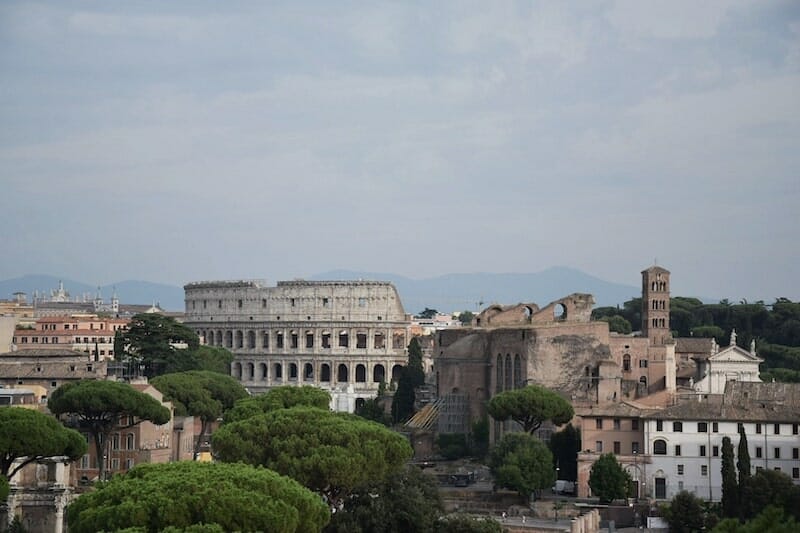 Falling towards the more luxurious end of the accommodation spectrum in Rome, Palazzo Montemartini Rome is a world of complete comfort. Built in 1881, the palatial building is today part of the Radisson hotel franchise and offers up a relaxing place to unwind in the city.
The historic building boasts 82 rooms and suites, each of which have been sophisticatedly designed with minimalist furnishings and top-of-the-range amenities. An easygoing ambience can be felt throughout, from the tranquil hotel spa to the chic restaurant and lounge bar.
It's also perfect for those who want to take day trips, thanks to the proximity of Termini station (just 400 meters). Also nearby are the Baths of Diocletian, while the Colosseum is around a 20-minute walk from the hotel.
While staying in a hotel is always a wonderful way to see a city, staying in a self-catered suite offers up a lot more convenience and amenities but with all the service of a hotel.
The suites at Audrey's Roman Holidays are beautifully decorated in a natural style, with lots of calming colors, wood furnishings and vintage touches. Each of these are slightly different, but they all come with a seating area, private bathroom, and a well-stocked kitchen.
Staff will be on hand to make sure your stay runs smoothly and that your suite is kept clean. They'll also be able to give you good tips for eating, drinking, and sightseeing around Rome.
The property is set within 10 minutes' walking distance from Termini station, while a nearby bus stop allows for good bus connections around the city too. All in all, a good option for families.
The Gioberti Art Hotel may be set in a historic 19th-century building, but the interiors of this place are anything but. Throughout, the hotel has made full use of color to create a modern, eye-catching aesthetic.
This mid-range hotel has a selection of rooms on offer, from a compact double with polished decor, to a suite that comes with plush furnishings. In general, the sizes of the rooms are fairly generous, too, and they're always clean and comfortable.
There's also an on-site gym that's free for guests to use, while there is also a breakfast buffet served up each morning. In terms of location, staying at Gioberti Art Hotel puts you just 50 meters from Termini station.
Another budget option that's located just steps from Rome's main train station, Hotel Charter is all about its fresh, modern rooms. From the moment you step into the small but polished reception, you'll be in good hands.
The very helpful staff here will be able to advise you on what to do and where to go in Rome, and will help you settle in to the hotel.
Guest rooms here are all recently updated and clean and have been decorated with a warm, chocolate-brown color palette. It's a city hotel, the size of the rooms is quite compact, but there's a clever use of space, and the large windows – overlooking the historic streets of Rome – let in plenty of light.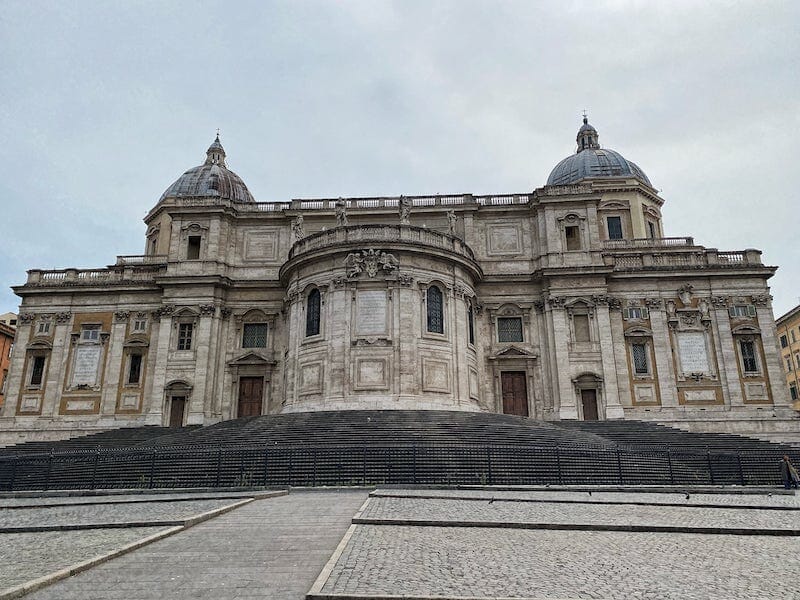 Hotel Ariston is an elegant property that's perfect for a laid-back place to stay in Rome. Situated just 130 meters from Rome Termini train station, it's also just a five-minute walk from here to other sights, including the Basilica of Santa Maria Maggiore and Teatro dell'Opera.
The guest rooms at this mid-range hotel have been updated with modern design features, including colorful artwork, wooden floors, and eye-catching furniture. The rooms are sizeable, and boast contemporary bathrooms too.
Breakfast is freshly prepared each morning with plenty of choices available. There's even a hotel bar for an aperitif before heading out into the city or a nightcap if you've got an early start the next morning.
This plush accommodation choice can be found a mere 100 meters from Termini station, making it ideal for those who simply want to step off the train and into the comfort of a Roman hotel. It's definitely one of the nicest hotels near Termini station.
Throughout the hotel boasts beautiful interiors, making the most of the charming historic elegance of the building. As well as a hotel restaurant, where guests can enjoy bites to eat on the terrace, there's also a rooftop bar with views out across the city.
The guest rooms at UNAHOTELS Deco Roma are spacious and clean, and feature large, comfortable beds. Although they're not overly luxurious, they come with everything you need to make your stay run smoothly – some even have balconies.
As a bonus, a large buffet breakfast is included in the room rates – a great way to set you up for a day of exploring the city.
The retro elegance of Bettoja Hotel Mediterraneo isn't just a design gimmick – this four-star hotel was designed by Mario Loreti in 1938 and features much of its original's '30s decor.
Situated in the heart of the Esquilino area, within walking distance to Termini station, this listed building boasts 242 guest rooms across 11 floors. Rooms range from classic all the way to grand suites but all have the utmost attention to detail and comfort.
Throughout, the hotel is decorated with marble busts of Roman Emperors, mythical mosaics, and updated mid-century modern furnishings. The interiors feel luxurious, combining marble and wood.
There's an on-site restaurant with a terrace overlooking the city and lounge bar where you can kick back in old-school ambience as the sun sets.
Hotel Nord Nuova Roma bill themselves as a classic 1930s hotel, and it's hard not to agree. The aesthetic throughout is filled with the romance of a bygone age, but it's been beautifully updated to fit the modern day.
Guest rooms here are bright, coming with terrazzo floors, large windows, and elegant furniture. There's a selection of sizes and styles to fit different budget types, from compact doubles to family rooms.
The hotel also comes with a selection of amenities to make full use of during your stay, including a fully equipped gym, a spacious sun terrace with views of the city, and a bar that also serves up light meals.
Location-wise, it's all just a five-minute stroll from Rome Termini station, and 200 meters from Teatro dell'Opera.
Further Readings
For more accommodation options in Rome, check out the following posts:
Pin It For Later!