There are many excellent hotels near Vatican City. Whether you are looking for a room that will allow you easy access to the Vatican Museums, or are in Rome for the Christmas or Easter celebrations, you will be happy to find a very good selections of places to stay near the Vatican, for any budget.
In fact, there are so many hotels near Vatican City that picking the best one may be quite a task, what with reading about their services, their conditions and their price. That's why I thought I'd make your life easier and have selected the best ones. Continue reading to make your choice.
Make sure to also read my post The Most Interesting Facts About The Vatican.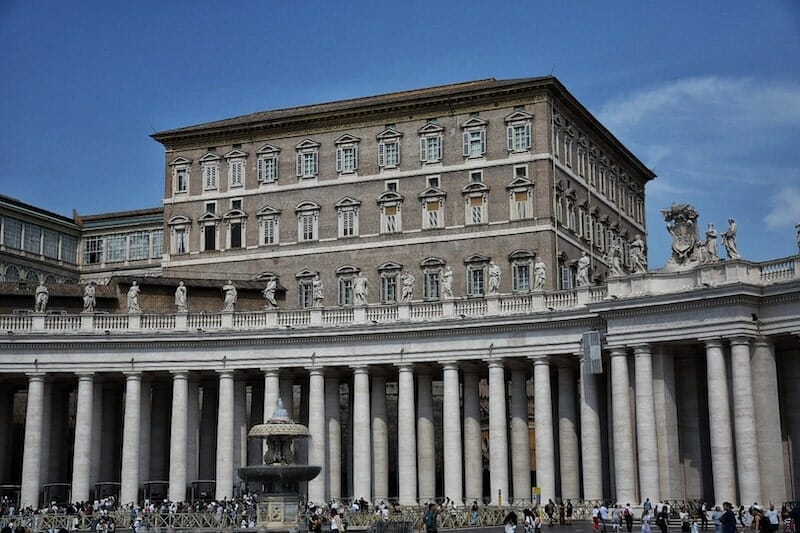 The Best Hotels Near Vatican City
Residenza Paolo VI
Staying in this classic hotel in Rome puts you in the heart of the city, and just a stone's throw from the Vatican. The rooftop terrace offers panoramic views over St Peter's Square, and makes for the perfect place to relax and soak up the ambience of the city in the evening.
The property itself is a converted monastery, and boasts historic features and large, comfortable rooms. Throughout, the decor is polished and smart, with hardwood flooring, dark wood furnishings and luxurious fabrics.
Mornings start with a complimentary breakfast buffet, which can be enjoyed on the rooftop terrace complete with its palatial views.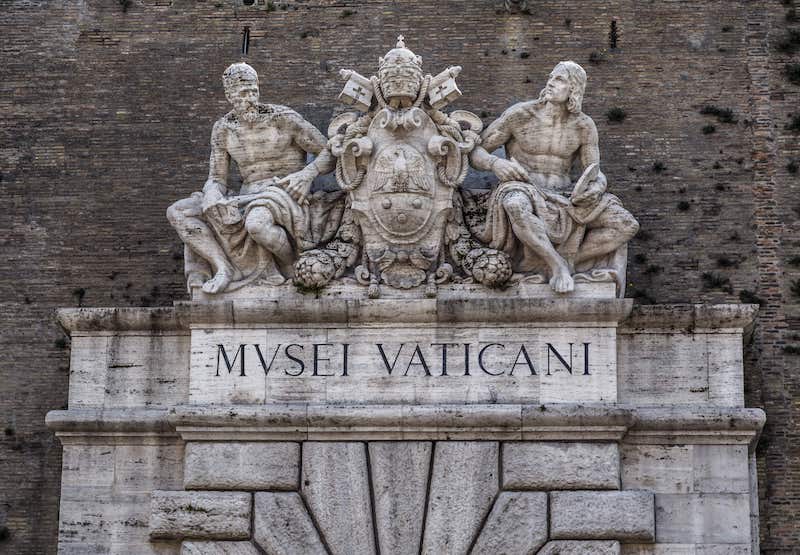 Hotel dei Quiriti Suite
This modern, minimal style property is a great option for those who are looking for a clean and comfortable place to stay close to the Vatican.
The 3-star hotel – one of the best hotels near Vatican City – offers up a selection of rooms that can suit the budget and styles of different travelers. But all rooms feature white-washed walls, tiled flooring and high ceilings; some even come with Jacuzzi bathtubs.
Elsewhere in the hotel, guests can make full use of the on-site fitness room, whilst a daily breakfast of fruit, pastries, cheese and more is served up each morning – an ideal way to start the day. Location-wise, it's situated just yards from Castel Sant'Angelo, with the Vatican an easy stroll away.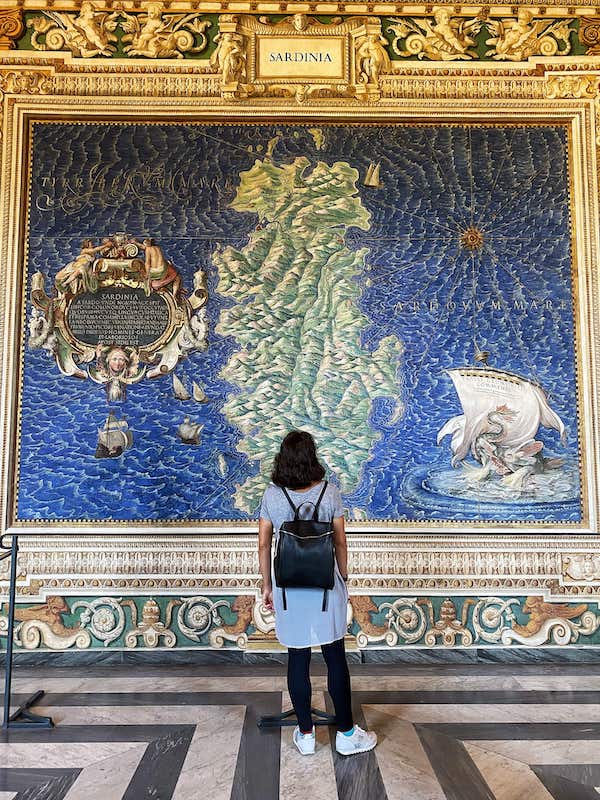 BorgoNove
This is one of the best budget hotels near Vatican City. It's a modern hotel and a great choice for travelers who want a clean and safe place to sleep on their trip to Rome.
It's also a good option for those who are going to be spending most of their time out and about in the city. Rooms are compact, but comfortable and spotless, and come decked with crisp white linen, wooden floors and polished bathrooms.
The property is well maintained and boasts a buffet breakfast served daily. The Vatican Museums and St Peter's Basilica are a mere stone's throw from this hotel, making it straightforward to visit the Holy See on your trip.
InnsideRome
With beautiful views of the dome of St Peter's Basilica and the Vatican City, this is the ideal place to stay for those who want to spend their time visiting the microstate. Each of the guest rooms has been decorated with comfort in mind: think stylish parquet flooring and tasteful furnishings, as well as renovated private bathrooms.
There may not be much in the way of amenities, but guests can use the hotel's very own nespresso machine to start the day. For added convenience there are a number of great eateries on the doorstep, and a number of public transport links, too.
MJ Roma San Pietro Guesthouse
Rooms at this conveniently located hotel are set up for comfort and relaxation. Each has been decorated with modern, fashionable furnishings, with large beds and windows that look out over the city. The building itself is historical, and comes with period features such as high ceilings.
The location is close to several transport options, but most importantly of all, in less than five minutes stroll you'll be at St Peter's Basilica. So if you're in the city mainly to see the Vatican Museums, this is a great place to stay.
Hotel Roma Vaticano
A smart and sophisticated property, Hotel Roma Vaticano provides guests with chic rooms decked out with large windows, polished parquet floors and geometric patterned wallpaper. Everything here is stylish and beautifully designed.
The location puts you right near the Vatican City, so you'll get to explore St Peter's Basilica early in the morning without having to fight the crowds for space. Among the facilities on offer are a concierge service and luggage storage.
Palazzo Cardinal Cesi
If you are looking for the best luxury hotels near Vatican City, stop right here and opt to stay at the Palazzo Cardinal Cesi. Situated in a wonderful 15th-century building, you can relax and unwind among the years of history encased within. The whole property has been lovingly restored and renovated, with antique and modern decor mingling throughout.
Drinks in the evening can be enjoyed in the hotel's library lounge, while a buffet breakfast is served each morning in the old refectory where the monks who lived here centuries ago once ate.
Location-wise, this property is set between the Vatican and Castel Sant'Angelo, with many cafes and restaurants in the vicinity.
Borgo Pio Suites Inn
Another Rome hotel set in an old building but with modern interiors, Borgo Pio Suites Inn is one of the most stylish hotels near Vatican City. It's located among the storied streets of Borgo on the outskirts of the Vatican; in particular, it's situated along Il Passetto, the raised, crenelated secret passage for Popes to escape to Castel Sant'Angelo.
The guest rooms themselves are clean and contemporary, while amenities on offer at this hotel include an optional buffet breakfast, and rooms that feature tea and coffee machines. One bonus is that the staff are super friendly, and will help with any travel tips or advice you may need when traveling around Rome or further afield.
Orazio Palace Hotel
The rooms at this smart hotel in Rome offer an easygoing ambience that's ideal for relaxing after a busy day of exploring the city. The guest rooms have been perfectly curated for a tranquil stay, painted in natural tones and boasting large comfortable beds and seating areas.
Elsewhere, the property provides guests with a shared lounge and a rooftop terrace with views out across the city. There's also a bar and restaurant, so you'll never have to go too far for a drink or something to eat (if you don't want to, anyway).
In terms of location, you'll find Orazio Palace Hotel under a mile from the Vatican Museums and St Peter's Basilica.
St. Peter Manor
Ideally located in Rome's Vaticano Prati district, you'll find this hotel mere yards from St Peter's Square and the Vatican. All of the guest rooms here have been decorated to a high standard, with white-washed walls, natural wood flooring and eye-catching artwork; they boast modern, well maintained en suite bathrooms, too.
There are several types of rooms to opt for here. Some even come with their own spa bathtubs for added relaxation when you want to unwind after exploring the nearby Renaissance alleys filled with bars and restaurants.
Best Western Plus Hotel Spring House
This Rome-based iteration of the Best Western chain is a great choice if you're looking for a proper hotel experience. That's because it has a range of facilities on offer for guests to make full use of.
The bar serves up seasonal drinks and appetizers; there's a well-maintained fitness room for working out; and there's a breakfast buffet – with options for Italian-style breakfast – served each morning.
Rooms here are spacious, cozy and clean; some have views overlooking the Vatican itself for the ultimate experience. There are a lot to choose from, including family rooms with mezzanine floors, among other choices.
The location is ideal for visiting the Vatican and St Peter's Basilica. It's just outside the walls of the Vatican, in fact, and is only a five-minute walk from the nearest metro station.
Hotel Museum
This family-run property has a lot of character and charm. Each of the guest rooms have been uniquely decorated with classic furniture and antique pieces. The theme continues throughout, with walls adorned with Renaissance-style frescoes and hallways dotted with plants.
Guests can make full use of the cozy hotel bar for a few drinks in the evening, or sit out on the sunny terrace soaking up the city views. Mornings here also start well, namely with a hearty breakfast buffet that's included in the room rate.
Hotel La Rovere
Situated on the Tiber River Promenade, this top Rome hotel is situated only a few minutes walk from St Peter's Square. This is one of the best hotels near Vatican City and staying here means you'll never be too far away from the Vatican, or other nearby sights and places to eat and drink.
Once you're done exploring for the day, you can kick back and relax in the ambience of the guest rooms. All of these have been decorated in their own individual style, and all are modern and clean. Guest facilities include an on-site bar, where you can sit and lap up the historical charm of the building with a glass of wine or two.
Mascherino Suites
This posh and polished accommodation option near Vatican City is housed inside a historical building, complete with large windows and charming period features. Rooms are spacious, and come accented with trendy modern furniture.
Mornings start with a bite to eat at the breakfast buffet, served in the hotel's dining room. And with the Vatican only 450 yards from the front door, you won't have to go far to admire big-hitter attractions like the Sistine Chapel, Vatican Gardens or the Raphael Rooms.
Another big plus of this Rome hotel are the professional, helpful staff, who'll make sure your stay runs as smoothly as possible.
Elle Boutique Hotel
As you might be able to tell from the name, this is a boutique option for those who want a bit of chic style in their stay. Elle Boutique Hotel has been newly renovated, with rooms that run the gamut from standard to deluxe, but all of which are sleek and sophisticated in their decor.
Guests staying here can indulge in evening cocktails on the rooftop terrace, or take a dip in their very own Jacuzzi on their balcony back in their rooms. The location is also great: the Vatican is just a short stroll away. But other sights are close by, too, with the Piazza Navona being only a mile away, for instance.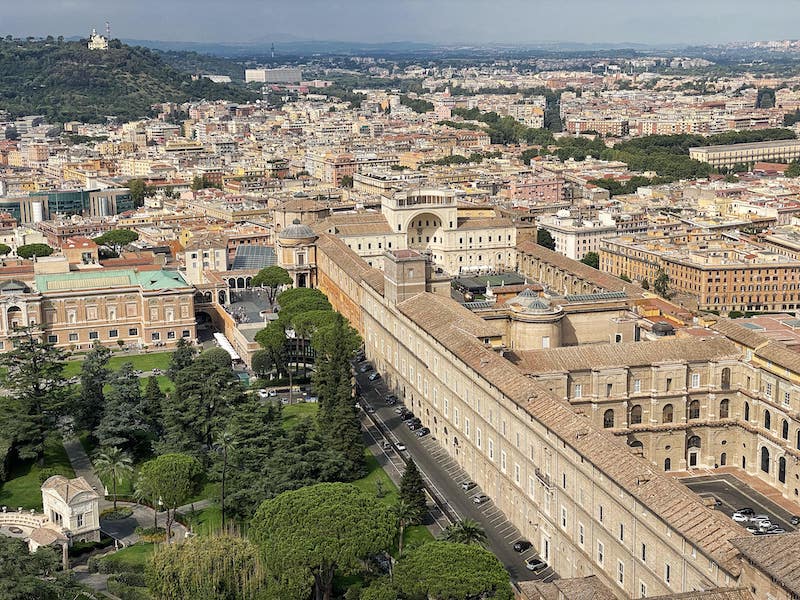 Villa Agrippina Gran Meliá – The Leading Hotels of the World
This elegant, 5-star property is for travelers who want to really indulge and relax during their trip to Rome. It's set on a stunning hillside on the banks of the Tiber, and just yards from the Vatican.
The hotel's elegant interiors will be sure to wow from the moment you step through the front doors; from the clean lines of the guest suites, to the perfectly manicured garden (complete with its own outdoor swimming pool). Other amenities include a wellness center and spa, as well as an on-site bar and restaurant where guests can enjoy meals and drinks in the evening.
Hotel Della Conciliazione
Hotel Della Conciliazione is tucked away in an incredible location, just 100 yards from St Peter's Basilica. The 4-star property boasts a classic Roman facade, and has been classically decorated throughout for a sophisticated finish.
Rooms here boast period features such as high ceilings and large windows, allowing in plenty of natural light. The property also comes with its own restaurant and bar, which serves international dishes in a cozy setting; there's also the option to dine in the leafy courtyard on warmer evenings.
Vatican Relais Rome Suite
If you're looking for a budget-friendly option for a hotel in easy walking distance of the Vatican, then this modern and clean hotel could be a good place to start. Each room boasts crisp white bed linen, hardwood floors and a modern ensuite bathroom, and some rooms have great views over the city.
Although there's not a long list of amenities for guests to enjoy, the hotel does offer an Italian or continental breakfast each morning included in the per night price. This makes Vatican Relais Rome Suite even more of a good option for budget travelers in the city.
Eccelso Hotel
Book yourself into Eccelso Hotel, and you'll be delighted with the comfort and style of its rooms. Think neutral tones, parquet flooring and a tranquil atmosphere – you can simply fling the windows open and have the sights and sounds of the city drifting in for extra ambience, too.
In terms of location, there are plenty of shops, restaurants and bars right on the hotel's doorstep, but the star of the show has to be the Vatican. It's literally right next door to the hotel, making it possibly the most convenient place to stay on this list.
In terms of amenities, guests can make full use of room service, grab a drink at the on-site bar to end the day, or fuel up for a day of exploring with an optional breakfast.
Starhotels Michelangelo Rome
Starhotels Michelangelo Rome is a classically polished old-school hotel, but which has been well maintained over the years. Rooms here are large, clean and modern, boasting sizeable beds and cozy seating areas; some have balconies that overlook the city, too.
Amenities at the hotel include a bar and a restaurant, specifically The Dome by Eataly, and a cocktail bar where you can watch the barmen whip up your favorite drink. There's also a breakfast on offer each morning, too.
Location-wise, you'll find this hotel less than a mile from the Vatican.
Hotel Paolo II
This hotel is situated in a property that was built in the early 1900s, but inside there's modern and contemporary decor for a stylish stay. Rooms here are compact yet comfortable, and come with well appointed ensuite bathrooms, as well as cozy beds.
Even though it's easy to get to the Vatican City and St Peter's Basilica from here, its location is fairly central, with a great selection of restaurants and bars to choose from nearby. Sights such as the Piazza Navona and Campo de' Fiori are less than a mile away, too.
Impero Vaticano San Pietro
Impero Vaticano San Pietro is a traditionally decorated and spotlessly clean hotel option just a stone's throw from the Vatican itself. Rooms here are quite feminine in decor, with plush carpets, satin throws and draping curtains, but the bathrooms are sleek and modern.
Staying here means staying at one of the best places to stay near Vatican City – you'll be just a five-minute walk, while there are plenty of options for drinking and dining on the doorstep. Since this place is more of a B&B than a hotel, there's more personality involved; the staff are also very helpful and will make you feel at home the moment you check in.
Further Readings
For more guidance on picking a place to stay in Rome, you should also read these posts:
Pin It For Later!